By Spring Courtright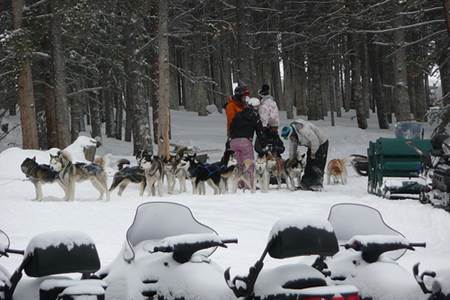 I was the only girl who stayed with the dogs all winter. I worked in the office at first. I had worn myself out managing and teaching kayak programs all summer and just wanted to take things easy and let someone else make the decisions. I had moved from sea level in Washington to 10,152 feet in Leadville, Colorado, the highest incorporated city in the United States.
I watched through the window as the dogs ran by, then disappeared into the snowy distance. I answered the phone "Alpine Snowmobiles and Dogsledding, how may I help you?" and attempted to change customers' winces to smiles when I ran credit cards for the tours.
I watched blizzards from the warmth of the office. I stoked the fire and made hot chocolate for customers when they returned. I asked them who their favorite dogs were and if my dog, Cricket, was there I'd let them pet her. Life was nice and calm.
A girl I worked with in the office decided to start work as a guide, but I heard her sneak in during her first day and I found her crying in the cold gear room. I reminded her she didn't need those boys' help anyway, that she wanted this more than the office, and sent her back out.
She tried it for another week, but she ended up working at a restaurant in town. Another girl came a couple times to get to know the dogs and I was really excited for her. But she only lasted a day. She was too small to hold two dogs at a time.
There were 58 of those dogs and the guides had to carry them one in each hand with their front paws off the ground so they wouldn't run away. They were bred and raised to run and that's what they wanted to do — every day, all day. They would most likely have come back if they got away, but no one wanted lost dogs on their conscience in this cold, snowy valley.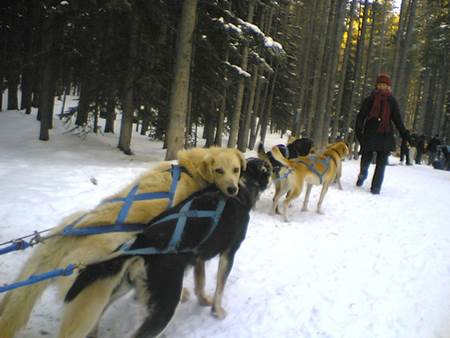 I started out helping the guides by thawing horse meat for the dogs. I'd pull out the ten-pound blocks and set them by the fireplace in a pan, then when they were soft I would mix the meat with water in a large bucket.
Soon I started taking the buckets to the dogs in the kennel. I learned to drive a snowmobile so I could use it to pull a sled with the buckets. Then I started feeding the dogs, which helped me learn each dog's distinct personality. Soon I learned who they liked and who they didn't, what dogs they ran with, who they were related to and where they came from. They were mostly retired racers or from other, longer touring operations around the country.
Pepper was in the front row and was so nervous she chewed the hair off her butt. Dorothy was small and would stand on her hind legs and hold her head up like a little person. Oly was mostly blind and very old and bony, but he still lived to run. Cedar was sweet and beautiful and the most submissive of all, so she was the only one who could run with Scotty, the fiery black teenager who wanted to be the alpha male.
Scotty and Cedar were wheel dogs, the ones who ran closest to the sled pulling the musher. They had to be strong and hearty. Cedar was patient enough for the both of them.
Then I started helping to take the dogs to the drop line where they would wait to run. All the dogs wanted to run and mayhem would break loose when we went to "pull" the dogs, or take them from the kennel, which was just a snowy field full of large plastic barrels. The barrels laid lengthwise half buried in the snow and were full of straw for warmth. These were their homes.
They all had strong chains that held them to a metal stake in the ground, which they would run around and around and around in a six-foot circle, and there was a narrow passageway between each dog which was a gauntlet of gnashing teeth and fast-moving fur when a dog was pulled to run a tour.
To carry a dog I had to make sure no teeth could get close enough to bite either myself or the other dogs in the kennel. It took awhile to perfect being able to walk in the snow while keeping their front feet off the ground. If all four feet touched they would immediately start running.
I fell one time with two dogs in my hands and they pulled me ten feet before I could dig my feet into the snow to stop. I didn't let go and my hands ached for days. Sometimes it felt my fingers would break under their collars as they twisted and lunged, snapped and tried to run.
Scotty, so cute to humans and so mean to all other dogs, lunged at a dog as I walked through the kennel one time. He missed the dog but not my leg. Before I could even feel the pain I was on top of him, looking in his eye from an inch away and yelling "No!" in his face. He looked away and was a good boy for me after that, but I never forgot how fast it happened and was more cautious from then on. I was shocked at my reaction, but was happy to learn there was a natural fighter inside this nice girl.
I slowly began to learn who could be next to whom on the drop line where the dogs waited to be hooked up to the sled. If I got it wrong, I knew a fight would break out and everyone would run from everywhere to break it up as we'd all heard they would kill each other if they got the chance. I also began to learn who could run all day and who was too old to handle the four five-mile tours sleds ran on a busy day.
I had heard that if the wrong dogs were chosen or one was run for too long, the guides would have to endure a painfully slow tour, which was definitely not what the guests paid for. I also learned that if the dogs didn't respect the guide, they'd take everyone on a wild ride.
Finally, I took my first tour out on my own when we were short a guide. I was so nervous I could hardly remember what to say when, but somehow I, the six guests and the ten dogs survived and I realized my office days were mostly over.
Guests came from all over the world for these tours. It seemed strange to me travel all this way to pay $60 a person to mush a dog for a few minutes when you could just go get an adventurous job and do it all the time. But there were many days I envied them as they sauntered into the warm waiting room for hot chocolate after a tour as I set up for another tour in biting wind and snow.
It was a five-mile track in an open field that was part of a long valley. On one side were two of the highest peaks in Colorado, Mount Elbert and Mount Massive. They carved their ridgeline out of the sky in jigs and jags, but around them were mostly rolling slopes. The biggest mountains seemed to me like robed kings and I never tired of their stark white beauty against the bright blue sky.
When it snowed, the Snowcat had to go out and pack down the softness into a hard surface again so the dogs could run. The Snowcat driver went off the track once and it seemed like the giant machine was in quicksand — I couldn't believe how deeply it sank into the snow beside the track.
It snowed a lot that year, so the track was tucked between eight-to-ten-foot snow drifts. The snow was amazingly soft and great for snowboarding, but if lost it would lose its allure. If I missed a turn and ran the snowmobile I was driving into it, the parade behind would follow.
The snowmobile pulled a sleigh with five guests. Their laps were covered with Scottish wool blankets on their laps. Behind them followed the eight or ten dogs who pulled the dog sled. One guest would "mush" and one would ride tucked inside the sled.
The guests didn't like to spend half of their hour-long tour digging the sleigh out of the snow and I didn't like the marked decline in my tips when this happened, so I worked hard to earn the dogs' respect and pay attention to the track.
The actual dogsled tour wasn't an entire hour. That time included the introduction: "Hi, I'm Spring, welcome to the Rockies. And your names?" Handshakes all around, even the wee ones. Then meeting and "loving on" the dogs on their team while explaining why they don't look like the big fluffy Siberian Huskies in the movies: because they aren't Siberian Huskies.
"These are Alaskan Huskies. They're mixed with many breeds of dogs, Labradors, German Shepherds, poodles (just kidding!), with the specific goal of a sled dog in mind with their breeding," I would say.
Then they learned about how one person would sit in the sled on the cushions and keep all their body parts inside, even if they tipped over and the sled was being dragged in the snow on its side because the musher fell off.
"In that case, just hold on, enjoy the ride and watch me be a dogsled cowgirl as I jump off my snowmobile, jump onto the dogsled and step on the brake to stop the dogs from running the track without us."
The musher was there to control the sled and stop or start the dogs running. They held their foot on the brake, a metal bar with spurs dug into the snow, until I gave the signal for GO! Which was a circle with my arm. Then slowly or quickly they'd take their feet off the brake to put them on the runners — they usually did it quickly and got a shock. By now the dogs would be jumping and yelping because they love to run fast and with all their might.
The rest of the people in the sleigh would watch the dogs' happy faces and the glee (or terror) of the musher and rider as they leaned into the turns and watch for my fist to go into the air as the stop signal.
The dogs all had their own gait, their own style, and I loved to watch as much as I could with my head turning back and forth between watching the track ahead and the team and guests behind.
The dogs would grin, their tongues flopping around and the snow would fling from their feet. If they liked me and the guests, they would run hard and fast, working together as one, giving everyone a thrill for the downhill sections. I could gauge their speed on my snowmobile and sometimes they ran 25 miles an hour.
When we stopped, I would put snowhooks in the ground to hold the team in place, then we would love on the dogs some more, we'd tell them how great they are, rub snow on their heads to cool them down, scratch and massage their hindquarters.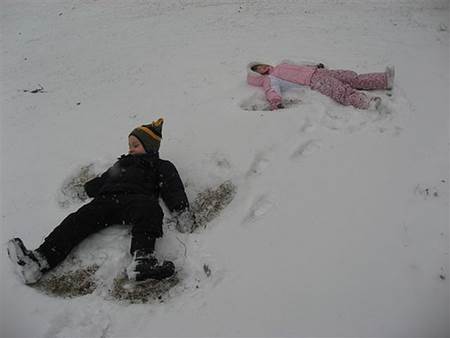 We would talk about the mountains, how the two sides of the valley were once together, how this field was a farm 100 years ago, how the snowfall has been so good this year and don't the kids want to try it out with a jump off the track and some snow angels?
Sometimes the snow was so hard we cracked the surface. Sometimes it was so soft we sank up to our knees, and farther with a good solid jump. Sometimes the snow was falling so hard we could barely see and another snowmobile would have to lead me around the track so if they went off I knew not to go there.
On the stops I would learn where the guests were from: Colombia, England, Texas, California, Venezuela. I learned and taught as much as I could in our five-minute stops, then changed riders and mushers until the next stop. Not much time for anything, including the riding and mushing, but most people didn't complain too much, especially after I gave them Dove Chocolate Inspirations, milk or dark, with a message on the inside of the wrapper.
After the tour I'd have them and their children say thank you to the dogs by feeding them their horse meat "soup." They were usually so happy they pressed $20, $50, $100 bills into my hand during our goodbye shake.
The best was when they had children and gave them each a $20 or $50 bill to give me. They'd sidle up to me, new to the world of money, and shyly hold it out to me with a smile on the corners of their lips and averted eyes. They always glanced back to make sure I was smiling.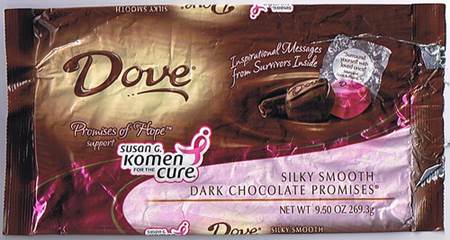 By the end of the season, my face was like tanned leather and by body was a tightly packed coil of muscles. I was a cheese and chocolate addict, with a keen desire for steak once or twice a week. Living at 10,000 feet and carrying dogs, tackling dogs, carrying buckets of soup for dogs, maneuvering snowmobiles and sleds for ten hours a day does something to one's psyche. At least it did something for mine. It made my psyche say, "You are a kick-ass girl, you can do anything."
*****
Photo credits:
Dog Sledding Team:Â Brian Wibbenmeyer via Flickr
Woman with Sled Dogs: Roland Tanglao via Flickr
Alaskan Huskies: Eva Vincent via Flickr
Snowcat: Rob Lee via Flickr
Musher and Passenger: Brandon Wood via Flickr
Snow Angels: GoodSquadSarah via Flickr
Dove Chocolate Inspirations: Fred Miller via Flickr