When the lights go out in a historical Turkish bath, one woman is enlightened.
By René Mehrer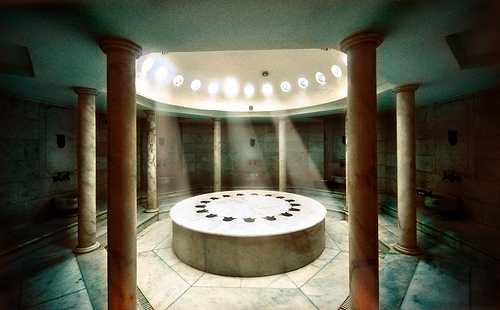 I'm lying naked on a warm, white, marble slab. A huge Turkish woman in a black bathing suit is leaning over me, scrubbing my back, butt and legs in one long continuous motion. I close my eyes and listen to the sounds of splashing water and women laughing. The sounds mingle, echo and bounce off the five-hundred-year-old walls of the beautiful Cemberlitas Hamam.
It's Valentine's Day and I have just arrived in Istanbul from six weeks of traveling in South India. Predictably, India was hot, dusty and dirty; but Istanbul is crackling cold and covered in a blanket of purifying snow. After a quick check-in at the hotel, I made my way to this Turkish bath, or "hamam" in Turkish. My purpose? To scrub out the
kinks and aches from sitting on a plane for nine hours and immerse myself in the luxury and splendor of old 'Stamboul.
Built in the 16th century by the super-star of Ottoman architects, Mimar Sinan, the hamam is basically a huge circular room with four small semi-private areas off to the sides. In the center of the main room is a raised marble slab, called a belly stone. The belly stone is heated from below. It's on this slab of hot marble that this huge wrestler of a woman is lodging her assault on my dead skin cells.
Today the Hamam is busy. There are about a dozen women lounging on the belly stone, wrapped in multi-colored pestamels, which are not unlike tablecloths, and another dozen at the sinks around the room. The women are mostly a mix of Italian, Spanish and Turkish, of all shapes, sizes and ages. These days, tourists largely support these historical baths, as the need for communal bathhouses became obsolete with the invention of indoor plumbing. Several of Istanbul's beautiful baths have survived and are the perfect place to relax, let the steam open your pores and loosen up that dead skin we're all carrying around.
So here I am, getting my body scrubbed down with a rough woven mitt, called a kese. My lady is taking her job very seriously; the kese is rough and she is exfoliating my entire body with vigor. She even scrubs my tender and ticklish parts. I squirm a little and wince, but bear her relentless scrubbing for the sake of cleanliness. I feel five years old again.
She signals me to flip over so she can scrub my front with an unceremonious slap to my backside. "Turn!" After a few minutes she orders me to "Sit!" I silently obey every command.
As she scrubs my arms into pink cleanliness, I watch as my dead skin balls up under the strong strokes of the kese. As if that isn't humiliating enough, she points it out to me. "Oh—ha!" I want to excuse myself by telling her that I just spent a hot and humid six weeks in South India, but it's beyond my language capacity.
One more command, "Lie!" She uses a huge cheesecloth bag soaked in olive oil soap to produce mountains of olive oil lather, which she pours down over me. She massages my airplane weary shoulders and back with her strong hands. As she massages me, my mind drifts away once again and gets lost in the gurgling and giggling of the hamam.
But it doesn't last forever like I'd like it too. My bath concludes with her aggressively dousing me with several buckets of warm water while I sputter for air. I am waterlogged, pink and I feel great.
Now I'm free to loiter as long as I like. I wander over to one of the ornate marble basins with big brass fittings and fill it with cool water. (The secret to hanging out in a Turkish bath for a long time is not to get overheated!) A few women are placing candles around the steamy room. As the sun sets outside on Valentine's Day, it's getting dark inside as well, despite a few weak electric lights.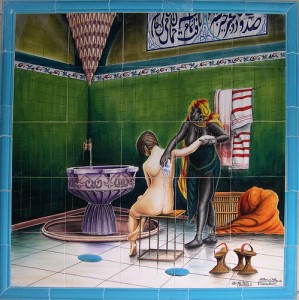 Suddenly, those electric lights falter and fade and we're left in steamy candlelit darkness. There's a rush of  "oohs!" and "aahs!" around the room and then silence. In the soft flickering candlelight, my eyes adjust and I can make out the steamy, silent, silhouettes of women as they continue bathing.
Then out of the darkness comes a voice, strong and confident, singing a slow rhythmic song in Turkish. As the song echoes and winds its way around the bath, one of the hamam ladies picks up the bucket she uses to douse her customers, turns it over, and begins to expertly drum along. The song picks up tempo and the other washing women join in the singing. Encouraged, the drumming lady really lays into her bucket/drum, the bathers start clapping and singing and then our lead songstress turns and disappears into the steamy darkness.
Suddenly she reappears in the center of the belly stone with a pair of castanets! She looks magnificent in the steam and candlelight. She's wearing a black bathing suit; her black hair is wet and hanging loose around her cherub-like face. The bathers start singing and clapping in encouragement. She smiles broadly and winks, and then our songstress starts rolling her ample hips, gaining momentum with the music. The massage women beat their buckets faster as the woman skillfully clacks her castanets and belly dances in rhythmic circles in the center of the stone, the women at her feet clapping and cheering her on!
She doesn't have a perfect body and she isn't young either; but her confidence and energy infect all of us watching with a certain pride and delight. Watching her dance, it's impossible not to smile and get caught up in her rhythm. Soon, the whole hamam is heaving with music, clapping and singing in the candlelight!
Then, inevitably, the electric lights flicker and return. The room is filled with cold, electric light. An audible "aawww!" of disappointment sweeps the bath. Our dancer takes a deep bow and gets back to scrubbing bodies.
But for a few minutes, it was magic. A woman danced with no shame or inhibitions and every woman in the room was delighted to watch her. Ottoman women adored these public baths and now I understood why. They viewed a day at the hamam as social a function, the original "girls night out". They found wives for their sons, prepared for marriage and solidified friendships. Despite our language barriers, cultural differences and various body issues, I felt an intimate female bond with my fellow bathers. I felt I was no longer naked in the presence of strangers, but among women. Strong, beautiful, confident, and yes — naked — women.
Photo credit: Hamam interior by mrkubi
Photo credit: Mosaic by ARDA SANAT EVI
Photo credit: Women at hamam by Philharmonic
All other photos by the author
* * * * *
Rene Mehrer is a perpetual traveler. She has lived and/or worked in Taiwan, Turkey and the United Arab Emirates, taking time to explore all the interesting bits in between.  Her fondest travel memories include missing planes, losing passports and getting left in the desert.