By Ailsa Ross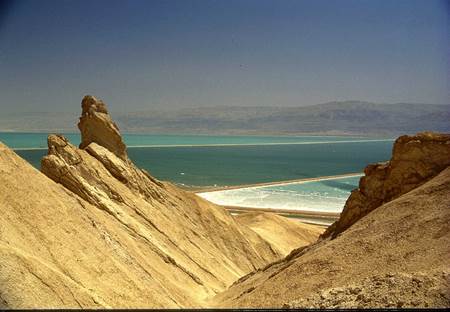 Cardboard cut-out mountains hit stark against the blue sky. It was the middle of the Negev desert, and I owed a lot of people a lot of money.
No food, no water, nothing.
Well, nothing but the 400 or so other tourists exploring the fortress of Masada by the Dead Sea.
So sue me. This ain't no Fear-and-Loathing high jinx tale, just a story about a girl who wanted to discover Israel, and who forgot to tell the bank about it.
A $79 online transfer to a Tel Aviv travel agency for a one-day tour. Not even Topshop has swindled that much money from me before…no wonder the bank's anti-fraud system was alerted, and my card was frozen.
But as my pasty tour group wobbled pink under the midday sun, our guide Sarah gathered us around for a more insightful tale.
Before Arabs ran Palestine from AD 638, the Romans ruled the country. Before the Romans, this was Jewish land. Years of bloody fighting between the two, by AD 73 the only Jews left in the country were the Zealots: 967 men, women, and children camped out at Masada fortress above the Dead Sea. When the Romans encroached upon their camp and it became clear that defeat was inevitable, rather than be enslaved, the Zealots carried out a mass suicide. At the time, they were the last group of Jews in Israel.
The story of Masada is absolutely tied to the attitude of the modern state of Israel. "Masada shall not fall again," promise the Israel Defense Forces sworn in at this battleground each year. As part of their curriculum, Israeli schoolchildren are tugged around the few grey stones that remain here. Bar Mitzvahs are celebrated at Masada with spectacular sound and light shows.
But five minutes before my group arrived at the fortress, my tour guide Sarah told me my online transaction to the travel agency had been unsuccessful. Could I pay in cash? Almost. I gave her every shekel I had, and hoped I could get away with not paying her the last $10 I owed. Now starving and totally screwed, I wanted to punch the tellers from my bank. Instead, I did what all good tourists do and snapped a few photos of the excavations that made Masada look like Mars.
I lost my tour group, took the busy cable car down to the palatial Masada tourist complex full of canteens and gift shops, and on the proudest plateau in the Holy Land, gave up my dignity, filled a bottle with toilet tap water while the lacquered women around me looked disgusted, and texted my mum.
"Card won't work, so can't top-up phone to call bank. Can you ring them and pretend to be me? Scared someone has used my account. Sorry. Love you x"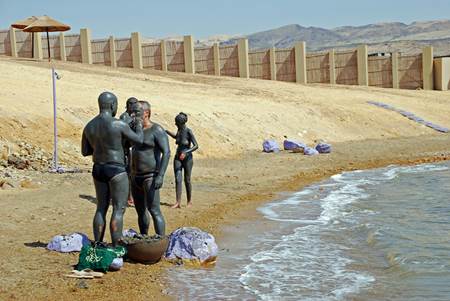 I crumpled up on the main stairs and cried. Why did travel have to be so hard? David the tour group driver saw me and brought over a sandwich from the nearby cafe. Prickly pears on the outside, Israelis are a soft bunch really. Kinder than the British tourists I was touring with, who turned away from my tear-stained face with embarrassment. We hopped on the bus and wound down to the Dead Sea.
I was at the lowest point on earth. At 414 meters below sea level, the view from the aptly named Paradise Beach resort was soothing, the water milky and palest blue. I eagerly padded down the boardwalk to the water, fell in the water, and turned into a kid again. We all did. Old men, papery pouches of skin hanging over their trunks, had their teenage dreams answered as they floated to the surface like astronauts. Their giggles carried through the mist and over to middle-aged women who squelched the delicious mud from the ground all over their bodies. Trying to stand up again was like trying to get off a lilo, and just as impossible to do with grace. But once the dry oil brine was washed off in the outdoor shower, I felt as supple as a teen again, if not as soft as a baby.
I felt almost better, because as well as being ten times saltier than seawater, the Dead Sea contains twenty times as much bromine. Used in many sedatives, its haze of evaporation relaxed my nerves, and the sulfur pool at the edge of the lake was as comforting as a hot bath and a bedtime story, especially after two months of communal showers while volunteering on an Israeli Kibbutz.
And then my mum called. "Don't worry, baba. I've put money in your phone. If you just call the bank they can unfreeze your card." For once, I did what she said.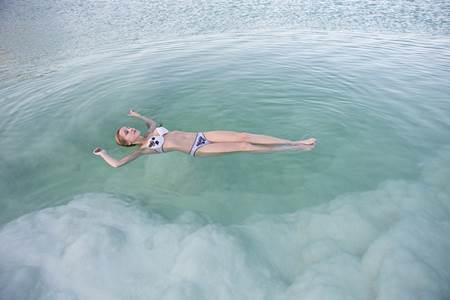 In the end, the experience of floating in the Dead Sea was worth every tear-sodden dollar, because it was unique. But this sea that is really a lake, made up of water that is 33% mineral solids, is disappearing fast. Another third will go in the next fifty years, so Israel, Jordan and France have proposed the Red Sea Dead Sea project, a multibillion dollar scheme that will pump sea water from the Gulf of Aqaba, 180 kilometers south, into the Dead Sea via a canal. Mixing the two could spell disaster for the unique chemical composition of the lake, but doing nothing could be worse.
Our guide Sarah shouted out to our disparate group. Time to go back to Tel Aviv, past jutting mountains and fig tree orchards. Fed and watered and finally with money from an ATM, I fell into a sleep that tasted as clean and flowery as cotton sheets. Who needs Fear and Loathing high jinx? I was healed.
*****
Scottish writer Ailsa Ross is sure she would be a wilderness explorer if she wasn't so scared of the dark. She often wonders where the female Huckleberry Finns and Ernest Shackletons were when she was growing up, and is currently researching their female counterparts while hanging out in the Canadian Rockies. A Production Editor for Matador Network and regular contributor to Viator, Ailsa has been a travel writer for over four years, contributing to National Geographic online, Literary Traveler, and The Expeditioner, among others. Most of her adventures take place inside her head, and occasionally abroad, which you can read about on Dreaming of Argentina. You can also follow her on Twitter @ailsa_writes.
*****
Photo credits:
Dead Sea: israeltourism via Flickr
Masada: israeltourism via Flickr
Dead Sea Mud: Rob via Flickr
Floating on Dead Sea: israeltourism via Flickr