by Stephanie Dellosa
Winner of the Off the Beaten Path Category for the 2009 WanderWomen Write Contest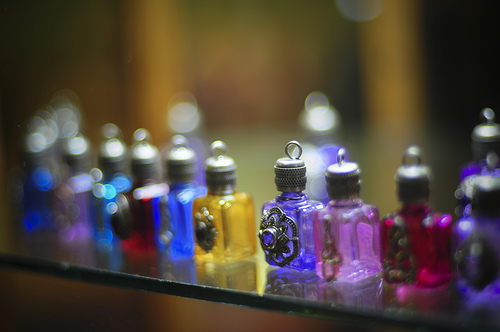 Within the Egyptian Bazaar of Istanbul was a perfume-maker by the name of Orhan. I do not ordinarily wear perfume, but I sought out the perfume-maker because I desired something very particular – my bespoke scent.
I once read of a woman who traveled the world in search of the perfect perfume. Her journey begins with a French bespoke perfumer, who after a comprehensive, olfactory analysis, wherein cabinets of rare and exotic essences and attars were sampled, provides her with a list of ingredients that will comprise a unique perfume no one but her will ever wear.
List in hand, the woman then chases the origin of each item, traveling to Grasse, Morocco, Turkey, Italy, Sri Lanka, India, Yemen, and Socotra. Each ingredient of her bespoke perfume represented not only the essence of its place of origin, but also reflected an aspect of the woman's psyche — vetivert for her love of nature, iris for childhood memories. The idea that a complex blend of scents can define one's self captivated me.
If my soul were made of perfume – what would it smell like?
I decided to undertake my own, scaled-down quest to find the map of scents to my secret self. No fields of lavender in Grasse or a mountain of rose petals in Isparta for me, however. No expert with her perfumer's organ of unguents and absolutes. Instead, one morning, I headed for the Egyptian Bazaar in the neighborhood of Eminonu.
The Egyptian or Spice Bazaar stands on a square dominated by the Yeni Mosque. At the bottom of the steps to the mosque sits a headscarfed, elderly woman peddling corn kernels from her cart. Her round and weathered face looks as if she had been there since the Middle Ages, sitting stoically on a small, wooden seat that disappears into the folds of her skirt, her only company the hundreds of gray and black pigeons blanketing the square.
Leaning on the medieval brick walls of the Egyptian Bazaar in Istanbul are covered stalls of the street markets, where one can purchase anything from exotic plants to leeches. Follow one of the myriad alleys and end up in a street full of fresh, white, feta-like cheese in wet blocks, their sellers in smocks like physicians or just-caught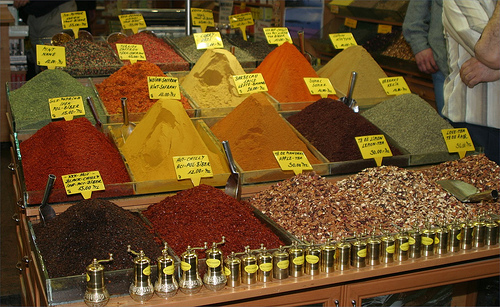 fish, still twitching on wooden tables.
The best Turkish coffee to be had in Istanbul is made by a store right outside the bazaar, leading visitors by their noses with its overpowering, earthy aroma of roasted Arabica beans detectable from blocks away.
Next to the coffee shop is a low, brick archway upon which is inscribed in gold letters "Mısır Çarşısı", announcing that it is an entrance to the Egyptian Bazaar. Although smaller and newer (over 400 years old) than the labyrinthine Grand Bazaar, the Egyptian Bazaar is more authentic. Turks, tourists and traders still buy their spices, nuts and dried fruits here.
Inside, all the hues of earth and fire are captured in perfect pyramids of golden turmeric, bright red paprika, orange curry powders. There are vats of nut browns and piles of translucent jewel-like dried fruit – raisins, apricots, mangoes and dates.  Cabinets have drawers of loose tea leaves flavored with dried rose petals and lemon rinds.
The scales might be sleek, digital ones, but the transaction of goods is the same as it has been for centuries. Shopkeepers stand outside their shops to cajole the tourists with pleasantries like, "Where are you from?" or the nonsensical but very popular, "Yes, please."  Shoppers are treated like guests, and ritual bargaining is conducted over elma cay, or apple tea, and lokum, Turkish delight.
The Perfume Maker
After purchasing a sultan's ransom of Spanish saffron, the gold of spices, plus innumerable other things I had been persuaded to buy, I make my way to a modest little store that looked from the outside like a crowded pharmacy. I look past all the shelves of pills and boxes of chemical panaceas to a vast mirrored wall lined with glass bottles containing liquids of amber, jade and gold. I have come to the right place.
"I would like to have a perfume made for me," I tell the white-jacketed young man who came down from a ladder to help me.
"You will want Orhan," he says before disappearing through a door leading below ground.
As I wait for the perfume-maker to emerge from the bowels of the bazaar, I survey the wall of fragrances. Innumerable bottles of clear glass faced me, labeled with their colorful contents – champagne-colored oud ambar, begonia, juniper, vetivur, ylang ylang, lavender, linden, mimoza, burgundy musk oil, burnished attar rose, emerald jasmine.  Some seemed to be names of already mixed perfumes – Ottoman, Secret of the Desert, Flower of Istanbul, Turkish Cocktail. I wanted to unstopper each bottle and slowly breathe in its essence, try it on, see if it suited me.
My excitement mounts for the man who will help me find my perfect scent, the one which will define me. I imagine him to be slight and delicate, with a refined nose able to discern the subtlest of odors. This foppish image is shattered by the burly man who pops up from below ground, looking more like a butcher than a perfumer. Unlike his assistants in their pharmacist's jackets, Orhan is wearing a plaid shirt with the sleeves rolled up to reveal meaty forearms and hands with sausages for fingers. His round face is jolly and his nose is exactly what a perfumer should have — generous, with nostrils that I'm sure has smelled all the smells in existence.
He greets me with a polite, "HoÅŸ geldiniz."  I take an instant liking to him.
"HoÅŸ bolduk," I reply. When he asks me how he could be of help, I tell him I am in search of perfumes for my mother and for myself.
My mother likes Joy by Jean Patou and Pleasures by Estee Lauder, I tell Orhan. Joy, which requires massive amounts of roses and jasmine to produce just one ounce, is a heavy and complex floral scent. Created at the height of the Great Depression, Joy was the costliest perfume in the market for many years until it was usurped by Chanel No. 5. Pleasures is flowery, but lighter and more girlish than the classic Joy – ideally suited to my mother's sweet and loving nature. Perhaps Joy represented my mother's secret self – one that longs for extravagance?
Orhan nods as he deliberates these clues, then starts pulling decanters from the shelves. With unusual grace, he takes a glass stopper from one and, after gently tapping it on the neck of the bottle to release any excess oil, gently rolls it across the inside of a bare forearm before placing it back. He repeats the same ritual with a few more extracts on the same area of his skin then takes a finger to mix them together. Bringing his glistening forearm to his nose, he inhales his creation then nods again as if to confirm that it is the scent he had meant to conjure.
Smiling a little, he offers me his arm. I lean in over the counter and take his fragrant skin close to my face. Fresh jasmine wafts up. I can imagine my mother wearing it. When I revisit his forearm sometime later, the jasmine still lingered, but the fragrance has ripened, deepened into something richer. After considering other concoctions Orhan mixes for me, using as test swatches his other forearm, then both of mine, I eventually choose this scent as the one I will take home to my mother.
But since I can't bear to part with the other fragrances — ones of heady rose and musk, a scintillating blend of jasmine, rose, and verd musekkel, and a full-bodied, flamboyant perfume called Queen of the Night — I order small vials of them as well.
In between sampling scents, Orhan hands me a jar of crushed coffee beans whose strong vapors clear my "palate." Equally effective, he tells me, is burying my nose inside the flesh of my upper arm — smelling myself, in other words.
At some point he offers me the stopper from a tall decanter of dark amber. Its musky and animalistic smell is vastly different from all the others I had sampled. It is not unpleasant, but not something I would wear.
"It smells like… a man," I say, for lack of a better word. Smiling slyly, Orhan turns the decanter so that I can see its label — "Aphrodisiac for Women."
Later on, a young man dressed in a silk shirt impatiently stands at the end of the counter until Orhan looks up from mixing my perfumes and notices him. Orhan excuses himself and the young man implores in Turkish to the perfume-maker, who nods gruffly. He brings down the Aphrodisiac for Women, takes off the stopper and inserts a gigantic atomizer. Like a gardener with his hose, Orhan then sprays the young man from head to toe several times over until he is drenched with the aphrodisiac. The young man primps his collar and smoothes down his hair.
"Thanks, boss," he says over his shoulder as he runs out the store.
"Is he on his way to meet a girl?" I ask. Orhan laughs and assures me that his Aphrodisiac is quite effective. The girl will be ambushed by the scent of desire.
The Bonus
"And you, what do you like?" Orhan asks me when it is time to choose the scent which will be just for me. I consider making an unconventional request and ask for an elixir of smells that will invoke what was most precious to me — what must be my earliest memory of my mother, smelling of comfort, mixed with the top of my newborn son's head, dusted with a light sprinkling of baby powder and milk that never failed to arouse overwhelming feelings of love, perhaps add the scent of my son's soft, tiny toddler's feet which I used to kiss at every opportunity.
Since Orhan is a perfume-maker, not a magician, I present to him samples of favored, tangible scents — crushed bath powders of cocoa butter with vanilla and a flowery bouquet. But the one I most covet as a perfume is a bath gel whose bottle states that it is composed of verbena, bergamot and muguet.
I tell Orhan that I would like something refreshing, cool, and a little bit sweet.  He takes the bath gel and brings it to his nose, turning it in a slow circle before setting it back down in the counter. I hold my breath as he carefully mixes several oils on his wrist.
The fragrance he ultimately presents to me, while not a perfect match, closely approaches my bath gel. It is an enchanting scent, with citrusy notes of lemon, a flowery undertone of lotus, and at its heart, verd mϋsekkel, redolent of dense greenery. I order a vial.
As Orhan packages my perfumes in white boxes decorated with red roses and labeled with their ingredients, he cocks his head at me and asks, "Do you have a boyfriend?"
I smile ruefully and shake my head.
"No?" He asks in astonishment.
I shake my head again.  He stumbles back in a show of disbelief.
"I make something for you," he says.  My single status was too irresistible of a challenge, but nothing his skills couldn't surmount.
Orhan takes a red tassel affixed to a miniature Turkish evil eye and carefully dips it into a series of flacons, brushing the excess off the lip of the glass before bathing it in the next scent. He takes a whiff of what he has composed so far and his round face lights up in pleasure. Just when I think he is done, however, he looks at me again and changes his mind. It seems as if I need all the help he can give me. He dips the red tassel into one more scent and the outcome makes his eyes roll back.
Tickled by his own creation, he says, "Be careful with this, madam. Men will follow you. Children will follow you. Dogs will follow you. This," he pronounces, "will bring you a husband."
I don't tell the perfume-maker that in Istanbul, men follow me regardless if I reeked of garlic or that I am not in search of a husband, but I am intrigued nevertheless and lean in to smell the scented tassel he holds before me.
What I smell is unlike all the other fragrances Orhan has bottled for me that day. It is, in fact, the opposite of the self I had represented – neither cool nor sweet. What wafts from the red tassel is sultry and bold, almost spicy. It attracts me inexplicably. Orhan brushes the nape of my neck with it and throws in a small philter of its mixture for free in addition to the fragrances I have already chosen.
The perfume Orhan conjures for me retains its potency for the rest of the day and into the next morning until I take a shower. It asserts itself in unexpected moments – when I am in looking at myself in a mirror at a jewelry shop in the Grand Bazaar, seeing how the ring I have chosen goes with its matching pendant. Turning my head, my scented neck catches my attention and suddenly the woman in the mirror is a stranger with my eyes. She looks as enigmatic as the blood red agate stone inscribed with Arabic characters she wants to purchase. Browsing among the shawls, I choose patterns that go well with my perfume — the vivid blues and turquoise of a peacock's feather, a dramatic purple silk threaded with gold.
Was it my imagination or did I become more assertive with my bargaining? When I walked the streets of the city, did I walk with more confidence? The possibility of adventure seemed to permeate the air around me. Was it the perfume's sensuous influence or was this me all along?
Rather than seducing men as the maker of perfumes intended, my bespoke scent ends up seducing me.
In a late afternoon, months after my return, I release it from its vial. The fragrant spirit that rises up to meet me is a vibrant, living thing, myself as I was in Istanbul — foreign yet familiar, sultry and bold, an extraordinary scent for a woman who does not ordinarily wear perfume.
*****
Photo Credits:
Perfume bottles – tibchris
Spices – exfordy
Bottle tops – Athena's Pix
Turkish lanterns – laszlo-photo
Market – j.o.h.n. walker