By Shannon Bradford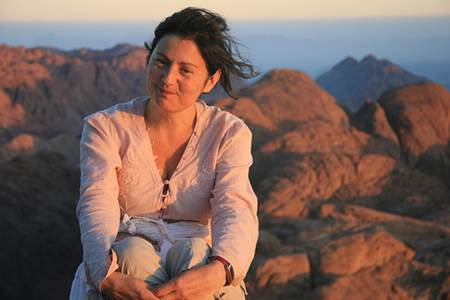 We tumbled into the foothills of the Sinai mountain range with the breathless, wondrous, delectable naiveté that most befits young vagabonds. Hugged on all sides by the tortured brown mountains of biblical lore, my best friend Jill and I camped in a tent beneath the vast Egyptian sky, right on the outskirts of Mount Sinai. We decided we'd make the trek ourselves: since our guidebook had an entire section dedicated to such an endeavor, it seemed certain that we could accomplish this exactly as we hoped.
We'd been called to make this trek for different reasons. On the front end of our three-month backpacking trip through the Middle East and Europe, it was exactly the sort of over-the-top thing to do. How could we be in the region and not climb it? Pilgrims of all sorts came each year to make this legendary climb. My reasons for deciding that mountain, that climb, that tent beneath the sky, however, were a bit different.
Approximately two years prior to tumbling into the Sinai range, a neurosurgeon had looked me in the eye after a risky and painful back operation and told me, "You probably will never walk again." He'd deftly extracted a benign tumor lodged within the squishy canals of my spinal cord, nestled amongst nerve endings and intertwined with crucial receptors and synapses and bits that should never be touched. The result was miraculous. The tumor was gone. I was alive. But I was paralyzed from the chest down.
Nobody really knew if I would walk again. We acted as though I would. The healing process was long and painful. There were times when the fear of a whole life in a wheelchair was so profound that it would reduce me to breathless, dizzy fits of anxiety in bathrooms or hallways. There were other times when I was so optimistic people probably wondered if I was drugged or just lying to myself.
But I recuperated. Slowly. Steadily. Miraculously. And as I re-learned how to walk in my early 20s, each step I took formed part of a pact between myself and the Powers That Are: I promised to never let life goals or dreams go unrealized. I would never say no to a challenge or adventure. The gift of mobility was too precious, and I was hell-bent on sucking the life out of my life. My former resolve and motivation quadrupled. I lost weight. I strengthened. I ate differently. And I launched all sorts of dream-realizing trips.
Which is how I found myself smoking sheesha with Bedouins late one night in the Sinai Region, talking details about the hike.
"We're leaving at 11 tonight," one said, "if you're interested in joining."
Jill and I exchanged looks. It was 10:30 p.m. and we were just getting ready to lie down. "11 p.m.? That's awful soon."
"We'll spend the night on the mountainside. Then climb in the early morning."
We exchanged another look. Leave now when that moonlit tent was waiting for us? When the guidebook had a whole 12-page section dedicated to the hike? Who needed Bedouins? We declined politely and spent a restless night, plagued with eagerness and anxiety to begin the hike.
We woke up late for our pilgrimage. At 3:15 a.m., we fought heavy lids and the lure of the warm sleeping bag. We'd thought to borrow a flashlight from the campsite owner the day before, one of the few foresights we had.
That early in the morning my leg was already acting up. The back surgery had left me with significant deficits — one leg was far weaker than the other, and not all the nerve channels were open and functioning like they had pre-operatively. This meant some days were worse than others, but I found that at 3:15 a.m. things were worse than usual. My foot seemed to drag more than it stepped. Somewhere in the back of my mind I knew this wouldn't go as I'd imagined. And as we followed a sinuous path out of the campsite toward a poorly lit road, I felt that maybe it was for more reasons than just the leg.
The guidebook had alluded to something like a middle-school field trip through the dark, complete with hundreds of people and jovial hiking. Jill and I were the only ones on this desolate road, and the farther we went, the harder the darkness fell. The mountains around us pressed in like invisible walls, a brutal unseen presence. Once we were deep enough to lose sight of the tiny dot of light that had been our campground, we looked around at the black nothingness, broken only by the feeble beam of a borrowed flashlight, and realized something critical: we had no idea which mountain was Mount Sinai.
We eventually arrived at what looked like an abandoned medieval community. We'd passed a map earlier and, although we studied it intently for several minutes, failed to remember anything of note. We spent an embarrassing amount of time wandering the premises, unable to find where the trail to Mount Sinai began. Our hopes that other pilgrims on the trail would point us in the right direction lay in silent, desolate shards around us.
Around 4 a.m. we found a sign that said "Mount Sinai" with an arrow. We rejoiced. Yet sunrise was two hours away and we hadn't begun the actual hike. My weaker leg was already tired, and the amount of stumbling and tripping I'd experienced thus far in the trip was worrisome. Furthermore, we'd seen no sign of life anywhere. We'd spoken to the other pilgrims last night — where were they now? I couldn't ignore the thought that maybe we were climbing the wrong mountain altogether.
Once the medieval community was safely behind us, we began to grapple with the real definition of a nighttime hike. While various wooden signs with arrows helped guide us, it was only when we could find them that they were actually helpful. Between posts, we found ourselves wandering old castle grounds, smelling camel farms, and intimately exploring dead ends. Time slithered away.
Our energy waned as quickly as the remaining time before dawn. In the pervading darkness, it was difficult to find safe footing amongst the loose rocks and steep steps. It's a task that no one should attempt, deficits or not — but at that time, all I could see was the neon-glare lighting of my own shortcomings. You can barely walk normally as it is, what are you trying to do? This was such a stupid idea. Several times, camels and their riders lumbered lazily by.
"You need camel?" They were shifty shadows on camelback to us, accents thick with halfhearted offers.
"No, thank you," we said, offering firm smiles in advance of whatever bargain they'd come up with. But they didn't try to convince us.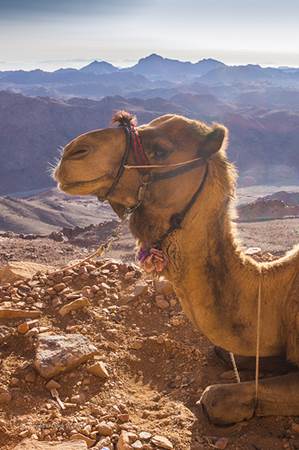 We declined the first few offers in an effort to remain hardy and independent — me because I was eager to prove to myself that I was post-operatively "normal," and Jill to save money on renting a camel, and probably for the physical glory too. It's one thing to climb Mount Sinai, but to do it alone and in the dark? I could practically hear the gasps of awe from my friends back home.
But as the path twisted deeper toward infinity and we were scrambling to make progress in an unlit maze with no map, Jill and I set aside the egos and made a hard confession. We did not know if we were on, or even near, the actual Mount Sinai. A camel ride suddenly seemed like a great idea.
We hailed the next camel. Silently, the Bedouin guide helped us mount and, after a considerable amount of groin rearranging, our two-camel caravan began with a lurch. The climb advanced to the rhythm of camel hips, languorous yet delightful. Every step reconfirmed our choice, as even the ancient mode of transportation frequently found slippery footing and half-starts. I looked at my weak leg, dangling in relief. I gave the camel reassuring pats and murmurs as we moved: "Thank you for doing this, my leg and I thank you greatly."
Through the darkness tinged with highlights of pending dawn, Jill and I looked at each other, eyes wide with the same wonder: what the hell were we thinking doing this alone? The ancient Israelites maybe used camels, or maybe not — but they certainly hadn't sent two of their young females with a tiny flashlight at 3 a.m. to make the trek alone.
The camel-aided climb continued steadily. Through the lifting darkness, more could be made out of our surroundings. The suffocating walls of darkness in the mountains slid away to reveal tortured, craggy formations. The path was narrower and more confusing than we'd been able to surmise in the darkness. The weight of our reckless decision lifted with the dark; as bruise-purple hues turned to pink and paths began twisting sharply upward, a sure sign of getting to where we needed to be, we felt bolstered by the progress thanks to our camel saviors. Soon, the drop-off point came.
Before us lay another path that wound around to the Steps of Repentance, that notorious, 750-step stairway carved by a monk really eager to suffer. By this time, full sunlight had settled around us like a comfortable shawl, a companion we hadn't even noticed enter the room but here he was, arm slung around us and talking nonstop. Finally, other pilgrims, travelers, and wanderers were plentiful around us.
But something was off.
"Jill," I whispered, eyes darting between the descending droves and the vertical arc of the stairs before us. We stepped aside as a particularly large group made its way past us. Someone's shoulder hit mine; I stumbled back, trying to shrink as much as possible on the tiny path.
"Shannon," she whispered back.
"Am I seeing this right?"
She nodded. We watched, both spellbound and mortified, as a line of pilgrims filed past us on the last leg of descending the Steps of Repentance. These were the people that had slept on the mountainside, forsaking moonlit tents in favor of late hikes with Bedouins and sunrises on the summit.
Not only had we employed a camel to do our dirty work and missed the damn sunrise at the summit, we felt like the kids who showed up for the movie just as everyone was shoving their way out of the theater, laughing about all their favorite parts. The air was buzzing with excitement as people filed past; already nostalgic sighs and photo sharing were plentiful as we struggled to begin the climb, though the descending drove was sometimes so thick on the tiny path that we had to cram ourselves into nooks to allow the groups to pass.
We were the living intersection of Hapless and Rehabilitating.
We pressed on regardless. The steps were jagged. And winding. Add to that steep, rocky, and mostly terrifying. Looking down was always a bad idea. The hike would be difficult for a regular able-bodied person, I realized, and every few minutes I grappled with the real fear that my leg could give out, I would fall, and then most likely die. I already knew that I must never admit to my physical therapists or my parents the true depth of my folly. Things like this were banned for good reason back in the States, and handrails felt like a distant memory, perhaps something I'd invented in a dream.
But the anticipation of what lay above and the pride that mounted with every step as the view grew more glorious pushed us onward. We paused frequently to breathe — the air had grown thin 2,280 meters in the sky — and to lean heavily against the rock walls, allowing moments of respite for limbs and backs.
My leg shook harder the farther we went up, my weakened muscles screaming with agony as I continued the torture. Stairs had never been my friend post-operatively, and this staircase was the mother of all rehabilitation efforts. When I felt complaints stinging my tongue or the swell of emotion as I cursed my weak leg and the stumbling and the tripping, I forced the words of my neurosurgeon to the front of my brain: You may never walk again.
This time, it was able to erase the neon flash of the self-doubt that had accompanied me throughout the journey, sticking to me like the smell of burnt popcorn in a tiny kitchen. Not only could I walk again, I could climb to the summit of Mount Sinai. Maybe not gracefully, and maybe not on time. But I could do it.
A half hour after beginning our repentant trek up the stairway, we arrived breathless, exhausted and triumphant at the summit.
And we were totally alone.
I reached for Jill. Her hand found my wrist. The number one rule of tourist sights: expect crowds, and be prepared to constantly battle heads in the corners of your pictures. But we had found a loophole: if you do almost everything wrong, you can be rewarded in a way you never thought possible. The view sprawled unbroken for miles in infinite directions, no heads interfering, no bodies in the way.
The sunlight was bright, still cresting the sky. Silence settled in the Sinai region like the pause after a gasp — expectant, thrilled, and very heavy. The wind appeared and then disappeared in powerful gusts. We felt both hurried along and stilled, as though the wind was an overeager companion tugging at us to look here and then there, did you take that picture, catch that glimmer of sunlight on the distant ridge?
The view was, as often described, "like an ocean of petrified waves." But what crept out beyond the petrified waves of our vision was the fact that this — all of this glory, this staggeringly archaic region where the voices of prior pilgrims seemed to exist as a dull murmur in the valleys beyond — was, for this moment, only ours.
My leg throbbed with aches and strains in ways I had never experienced. But my legs had carried me here, as the legs of all pilgrims had done for millennia, in all states of disarray, weakness, illness and more. Higher religion or spirituality may push a pilgrim to make the journey, but beneath the surface of the decision there is a softer, unmistakably human layer.
I sat quiet on a rocky outcropping, legs crossed and vision drenched with brilliantly lit valleys and mountains. When I listened hard, there was stillness in the rush of the air. There was all of creation before me, and as I acknowledged heart beats, fingertips, the grit of stone, the expansive arc of nature, I felt all of creation within me.
I bowed my head. In the bubble of the summit, sunlight crept between pinched eyelids. The wind pushed and pulled. I breathed deep once, and then again, and as the breath slid out of me I allowed myself to finally cry.
*****
Shannon Bradford is a twenty-something with a fondness for open-air markets, ancient ruins and foreign tongues. She is currently living creatively in South America where she is completing several novels, mastering the Spanish language, and learning the ins and outs of the ex-patriot lifestyle. Check out her current writing project, The Astromaid Chronicles.
*****
Photo credits:
Woman on Mount Sinai: Karl Schneider via Flickr
Woman on Wheelchair: neovain via Flickr
Mount Sinai Sign: gloria_euyoque via Flickr
Camel on Sinai: Derek Winterburn via Flickr
Mount Sinai Stairs: gloria_euyoque via Flickr
Pilgrims Descend Sinai: Guillen Perez via Flickr
Sinai Trek: gloria_euyoque via Flickr
Sunrise over Mount Sinai: Thom Chandler via Flickr