by Kit Habianic
Winner of the Spiritual Category for the 2009 WanderWomen Write Contest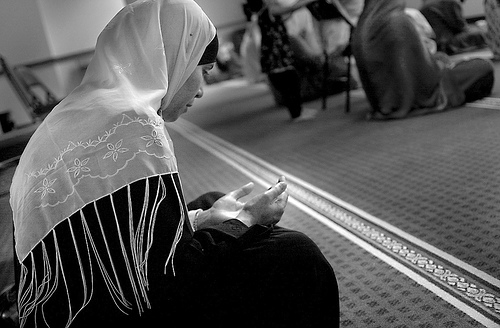 In the heart of Damascus, encircled by drab government concrete and lanes of screaming traffic, lies an ancient city of a thousand wonders. An ancient city encased within a modern city, the Medina of Damascus is a labyrinth of winding medieval alleys, every turn of a corner revealing high-walled merchants' houses, the bustling entrance to a souq or the tiled doorway of a mosque.
I had escaped to Syria for a weekend break from a business trip to Beirut. Nowhere on earth feels as 21st century as mid-town Beirut — it was rebuilt from scratch after the Lebanese civil war ended in 1990. In contrast, Damascus is the oldest continuously inhabited city on earth, the past and the present interwoven like knots in a carpet.
I stumbled across the shrine of Sayyida Ruqayya, great grand-daughter of the prophet Mohammed, by accident, after a morning at the Umayyad Mosque, the most famous landmark in Old Damascus, with its vast marble courtyard, black-and-white striped stonework and the gilded shrine that contains the head of John the Baptist.
Overwhelmed by the camera-packing tour groups and by the glare of fierce June sun on pristine white marble, I left the Mosque in search of a coffee. But on stumbling out through the gates, I found myself penned in on all sides by a crush of black-veiled women.
There was no choice but to go with the flow of bodies, as the crowd surged through a souq selling children's clothes and disgorged into a square beyond it. I stepped back to gather my breath and looked up to see tall iron gates guarding the portico of a small mosque. Above it, a vast onion dome gleamed silver in the sunlight.
I was surrounded by women swathed in billowing black robes and men in buttoned-up white shirts. But there were younger women too, in boot-cut jeans and t-shirts, and boys with baseball caps. Then I realized that most were speaking Farsi, not Arabic: these were not Syrians, but hundreds and
hundreds of Iranians.
Entry
It was nearly time for mid-day prayer — a time when many mosques are closed to non-believers. I looked up at the simple lines and arches, and wondered what secrets lay inside. Built in an elegant Persian style, the mosque's ornate panels of gold, blue and silver calligraphy above the door hinted at further surprises beyond its gates.
A short, bald man was watching me. He looked every inch the genie, with a long, pointed beard and a pleated turban. When I met his gaze, he walked over and spoke in Persian-accented English.
"You want to go inside, madame?"
I blinked, wondering whether he was teasing me. Surely non-Muslims were not allowed…
The man laughed. "Nonsense," he said. "Only problem, no photographs. You collect a robe, then off with the shoes. Women's entrance is on left."
And with that, he vanished back into the crowd.
The encounter was straight from one of Scheherazade's more improbable tales: the fabulous architecture, the mysterious stranger and the gateway to a mysterious world of women. Who could resist? I fell in behind a couple of teenage girls with blond-streaked hair and queued to collect my veil.
Sayyida Ruqayya is the daughter of the Imam Hussein. Both are venerated by Shi'a Muslims, and the Damascus mausoleum that marks Ruqayya's grave was rebuilt in the eighties with Iranian donations, after decades of neglect. Today, thousands of Iranians and other Shi'a pilgrims travel to Damascus to visit her shrine.
A tall, forbidding man with a warrior's moustache, carved cheekbones and slanting, tatar eyes loomed in the doorway. He handed me something that looked like a piece of sack-cloth, watched me tie the robe and cover my hair beneath the pointed hood. Dress code established, he smiled briefly, stepped aside and waved me through.
The women were queuing at a second booth. Here, I swapped my sandals for a small wooden tag then walked out into a sun-filled courtyard, feet bare on sun-warmed marble. Elderly pilgrims basked in the noon heat, eyes half-closed, as children ran giggling around the fountains.
An arched doorway led to the shrine, the entrances for men and women divided by a floral curtain. I could hear low chanting from inside the men's room. A guard waved me towards the women's section, and I stepped into a room so ornate it made orientalist paintings of Turkish harems seem minimalist.
When my eyes adjusted to the darkness, I saw a vast, domed hall, swooping arches supported by blocks of white marble and topped with panels of blue, inlaid ceramics.
The ceiling was festooned with oil-lamp chandeliers and decorated with intricate geometrical patterns in red, white and green that suggested twined flowers and leaves and Persian calligraphy picked out in gold leaf. Jewel-colored carpets covered the marble floors. And at the center lay a mausoleum boxed in green, inlaid glass.
The Believers
Women circled the shrine or sat in groups along the walls. Iranian city women in floor-length chadors mingled with peasant women from Turkey, Syria and Iraq in bright robes and chintzy floral veils. I crossed the hall and sat in a corner near an old Kurdish woman dressed in a red and green tunic and matching baggy pants. As we sat together and watched the pilgrims, she pressed a fistful of pistachios into my hand.
Some women were locked in trance-like prayers, murmuring holy verses and prostrating themselves to face Mecca: others flung themselves at the tomb, and pleaded with Sayyida Ruqayya for help and support, kissing and weeping over the metal fretwork that encased the mausoleum.
Above the mausoleum rose a dome inlaid with a mosaic of mirror fragments. Laid at angles, they glittered like the facets of a huge diamond, refracted light carrying the women's prayers up to the heavens.
A middle-aged woman pressed a length of gaudy fabric through the bars, rubbing the glass with a muttered blessing. Another fished in her robes, and pulled out a silver dish and a bottle of mineral water, stuck the bottle through the bars and poured the water over the metal frame into the dish, took a swig of the water, then rebottled the rest.
Other Iranian women lifted their tiny children to kiss the shrine, then took turns to line up for holiday snapshots. But most women quietly paid their respects, then went to sit on the cool, marble floor, each lost in her own private hopes and losses, thoughts and dreams.
It was hard to leave, but at last I emerged into the courtyard, dazzled by the sunlight. Outside the shrine, sandals on feet and divested of hessian robe, I let the crowd sweep me back through the winding alleys of the souq, buffeted by the cries of the vendors and the competing scents of roasted za'atar, and cumin and fresh-tanned leather.
Some months later, a Muslim friend asked what I had wished for, and whether Sayyida Ruqayya had granted my request. The question caught me by surprise. I had been too caught up in the magical atmosphere of the shrine to even think about wishing for anything. Who could wish for more?
*****
Photo credits:
Damascus: paalia
Mosque: seier+seier+seier
Woman Praying: Beth_Rankin