by Steven Wolfe
Finally the power flickers back on. We are still in our orderly line, three planeloads, waiting with passports damp in our hands. Giant fans creak back to life. The line becomes a snake, a spiral, a labyrinth suffocating on its own accumulated breath. The room can't contain us. We are too many, waiting. India Customs, sweating through his uniform shirt, waves us all through with a shrug. One backward glance toward the sickly fluorescence, then forward into the dwindling sunlight.
My boot soles rest on the ancient soil of Varanasi.
I am there, on the ground itself, the actual dirt over which Lord Krishna guided Arjuna's chariot into battle. Krishna now pilots a taxi. He twists in the driver's seat, one hand on the wheel, another smearing raindrops
across the windshield with a rag. A third hand pounds the horn. The Blue God misses that elephant, one deft swerve. Not sure about the goats – I hear a thump but don't turn to look. It is their destiny.
I came from the sky. Out of Kathmandu the mountains had sheared away and the immense green plain spread itself beneath us, beaten flat, infinite in all four dimensions. As we descended in ever-tighter circles the moisture built, thickened, squeezed from between the layers of atmosphere like jelly from a sponge-roll. In my room now the heat is homicidal. But the a/c reeks of mildew. Turn it off, throw open the windows. Let the moonlight flood in. I'm here to learn something, right? So let us breathe the same damn air as everyone else, at least. That's why I came. To learn something. Some thing – what, I have no clue. Isn't this where people end up when they've frayed their last kite string?
The bed itself is sweating. Bonfires flicker across the ceiling. Ganga coils out there like a cobra, bearing its poison stream of ashes, garbage and prayers down to the ocean.
Dawn crowns blood-wet into sky.
I'm in the streets, searching for that magic vendor selling an invisible something the cost of which is a mystery. What if I can't pay it – what if I don't even know when I see him? I scan every ledge and crevice, try to translate each dandelion struggling into the sunlight.
And I'm ignoring the little terror wriggling in the corner: maybe there's nothing to see. What if, after all these thousands of years, they're just as clueless as everyone else? All this around me, the exploding electric super-life of India – temples and cows and flowers and rivers and god/god/god – if under the layers of smell and sound and color it's no deeper than where I've come from, if there's nothing waiting to be discovered, no greater understanding . . . then what? Don't think I haven't considered it.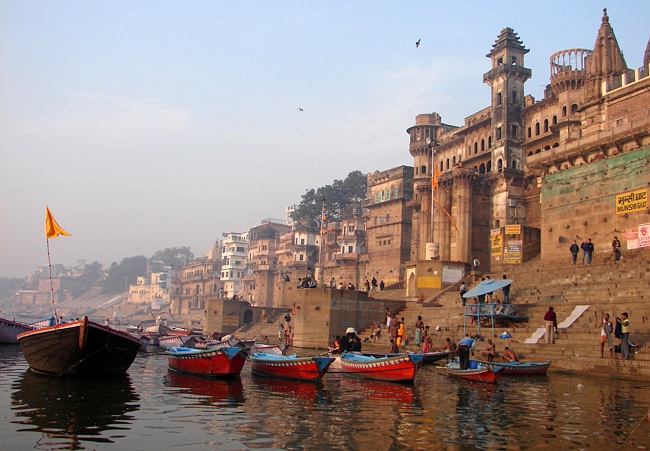 An hour passes. I've been butted in the liver by a cow filled with disdain; caught a red blotch of betel-nut spit across my arm; stumbled over the legs of an old woman on her back in the weeds, scanning the sky with her dying fly-crawling eyes. The streets – footpaths really – are cramped, crooked, sloping down to the burning-ghats along the riverbank. I'm wandering along, holding damp pan leaves against my bruised side, when I turn a corner and am confronted by the apparition – the one, I know instantly – for which I've been hoping.
He's about twenty yards away – a sadhu, booking up the street like he's late for a business meeting. He wears around his middle a fat bright girdle made of hundreds of colored rags twisted together, their ends fluttering with his movement. Every inch of exposed body from his claw-like toenails to his ropes of hair is coated with mud and dung and bits of straw.
I'm frozen. Not breathing. A for-real holy man. It's all true, I'm thinking. Keep your eyes open. Satori is imminent, all will be clear. He'll have to pass within a foot of where I stand. He shows no sign of noticing me. His arm brushes mine.
Suddenly his hand shoots out and, with the point of his knuckle, he noogies me hard in the ribs.
At the same instant he honks – "Meeep!" – a sound like the Roadrunner makes when he's about the leave the Coyote in the dust. And he winks at me. Grins.
Stuff did happen after that, the usual, whatever. None of it matters. I left India a month later. Got married. Beautiful kiddies we made. Bought a house. It's all good, ya know.
Goodbye, goodbye, ttyl. He'd vanished, the noogieing sadhu, around the corner by the time I thought to turn and look.
Sadhu photo by Meanest Indian
Taxi Driver photo by zedvox
Varanasi Ghats photo by omblod