by Satu Susanna Rommi
" Sit in line! Sit in line!"
An old, thin and surprisingly strong Italian lady is shouting at a voluptuous Indian woman who is, apparently, trying to queue-jump. When the Indian woman does not seem to understand, the Italian starts to poke her with her slim fingers and to pull on her sleeves. The agitated Italian stops only when a security woman rushes to intervene.
We are waiting for one of India's most famous gurus: Sri Sathya Sai Baba. Our seating order has been decided in an early morning raffle, and queue-jumping is not taken lightly.
Sri Sathya Sai Baba is best known for his eccentric looks — wild afro hair and trademark orange robe — and for controversy: claims of sexual abuse and attempted lawsuits. Scandals have not stopped millions of Indian and Western devotees from flocking to his residence in Puttaparthi in the South Indian state of Andhra Pradesh. There are those who believe he is God in a human form, while Sai Baba himself claims to be the second incarnation of the revered Indian saint Sai Baba of Shirdi.
Miracle Man
Sai Baba's devotees believe he can perform miracles and materialize watches, jewelery and holy ash, or vibhuti, out of thin air. There are also skeptics who go to great lengths trying to prove that his miracles are just cheap tricks. Sai is involved in charity work, has built schools and hospitals and has provided clean drinking water and food to local villages. His message is "Love All, Serve All", and the name of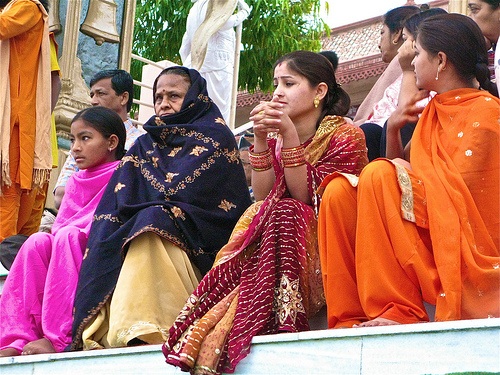 his Puttaparthi residence, Prasanthi Nilayam, means "The Abode of Supreme Peace".
To get to Prasanthi Nilayam I took a local train from Bangalore (known as India's modern IT center but in reality a chaotic, polluted and overpopulated Indian city full of traffic jams) to the Sri Sathya Sai Prasanthi Nilayam Station in Andhra Pradesh. After the four-hour journey in a local train full of passengers who stared at me in silence, the small town of Puttaparthi seemed buzzing with activity. There were Sai tailors, Sai water companies and Sai moneychangers, and shops that sold Sai Baba souvenirs from t-shirts to pens and from key rings to mugs. Tailors were doing a great trade in ashram outfits for Westerners who seemed to prefer long white robes, while Indian devotees were dressed in all colors of the rainbow.
The ashram itself was a large compound of buildings painted pink, pale blue and yellow. I was given a bunk in a large room that already accommodated two German girls, both Sai devotees. The dress code in the ashram required both men and women (but, as always, especially women) to reveal as little skin or figure as possible, and to cover most body parts with clothes, scarves and shawls. Alcohol and tobacco were strictly banned from the ashram, and the three canteens in the compound served vegetarian food that turned out to be delicious and very cheap. Everything in the ashram was run by volunteers: SEVA, or selfless service, is an important part of the Sai philosophy.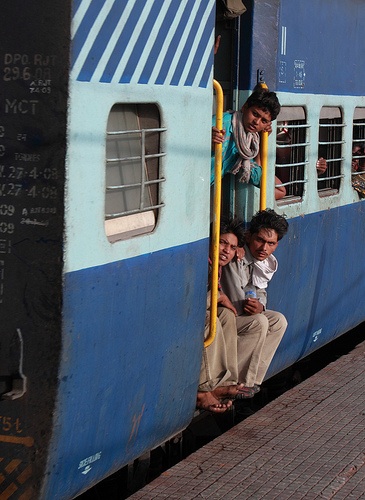 Life in the ashram focuses on two darshans, meetings with the guru: one in the early hours of the morning and another one in the afternoon. The large darshan hall can accommodate hundreds of people. Men and women sit on separate sides of the hall in lines, the order of which is decided by a raffle before every darshan.
Still Waiting
So here I am in the darshan hall, waiting. It is hot inside my long-sleeved shirt and the long skirt and the scarf I have to wear to cover my breasts. We sit so close to each other that it is difficult to shift position, and soon I've developed a leg cramp. The air is heavy with the scent of incense. The darshan hall is decorated with gold, candles and fresh flowers, and small birds fly around the chandeliers that hang from the ceiling.
The long wait in the hall gets on many a devotee's nerve. If someone is suspected of queue-jumping, or is too excited to sit still, those next to her will soon intervene verbally or physically, while a crowd of enthusiastic security men and women maintains order in the hall.
But the long wait is rewarded when Sai arrives. In a car. His advanced age — he is now in his 80s — prevent the guru from walking amongst his devotees as he used to do, and he is simply driven to the stage in th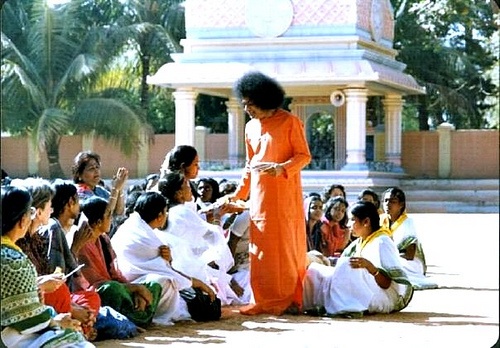 e middle of the hall. To his devotees it is enough to witness a glimpse of his black curly hair or his orange robes through the car windows. Some start to cry, some try to run after the car until a security guard grabs them and forces them to sit down.
We sing bhajans, devotional songs, and after a while Sai is driven away again. Someone tries to run after the car, followed by a security woman shouting "Sai Ram!" In ashram language, "Sai Ram" can mean anything from good morning to good night. In the darshan hall, "Sai Ram" can mean "sit down!" or "back in line!" In the canteen, "Can I have more rice?" becomes "Sai Ram rice".
After a couple of days I have already had enough of sitting in the darshan hall for hours, and I start to spend more and more time in a Nepalese-run rooftop cafe just outside the ashram gates, my thoughts revolving less around Sai and more around cappuccino and chocolate cake. Unfortunately, an older Indian lady, who sits outside our shared bedroom and acts as a security guard/ busybody, notices my absence from darshans.
"Sai Ram darshan!" she orders.
Since I don't feel like sitting in the darshan hall for hours every day anymore, I end up explaining to my roommates that it is time for me to leave Puttaparthi. I have nothing against the ashram, I say, but it is not the right place for me.
"That doesn't matter", says one of the German girls, smiling. "Sai is everywhere!"
* * * * *
Satu Susanna Rommi is a freelance journalist and travel writer. Born in Finland, she has lived in the UK, in India and in Switzerland. She contributes to several magazines, newspapers and online publications and her first travel book was published in 2009 in Finland.
Photo credits:
Sai Baba in chair: yeokhirnhup
Women in saris: wieland7
Indian train: brian.gratwicke
Sai Baba: Wolfiewolf