By Laurie Weed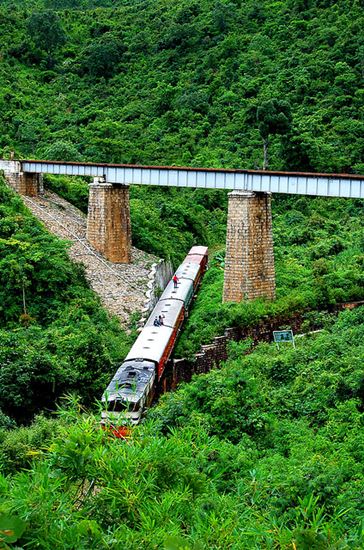 "Madame, Ordinary Class is very full, you see," the ticket seller waggled his head in a discouraging manner. He was the last of several head-wagglers to try and herd me into First Class, where foreigners in Myanmar officially belong. I wasn't resisting because of the price difference so much as my desire to travel among regular people, rather than be exiled with the "wealthy."
"In First Class, one person, one seat," he continued. "But in Ordinary Class…" he paused, rolling his eyes toward the other ticket seller who was pinned to his desk by a disorderly flock of flapping, cawing women. "Many people. You see?"
When I left San Francisco in the fall, I knew I wanted this winter to be different. Yet I had gotten a little more than I bargained for: a bout of tropical maladies in Laos, a typhoid episode in Bangkok, a prolonged breakup on a desert island, and a riverboat mishap that was a really close call. After five ridiculously unlucky months on the road, the trip's end was rushing toward me like a rogue wave and I longed to slow it down. I was tired of disasters, airports, tourist destinations and tourists. I was out of money and nearly out of time. I had to go home, but first, I longed to spend a few days traveling alone, in slow motion. I wanted to remember what drew me to Asia in the first place, and I wanted a proper goodbye.
Even in the high season, foreigners rarely visit Myanmar's arid Shan state, and it is utterly devoid of them in April. However, it is a peak travel time for locals trying to escape the pre-monsoon heat of the plains. In Pyin U Lwin, a former British hill station, time has literally stood still since the British left. The hands of the clock tower that looms over the decayed colonial buildings and tattered rose gardens haven't moved for decades. I decided to slow time even further by riding to my next destination on a Burmese train. It doesn't get much slower than that, even here in the Forgotten Land. So, that morning I'd hailed a brightly painted horse cart to carry me to the red brick station, where I repeated my Ordinary Class ticket request to various officials until I found myself talking to this gloomy, head-waggling man. Just one more bureaucratic hoop and I'd be on a slow train to Hsipaw, temporarily frozen in time.
"Ordinary Class will be just fine," I said. "One ticket, please." He gave one more resigned waggle, got out his pen, and scratched my name into his book.
"Madame is in Coach 2, Seat 23," he said, handing me the ticket. As I walked away, I heard him sigh, "Godspeed, madame."
I was still snickering when an elderly Indian lady sidled up to me.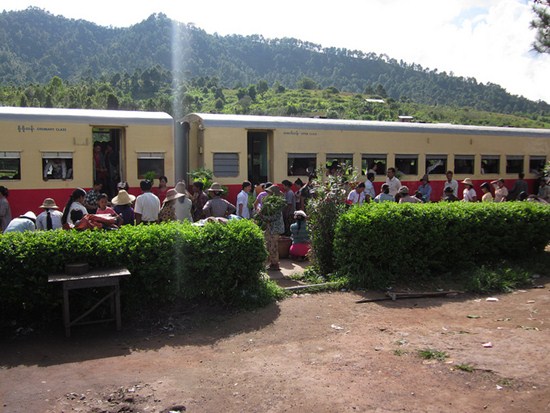 "Ordinary Class?" she clucked, trying to peer over my elbow and read the ticket in my hand. "How much you pay?"
"I paid two thousand kyat," I said reluctantly, knowing exactly where this was leading. Getting the best price is a Burmese national pastime, and I played the game poorly.
"Two thousand!" she snorted. "Look, I pay only 500–and we are on the same car, Coach 2. See?" Gloating, she held up her ticket stub for inspection.
"Foreigners have to pay more–what can I do? I tell them I'm half Burmese, but they never believe me." I shrugged and drew an imaginary line along the top of my head, illustrating my height: I'm an average-sized woman in the West but a giant in Asia.
This made her laugh, and she took me under her scrawny wing. "My name is Theresa," she told me. "In our country, we call old ladies 'Mother'–this is polite. So you can call me Mother Theresa!" Hooting at her own joke, she badgered me into buying her a cup of tea. Her children had bought her train ticket, she explained, but they refused to give her any tea money. "Peh, so cheap!"
Squatting across from Mother Theresa at a table sized for Lilliputians and humming with flies, I learned that she was a 72-year-old retired schoolteacher of South Indian descent, and a widow of nearly two decades. Two of her four sons had moved to Lashio, a Chinese trading post at the end of the Burma Road, and she was on her way to visit them.
Shaped like a gourd with long, twiggy arms, Theresa was swathed in a faded cotton longyi and a knit sweater, even though the temperature was at least 85 degrees Fahrenheit. Thick, round glasses enhanced her inquisitive expression. Her English was a little rusty and she shouted constantly, as her hearing had faded. She sported one tooth, elephantine ankles, and a goatee that would make any college boy proud. I was charmed.
Ticket or not, I would never have gotten into Ordinary Class without her because when the train pulled up to the platform, there was a frenzy. The milling crowds surged forward, pushing and shouting, hurling children and cargo into every available inch. I plodded after Theresa to Coach 2, but from there I was stymied: the narrow benches, already overflowing with people and goods, were numbered in Burmese.
"Come, come!" Theresa commanded. She forged a path through the tangled swarm and I bumbled after her, taking care not to brush anyone off the train with my backpack. When I caught up to her, she was engaged in a shouting match with a scowling Chinese matron and a young Burmese lady who kept rattling her small son's arm for emphasis. Their voices escalated until abruptly, a seat was cleared. Theresa beamed at me; the other women glowered and looked away.
"Sit!" Theresa motioned to me. "Quickly, this your seat–you don't give up!" She shook a gnarled finger at the Burmese mother, who was making a pouty face. "That one there, she a cheeky one! She try to take your seat!"
"Oh…well, thank you very much," I said, slightly embarrassed.
"I tell them: you my daughter! And if they try to steal your seat, I coming back!" Theresa swept her threatening digit around the group once more, then marched off to claim her own seat at the rear.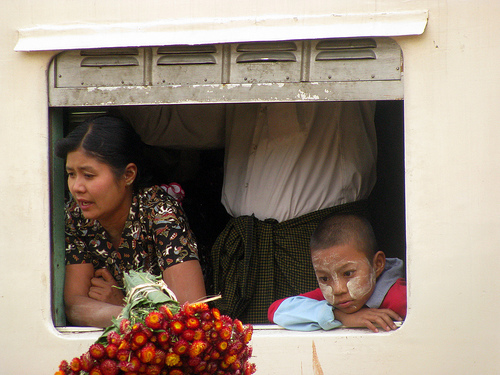 Conscious of my fellow passengers' scrutiny, I stuffed my big backpack into the overhead rack and sat down on the hard bench, cradling my smaller bags in my lap. The Chinese lady sat down on the opposite bench, pointedly ignoring me, and the woman who'd been ousted from my seat began cajoling me in Burmese, nudging her reluctant child forward. I smiled, patted the bench and scooted into the wall so they could squeeze in, although it seemed likely that ticketed passengers would soon claim the coveted seats.
Every other bench was packed and so were the aisles. Most travelers clutched at least one large bag or small child on their laps, and the floor was piled high. Shopping bags bulged, baskets and boxes overflowed with fruit, flowers, and foodstuffs to be eaten, delivered to relatives, or sold at some point down the line. In fact, the other passengers looked prepared for an epic voyage, which worried me since we were only 90 kilometers from the end of the line. Exactly how long did they expect this trip to take?
Just when I thought we might get underway, the missing ticket holders of our seat showed up and another shouting match ensued. The squatters were shooed away again as a bustling young family hauled aboard two enormous grain sacks filled with green mangoes, which they clearly intended to park in the space that was barely accommodating our legs. My Chinese seatmate tapped my knees impatiently with her fan, signaling me to move. Envisioning how I would feel after a whole day spent in a yoga position, knees over ears, I decided to hold my ground. What little space remained would have to be shared fairly, if not comfortably.
Taking a cue from Theresa, I negotiated in pantomime: I would make room for the mangoes, but only if the Chinese lady repositioned her five-gallon basket of limes–currently wedged against my shins–so I could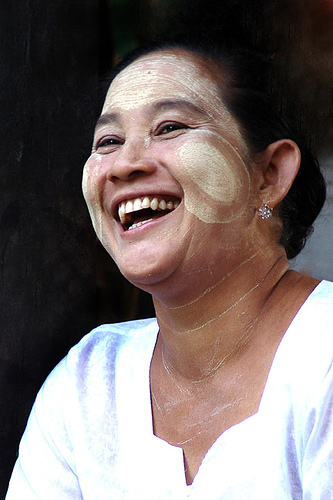 extend my legs occasionally. When she began to object, I merely twitched an eyebrow toward the rear of the coach where my adoptive "mother" was holding court. Magically, my opponent subsided. Perhaps the most useful thing to take on a long Burmese train journey is an irascible Indian mother. As the shuffling of bodies and baggage continued, the train lurched forward.
With my feet propped on the mangoes and my knees tucked below my chin, I could extend my legs gently, one at a time, whenever they began to fall asleep. A sticky toddler camped beneath the awning of my legs, snacking nonstop throughout the journey and happily making use of my pants as a hand towel. Her older brother, a whining, fractious child, shrieked whenever his mouth was empty and threw garbage at people for amusement. Everyone else just grimaced and ignored him, but on the heels of Hurricane Theresa and the Great Mango Standoff, I felt obliged to show some goodwill. Rummaging through my bag, I found some paper and a few colored pencils to distract him.
The ticket clerk had not exaggerated the popularity of Ordinary Class. We were stacked wall-to-wall and eight deep in Coach 2, with bodies wedged between and draped astride a colorful strata of agricultural and domestic cargo. Immigration to this area had surged during the relatively flush years of British occupation, and the northeastern quadrant of Myanmar's geographic "kite" is now home to ethnic Burmans, Chinese, Nepalese, South Indian Tamils, Shan, Karen, and too many other hill tribes to name, creating a cultural mix as rich and dense as a heap of green tea-leaf salad. There were no other Westerners in sight and, other than Theresa, no one in our overcrowded car seemed to speak English. Perfect.
As the train chugged up the valley, Coach 2 swayed like a small vessel in rough seas, passing an endless scroll of parched hills and a few tiny villages huddled under ragged trees. Inside the train, it was lively chaos: children cracked out on sugar and the excitement of a journey; chattering women dressed in their finest clothes, cheeks swirled with fresh thanaka designs. We stopped every 20 minutes or so and a few more vendors crawled in through the windows to scramble around on our shoulders, sing-songing the attributes of their wares.
There was no potable water on the train, but that was all right, because there was no toilet, either. Babies were unceremoniously stripped of their pants, if they had any, and dangled out the window to answer nature's call. Bigger folks who needed facilities would hurry outside during one of our frequent stops, sprint to the opposite track, and squat down in full view of the entire train. It's a reasonable system if you're wearing a longyi, but I did not care to attempt it in blue jeans. Fortunately, I didn't feel thirsty. I also had little appetite for food, after eating a lot of dust and the occasional chunk of coal through the open windows. The other passengers gorged their way merrily up the line, dropping their fruit peelings, wet plastic bags and soiled paper wrappings to the floor.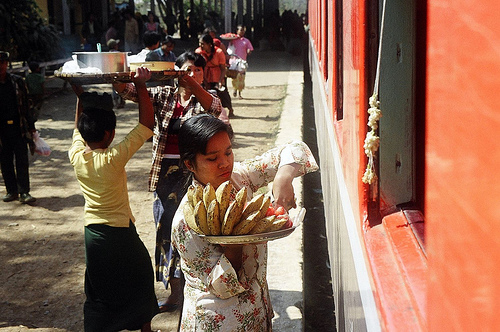 About halfway through the trip, the population in our coach dipped below maximum capacity and Theresa moved up to sit next to me.
"Every-ting O.K.?" she cooed, patting my arm as she threw the Chinese matron a stern glare.
"Oh yes," I assured her. "Just fine. We're all getting along famously."
Still staring at my seatmate, Theresa announced loudly, "She's very fat! Isn't she fat?" Although I knew the woman didn't understand English–and didn't like me anyway–I felt mortified on her behalf. Again, I dug into my bag for a distraction, and pulled out one of my printed name cards. In most of Asia, you haven't really made a friend until you've handed out your name card, and so, with a little flourish, I presented mine to Theresa. Delighted, she exclaimed over it for several minutes and then passed it around for everyone to admire. Up and down the car went my photo and contact details. Nearly every passenger took a turn to hold it up, flip it over, and either spell or sound out my name aloud. While I continued to chat with Theresa and she translated for the closest neighbors, I had the disconcerting experience of hearing my name echo through the aisles of Coach 2, over the rumble of the train:
"Laurie Weed…Laurie Weed…?"
"El, Ay, Yoo."
"AR-uh. Ayee. EEE?"
"Wuh. EEE. Duh."
Whenever I glanced toward the voices, 80 faces in every shade of South Asia would look back, beaming and nodding as if the card had granted me a genteel introduction to everyone in Ordinary Class.
As we neared Hsipaw station, Theresa leaned over and nudged me.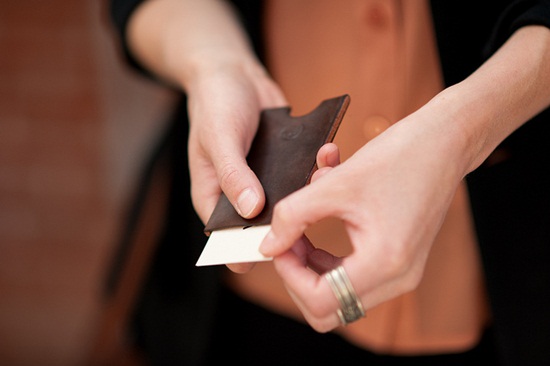 "Give me one dollar!" she demanded, gumming up at me slyly. This caught me off guard, but I handed her a thousand-kyat note (about 95 cents).
"T'ank you!" She chirped.
"You're welcome," I said.
Theresa inspected the banknote, snapped it once, and tucked it into her longyi. "I write you one letter!" she crowed. "I need one dollar to send to America. My children, they no give money for letter…peh, so cheap! If they ask me where I get these money, I tell them, 'my American daughter, my good daughter, she give me!' Ha-ha!" She slapped her thigh, chortling at the thought of outsmarting her miserly sons.
With another coy glance she asked, "O.K.? You like, I write you one letter?"
I grinned. "Mother Theresa, I would love for you to write me a letter."
"O.K.! I writing you! No joke!"
"Excellent."
The iron wheels shrieked as the old train heaved into Hsipaw, and I gathered my belongings to disembark. Theresa showered me with hugs and kisses, promising to write soon. Bidding her a fond farewell, I waved to the rest of Coach 2 and attempted to wade to the door through the compost heap of food wrappers and scraps. The other passengers smiled and waved back, even the fat Chinese lady. We had come a long way together in Ordinary Class. "Bye-bye," someone murmured shyly in English, and all around the car, heads began nodding and waggling in unison.
"Bye-bye!" Another anonymous voice piped up. The car was still jammed; I could not quite reach the door without risking injuries. "Bye-bye!" Another voice joined in, then another, and as I clambered over a green mango mountain to launch myself out the window, all the riders of Coach 2 were flapping their hands and chorusing, "Bye-bye!"
"Bye-bye, Laurie Weed, bye-bye!"
The steam engine puffed on to Lashio and I stood on the tracks alone, waving and grinning, glad I'd had my proper goodbye.
Photo credits:
Myanmar Train: worak
Filling the train: Ken Marshall
Train window: kevincure
Burmese woman: daniel n. reid
Train vendors: yeowatzup
Business card: Erin Berzel Photography