by Dianne Sharma-Winter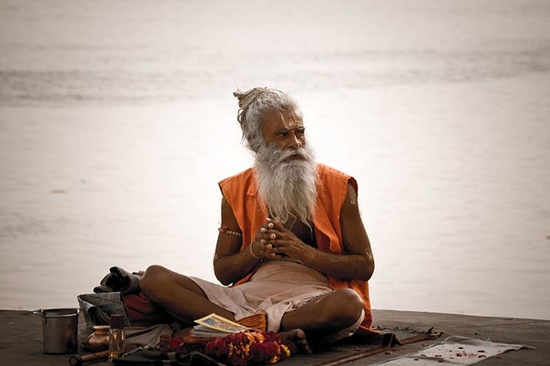 We get into their jeep and take a free ride to the police station. On the way we pass a body lying beside the road, a dead pilgrim from the night. The cops drive past attempting to ignore it but an argument ensues over who will stay with the body and who will accompany Baba ji and I. Obviously we are the more interesting catch since dead men, as the saying goes, have no stories to tell.
The more junior cop is dumped with the body and we continue to the station.
At the Police Station, it is the classic good cop bad cop situation.
I draw the good cop who, like all good Indian cops, takes the human approach. Eyeing me with soulful brown eyes, at once the inquisitorial father figure and confessor, he motions me to sit at one table while the bad cop takes position at the second desk, leaning over it and screaming into the face of Baba ji who sits and screams back at him.
The air is electric blue.
The good cop is obviously convinced of my insanity but since the mad are often given the benefit of the doubt in India and treated kindly, I see a small window of opportunity in his sorrowful eyes. Smoothing the pages of a heavy ledger, he selects a pen and begins to run through the usual questions, seemingly oblivious to the commotion at the second desk as Baba ji trades insults and abuse with the bad cop.
"Name?"
I tell him.
"Age?"
I tell him that too. He shakes his head in sympathy; obviously I am well past my use-by date.
"Husband's name?"
Dead. More sympathy, but he is beginning to get a profile. The situation is clear; I should be in Varanasi, the dumping ground for all of India's widows.
"Father's name?"
Also dead. He shakes his head again and sighs: stars and karma have sealed my fate long since.
"Country?"
"New Zealand." He has never heard of our Pacific Nation.
"Richard Hadlee?" I name a legendary player of New Zealand.
"O yes! Very good cricket! New Zealand!"
The rhythm of his lilting Hindi accented English and the pattern of question and answer calms my nerves. Every answer is meticulously transcribed into the Great Book of Time.
Visa number. Passport.
He explains that since the naked body of a foreign woman was found in the river, it is compulsory for all foreigners to register their presence at the police station. Then he takes my hand and slowly fingerprints me, insurance against my dead body turning up somewhere in the jungle and creating a bureaucratic and diplomatic nightmare for the local constabulary.
But it's hard to concentrate on this small island of reason while the bad cop is becoming increasingly more infuriated and his line of questioning even more hostile. A few choice expletives draws my attention away from the good cop to the bad cop and the holy man, I hear swearwords I know.
"Is this woman your whore and are you fucking her?"
The question is a sudden clap of thunder, stunning the air like the sky before a monsoon cloudburst. A shocked silence hangs over the police station. Suddenly, everyone who had been going about their business, keeping only one eye or ear tuned to the action at the front desk, drops all pretension of being otherwise occupied and turns to center stage.
It is a deadly silence.
The question echoes to the tick of the clock while I trawl through my mind for something that would explain the situation away. And try to keep a lid on my temper.
How dare they think I was silly enough to fall for the oldest guru trick in the world?
But I can see their suspicions glinting in their eyes. Indian cops are self appointed guardians of moral law as well, it's a way to sometimes solicit baksheesh from people whose only sin is to sin. Having previously met a man who was crippled by a beating administered to him by the cops in this area, I am nervous on Baba ji's behalf.
If I was a true spiritual seeker, why wasn't I in an ashram somewhere in the hills of Rishikesh or Pune where there is butter on your toast, where the resident Guru speaks in soft whispers and soothes your ego, charges you hundreds of dollars and sends you home with a semi permanent expression of piousness? Didn't I know that the grass roots approach to God had long since been re-branded into Five Star Enlightenment?
I was thirty years too late for this trip.
My eyes swing an arc over Baba ji who looks at me almost pleadingly. Then they skip past the contemptuous sneer of the bad cop and find haven in the dark brown pools of the good cop who punctures the deadly silence by translating the question into English.
"Madam," he asks gently, waving his hand towards the Sadhu. "What is your relationship with this man?"
Obediently I look at the man indicated by the good cop. Baba ji has stopped screaming and is still staring at me with the same, pleading expression, but I sense it is only a temporary lull in the action.
The slow swaying creak of the ceiling fan punctuates every second that the question remains unanswered. In it, the silence becomes a living thing. It is the kind of silence that hangs suspended between time and space.
Bouncing into eternity and back, it collects the sound of a single pin dropping from the trembling fingers of a child laborer in a Mumbai sweat shop, two days travel away.
I know from experience that in situations such as these Baba ji is more than likely to throw off what little covering he has and claim the spiritual high ground by declaring his status as a Naga, a defender of the Hindu faith with nothing, not even clothing between him and God. I seriously doubted that this little party trick would have the desired impact away from the jungle.
Beads of sweat popped on my tikka'd brow. If I admit to being his cheli, which is the only possible answer to give in these circumstances then I loose any privilege of supposed freedom I currently enjoy. So far I had gotten away with vague responses to the curious sightseer and had been kidding myself that I would be free to come and go from this scene as the fancy took me. I wanted to be able to explain to this kind cop that I disdain the western colonization of India's religious tradition. That I was someone who preferred the grass roots approach to life. That I felt very strongly there was a rickety bamboo bridge running between my culture and theirs. I wanted to see how it was for people like him to chase Shiva across the landscape of their lives.
My frame of reference was totally invalid given the circumstances.
Admitting to being his cheli was a terrible dilemma. To admit to being his cheli would be to put myself in a subservient position to him, something every survival instinct rebelled against.
But this was also a vote for tradition, for earning the knowledge I was being given. This also is a particularly Maori tradition, that knowledge must be earned and not given by right. I didn't have a problem with that but having observed the way Baba ji treated his students, I didn't fancy making a lifetime commitment (which is what it is) in front of such official witnesses. I squirmed in the seat while these thoughts raced through my head.
"Madam?"
"Sir?"
"This man?"
So much for spiritual tourism, grassroots style! Instead of asking questions at the feet of this sage, questions were being asked of me.
Instead of seeking the mystery, the mystery was identified as me. It all began to look horribly distorted. I realized that we could be in very deep shit.
If Baba ji blew a fuse now there would be nothing to stop the cops beating him and me as well. There was no alternative but to tell them what they needed to hear.
Drawing myself up in the chair and straightening my back, I quote Kipling instead.
My voice rings like a schoolmistress's bell as I announce quite clearly.
"This man is my guru ji. He is totally mad and we go on a pilgrimage together."
The effect of the words is stunning.
Beads of sweat transform into the soft rainfall of relief. The collective sigh released from our audience sways the trees in the garden, scattering yellow blossoms onto the earth,
Baba ji looks relieved. But the bad cop is not satisfied.
"This man is saying that you," he pauses a moment to scoff incredulously, "are his mother and that he is your son. What do you make of that Madam?"
Quoting Kipling has restored to me some sense of myself as an educated woman, keeping in the role of school marm; I play it to the hilt.
"Sir, it is obvious that this man is not my son. He calls me Mother out of respect." Primly, my hands folded in my lap.
The reward for the correct answer is the everyday miracle of tea and biscuits, which we share civilly. Close questioning of my lifestyle redeems me in the eyes of the police. After all, I am just a widow exercising her options of sannyasi over the fires of eternal worthlessness.
"So you are living the Baba life even in New Zealand isn't it?" Asks the good cop.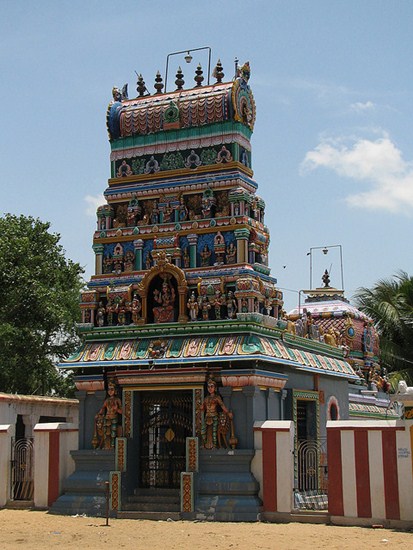 Keeping my eyes still, I wobble my head from side to side — the ubiquitous Indian response that means everything and nothing all at once. I think that I have said more than enough already.
After tea, we are free to leave. The good cop has some further friendly advice.
"Be very careful Madam. Some Sadhu – no good. Money finish," he slashes his finger viciously along his throat. "You also finish."
I look at Baba ji Naga Baba. Even if he is slightly mad and highly excitable and hardly to be relied upon for anything, I know that I now have to trust this man with my life, if not my sanity. It's a sobering thought.
"I trust this Sadhu. He is a good man."
Now it is their turn for the head-wobble that clearly says, "That's up to you madam but now we have taken the precaution."
We are released from Police custody but have to walk home.
Baba ji is relieved at my response to the questioning, impressed at how I managed to turn the situation around and thrilled to hear that I consider him my guru. In the spirit of general relief, I agree that indeed he is my guru because who else around here is going to teach me how to live with loonies?
The body of the pilgrim is being loaded into a handcart. His aged, naked body, discarded like a shoe that could no longer hold the burden of the road, held all the humility of birth. Baba ji lifts the cloth shading the body from the sun and the flies, inspects his face. Dropping the cloth he raises his hand in blessing.
On the way we met Kailash Puri and Madhur Puri. Having heard of our predicament, they are hurrying along the road to bail us out. Baba ji is all smiles and stories about our adventure. There is concern and relief in Kailash Puri Baba's eyes. We are taken back to the Akhara for chai and chillums and a countless retelling of our adventure.
Kailash Puri listens to what the police have told me about bad sadhus and dead tourists, and assures me anew of my safety while cautioning me again of others in the area.
He refers specifically to the two characters that hijacked me from the bus at the beginning of my adventures in Omkareshwar. I can't seem to get them to understand that despite, or perhaps because of, the fact that I can't speak Hindi, my survival instincts are peaking at an all time high. I may be impulsive but I am not as mad as they like to think.
*****
Photo credits:
Guru: Jorge Bassy Alvarez
Tamil Temple India: McKay Savage