By Avni Shah
The first expensive purse I purchased was a Marc by Marc Jacobs cream-colored satchel. It was spacious and practical inside–lots of zippers and compartments to organize my crap into–and gorgeous and luxurious on the outside, made of supple, delicate leather like I'd never before owned. For the first few weeks after I purchased it, I rarely took it out of the garment bag. I'm a hoarder in this way, overly precious about breaking in new items and consequently, stuck with a closet full of things I've purchased and have yet to use. Always, I'm waiting for the right time–a special occasion.
Later that year, in December 2005, my family traveled to India. Despite having extended family still living there, I hadn't been in over ten years. It was this way for many first-generation Indian-American children, who, after high school began, could less easily get away due to more grueling academic demands. After college, it was feasible once again, especially since we were willing to give up celebrating Christmas and New Year's at home.
My parents left two weeks before my brother and I, as they had much more vacation time to spare. Ahead of our departure, my brother and I spoke to them on the phone. They emphasized how much we were going to love it, how much India had changed since we'd last been.
My memories of India were characterized by reluctant enjoyment and selective acceptance. The best part of each visit was the time I got to spend with family. I had over a dozen cousins, and some of them had kids as well. Unfortunately, it was always awkward, especially during the first few days, when we were just getting to know each other again. The long gap between visits undercut our ability to be close on a consistent basis. My brother was better at remembering everyone's names and being affable, while I would play favorites. I was especially enamored with three sisters, who were the daughters of my oldest aunt and the most fun and fashionable. They would take me shopping, through the colorful bazaars and into the sari shops, where sales people would lay out dozens of choices, layered upon each other, while serving refreshments like Thumbs Up and Limca and hot chai.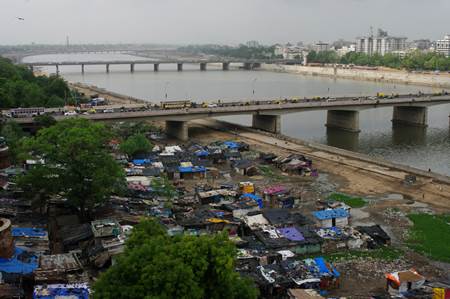 But it was dirty and congested and backwards. Things didn't run smoothly. Poverty was not only prevalent, but uncomfortably pervasive. I remember one summer, when I was eight. My mom, brother and I stayed on for an extra month while my father went back to work in New Jersey. On the day we were leaving, the monsoons began and I prayed, "Please let our plane take off." The prospect of lingering for one more day, despite the tears I had shed in saying goodbye, conjured the doom of being quarantined. I wanted to go back to where things were clean and easy. Where I was comfortable.
Years later, on my parents' word, I began imagining a luxurious destination in India. I thought of fancy hotels and Chinese-Indian food fusion. Shopping for shoes in a less competitive economy was alluring, and I imagined I'd bring back a lot of incredible loot. On another call, with the "new India" hot on my mind, I asked my father, "Should I bring my new purse?"
He had no idea of the value–I hid the truth, of course, as he would've thought it preposterous, especially given my salary and live-at-home status. He liked the idea, and encouraged me, reiterating his earlier prognosis: "India has changed. You will love it."Â
The decision to bring my purse was ninety percent hubris. I can admit that now. I hadn't seen my family in India for years. Fashion, once I understood how to wield it, became something to hide behind, and from which to gain confidence, like a costume or a mask that could transform the reality of who I was. This purse was my armor and my disguise.
Within the first twenty-four hours of carrying it, only through airports and in the under-seat compartment of planes, I received several compliments. While waiting outside of airport security in Mumbai for our connection to Ahmedabad (our final destination), my brother and I deliriously fixated on it, calling the satchel "Marc" and admiring it with the foolishness of early twenties ostentation. To put it in the terms of the time, we felt like ballers, the P. Diddy version of Sean Combs because of our new tie to luxury.
The lapse of time between our flight's arrival in Mumbai with our next flight's departure was vast. After spending the wee hours of the morning in a narrow waiting room, we finally were sent beyond the holding area and through airport security. After traveling for over twenty hours, starting at John F. Kennedy Airport in New York, I was less than amused to learn airport security was as nonsensical as it had been ten years prior. I was forced to put a luggage tag on my purse, just for the purpose of placing it on the four-foot conveyor belt and through the scanner. The tag was then stamped on the other end with a very wet red ink that spread from the tag to the leather. The instant I retrieved it, I frantically wiped at the splotches with my saliva-laced finger. Most of it came off, but I felt the impact then: already, my purse was less than perfect. Less than it had been.
After landing in Ahmedabad, we fought through transportation chaos to get to my cousin's home. "Keep your eyes closed," my father told me as we alternatively sped and stalled through the city. The driver was competent for where he was driving, but it was more than a few times I felt my life was about to end in a head-on collision. Clutching my bag, I shut my eyelids and blocked out the insanity of cows and donkeys, trucks and scooters and pedestrians all squeezing onto one road, and prayed for the ride to be over.
After we settled in, we visited relatives. My family in India lives much differently than my family in the States. My parents, brother and I entered my cousin Sunil's one-bedroom apartment. Along with him, his wife, two daughters and his mother lived in the small space, nearly the size of my last apartment, which I shared with only one other person and found so stifling.
The purse was the centerpiece of my outfit, paired with my ten-dollar vintage skirt, which I'd purchased in Ireland, and a purple zip-up cardigan I bought earlier that winter, at a Bloomingdale's sale in New York. None of my relatives were dressed up. They were in the Indian equivalents of t-shirts and sweat pants. My parents, brother and I crowded onto one couch together, while others sat on the floor and others still tended to meal preparation in the kitchen.
My parents' early arrival thankfully cut the awkwardness with the renewed familiarity they'd already established. Because of the distance between my India-based family and I, conversations usually centered on broad topics, like how tall I'd grown or how adult I'd become. One of my cousins turned to me amid our meandering conversation and told me proudly how his son had begun learning English. I congratulated him in my broken Gujarati, considering how I could barely speak two languages at the age of twenty-three, but it was me who others were trying to impress. No one commented on the purse or my outfit, though. In the world of what mattered to them, it was just an odd accessory. An anything, not something worth mentioning.
Over the next couple of days, we spent time with my second cousin, Dhiren, whose home we were staying at, and his family. He was the single person among our India-based relatives who was affluent. As an accountant, he afforded a spacious home and amenities that were more like those we were used to, including a Western-style toilet. He even had some shady type of privilege that made it "legal" for him to have alcohol in his home, despite being in the middle of a dry state, where alcohol had been legally prohibited.
With Dhiren and his family, we indulged in fancy lunch buffets. We went shopping. We went to a coffee shop that served blended coffee drinks and to a Moroccan-themed hookah bar. But the realities of India's past remained part of its present. They loomed in the background, mud huts opposite sleek hotels, beggars standing next to marble-accented buildings boasting twenty different entree choices inside. India had changed, it seemed, only if you didn't look around.
For the second half of our trip, we traveled. In the four times I'd previously visited India, I'd never left Gujarat. That December, we toured across the northern part of the country, beginning in Delhi. After a visit to the Red Fort, we ate at a café advertising dozens of ice cream flavors among its dessert repertoire. For lunch, I ordered Indian food, and, taking the lead from Dhiren (who was, in his forties, more like my uncle), a beer. I ignored my mother's glare when the waiter set the glass down in front of me, and smiled as Dhiren shared his belief that women's hands should always be brightened with diamonds.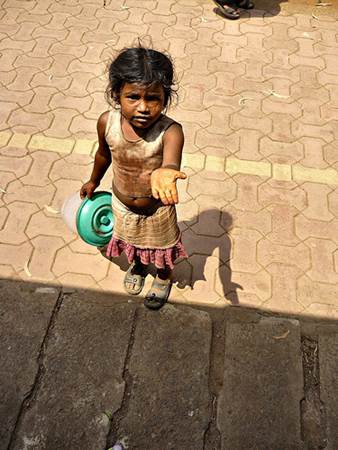 On the way out, we each got a scoop of ice cream. As we strolled toward our driver and his van, a group of young beggars began following us. Not older than eight or nine years old, and barefoot, covered head to toe in layers of dirt, they requested any rupees we could spare. Long ago, I'd learned it was impossible to give charity in this way. The change we could offer would never be enough and the crowd would grow as we stood there, like a signal had been transmitted to every helpless waif in the nearby vicinity upon the first donation handed out. Dhiren's daughter, who was just a couple years younger than me, turned to face one young boy, who had reached out to tug at her arm. "Scheee," she exclaimed. The English equivalent of this phrase is "disgusting."
In the car, I cried, unable to reconcile the way we drove away from the children, so coldly and abruptly, and the words that had been exchanged. Shouldn't we have cared more about their circumstances? About their lives? Dhiren's wife turned around, looked at my glassy eyes and tear-soaked cheeks and said, "You can't cry. This is India."
The journey continued on, and all the while, I continued gripping my purse, which was always at my side or on my lap, depending on which surface I found more sanitary. Despite how much fanfare it had initially received, no one cared about Marc once I'd left the airport. The extravagance, the leather, it was all a non-sequitur, a confusing element in this place, which simultaneously boasted of ten times more wealth than my bag connoted and an abject poverty so severe it made the United States' homeless look middle class.
In Agra, we saw the Taj Mahal and in Jaipur, it was the beautiful City Palace, and the splendor of pink covering historic building facades that made an impact. There, we perused embroidered sheets and ivory, and dreamed of the opulence that once filled these structures, which, due to poor state funding and abysmal security, were deteriorating.
Driving between these two cities, we passed a hit and run accident. A villager had been killed and the driver had subsequently bolted from the scene.
"How could they?" I asked.
"I would've done the same thing," my father said, explaining to me that if the driver had stopped, the villagers would've stoned him to death. We sat on this road, our car turned off for hours, not because police had come and blocked the site or because there were cars jammed in front of us. We sat there because the villagers were throwing rocks at anyone who passed, unable to make sense of what they should do following this tragedy. It was a primal instinct, and a primitive one. Survival, however they could manage it.
Our final destination was Ranthambore National Park, which is one of the largest national parks in all of India and situated in the northern state of Rajasthan. There we went on my first ever safari. Before we left, I wondered what I should do with my purse.
"It's risky to leave it in your room," my father said. "You never know." The idea the hotel staff might steal it–or anything in our rooms–was another remnant of the India I thought was behind us. On my father's advice, I brought the satchel along. It was my most valuable possession, and the idea of losing it terrified me. I was a product of my culture, easily comforted by the presence of goods.
In open-roofed jeeps, we rode through the forest in search of tigers. Dirt kicked up with every turn of the wheels. Instead of protecting my face or clothes, I removed my sweater to wrap it around Marc. We followed several tiger paw prints in circles around the park, but not once did we see a tiger. Indian nationals were awed, however, when we came upon a group of deer. It was a rarer experience for them than for my family, who, living in New Jersey, constantly avoided the skittish animals for fear they'd leap out into traffic.
The dirt I tried to keep off of the satchel had still found its way through. Back at the hotel, I tried to clean it off with water. I was too impatient to wait until I returned home, where I might've found an appropriate cleaner to do the trick. The water was a bad idea, however, a novice solution. While some particles of dirt were easily wiped away, others seeped deeper into the creases of leather. The purity of Marc had been compromised. So much for a changed India. It was the same as it had always been: dusty, chaotic, ingrained.
At home in New Jersey, I fought jet lag. The memories of India were like a mix of dreams, foggy and fused. My deepest regret was how little I understood about a country my parents once knew better than any other place in the world, a country that perplexed them now too.
I tried, through the fog, to clean my purse again. The last movable bits of caramel-colored dirt wiped onto the wet cloth, but the rest proved indelible. These became a permanent part of the leather, like pieces of a tapestry that had been woven together. These were stains I could never remove, or forget.
*****
A Jersey Girl now living in Southern California, Avni Shah continues to be inspired by fashion, food, and her experiences growing up as a first-generation Indian-American. Her writing has appeared in various print and online journals, links to which can be found at her 
website and blog
 and her Twitter feed – @avniushah
*****
Photo credits:
Red Ink Stain: Quinn Dombrowski via Flickr
Ahmedabad – India: Emmanuel DYAN via Flickr
Bhadra-Ahmedabad: Emmanuel DYAN via Flickr
Beggar Girl in India: runran via Flickr
Woman at Taj Mahal:Â generalising via Flickr
Beggars Outside Commercial Building: Marc oh! via Flickr