by Jann Huizenga
Grand Prize Winner – Intrepid Travel Contest

"Your name." I say. "What…is…your…name."
The goatherd's chocolate-chip eyes register confusion.
It's high-noon hot on a forsaken beach in Dhermi, Albania. My friend and I are trying to strike up a conversation with the only other soul around.
I point to myself and bleat Jaaaannn. Then to my friend. Maaaah-ni-ka.
His face lights up as if I've thrown a switch. He pokes a finger at his toast-brown torso and produces something like Ewlee, puckering his crusty lips for the "Ew" and blowing it out hard, French-style. With a flourish, he scrawls his name in the pebbly sand: YLLI.
"Ah, Ulysses!" Monica says. "He looks like the real deal."
That's for damn sure. He's all sinew and bone and muscle, wild and woolly-headed. Hardscrabble.
"How many?" Monica flicks her chin at the herd of jet-black goats, then pantomimes counting on her fingers.
Ylli says something in Albanian, then bends over again and draws in the sand: 260. He waves a finger at the rocky range that rears up behind us. His village, apparently, roosts up there somewhere. He and his goats have made the long trek down to the beach, where the cool waters of the Adriatic meet the warmth of the Ionian Sea.
Ylli mugs for my camera. He cavorts with the goats, squints at the sun, hoists his baggy pants up at the waist, flexes his biceps.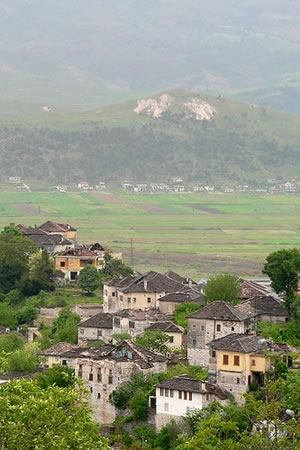 I capture the stranger against the wide blue water, all foamy at the edges, with Corfu hazy in the distance. I catch him in a sun-halo, feral and fierce. I frame him soldier-stiff in a line of cypresses, backdropped by a cliff as craggy as his face.
The Cika range rises breathtakingly to over two thousand meters. A milky mist hangs on the peaks like a thick secret. There are no tourists here, or for that matter anywhere we've been in Albania. Though our beach feels like terra incognita, it's soaked in history. The Byzantines, Ottomans, and Venetians have come and gone. Philip V of Macedon was here in 214 BC, and Julius Caesar during the Roman civil wars. The ghost of former dictator Enver Hoxha lingers, too, around the bunkers near the shore that he built to ward off the "Anglo-American threat".
Ylli motions for us to sit. He draws a penknife from his duffel bag, and two overripe pomegranates. He ceremoniously slices the top off each fruit, makes six surgical incisions, and peels back the leathery skin so the seeds pop out for the plucking. We pry them from the honeycombs one by one, dropping them slowly onto our tongues, where they explode like Pop Rocks.
"This," Monica says, licking her fuchsia fingertips, "very, very good. Buonissimo".
Ylli digs deeper into his bag and scoops out a cache of whole walnuts. He centers each one on a smooth flat stone, then delivers a sharp blow with a rock, cracking the shells wide open. He offers up nut after nut, gentle and generous gifts wrapped in chapped hands.
A hush falls. Heartbeats slow. A picnic with starched linens and champagne flutes could be no finer.
Our host stubbornly refuses to eat a thing, following the rules of mikpriste – the Albanian code of Homeric hospitality. Mikpriste has enveloped us like armor in Albania, deflating the Embassy warnings against independent travel for women.
The herd's headlong dash down the beach interrupts our idyll. Ylli yelps a curse and lobs a few fat stones. The goats whine and skitter in reverse. Then he springs up, bare feet crunching on hot sand. He muscles his way into the herd, tackles a black kid, and plops it, flush with pride, at our toes. We coo like doves. The kid's hair is soft and rank. As Ylli nuzzles his plush toy, it lunges at my hand and bites my half-eaten pomegranate. Ylli lets out a bark of laughter.
We smell the sun searing our grainy arms. Time to go. Fumbling in our backpacks, we unearth a Tootsie Roll and a grape-colored flashlight, the only booty we've got other than passports, cash and lipstick. Ylli unwraps the candy and inspects its gummy surface.
"Droga?" he grins.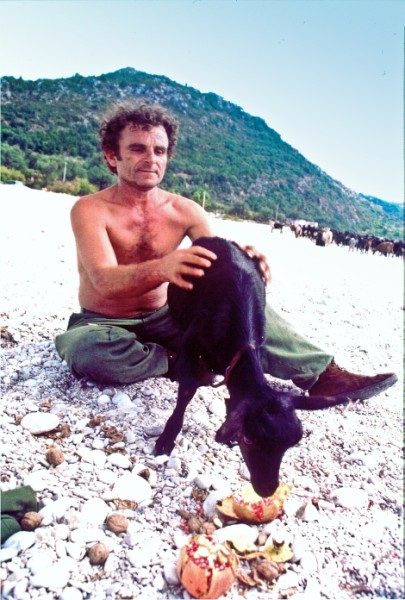 He's more intrigued by the Long-Life flashlight. He turns it on and off, around and around. His brow folds, as if to say where's the battery? But it's batteryless, and we're stumped, too. The three of us look at each other, shrug, and laugh.
Ylli drums his chest, an Albanian gesture of heartfelt thanks. We follow suit.
"Mirupafshim, Bye!" we shout over our burnt shoulders on the way to inspect a bunker.
It's the dark heart of Albania – chill and pissoir-pungent. Through the narrow gun slit, I see a mass of black at the water's edge. Ylli has shed his trousers to reveal hot pink bathing trunks. He's charging past his flock, sea-hungry, arms like madcap windmills. The bunker echoes with his full-throated whoops.
He has nearly vanished into Poseidon's realm as we leave the beach. Only his corkscrew curls bob on the waves.
"Do you ever fantasize about a man like that?" Monica asks, shooting me a glance.
We erupt in giggles. But we know the enchantment is not physical. It's magical. We have escaped the twenty-first century and crossed a long bridge back in time to lotus land – to a place where Helios spread his warmth, Triton romped in the sea and languages were one.
Photo credits:
Village: ImogenX
Church: pellaea
All other photos: Author
*****
This story is the Grand Prize Winner of the Intrepid Travel Contest. Jann has won a 15-day trip in South America valued at $2,000!
Jann Huizenga is an award-winning writer, photographer, and ELT teacher educator based in Santa Fe, New Mexico. Her travel articles have been published in The New Mexican and Transitions Abroad.