by Mara Gorman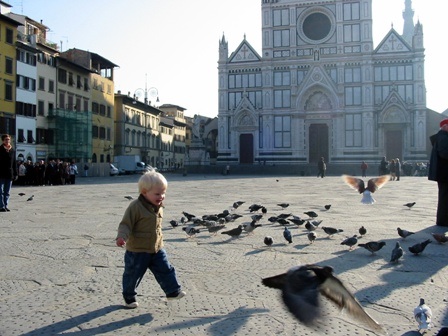 When we got off the train the air was warm, more like spring than November. The station looked the same as I remembered it; unlike everything else in Florence, it is spare and modern. The light was a sheer golden curtain, making even the cement pillars that lined the platforms into gleaming sculptural shapes.
It had been 25 years since I came to this station, late at night in a third-class car that had wooden benches for seats and smelled vaguely of farm animals. That was at the end of three days of travel during which my mother, sister, and I had little to eat beyond airline meals and breakfast rolls from a Swiss hotel.
It was the beginning of my fourth-grade year, a particularly difficult period for me. Six months after my father left, my mother had decided that she too needed to leave her old life. She signed up for an art course and took my sister Sheila and me with her for the entire school year.
During that year, I lived under the weight of my mother's sadness, rage and often poor physical and mental health. In spite of this fact, or perhaps in some ways because of it, I was acutely aware of the daily beauty of Italian life, the way that the old and the new coexisted seamlessly. This awareness, which was a source of great joy to me even at such a young age, contrasted with my almost continual fear and anxiety. My distracted and intense mother did her best to care for Sheila and me, but often I was on my own in this foreign place that I both hated and loved, charged with taking care of my sister.
Now I was back with my husband Matt and our 18-month-old son Tommy. We were four months into 13 months of travel and had recently been joined for our two weeks in Italy by Matt's sister, Becky. Although this was a trip of my choosing, I still wasn't sure how I felt about the return to Italy and was in no hurry to leave the station and see the city, so I ordered each adult a panino in a small bar at the station. We looked at the trains and the pigeons and munched.
Finally I hailed a cab. I had forgotten how small Florence is. Although we were staying on the opposite side of the city from the train station, across the Arno River in the Oltrano neighborhood of San Niccolò, it didn't take more than ten minutes in a taxi to get there. But some things were instantly familiar. As our taxi jolted along toward the city's famous main cathedral, the Duomo, I remembered the game of hide and seek it plays from every approach. First there are the improbable glimpses of geometric patterns seen in a frame of brown and gray buildings, and then as you pull into its square, it is suddenly upon you, an unbelievably big and brilliant green and white façade. Once around it, we moved quickly across the river and got a great view of the Ponte Vecchio. Passing through a gate in the 13th-century wall that once encircled the city, we turned the corner and stopped at a tidy putty-colored building below the church of San Miniato, which glistened in the near distance from its high perch above the city.
Everything was soft — buildings looked like you could poke your finger into their sides, the stones in the street shone like satin, the edges of the medieval wall (which ran almost through the backyard of the apartment we had rented) were rounded and worn. And yet my overall impression of the city was that it was distinct, not blurred, its skyline clear, hills framing it in the distance. It felt strangely like home.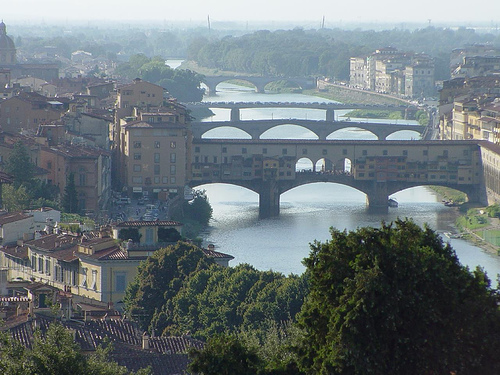 On our first full day in Florence the sky was a deep, cloudless blue. But in spite of the glorious weather, my body felt like it was shutting down. I had a full-fledged head cold, complete with a tubercular cough. It was as if the ghost of my mother's unhappiness, the mixture of joy and despair with which she viewed Florence's beauty, was laying claim.
Despite this, I wanted to climb the stone staircase at the end of our block that led to the Piazzale Michelangelo, a hillside terrace where we could survey the entire city under the benevolent gaze of a reproduction David.
We carried Tommy in his stroller, like a tiny maharajah, and by the time we reached the terrace we were sweating. The view from there encompasses all of Florence, the Arno down its center. The skyline was full of famous landmarks: the campanile and cupola of the Duomo, the Palazzzo Vecchio, the church of Santa Croce, the green dome of the synagogue. Of course I knew that amber, sienna, umber, and olive green are the colors of the Tuscan landscape, but to see the soft sides of Florentine buildings, one red, one gold, one whitewashed and aged to a dull gray, was to truly understand these origins and how shoddy their reproduction is elsewhere.
Then it was up still more steps to San Miniato, quite possibly the most exquisite church ever constructed, although I did not recognize this when I visited there at age nine. Having developed an acute sense of the macabre, fearing death almost to the point of hysteria, at that young age I refused to go inside because the floor of the church is made up of grave markers. Instead, I chose (with no sense of irony) to wander through the cemetery that surrounded the church, reading the names on the tombstones, while my mother and Sheila were inside.
How different, then, to return and find myself transfixed by the gloriously geometric façade of the church with its five perfect arches and mosaic of Christ enthroned between Mary and Saint Minias. This time, any reluctance I felt to enter the church was caused only by the loveliness of both the day and the view outside. The air smelled of the cedar trees that grew in a grove all around us, and it was with pleasure that I watched Tommy run up and down the gravel paths between the funerary monuments, pausing periodically to sit and drop small pieces of rock into puddles.
But leaving him with Becky, I pushed open the heavy door, where signs commanded silenzia! Fourteenth- and fifteenth-century frescoes of saints and patrons lined the walls, which were themselves works of art with their patterns of white and green marble. I wandered, now looking at the huge Byzantine mosaic in the apse, now gazing up at the ornately painted beams that held up the ceiling, now staring at the peaceful face of the Cardinal of Portugal, who died at twenty-seven. The air was full of a chanted plainsong sung by a circle of Benedictine monks in the crypt under slender columns at the rear of the church. It seemed impossible to me that I could have ever felt fear in such a place, or at all, so suffused was I with love for the church, and for Becky, Matt and Tommy. When I reemerged into the perfect day, it was to the equally holy sound of Tommy's laugh.
The Routine
We quickly developed a routine; each morning we plunked Tommy into his stroller and made our way to Il Rifrullo. Situated on a corner just down the street from the old city wall, it was the center of the neighborhood — everyone had to pass its long glass front to get from San Niccolò into the main part of the city, and most people stopped. It was a handsome space, with a long wooden bar that was always immaculately clean, all traces of previous customers removed the minute they left.
The bar staff, while not unfriendly, were disinclined to congratulate our feeble attempts at Italian. Unlike the regulars, who walked in without ordering, stood at the bar chatting until their usual was placed in front of them, and then hastily dispatched of it before sailing off into their days, we would troop in with the stroller and take over one of the small tables that were placed in the window. It took us a few days before we were sure whether or not to place an order. Lorenzo worked the bar almost every day. His curly black hair was carefully gelled and he dressed in a series of immaculately ironed and starched shirts that never seemed to wrinkle no matter how busy he was. He plainly disapproved of our practice of ordering two cappuccinos each.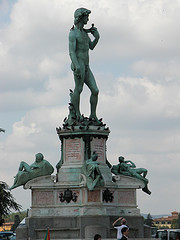 On our third day there, Lorenzo tipped his head when we came in and offered a quiet "buon giorno," which I considered progress. I decided to take this as a signal that we didn't actually need to say what we wanted, but then made the gaffe of reaching for someone else's cappuccino when Lorenzo made one and placed it at the end of the bar. The next day he raised his high arching eyebrows and severely corrected my pronunciation of "cinque" when I was paying our bill, making me repeat it until I got it right. I despaired of ever earning a smile.
We were unbelievably lucky in the weather, waking each day to a soft lingering sun that seemed reluctant to give up its power over the landscape and let the winter rains move in. The Arno looked very low, its water a deep brown. There were often scullers on it, leaving long golden trails as they passed beneath the Ponte Vecchio.
We took our time and did lots of sightseeing. We saw the Bargello, home to famous sculptures by Donatello and Michelangelo, and the Accademia, where the original David was being renovated but was no less magnificent for the scaffolding that surrounded it. We strolled around the inside of the Duomo and its baptistery and the church of Santa Croce where Galileo and Michelangelo are buried.
We all spent hours in the Uffizi, where I was stunned to realize that my childhood memories of dour (and to me, frightening) religious art in dark rooms were completely off the mark. How could I have been afraid of the Giottos and Botticellis? And how could I have not seen that the faces in the paintings were those of everyday Florentines, faces one still sees today?
Discovery
One afternoon, we left the apartment without an agenda and walked up the road that snaked along the old city wall up to the Forte di Belvedere.
Once upon a time, Sheila and I stuffed our pockets full of chestnuts as we ran ahead of our mother toward the fort. We actually descended to it from above. But the winding road was much the same as the one I now walked up, pushing a stroller. Olive trees lined the way, their leaves silver against the deeper gray stone.
The Forte is a huge structure built in the late sixteenth century, whose purpose was as much to intimidate the citizens of Florence as to defend them. The view from its walls is amazing and iconic. It would have been completely worth the twenty-dollar entrance fee if not for some works of modern art that had been installed around the parapets. Most of the art was merely a minor distraction from the view, but right at the corner with the most exquisite vista a sculpture called "Moma and 200 Airplane Parts" loomed. With its towering wings, bent metal, and pieces of fuselage, it was all my childhood nightmares come to life. Even when I stepped in front of it (which was thankfully possible) I was aware of it behind me.
The accompanying panel talked about the "enormous aesthetic impact" of
the work. Calling it "terrible and tragic" it said the piece was compelling and repellent at the same time, and was intended to deliberately contrast with the glory of the view it overlooked.
For my mother, the contrast was unnecessary. She sat on the ramparts and smoked at sunset on that long-ago day, and while Sheila and I chased each other somewhere behind her she wrote that "Florence turned from a blaze of gold and stark shadows to blue-blue-gray. It was searingly lovely. Sometimes being in such a beautiful place alone is a terrible thing for it makes me long to be enwrapped in love, to have it to share with, to add meaning to beauty — not for my eyes alone." I was half glad that she did not live to see what they did to the spot where she once sat.
I felt a sudden stab of grief for my mother, alone amidst all this beauty, very aware of her loneliness, and unable to really take comfort in me or my sister because the burden of caring for us fell solely on her shoulders. How lucky I was to take pleasure in my husband and son, in my friendship with Becky. I smiled to see the back of Tommy's blond head hunched over the gravel that covered the ramparts and at Matt and Becky alternately tending to him and looking at the views of the Tuscan hillside above us. We all took pleasure in the journey in our own way.
We headed down the road that winds back into the city, through the Porta San Giorgio, decorated with a relief of that saint on his horse over the arch past Galileo's house. Tommy started to fuss as we walked, and in my state of intense connection I understood that he was asking for food. I gave him pieces of clementine which made him crow and utter one of his few intelligible words — "juice" — as we walked down silver sidewalks, moving inevitably toward gelato at Vivoli, reputed to be the best in Italy. After we had our fill of cioccolato fondente, bacio, and stracciatella, we made our way to the square at Santa Croce where, just as Sheila and I had once chased pigeons with our long blond hair flying behind us, Tommy felt the same urge to run. He stepped in every single puddle and got his pants and shoes very wet, laughing all the while. No one around him could resist — we all joined in.
I said a silent prayer of thanks to my mother. I was enwrapped in love: with Italy, with my small traveling family and with our adventure.
At Il Rifrullo on one of our last mornings I decided it was time to seize control and win Lorenzo to my side. He had on a particularly spiffy tie — one with silver checks — and when I went up to fetch the cappuccinos I had made a point of not requesting, I leaned over the bar and said "I like your tie."
I think he may have actually blushed. He said, "Thank you," smiled, and then added, "It is a eep-notique tie." Never had a cappuccino tasted so sweet.
* * * * *
Mara Gorman is a freelance writer who writes about traveling with children at her blog The Mother of All Trips. An avid traveler both before and after she had children, Mara has lived in Italy and France and vacationed in countries ranging from Ireland to India. She lives in Delaware with her husband Matt and two sons, Tommy and Teddy.
Photo credits:
Ponte Vecchio: Serge Melki
Piazzale Michaelangelo: lidridium
All other photos: Author