by Kimberley Lovato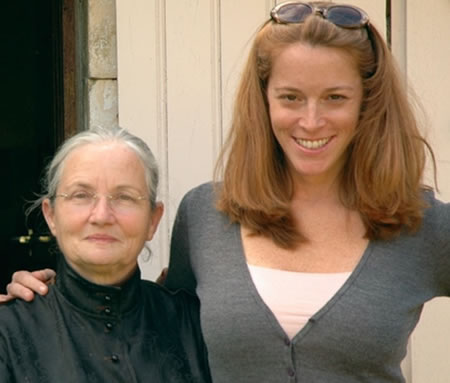 When I first approached the 700-year-old farmhouse of Danièle Mazet-Delpeuch, I wasn't sure I'd come to the right place. The address she gave me when I first called to set up an interview was simply "La Borderie, Chavagnac, Dordogne, France." Not exactly precise. Only a worn wooden sign with white painted letters assured me I was on the right path. As my car tires crunched along the sandy drive, past overgrown oaks and fig trees brimming with fruit, and up to a stone cottage dressed in lace curtains, I wonder if I have fallen into Périgord of yesteryear. Once inside, I know I have.
The house where Danièle's father was born, where her four children were raised, and where she welcomes her six grandchildren each summer, could be a movie set. Straw hats hang from one of the wooden beams and an old-fashioned lamp provides light to a small workspace where Danièle has laid out a crisply ironed white cloth on which she is slicing smoked sanglier (wild boar). "I live almost like my grandmother did," she says, pointing her knife in my direction, then gets back to the business of slicing.
The house indeed appears untouched by time and as I survey the room, Danièle seems to
survey her memories then confirms that not much has changed, except for refrigeration and plumbing. The main room is chockablock with mementos and photos, paintings and flowers, but is tidy and consists of a kitchen, with more lace curtains acting as cupboard doors, and a dining- living room area with a glass door that leads to an overgrown garden. But the pièce de résistance and my biggest source of curiosity is the enormous fireplace that separates the two rooms. It is open on both sides with a slew of iron cooking utensils at the ready, and slow burning embers cast their orange glow on a platter of duck legs that await their fate.
Danièle pokes at the fire and tells me she designed the fireplace herself with entertaining in mind. "Cooking is so much more than just eating," she says. "It is about talking and being social, and making people as happy as you can with the food you prepare."
Danièle picks up a black cast iron pot called a royale and sets it down in the embers. The pot is over 100 years old. "The trick is, you never wash them," she says, wiping the pot with a cloth. When I ask her what she cooks in it, she says, "Everything–a whole turkey, a lièvre (wild hare), a cake."  With that she takes a paintbrush, dips it in goose fat and coats the inside of the royale. Within minutes the appetizing aroma permeates the house. Next go the duck legs that land on the greased bottom of the pot with a resounding pshshshshsh. The fireplace is almost large enough to stand in, and I ask if she ever hangs geese or lamb (or rude guests) from the ominous hook dangling from the dark void in the chimney above the fire. "No, that's cooking for tourists," she laughs.
Danièle is soft spoken but still has a no-nonsense air about her. She speaks English well, that is until she meets a French word, and the conversations abruptly dives back into her native tongue. It makes for an entertaining banter over the course of the day. "Yes, I would like to meet you," she said on our initial call, "But I am serving the dejeuner et il faut que vous arriviez avant." Luckily, I understand her and promise to arrive before lunch. Danièle also talks with her hands and with whatever is in them (sharp knife, fork, hot iron poker). Her agreeable and welcoming nature was apparent from the moment we met, so it's no surprise her table is regularly full of friends, family, or journalists curious about this local legend. Today she has invited a radio show host from California and his wife, along with friends who own a bed-and-breakfast nearby. She is busily preparing lunch but makes time to serve me coffee in a porcelain tea cup, then hurries to the garden to pluck some figs from her tree for the amuse-bouche (appetizer). Danièle invites me to stay for the midday meal but I decline, feeling intrusive for having stopped by on such a busy day.
"You know," she says, pointing at me with the knife she is now using to slice figs, "If you come to someone's house at 11 in the morning here in the Périgord, c'est normal que vous mangez quelque chose." She tells me this courteous custom of staying for lunch stems from times when people would travel four to five days by horse and carriage and would be hungry upon arrival. Even though I have come only two hours by car, I am hungry too and gladly change my mind. With the pleased nod of someone who usually gets her way, Danièle takes a dish of potatoes from her counter and excuses herself to warm them in the oven located in the building next door.
As I look around the room more closely now, mostly to verify there really is no oven here (nor microwave, automatic coffee pot, or dishwasher), Danièle is revealed to me in pieces. The oil paintings on the walls are signed. Above the heavy wooden door hang an array of wicker baskets used for gathering fruit from her trees and shopping at the local markets that are abundant in this part of France. Several unusual-looking cooking utensils lie strewn around the smoldering fireplace ashes, some so obscure, I can't imagine what I'd prepare in them. On a rickety antique table, two scrapbooks bulge with magazine articles and photos that span Danièle's past 20 years. Dozens of jars of homemade confiture (jam) sit half-full on the wooden buffet, and homemade cakes and pies under glass domes look as if they have been recently sliced. I concede her life is simple but it is certainly not empty.
While Danièle is gone, I thumb (ok, snoop) through her scrapbooks to learn more. In 1975 she began "Foie Gras Weekends", a three-day course teaching the regional cuisine. Even today she offers cooking classes and gourmet tours from her family home. In 1979 she founded the École d'Art et Tradition Culinaire du Périgord, the region's first cooking school. These endeavors earned her a formidable reputation and several awards, including the Chevalier du Mérite Agricole from the French agricultural industry, an award rarely bestowed upon a woman. But, then again, this is no ordinary woman. Danièle is most commonly asked (including by me) about her two years (1988—1990) as personal chef for François Mitterrand, the late President of France. I stop at these pages to look at the photos.
"I suppose I will always be remembered as that, more than anything else I have done, " Danièle, jolting me from my reading.
She doesn't talk much about this period. Perhaps because her gastronomic life goes far beyond the presidential palace in Paris and has taken her around the world as a lecturer, teacher, and chef, to places as diverse as China, Mexico, New York, Montreal,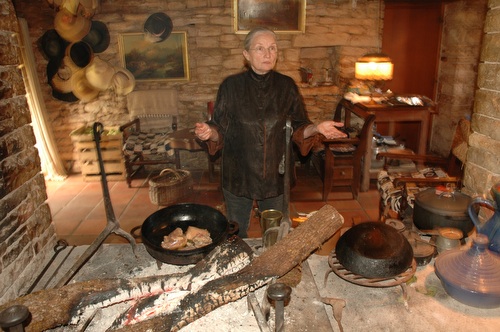 Moscow and Sydney. She even worked in Antarctica, where she spent 14 months cooking at a research lab and celebrated the millennium and her 60th birthday. "I was looking for a change," she shrugs. "But, it's always nice to come back to roots."
Danièle is setting out jewel-toned apéritif glasses. Her table is covered with a well-used cloth and is set with dishes embellished with an autumn motif. From a heavy wooden chest of drawers that creak when they open, she pulls out water and wine glasses and arranges them in their proper positions; from another drawer she removes the cutlery and sets it piece by piece on the table, the forks laid tines down. "This is the French way," she says, holding up the fork and twisting it between her thumb and index finger to get my attention. "The tines go down so that guests can see the family crest on the back of the silverware," she says, placing the fork carefully in position. I ask if she always goes to such lengths when setting the table. "Mais bien sûr! It is the least I can do to welcome my guests."
Danièle slowly circles the table and looks up to comment on the brightly colored paintings I am admiring, and points another fork in my direction. "Those are painted by Monique Peytral, who helped paint the facsimiles of the Lascaux caves," she said. "She is a very good friend of mine and was just here for dinner."
Back over at the fire, the duck legs are beginning to sizzle and brown in the royale, and Danièle transfers them to a platter. She leaves to retrieve the warmed potatoes, which she tells me are made with cream, cèpes (porcini mushrooms) and cheese, and cooked the night before underneath the drippings of a roasted lamb. My mouth waters as I jot down the recipe and wonder if my family would commit me to an asylum if I hung a lamb in my kitchen.
Like an elegant pas de deux, plates of pâté and figs stuffed with sanglier arrive on the table just as Danièle's guests arrive. Once seated, we toast and sip the traditional Dordogne apéritif, vin de noix (walnut wine), and I ask the tireless Danièle what's next for her. No surprise, she has some plans.
Her latest passion is truffles and a project to bring them to New Zealand, but she clarifies, raising her index finger in the air, "The real truffe, le Tuber melanosporum du Périgord." I have no doubt she'll make sure the world knows about Dordogne's delicious black truffles.
Danièle said earlier that she is likely only to be remembered as the ex-cook of the ex-president of France, but one need only spend an afternoon in her ancient kitchen to discover she is so much more. She is a mother, a grandmother, a teacher, an explorer, a friend, a truffle lobbyist, a gracious hostess, fluent in English-French and a passionate ambassador of all things Dordogne. It was an honor to have her fork pointed at me.
* * * * *
Kimberley Lovato is a freelance journalist and author based in Brussels, Belgium. Her culinary travel book, Walnut Wine & Truffle Groves, about the Dordogne region of France, will be released by Running Press in March 2010.
Photo Credits:
All photos: Author.