by Angela D. Stancar
Anógeia, on the Greek island of Crete, is a town shrouded in the color black. It is a widows' town, haunted by the absence of men.
Near the end of a week vacationing on the island with my husband and both sets of parents, we had met a British expatriate who recommended Anógeia, without hesitation, after we mentioned that we wanted to experience something different. We had had our fill of majestic beaches, quaint seaside towns, and Crete's "giant" of tourist attractions — Knossos. Although they were all memorable experiences, we desperately wanted to go somewhere unmistakably "Greek," not some cookie cutter tourist resort that looked like any other Mediterranean holiday town with its chip shops and tacky bars. She assured us that by visiting Anógeia, we would be seeing the "real" Crete. "If you can look past the coach groups that invade the village around lunchtime, you'll realize that it's a pretty special place," she assured us. "Visiting Anógeia," she said, "is like stepping back in time." As cliché as her description was, we eagerly jumped into our time machines (disguised as a couple of rented Hyundais) and set off on our journey.
To find Anógeia, you have to be looking for it. Signs are clearly posted from Heraklion, but it is a long, winding road through the mountains before one finds it, tucked beneath the shadow of the towering Mount Psiloritis. The scenery on the way was literally breathtaking. As we wound our way around steep mountain passes — deep gorges cut into the earth on one side and rugged cliffs that plunged towards the crashing, turquoise waves of the Mediterranean Sea on the other — my heart skipped a beat and I felt like I had to grip the steering wheel for dear life. Driving Crete's precipitous highways is not recommended for severe acrophobes.
Upon entering the village, I wondered what was so special about it. A few nondescript tavernas dotted the horizon, but nothing quite matched the description we had been given. As we drove along the shabby streets, blanketed in thick layers of red mountain dust, I wondered if maybe we had gotten lost and stumbled across the wrong town; it looked like any other modern Cretan village we had passed through. Only a couple of tacky souvenir shops and ATMs confirmed our arrival. I don't know what I was expecting, but it wasn't this.
Then we wound our way down to the bottom of the village, where the landscape changed dramatically. Narrow alleyways seemed carved into the mountains. Small cottages tumbled down the hillside. Shops selling handwoven rugs, tapestries, and tablecloths lined both sides of the main streets. Quaint tavernas shaded by grapevines enticed visitors with the succulent aromas that wafted from their open wood-burning ovens. This old section was clearly the heart of the village.
We parked at the edge of the town on the side of a dusty road that seemed to end just a few feet ahead of us. But if we had continued driving, we would have found ourselves at the Ideon Cave on the Nida Plateau, fabled to be the birthplace of Zeus. Many of Crete's winding, craggy roads seem to keep stretching towards the heavens just when you think you've reached the edge of the map.
But despite our proximity to the gods, the mortality of Anógeia was all too clear. As we strolled the narrow lanes of the village, I couldn't help but notice that the women greatly outnumbered the men. There was a tangible, unnatural gap in the older generation. I was aware of the village's bloody history. Our expatriate friend had reiterated what the guidebooks proclaimed: Destroyed twice by the Turks in the nineteenth century and again by the Germans — who rounded up all the men they could find in the village and executed them — during World War II, Anógeia was heavily — albeit, accidentally — matriarchal. This was a town used to rebuilding itself from its own ashes. The town's tiny church is all that remains from its pre-war days, a constant reminder of its violent past. But this was just "history," wasn't it? I didn't expect to actually see the scars, for the words on the pages of the history books to become flesh and blood.
But what struck me wasn't the shadowy gloom I would have expected to hang over a village that had experienced such loss. Sure, old women roamed the streets adorned in black cotton dresses, most of them fingering shiny crucifixes that dangled from their necks, each passing with a friendly "geiá sas," and a slight nod of their gray heads. But in stark contrast to the local widows' subdued appearances, brilliant colors seemed to burst from the village's canvas at every corner. Vibrant, leafy green trees sprouted from the pavements, shading small squares and corner tavernas. Diners sat at tables with bright red and white checkerboard-patterned tablecloths, feasting on lamb and moussaka under the gleaming rays of the hot yellow sun. Vivid pink bougainvillea clung to the white-washed walls of homes and shops. And the russet, dominating skyline of the Idi mountain range surrounded us on all sides, nestling Anógeia in a bowl, a sort of island within an island.
After lunch — our stomachs full of grilled meat, okra and fried potatoes — and a quick exploration of the main center of the village, my mother, my mother-in-law, and I wandered into one of the many small shops selling beautifully-woven tablecloths, cloth napkins and other textiles. It was hard to choose whose shop to patronize; the beckoning calls of each shopkeeper ("Very nice, very nice, come inside.") made me want to visit them all.
We were greeted warmly by the shopkeeper. "Geiá sas," I said, and a wide, toothless smile spread across her face. My simple hello had thrilled her, and she placed her hands affectionately on both of my cheeks in a grandmotherly fashion. She was probably not much older than my mother or my mother-in-law, but the deep-set wrinkles that creased her face and her gnarled, callused hands suggested that she had lived a much harder sixty or seventy years.
Then we were down to business. Each time we pointed to a tablecloth that caught our eyes, she took it down from the wall and spread it out for us, pointing out the intricacies of the stitching. Olive branches seemed to be a common theme among the shops in the village, but each shop — and each piece, for that matter — was unique.
In the corner of the shop sat a weaving loom, and, by the looks of it, she was halfway through another project. I stepped closer to survey the embroidery. Its rich colors jumped out from the cream cloth. When the shopkeeper noticed my curiosity, she sat at the loom and began to demonstrate her craft. Her fingers danced across the fabric, turning the thread into petals, leaves, and decorative swirls.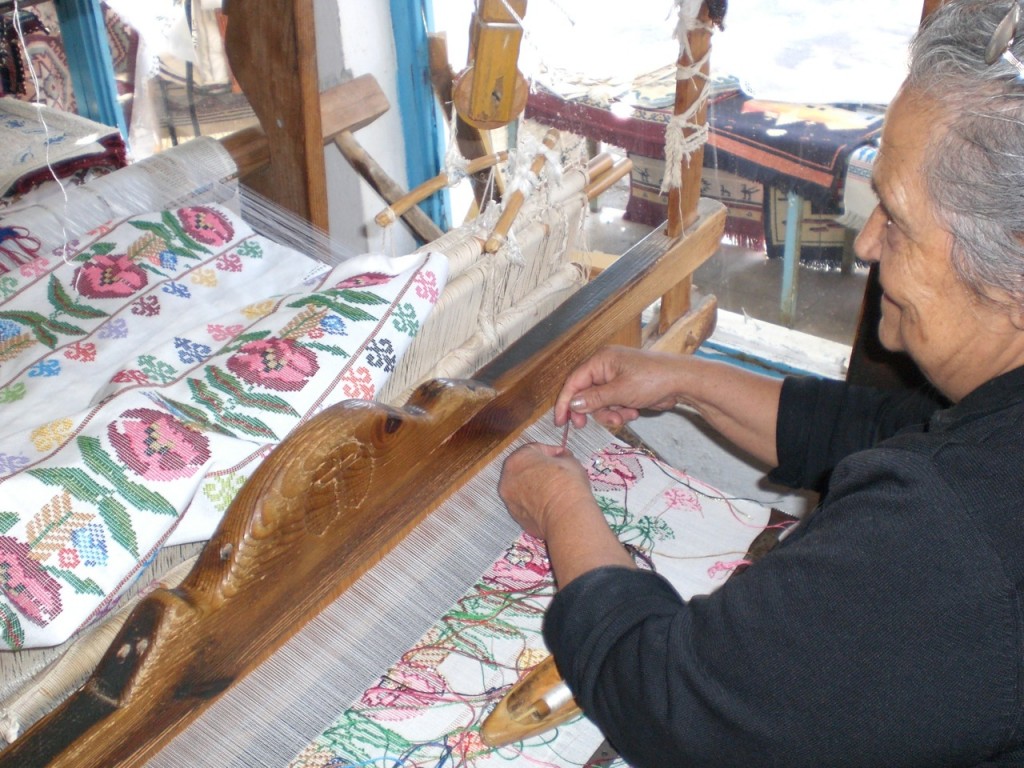 We each chose a tablecloth with a different design, and the shopkeeper took her time to gingerly wrap each one in tissue paper before putting it into a bag. I placed a few crumpled Euro bills into her palm, and she squeezed my hand in thanks.
Suddenly, the sparkle of my wedding ring caught her eye. Holding my hand, she pointed to the ring, then looked at me with a questioning smile. "Nai, nai," I said, affirming to her in one of the other Greek words I had learned that, "Yes, yes, I am married." Her smile grew and she gave me a hearty pat on the back. A moment later, my husband entered the shop. Seeing him, the shopkeeper again looked at me for confirmation that this was my husband. I wrapped an arm around his shoulder and her face cracked into another crooked smile.
I wondered if, behind that smile, there was a bit of envy, a sense of longing. She might have only been my age when her own husband died. She might have spent over half her life cloaked in black, weaving her pain into brilliant floral tablecloths and pastoral tapestries for young tourist couples like us. Or perhaps she was just getting used to the widow's life, learning to pass each day with a gaping hole in the shape of her absent husband, alone for the first time in fifty years.
"Efcharistó," I sputtered as we gathered our bags and stepped back into the sunlit street. Her face lit up with another smile. "Efcharistó!" she exclaimed, waving to us as if we were friends departing after a long-awaited visit.
It was time to retrace our path, and it was then, as we headed back to the cars, that I realized just what was so special about this place in the clouds. It wasn't the quaintness of the shops and their assortment of "authentically" Greek souvenirs or the selection of picturesque tavernas ideally situated to cater to the tourist crowds. It was the spirit of the people that made it such a special place; the way that, despite the loss and devastation they may have endured, they could turn anything they touched into vivid technicolor.
As I looked back, the shopkeeper had taken her seat again outside her shop, her monochromatic outline framed by pink blossoms.
* * * * *
Angela D. Stancar has an M.A. in English with a concentration in creative writing from North Carolina State University. She has had poetry and creative nonfiction published in print journals and online, including, most recently, Travelmag, flashquake, and suite101, for which she is a contributing writer. She has previously worked in education and sales and now works as a part-time freelancer and a full-time mom. She lives in London with her husband and daughter and maintains a blog at accidentallyenglish.blogspot.com.
Photo credits:
House on Crete: Theophilos
All other photos: Author