By Linda Dunlavy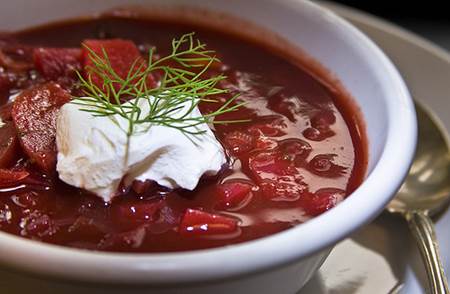 We didn't go to Russia for culture, beauty, or culinary adventure. We went to Russia for the kids.
My sister-in-law Colleen is a single mom: coaching the baseball team, helping with homework, fixing stuff around the house and disciplining children, all with equal competence. She'd already adopted two boys from Russia three years before. When I asked about her reason for wanting more kids, she said, "Well, I have Jack and Max, and it's pretty easy. I like a big family."
We would be there for six days, just long enough to meet the kids for the first time. But there would be papers to process and judges to satisfy before Colleen would learn, hopefully, months later, that she could go back and bring them home.
The night before we left, we had dinner together at my mother-in-law's house, so we could review our itinerary. She wanted to send us off with a good meal, so she made us her familiar and yummy baked macaroni and cheese with salad and her apple cream pie with the crumble top. We knew from Colleen's last trip to Russia that good food was hard to find there, so we had our fill of home-cooking that night. My mother-in-law was thrilled about her new grandchildren and happily announced, "The crowd around this table is growing. We're going to need another leaf."
The next day we began our journey to Mezhdurechensk, a coal-mining town in western Siberia that is about 600 miles north of both Kazakhstan and Mongolia, and a five-hour flight from Moscow. Colleen's three kids (we already thought of them that way) were in an orphanage there. I was also ten weeks pregnant, and happy that my new baby was having this adventure too. We often talked about the cousins growing up together.
Mezhdurechensk is not a traveler's destination. Few foreigners have heard of it or would have a reason to go there. It became a city not even 60 years ago, because it is the site of one of Russia's largest coal mines.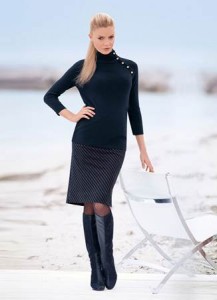 Tatiyana was our translator and guide to everything in this part of Russia where people mine for coal and do not expect foreign visitors. She knew us immediately at the airport. She was in her twenties, and, like many of the younger Russian women we saw, she wore black clothes, pointy-toe stiletto boots, dark eye makeup and a long sleek ponytail. Tatiyana took us under her wing and we were grateful to follow her like baby chicks in a new world. We had her teach us how to say the name of the town — "Mesh-du-RESH-nyesk." We practiced over and over, combining vowels and consonants in new ways that our mouths resisted, so we could say it confidently when we got home.
Tatiyana helped us check into our Soviet-era hotel, decorated with red carpet, drapes and bedspreads on the two twin beds. A small television got just three grainy channels: the news and two Russian soap operas. The bathroom had a shower but no curtain, and a maze of water pipes. The pipes that were usually hidden behind walls, but there they were, on the outside, in case you wanted to see how the plumbing worked.
When we pulled back our room's red curtain, our window looked out to a playground set in crumbling concrete. Its 1960s metal swings, slide and climbing bars would have been vintage-cool if they weren't broken and neglected. A lone boy, about ten-years-old, walked through, hands stuffed in the pockets of his gray wool coat, shoulders hunched up against the cold. His baggy pants blew in the wind as he kicked stones. He stopped and sat on the one swing that was not broken and pushed off for three creaky back-and-forths before shuffling away.
"Where do you think he's going?" I asked.
"I don't know."
In Russian orphanages, when kids turn 18, they are put outside the door.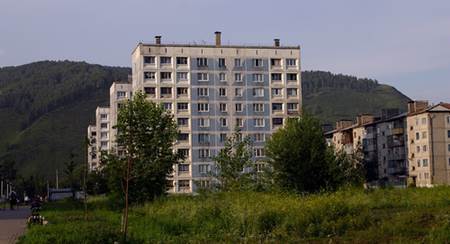 The drive to the orphanage the next day served as our first tour of Mezhdurechensk. The city was hard to decipher, with many similar concrete buildings and signs we couldn't read. What was an office building, a store, a restaurant, an apartment building? It wasn't clear to me. I figured this was what a Russian city looks like when there is no need to appeal to tourists, people with extra money, because there really aren't any. People bundled up in dark clothes and walked quickly. Our van pulled off to a gravel patch next to another anonymous-looking two-story concrete building with small curtained windows and no sign. "This is it," Taityana said.
As we walked toward the orphanage's industrial-looking metal door, I panicked. Would this be like an infomercial for needy children in third world countries? Would there be wailing? Crying? Open sores? Keep it together, be strong, I told myself.
But instead of seeing orphans, we were greeted by Natalia, the director of the orphanage. She rested back on her heels with her arms open, as if she were always ready for a hug. Her skirt flowed down over her hips, which swayed in a slow and steady rhythm when she walked. Her hands were animated as she spoke to Tatiyana, who told us, "She is very glad to meet you. You are the first to adopt from here."
Behind her were other women, younger than the matriarch Natalia, stealing furtive glances at us as they went by. We were in a large common room, with chairs around the perimeter, and the windows that faced the gravel patch where our van was parked. The parlor of the orphanage.
Tatiyana told us, "You will talk to the caregivers, they will answer your questions." We found out the kids' birthdays, when they last saw the doctor and what they studied in school. Six-year-old Anastasia had lived with her grandmother who was very old and unable to care for her. Nine-year-old Juliana and three-year-old Denis were biological siblings whose parents could not care for them. They had been at the orphanage since Denis was a baby. Either they did not know the details of the kids' pasts or they did not want to reveal everything to us. We wouldn't know their whole stories until the kids could tell us what they remembered years later.
At last the kids came into the room. Their smiles revealed gaps and some gray teeth, but their eyes were bright and happy. There was so much to take in as I videotaped this first meeting. What were they thinking? How much did they know about what was happening right now? Tatiyana spoke to the kids. Were they just learning now that Colleen would be their mom and they were coming to America? So much was unknown to me then. Juliana's eyes darted around, to Colleen, to me, and I felt her eyes and brain taking in this situation that was unfolding so quickly. Her brown hair was decorated with a large red bow, as if she were a gift.
Anastasia clasped her hands in front of her and looked at Colleen and me from her slightly bowed head. Her lips were thin, as if they were being drawn back in to her mouth of missing teeth. Her long blond hair was woven into two tight braids. Her brown eyes were dark against her pale, sunless skin.
Denis walked awkwardly in stiff dress shoes that were about a size too big. He wore a dapper wool vest and his hair had just been neatened with a wet comb. He had the innocent smile of a three-year-old but the same sharp, darting eyes as his sister.
In the next room, we were left alone with the kids to play and get acquainted. We sat on the floor with blocks with Russian letters. We said "block" and they took turns saying "block." We showed them the album Colleen made with pictures of their new brothers at home, their grandparents, uncles and aunts, cousins and friends back in the United States, all labeled in English and Russian. Not much different from how I would tell my own baby everything about his or her new world.
As we played, other kids went by, some poking their heads in to see what was going on. I wondered — were they all friends? Did they know what was happening? Did they wonder, why these three but not them? Just eight years later, Vladimir Putin banned all adoptions of Russian children by Americans.
Tatiyana and Natalia came into the room after about an hour and told us the children had to go to their lessons. We hugged each of them long and hard. I breathed in the slightly antiseptic smell of their hair and skin and clothes. It happened so fast — we met them, instantly loved them, and had to go home and leave them here for five long months.
"Please tell them that I love them and I'll be back soon to bring them home," Colleen said to Tatiyana, never taking her eyes off her children.
Natalia came in to the room and distracted us with large cups of bright orange liquid.
"This is vitamin drink," Tatiyana said. "It gives the children good nutrition. You try." Of course, we sipped the neon orange drink and said, "Mmmm, spasiba" (thank you). Natalia beamed. Tatiyana told us, "Now you will eat. The cook has prepared lunch for you."
Back in the parlor, a table had been set with a place for the four of us grown-ups, with a knife and fork rolled in a paper napkin, and a plastic plate with a large serving of breaded liver and mashed potatoes. And a second cup of vitamin drink.
"I think she wants us to know," Colleen whispered, "that the kids get to eat meat."
The stench of meat and grease was surely penetrating our clothes. Now was clearly not the time to say that we were both vegetarians. No, we would eat and talk and smile and say spasiba. We came for the kids, and we would do whatever we had to do to show that we were nice, normal people who would give them a happy home.
I thought about how the liver absorbs toxins like a sponge, similar to how this liver on my plate absorbed so much grease. When Natalia went to the kitchen, I cut a hunk and put it in the napkin on my lap. Warm grease quickly soaked through to my pants. After a minute, I dropped it in the camera bag, where it left a large and permanent stain. There was no other choice. Natalia, a ray of sunshine in this cold gray place, could not know that I couldn't eat this meal. I cut up the rest and did my best to hide it under the potatoes. Even though it was inedible, I was grateful to Natalia for feeding us her best. I focused on her generous spirit, and not how much grease could be soaked up by a liver. After we ate, Natalia clasped our hands and squeezed. With her thick Russian accent, she said, "Thank you. I hope there will be more like you."
On the way back to the hotel, I realized that I had been fantasizing about food since we arrived in Russia. We had only been there for three days, but that's long enough to feel deprived if you have no food that nourishes you, physically or emotionally. Russian restaurants somehow make simple foods like pizza and french fries taste bad, and even the hard lemon candy you get on Russian planes is too sour.
We'd talked so much about all the kids' "firsts" — new home, school and family, but now I thought almost obsessively about the food they would eat at home. What their mom and their grandma and I would cook for them, with fresh fruits and vegetables and spices and fancy cheese and love. All the food I had been thinking about since we arrived in Russia, food that is fresh and juicy and full of life, like sweet Michigan cherries that stain your fingers, watermelon that abundantly quenches your thirst and lets the rest drip down your arm, corn on the cob with salty butter and tart lime. Food that soothes, like my best cookies with oatmeal, coconut, melty milk chocolate and toasted pecans — oh, how I longed to feed them, and myself, and my own baby, and everyone who needs food and love.
Back in the hotel, we heated water on the hot plate and cooked the dehydrated camping food I'd bought from home. Since we already knew that good food in many parts of Russia was scarce, and it was usually too cold to go looking for it, I'd come prepared. We devoured that dinner like it was haute cuisine, not just rehydrated Mexican enchiladas in Siberia.
As we reminisced about our day at the orphanage, I said, "I know there's good Russian food. We've had it in Chicago! Remember the borscht, and the vegetable stew with the beets and potatoes and cabbage, and the pumpkin dumplings?" I was fantasizing about Russian Tea Time, a restaurant in Chicago that we visited every year for "America Day," a family celebration of the day her sons came home.
We went to bed early that night. I dreamt about my mom's rhubarb custard pie, which she used to make every year in early summer when we had enough fruit from the plant on the side of our house. The creamy custard was the perfect complement to the tart rhubarb, and it was always hard to stop eating it. In my dream, I didn't.
We have basic human needs, and food is at the top of the list. In Russia, I realized that we need not just food, but food that is made with good intentions, to nourish and bring joy to those who make it and those who eat it. People do survive on loveless food, polluted air and views of concrete, but it is just so difficult. Juliana, Anastasia and Denis were still young — they could thrive. We'd give them food made with love, family traditions, shoes of their own, big green spaces, and more opportunities than they know exist. But I thought we should definitely start with a decent pizza.
* * *
Nine Years Later
Last "America Day," our big table of cousins, uncles, aunts, grandparents and friends feasted on delicious Russian food, as we do every year. After lunch, we told Klara, the owner and chef at Russian Tea Time, about our food experiences in Russia. She told us, "Yes, much of the commercial food in Russia is bad. But if you are lucky enough to eat in someone's home, it is very good."
Home. And love. They are the unwritten ingredients in the food that feeds our whole selves.
The five kids, now teenagers, still love Russian food, and every other kind of food. They eat like they are making up for lost years in the orphanage. Other moms, like me, watch in awe as they gobble up every home-cooked meal, eat every vegetable (really!), and are completely open to trying things like sushi, quinoa and tea. I think of the love in the food they eat and know that their hearts are full too.
Wherever we travel, we search for the feeling of home, someone's home. We seek out local food, local people and authentic, serendipitous experiences that bring happiness and connection. Whether it's an actual home, a restaurant, or even an orphanage, we search for it in every person through what we can exchange. Honesty and stories and food are the things that nourish our souls. Natalia didn't have to feed us, but she wanted to, and through that inedible meal we strengthened our connection and had an experience we'd never forget.
While our big family sits around the table with the extra leaf, we often re-tell the Russia stories. We love the one about the liver and vitamin drink, and the grease stain that remains on the camera bag.
*****
Linda Dunlavy is a Midwestern mom, traveler, and writer. She writes about family travel and outdoor adventures.
*****
Photo credits:
Borscht: liz west via Flickr
Woman in Black Boots: fervent-adepte-de-la-mode via Flickr
Mezhdurechensk: Leonid Mamchenkov via Flickr
Russian Children: Leonid Mamchenkov via Flickr
Russian Goodies: Wendy Harman via Flickr
Granny's Blue Ribbon Rhubarb Custard Pie: Justin Heideman via Flickr
Family Home-cooked Meal: David365 via Flickr