by Jill Paris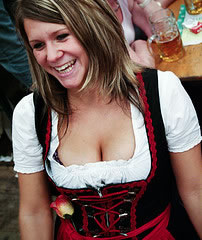 Such mysteries abound in clothing and the minds of women.
"Jilly, look at this one," my friend Simone says, stroking the fabric of a pale, pink dress. We've just entered a weird little Viennese storefront and I'm having a Laura Ashley flashback circa 1973.
"Oh, my friend, I don't know," I say. There's something about the rose shade that reminds me of a doll I had when I was four.
Simone has planned this day for months, ever since I first visited Austria to work on my master's thesis. She is insisting that if I am to attend the Jaeger Ball in Vienna, I must wear the required trachten attire, which, much to my horror, resembles the getup on the St. Pauli Girl beer label.
This quaint establishment, located in Vienna's fashionable First District, is regarded as one of the finest dirndl shops in Vienna. I cannot even pronounce the name properly. "Dern dull," I say without rolling the "r" in that sexy way my Austrian friend says it.
"O.K., start trying some on," Simone prods. I get the impression by her crossed-arm stance this whole dirndl selection process should take about ten minutes.
Suddenly, amidst the cotton and chintz, a flashback hits me: I'm twelve, shopping for my first junior high prom dress. Ah, that memorable night where nobody asked me to dance and I burst into tears when my dad picked me up afterwards. I shoved that tear-stained peasant dress with the ivory lace trim in the back of my closet, damned for eternity.
There are countless dresses wedged onto rack after rack. Each dress looks more juvenile than the next. Oh, here's one with embroidered farm animals and cowbells. Great, I'll tinkle as I walk. That'll come in handy should I go missing at the ball.
These dresses come in a myriad of colors, mostly pastels and muted tones. Being American, when I think "evening wear," I think "little black dress." By comparison, some dirndls have vertical stripes that remind me of pajamas with feet. Some have decorative bows or tacked-on appliqué. Are they kidding me? This is what a grown woman wears to the Jaeger Ball?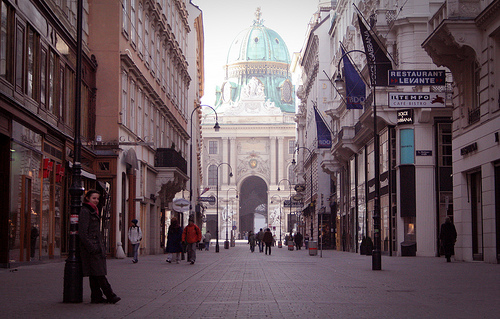 I envisioned the traditional attire would be more classy and sophisticated. I pictured Empress Elisabeth's famous portrait donning that ethereal white gown, how she wore those sparkly stars in her long mane of chestnut brown hair. Where were those dresses? The Jaeger Ball is held in the Hofburg Palace for God's sake, not a barn.
Overwhelmed by the choices, I struggle to slide the dresses along the clothes rack. Does it even matter which one I choose? I'm going to look stupid no matter what.
"Jilly! What color apron do you want?" Simone asks sensing my hesitation.
Apron?
"I think maybe I just won't wear the apron," I say. Her face drops. Without realizing it I've insulted my friend's cultural fashion tradition. It was as if I'd asked the Sex and the City girls to go barefoot to a cocktail party. And if the apron reference isn't bad enough, I keep referring to the dirndl as a costume–until my friend finally snaps back, clinging to a mannequin's green plaid skirt, "This is an elegant dress, not a costume!"
I try to save face. "I think I want to wear a red apron," I say.
"Oooh," she reacts smiling again. "The color of danger."
Yes, I am in danger here. Danger of paying the equivalent of a laptop computer for some traditional Austrian garb I'll probably wear once. I just can't see it. When I think "ball gown," I think "Red Carpet Fabulous" not the wardrobe from The Sound of Music.
When I show Simone the black dresses I've chosen, she looks at me like I've just announced an interest in transgender surgery–but I stand my ground, determined not to give in to anything resembling an Easter egg or a Scottish kilt.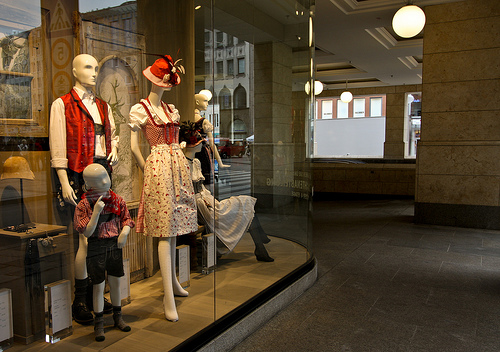 A portly sales woman waddles over with a forced grin. Simone takes over and soon she's speaking in German, probably telling the woman I'm an American virgin dirndl shopper and to please excuse my ignorance.
There's nothing worse than being under or overdressed for a big night out. And, even though I may not be Austrian, I feel intrigued by these odd dresses. It suddenly occurred to me that which color I chose could set me apart at the ball. This was my moment to create the perfect Americanized version of the dirndl.
I gather up a few dresses and enter the dressing room. Simone hands me a slip and a blouse over the door and says, "Don't forget these."
I am aghast by the blouse's white puffed sleeves with billows the size of eggplants. I put it on. I'm wearing Raggedy Ann's bra.
Next, I step into the white cotton slip. The bottom is jagged with thick, white lace. The reveal has to be just right to peek out from under the dress's hemline the exact length, I'm told. This is much harder work than I'd anticipated. Most American evening gowns are one piece. The dirndl is four separate garments: the bodice, the blouse, the slip, and the apron.
I'm drawn to a black dress that has tiny embroidered flowers in pink and red around the surprisingly low neckline. The workmanship displays painstaking effort. I throw the heavy garment over my head and begin fastening the hooks and eyes that connect the bodice together. My waistline increases in mere seconds, engulfed by the massive folds of material that gather up the waist.
"Is this right?" I gasp. Surely I need a larger size. Can't breathe.
I fashion the apron around what once was my waistline. I've even remembered to tie the apron's bow to the left to alert the men at the ball I am single. (If you're married, the bow goes on the right.) As I step out of the dressing room the sales woman immediately instructs me to bend over, making strange gestures with her hands. Seeing that I am baffled by what she's asking of me, the sales woman moves toward me and places her plump fingers underneath my chest and hoists my breasts upward. She's not shy about readjusting my girls to spill out even more than they already are atop the corset of pain.
I glance down and see unfamiliar cleavage.
"Fabelhaft!"–fabulous!–Simone shouts, knowing it's the only German word I know apart from a couple of cuss words. My C cups have transformed into double Ds. I cannot stop staring at my own chest. I grab hold of my apron, twirling around singing, "I am sixteen, going on seventeen." Simone and the woman laugh hysterically.
I finally understand the allure of these dresses. The dirndl is the peasant version of the naughty schoolgirl outfit: youthful, innocent, with just a hint of easy barmaid. I'm guessing not many Austrian girls choose this color combination, but I like the sharp contrast. I want to wear it out of the store. I feel like yodeling.
Tomorrow night at the ball, I'll play their Austrian game.
* * * * *
Jill Paris currently a graduate student at the University of Southern California in the Master of Professional Writing program. She holds an MA in Humanities and has taught at the university level. Her writing has appeared in Galavanting, In the Mist, the Style section of the Los Angeles magazine and in Travelers' Tales anthology, The Best Travel Writing 2009. She is diligently working on on a collection of travel stories for her master's thesis.
Photo credits:
Woman in dirndl: DMWyllie
Street to Hofburg Palace: Kevin Labianco
Dirndl Shopfront: Asirap