by Jan Burak Schwert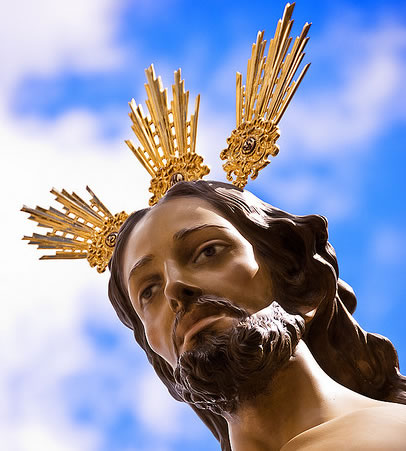 "Thrump, thrump" beat the drums, followed by trumpets blaring. A parade, I thought. But where was it coming from?
Several people dashed down an alley, and we ran after them. Old ladies in flowered dresses hustled arm-in-arm, and a girl with ribboned pigtails bounced on her father's shoulders. Youths with spiked hair and black leather joined the crowd.
It was Palm Sunday, and my husband Ron and I were in Sevilla for Semana Santa (Holy Week), the most spectacular religious festival of Spain. Starting today and for seven days before Easter, 50 processions would crisscross the city with 100 pasos (floats, or altars) among them.
We turned into a narrow street, where hundreds of people filled the sidewalks and balconies. I followed their gaze to the right and gasped. A huge altar floated towards us, with rows and rows of people marching solemnly before it.
A barefoot young man led the procession, wearing a flowing white tunic and holding a six-foot cross. Two priests followed, waving incense that wafted over the crowd. Then came dozens of people marching solemnly in long black robes and tall, narrow, cone-shaped hoods. I shivered at the sight of them. "Must be the penitents," said Ron. We had read that each year, hundreds of Catholics offer penance for their sins by covering their faces and marching in the parades.
When the float drew near, I was able to see its large, lifelike statue of Jesus riding a donkey into Jerusalem, with followers holding palm fronds. I wondered how the platform stayed up.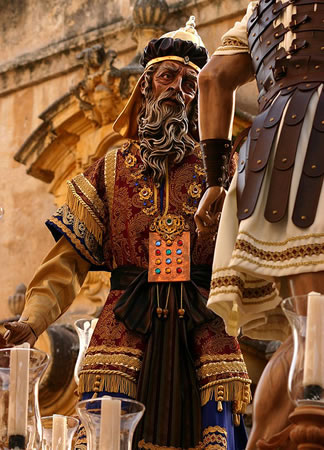 The size of a small bedroom, it seemed to float above the street.
Then, a slim man in a beige linen suit ran alongside the paso, yelling, "Ir a la derecha, un poco más, buena, adelante, un poco a la izquierda". ("Go right, a little more, good, forward, a little to the left.") I realized that people were carrying the altar, and the man was giving directions because they couldn't see where they were going.
The heavy, gilded platform missed us by inches as it headed down the narrow street, its statues tilting precariously. Onlookers leaned over their balconies and cheered as the figures sailed by.
"Unbelievable," I said, shaking my head as we walked away. Not usually drawn to religious events, I loved the spectacle already. "We need a parade schedule so we don't miss anything."
Little did I know the processions would go on almost round-the-clock, all over the city. My official Holy Week program showed parade routes and schedules day by day, using different colored lines like a city transit map. Processions lasted from six to 14 hours, ending up at La Giralda, the largest Gothic cathedral in the world.
We retreated to our cozy apartment in historic Barrio Santa Cruz, which served as a refuge during the nonstop festival.
That evening, Ron and I took a stroll through the neighborhood and found a small tapas bar with tables outside. We dined on grilled sea bass and sipped Barbadillo wine as a mustachioed old man drifted among the tables, playing a concertina. The paseo was in full swing: girls and women promenaded in flowing skirts and colorful sashes, while men wore fancy shirts and well-shined shoes.
After supper we walked through Maria Luisa Park and saw families gathered for Semana Santa. Elderly matrons held court with their children and grandchildren. A young mother cradled a pink-flanneled infant, while her husband played with their little boys. We lingered for an hour or more, then wandered over to the Plaza de Espana. When I saw a crowd, I knew we had found another parade. Beating drums preceded dozens of penitents, this time wearing white robes and purple hoods. The pageant was even more mysterious in the dark.
Later I learned that each of Sevilla's 50 parishes has its own procession. Church brotherhoods, most formed hundreds of years ago, are responsible for the floats. Traditions have been handed down from generation to generation: fathers take their infants to view the dazzling altars, and these early impressions stay with them to be shared with their own children.
Family members give endless hours to Semana Santa. Girls work hard to earn the honor of sewing garments for the Virgin, and young men train for years to be costaleros, or carriers of the paso during Holy Week. A strong sense of community develops as thousands of Sevillanos create the rich, complex celebration. Semana Santa becomes a communal experience for 100,000 people.
The highlight of that night's procession was the paleo, a covered float carrying the Virgin of the Brotherhood of San Roque. Under her fragile canopy, the life-size figure wore a dark green mantle, her face glowing in the light of a hundred candles. As the statue came near, I could see her dark eyes and lashes, the blush on her cheeks.
Onlookers gasped as the Virgin came into view, then cheered as she passed by. Sevillanos worship the Virgin Mary all year, not only in church but during their everyday lives. Her image appears in azulejos, tiles found on the walls of bars and restaurants, homes and workplaces,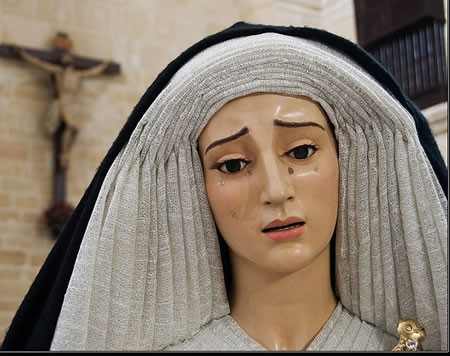 where believers can pause and pray to her. That night she came alive, as she has every year for centuries.
The pageant moved me in ways I couldn't understand. Losing myself to the crowd, I shared their sense of wonder. Semana Santa had worked its magic, and I began to comprehend the powerful role of religion in the lives of the people of Sevilla.
Ron and I strolled back to the Barrio Santa Cruz and partied late into the night. That was Sevilla during Holy Week: solemn, candle-lit parades near restaurants filled with revelers; spectators in tears, then shouting with joy. The contrasts come from the profound belief that Jesus' suffering brought hope to the world. As a booklet about Holy Week says, Semana Santa celebrates "heartache and love, the flesh and the spirit, the dead and the living; they are all in the street."
More people flooded the city as the week progressed. I could feel the excitement build in anticipation of Good Friday's processions, whose pasos would display the holiest symbols of Semana Santa.
They began on Thursday at midnight; we chose a spot on the parade route and waited with thousands of others while the pageant crawled through the city.
Finally the processions came into view. Hundreds of marchers surrounded a three-ton altar depicting Jesus del Gran Poder (Jesus of the Great Power). Draped in a heavy robe embroidered with gold, Jesus bowed his head and looked resigned as a man read his death sentence. For 14 hours, 48 men would carry the paso on their shoulders in 45-minute shifts. About 100 musicians followed the float, playing a slow dirge with bugles and drums.
Then came La Esperanza Macarena, the Weeping Virgin. Under a velvet canopy embroidered in gold, her delicate face had deep-set, shadowed eyes. Crystal tears of sorrow ran down her cheeks.
Onlookers leaned over balconies, wept and threw roses; the depth of their love for Macarena was clear. As a Spaniard once said, "She knows all the problems of Sevilla and its people. We've been confiding in her for centuries. To us, she is hope. That's her name: Esperanza."
Once the Good Friday parades had passed through our street, everyone disbursed quietly. It was 5 a.m.
I'd been warned that I could never prepare myself for the full impact of Holy Week in Sevilla. In the end I was deeply moved by the religious devotion of the people, by centuries of shared history, and by the cultural achievement that is Semana Santa.
Two days later Easter arrived with a burst of unrestrained joy. Bells rang from dozens of churches and people poured out after Mass, their faces radiant as they greeted one another. Then they went home for their family celebrations. All year long, Sevillanos would practice their faith at home and in church. We had joined them for awhile, celebrating in the streets, but would no longer share that part of their lives; after a glimpse of their world, I found it hard to leave behind.
Ron and I stayed for another week. We wandered down empty streets, past quiet restaurants, hearing women making dinner and calling to their children. The people of Sevilla had returned to their normal lives and their constant faith.
* * * * *
Jan Burak Schwert is a freelance writer living in Seattle.  Her work has appeared in The Seattle Times, Philadelphia Inquirer, Dallas Morning News, San Antonio Express-News, Silver Boomers Anthology, and Travelers' Tales.com, where between 2007 and 2009, she received four Solas Awards for Best Travel Stories.
Versions of this story have appeared in the Philadelphia Inquirer and the Dallas Morning News.
Photo credits:
Resucito: Guijarro85
Statues: Alaskan Dude
Weeping statue: Alaskan Dude
Madre weeping: Guijarro85