by Margaret O. Capozzolo
Family Fun Category winner – WanderWomen Write Contest 2010
Travel lust is a major component of my genetic make-up, inherited from my mother's side of the family. Poppop King was a railway conductor and, in his spare time, a homing-pigeon breeder; so you can see that travel was both his vocation and his avocation. Poppop's other passion was me (or so I remember it), his young granddaughter, the one who lived with him and Nana for a time while her soldier father did his part to end the war in Europe.
Poppop's pigeon races necessitated jaunts far and wide in his Studebaker. And there I would be, alongside him, comfortably seated–and this seems incredible to imagine today–on a box on the front seat to raise me high enough to enable me to catch the passing scene. Among the many entertainments Poppop kept up his sleeve to
prevent a little girl from becoming travel weary, the one I remember most vividly is the "Shultz and Finkelstein" routine. "Did you see that fellow?" Poppop would excitedly ask. "That was Shultz." Or, at other times, "See that big green house. I think that's where Finkelstein lives." Shultz and Finkelstein… what a ubiquitous pair! Though I was always too late to catch what Poppop had had the good fortune to see, I never failed to giggle at the mere mention of those names.
But as will happen, little granddaughters turn into teenage girls and begin to neglect the grandparents who had formerly been a source of such happiness. My case was no different. There was little time for Poppop in my self-centered teenage life and even less time for that ridiculous duo, Schultz and Finkelstein. Guilt may have nagged at me, but it did not move me to spend some of my precious time with Poppop. He died before I had a chance to outgrow my selfishness and
perhaps even introduce him to a little girl of my own who would delight in his attentions.
By 2003, I was no longer a little girl, nor even a haughty teenager, but a grandparent myself, facing my dreaded sixtieth birthday. Throughout my adult years, the memories of Poppop and the happiness of the open road had grown continually stronger–as did my shame for the unhappiness I imagined I had caused him by my absence in his declining years. But I never forgot the man I had loved so much as a child.
Poppop, John Francis King, the only surviving son of Irish immigrants, had always filled his family with the stories and pictures of Ireland that he had heard from his parents. He had the Irish gift of language and of humor, and the stories he told grew in intensity in my heart with the years. I wanted to pass along to my children and my grandchildren, too, some of the good things I had inherited from my Poppop King, among the foremost love of travel and respect for our Irish roots.
After much planning and with a bit of trepidation, I found myself about to turn sixty, with a crew of seventeen–husband, children, grandchildren, sons-in-law, uncle, and three teenaged cousins–on a plane bound for the west coast of Ireland. I had rented two properties on the grounds of a castle in County Galway for one week, all that my budget, or, indeed, my nerves could bear. How, I wondered, would we fare, this group of pilgrims aged two to seventy-two?
My pre-boarding anxiety proved unnecessary as I learned in the week that followed. As with any happy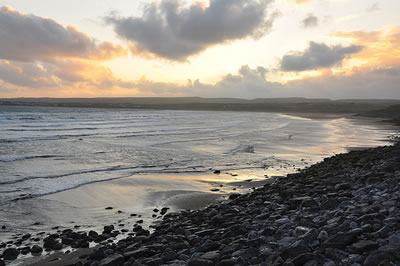 vacation, it seemed we were no sooner settling into our castle-ground homes when it was time to repack. In the week that had flown by, we had walked a beach in Lahinch — just a bit to the east, my son-in-law pointed out, of his favorite beach in Point Pleasant, New Jersey. We sailed to the Aran Islands, all of us, and then went our separate ways to bicycle, ride a horse-drawn cart, or climb the steep slopes to Dun Aengus, a prehistoric hilltop ring fort. We relaxed together in pubs and prayed together in churches. I spent the evening of my sixtieth birthday in a pub in Gort, enjoying the company of my adult family, the tunes of traditional musicians, and the good wishes of my fellow pub-goers, and the next evening at a medieval banquet in Dunguaire Castle, where we watched "the sun go down on Galway Bay."
As we prepared to depart, each of us was bringing home a unique memory of our week together. For one son-in-law it was the taste of morning rashers and Guinness brewed in its native environment. Another son-in-law carefully packed a vial of water from Knock, where he had found in the cemetery the name of his ancestor, whom family lore placed at the apparition of the Blessed Virgin. The blasé teenagers had lost their cool standing under the murder hole at Bunratty Castle. And the younger children took delight in a daily dose of the world's creamiest ice cream.
My daughters each had a different reaction to the land of their maternal ancestors. One daughter was awed by the Poulnabrone Dolmen, standing starkly in the midst of a field of stones in the Burren, and by her visit to Yeats's restored tower home, Thoor Ballylee. My youngest daughter discovered that her love of animals may be a throwback to her Irish ancestry. She bonded easily with the horses that roamed the grounds of the castle and the many dogs she met on the streets of small towns.
But it was my middle daughter who brought home the greatest gift of all. She swears, and I have no reason to doubt her, that she began carrying her third child during our week in Ireland. In what seems like an irony too unrealistic to be true, she gave birth on the following St. Patrick's Day to my seventh grandchild, our precious Kelly Rose.
On that last Saturday in Ireland as my granddaughter, uncle, husband, and I sat in the upstairs coffee shop at Shannon Airport awaiting our plane for home, I felt mellow and grateful for the love and loveliness I had experienced in the week that had just passed. Suddenly, my composure was jolted when I heard over the public address system this announcement: "Calling Mr. Finkelstein, Mr. Finkelstein please…." I could not let the moment pass without my telling my companions the Shultz and Finkelstein story and describing the way that Poppop would laugh as I craned to catch a glimpse of the elusive gentlemen.
I'll never forget the almost terrorized look in my 16-year-old granddaughter's eyes a few minutes later when she nudged me and, nearly unable to speak, gasped, "Nana, did you hear that? They just called for Shultz!" Perhaps the week in Ireland had been enough for me–for all of us — to have become imbued with the Irish respect for the un-seeable, but I would swear that I could hear Poppop's irrepressible laugh and see a twinkle that could only have come from his blue eyes. I knew then that I was forgiven, that a debt had been repaid.
*****
Photo credits:
Dunguaire Castle: Shiny Things
Train conductor: jamesfischer
Blue Studebaker: aldenjewell
Lahinch beach: Frankensteinnn
Girl riding horse: vauvau