by Mara Gorman
Family Fun Category Winner – Intrepid Travel Contest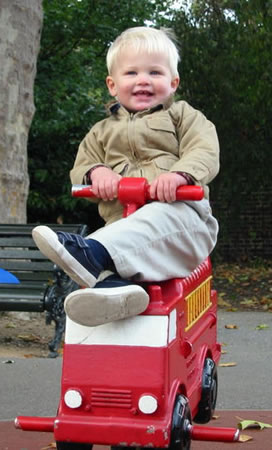 There was a time when I used travel as a way to experiment with glamour. When I went to Paris, or New York, or London, I sipped 10-dollar glasses of chardonnay in industrial-chic cafés and bought swanky little purses that held only a lipstick and a credit card. I carried said purses to museums and galleries, where I spent as much time studying the fashions worn by other patrons as looking at the artwork. I dined on mussels drenched in butter and wine, followed by chocolate mousse, and then retired to hotels that were nicer than my apartment.
I had no reason to believe that my attitude toward travel would ever change. What is travel for, if not trying on a new persona in a new setting?
Then I had a child. And when he was one year old my husband, Matt, and I took him on the road for 13 months. This was of course a crash course in all of the unglamorous aspects of travel — changing diapers in gas station bathrooms, searching for baby food in convenience stores, and, improbably enough, learning about the joys of public transportation, specifically buses.
We spent October in a rented row house in Stoke Newington, which is in the northeast corner of London. My son Tommy was 17 months old. On previous visits, I had gotten around mostly using the Underground, and when planning expeditions on this trip I expected to do the same. But after one or two trips up and down the perilously steep and long escalators with Tommy in his stroller, I avoided the Tube at all costs. (I later discovered that the stop nearest us, Angel, Islington, has the steepest, longest escalator in all of Europe, so my vertigo was legit.)
Although London traffic has to be among the worst in the world, I stuck to surface transport on double-decker buses for which I quickly developed an abiding affection. Traveling above ground meant that I got to know the street plan and the neighborhoods, to understand where Stoke Newington became Islington and then Finsbury and then Holborn. And as these neighborhoods represent entirely different faces of the city, from working class to rapidly gentrifying to solidly upper middle class; from seventeenth-century row houses to Georgian townhouses to postwar apartment blocs–each trip could feel like a trip through culture and history, giving me an understanding of the city I would never have had if my journeys had stayed subterranean.
I also learned what it means to be stuck on Friday afternoon on the High Street. I shivered at bus stops, exposed to the elements. But I saw canals, which more than compensated for the inconvenience (I had no idea London had canals). And I discovered the delights of riding on the top deck, which is a little bit like being on an amusement park ride, with its sudden shift in perspective. Street lights and second stories are at eye level and one is suddenly transformed into a giant, striding the city at a height no one else achieves.  There was no such thing as isolation on the often crowded buses. On one occasion we ended up sitting next to three teenage girls holding bulging Woolworth's bags and sucking on candy pacifiers. They giggled to see that Tommy had one in his mouth as well (plastic, not candy) and one asked me what pacifiers were called in the United States. I told her binkies and she laughed and said, "We call them dummies here!" Smiling at Tommy, she added, "This must be the dummy section." Another time, an older woman with a nut-brown face who looked and sounded like she might have stepped out of a Dickens novel couldn't keep herself from admiring Tommy: "Oh, ahn't you goh-jus! Jus' goh-jus! Look at that blond 'air! Oh you ahr sweet ahnt ya? Ah've nevah seen a baby before–you're the mos' bee-yoo-tee-ful baby ah've evah seen!"
My increasing knowledge about the buses and Tommy's delight at traveling on them made Matt and me bolder about playing tourist in London than we had been previously. We spent a beautiful afternoon watching Tommy chase pigeons in Trafalgar Square. We went to Greenwich, where we posed Tommy for a picture with one foot on either side of the Prime Meridian and then rushed through the Royal Observatory so that he could get some time on the playground down the hill.
But we also used the bus for many routine trips to the grocery store or park. Often, Tommy ate a lunch of cold hot dog and cheese sitting in my lap as the city moved past us. We may have spent only four weeks in London, but during that time I acquainted myself with all of the routes for the buses that stopped in Stoke Newington. I rode on many of them and compared their relative quality and ride time. I knew which lines had the nice new buses with a bin up front where I could stick the stroller. I knew which buses ran every ten minutes, and which ones tended to run late. I spent many evenings with bus schedules and a map of London spread out before me. By the time we left England I had absorbed enough information about the routes that I was even able to make snap decisions about what bus to take when plans changed or a bus passed a stop without taking on passengers because it was too full.
And so this brings me to the Waterloo Bridge, stretching a quarter mile across the Thames, where Tommy and I stood waiting for my favorite bus, the 341. The agenda for that afternoon, hastily cobbled together when it started to rain, included an hour and a half of playing at the train tables inside the London Transport Museum followed by a rousing bit of empty stroller pushing across the wet cobblestones of the Covent Garden Piazza (in defiance of both puddles and crowds of people) and topped off with a snack of chocolate chip muffin.
Standing at the bus stop on the north side of the bridge, I tried to keep my eyes away from the temptation of its expanse, away from the drama of the sun appearing after a day of rain, the light now pouring through the dark clouds in golden streams. This bridge, which I had never walked across, has one of the best views of London you can get. I had gleaned this piece of knowledge from one of my guidebooks, not from personal experience.
"Don't even think about it," I told myself sternly. "If you get halfway across and the 341 comes, you'll never catch it." Although the bridge is very long, I could see that there was a stop just on the other side, and the temptation to try and make it across was great. But I was determined to wait for our bus.
If you're going anywhere from Central London, home to more businesses than people, there are lots of buses to choose from. There are four or five different buses that go to Stoke Newington. But the 341 is really the best choice. Its route is fast and direct, even when traffic is bad, which it almost always is. The 341 buses are modern and clean with a shelf in the front to hold packages or a folded-up stroller. And the scenery out the window provides a sampling of the city's many faces. In London everything is closer together than you think, yet there is all the vastness and significance that a long and varied history brings. The 341 provides one of the best perches from which to experience the chaos and coherence of the city in relative comfort. There are usually seats available near the front of the bus, and it's the perfect spot for gazing out the wide windshield at the London traffic, for beaming at the other passengers as they board, and for eating raisins, carrots, or bite-sized bits of cereal bar that crumble delightfully all over one's clothes. The 341 is the (nearly) perfect bus, the nirvana of all bus rides. But like all precious things it has one defect. It is scarce. It only comes about ever half hour, an eternity to wait with a toddler.
Bus after bus was stopping in front of us, none of them the 341. This is one of the busiest stops in London–about twenty different buses, all of them having just left Waterloo Station on the other side of the bridge, stop here before beginning their routes all over the city. Tommy was not even protesting the wait in his stroller, so enraptured was he by the parade. The wind had blown his cheeks to a bright red and his fine hair stuck straight up like a blond halo.
"Truck!" he said and pointed as yet another bus pulled up, "truck!" Looking down at Tommy's happy face and then at that open expanse of sky over the river, I could no longer resist. I started to walk quickly, pushing Tommy, telling myself that if we had to wait on the other side or take a longer route home, the view would be worth the price of a restive toddler.
It was late afternoon. The scene was much the same as one Wordsworth described from another London bridge 200 years earlier: "Ships, towers, domes, theatres, and temples lie open unto the fields, and to the sky; all bright and glittering in the smokeless air." The surface of the river was covered in tiny whitecaps, and a barge moved slowly underneath the bridge beneath us. London is not famous for its skyline. Its low buildings mostly blend together as they hug the ground. But I understood what compelled Monet to paint picture after picture of the Houses of Parliament and Big Ben from this very perspective. Light softened their edges making them dreamlike, a mirage. It glimmered off the huge silver Ferris wheel, built for the millennium celebration. In the opposite direction, the dome of Saint Paul's gleamed, seeming to float over the city.
There was a chilly breeze. Tommy laughed at the boats, pointing. "Truck," he said brightly. Here we were together, enjoying a view of one of the world's great cities, a view described in countless books, from nursery rhymes to the writings of Chateaubriand, Henry James, and Virginia Woolf. Here were Tommy and I, in the middle of an ordinary autumn day, strolling through the middle of this extraordinary beauty.
I was about three quarters of the way across when I saw the 341 pull up to the stop on the other side.
Cursing quietly, I broke into a jog, then a run. It seemed hopeless–we were just too far away. Tommy started to whoop ecstatically and fling his body around in the stroller which shook and rattled as he yippee-ai-ayed. I ran faster, gasping with laughter. The wind snatched his yells and sent them tumbling off into the air.
Incredibly, the bus, which had started to drive away, actually put on its turn signal and pulled back toward the curb about twenty feet up from the stop. The driver grinned at me as he let us on, and somehow I managed in the space of a few seconds to lift Tommy and the stroller up the steps, display my pass, remove Tommy from the stroller's straps, fold it up, remove my backpack, pull out a sippy cup and a package of fruit snacks, and seat Tommy and myself in the front row.
We were ready for the show that followed, a simple bus ride home through London, the few other passengers drowsy with late-afternoon boredom. But we were still glowing from our mid-bridge adventure and we laughed; I somewhat breathlessly, Tommy a deep belly laugh. We watched out the windows as the bus left the river and turned onto the Strand. We passed two charming churches that sit one following the other, right in the middle of the road, cars and buses moving past them on either side. Saint Mary le Strand is first, followed by Saint Clement Danes. Each is on an island in the middle of busy Westminster traffic; from the sidewalk it is possible to miss them altogether. Parishioners in both congregations have been complaining of noise from the street since the eighteenth century, and yet their steeples seem made for viewing from the bus, a private display for the traffic-bound. Tommy pointed out some trucks; I looked at a statue of Samuel Johnson who said, "He who is tired of London is tired of life," and I pitied the bored passengers.
Then it was on to the neo-Gothic towers of the Royal Courts of Justice, which have been referred to as "the last gasp of Victorian excess." Right in front of this sprawling mass of turrets, the bus drove past the statue, also in the middle of the road, of a dragon (or is it a griffin?) that marks the border between Westminster and the City of London. The creature is poised on its haunches, its mouth agape, pointed tongue sticking out. Tommy laughed at it, for all its fierceness. Up Chancery Lane by the ancient residences of barristers and solicitors. Through sober Holborn and along Theobold's Road, the scenery changing to neat rows of apartments built in the 1950s as we moved up into Finsbury then Islington, past the Sadler's Wells Theatre and, more importantly in our universe, the Islington fire house.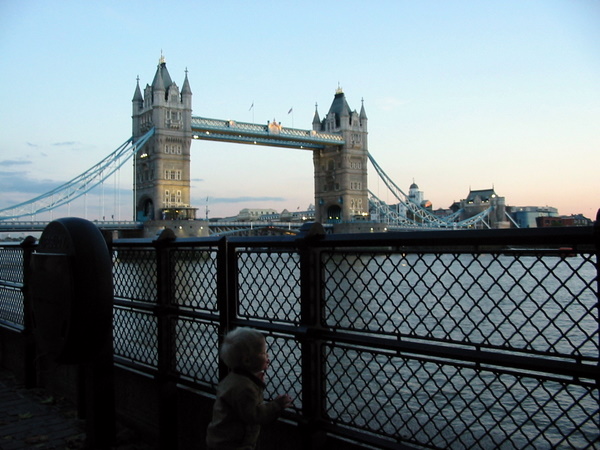 We stopped in front of the shiny mall by Islington Green and then moved on past the shops and restaurants, past the antique market that is reputed to be overpriced because the newest citizens of Islington, the upwardly mobile, are willing to spend the money. I liked to admire the chandeliers I spied through the windows. We turned onto Essex Road, not trendy, and quite possibly "the dullest street in London," as one critic called it, full of council flats and auto repair shops. Almost home, Tommy drowsed in my lap, his sippy cup threatening to fall on the floor.
And at last, we pulled up to our destination. Newington Green, an ancient village common, lined by some of the oldest row houses in London, now surrounded by four lanes of fast-moving traffic. A half hour from the middle of the Thames to the upper reaches of London.
Here we were in the middle of this huge city, its literature and art, its classes and its concerns, laughing, staying close for warmth, and heading to our rented home for all the necessary comforts of supper and bath time and bed. We had eaten snacks and seen boats and ridden the bus, my boy and I. We had adventured through time and history. We were tired and ready for a cozy night. Glamorous? Maybe not. But there was nowhere else in the world I wanted to be.
*****
Mara Gorman is an editor and freelance writer. An avid traveler both before and after she had children, Mara has lived in Italy and France and vacationed in countries ranging from Ireland to India. She lives in Delaware with her husband Matt and two sons, Tommy, now five, and Teddy, two.
Photo credits:
All photos: Author