by Jan Burak Schwert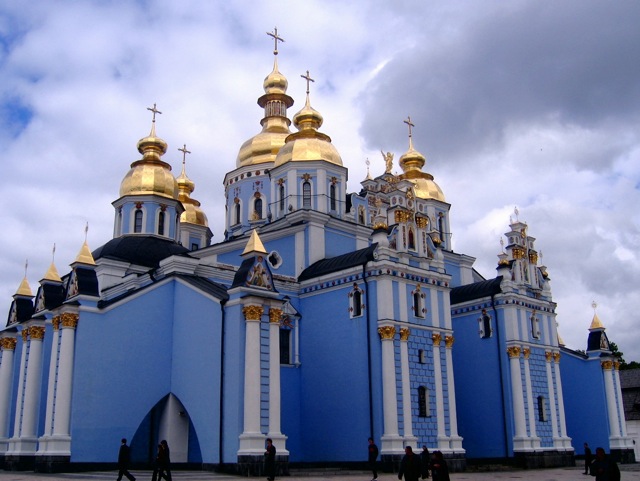 "I am proud to announce the visa requirement for the United States has been lifted. Welcome to Ukraine!" declared President Viktor Yushchenko on the official Ukrainian website.
My husband Ron and I were eager to accept the president's invitation. We wanted to connect with my Ukrainian roots and explore Kiev and Odessa, renowned for their stunning architecture and rich cultural life.
We had enjoyed traveling in Eastern Europe: dining on Krakow's medieval main square, driving down the Dalmatian Coast, strolling along Ljubljana's River of Seven Names. We'd found the locals generous, kind and curious, eager to discuss history and politics. Even those who didn't speak English tried to be helpful.
But navigating Ukraine was like driving a stick shift uphill — sliding backwards, moving ahead slowly, stalling out and trying again. We never did make it up that hill.
Our Malev Hungarian flight arrived from Budapest on May 26, 2006. As we drifted out of the customs area at Kiev's Boryspil Airport, a scowling man with a shaved head held the only sign with non-Cyrillic letters: "Schwert."
"Urngh, " he grunted as we approached. Grabbing our bags, he charged out of the airport, refusing to stop when we pointed to a currency exchange booth.
The driver sped into the city and screeched to a halt outside a stark, rundown building. He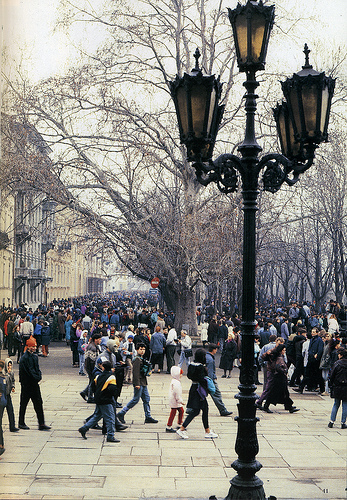 dumped our backpacks in the hall, gave us a key, pointed up the stairs and was gone without a word. It was 4 p.m. on a Friday, and we had no idea where we were. The rental agency had switched apartments without providing the new address.
The hallway's cement floors were covered with grime and broken glass, and the smell of garbage and urine transported me back to my social work days in New York. We opened our apartment door, afraid to see where we'd be sleeping, and were thankful to find the studio renovated and spotless. A large leopard-skin couch dominated the living room, and a mural depicting a turquoise swimming pool decorated one wall.
We deposited our luggage and left for Kiy Avia Travel, where our tickets to Odessa were on hold until 8 p.m. The outside door almost closed behind us before Ron noticed a code was needed to get back in. When we couldn't reach our agency by cell phone, we loitered in the entryway until a neighbor came along who understood our pantomime and gave us the code.
At a bank nearby, the cash machine declined our debit card, and the teller refused to cash our Euro travelers checks. We traded a small stash of dollars for hryvnias and hoped they would last through the weekend.
Hailing a cab, we showed the driver Kiy Avia's address, trusting he'd understand our alphabet and take us where we wanted to go. Though we managed to get there by seven o'clock, an indifferent employee told us our tickets had been canceled and the flight was sold out. We had to raise a fuss to get a new reservation.
Our next mission was calling the Seattle credit union about getting money.   Heading out in the rain, we found a municipal phone center. Three women sat behind glass cages like bank tellers, taking money and assigning booths. They were sullen and brusque. I entered Booth #6 clutching my guidebook and phone instructions, but soon emerged unsuccessful, red-faced and teary-eyed. Just before the center closed, a teller scribbled a few numbers, slapped down the paper and jabbed it with her finger. Rushing back to the booth, I punched in the numbers and was relieved to reach our bank before the weekend.
"Ukraine?" said the voice from America. "Oh, you can't use your cards in Ukraine — too risky." She suggested I get help at a bank where English was spoken, which meant waiting until Monday.
Later we went to an Internet cafe to try and get our apartment's address. The attendant glanced up from his computer but said nothing. After several appeals, he snarled a word or two and jerked his head toward a terminal. I sat down and typed, producing a spray of Cyrillic letters. Returning to the desk, I pointed to my guidebook; the clerk rose reluctantly, stomped over to my chair, pushed one button and enabled English on my computer.
We sent a few emails and stumbled outside. It was 11 p.m. Ron and I found an Irish pub and were stunned to meet a smiling, kindhearted waitress. After supper we made it home by showing a cab driver the Ukrainian letters I'd copied from our building.
"Tomorrow we'll go to Tourist Information and get things sorted out," Ron said. But he was too optimistic; nowhere in Kiev did we find a TI kiosk or visitors center.
I wish I could say our experience improved during the rest of our stay in Kiev and Odessa. But taking care of basics consumed most of our energy, and indifference, sometimes hostility, wore us down. We clung to the exceptions: the server who fed us that first rainy night, the helpful owner of a small grocery store, a man who lent his monkey for a photograph (pleasant until the pet relieved himself on my shoulder). And one evening, a teenaged girl approached Ron. "Are you staying in Odessa?" she asked.  "How long?  Do you want a woman?" I was sorry to have missed that friendly encounter.
We'd expected Ukraine to be out of our comfort zone, but had welcomed the challenge. Both Ron and I enjoy encounters that come with finding our way around and solving problems. But we weren't connecting with people in Ukraine.
Was it just bad luck, or were these attitudes pervasive in the culture? What caused them? Seeking answers to these questions, I delved into material on Ukraine's recent history. I learned that tourists weren't the first people to be beaten down in Ukraine.
Following the breakup of the Soviet Union, Leonid Kushma's corrupt regime kept Ukrainians poverty-stricken, without the security and stability that Communism had provided. Regional
oligarchs consolidated their power and became wealthy, while most citizens struggled on meager salaries and pensions. Neighbors turned in neighbors for minor offenses, and a climate of distrust and self-interest continued as it had during Soviet rule. Today that atmosphere is symbolized by apartment dwellers who stay behind their double-locked steel doors and let their buildings crumble around them.
After the October 2004 Orange Revolution, Viktor Yushchenko came to power and democracy took hold. Ukrainians hoped the new president would fulfill his promises of weeding out corruption and raising their standard of living.
Some Ukrainians have fared well: upscale restaurants now thrive in Kiev. But progress has been slow overall, and average people are no better off than they were before. New boutiques and vehicles stand in stark contrast to elderly widows who sweep streets, work on construction sites and sell grocery items and flowers. They lost their husbands in World War II, then had their pensions slashed when Communism ended.  And their gift from the newest government? A "Yushchenko bonus" of $3 a month.
Many Ukrainians find solace in their Orthodox and Catholic churches.  These magnificent buildings have been reconstructed and re-opened. Exquisitely painted in turquoise, ivory and greens, their gold domes sparkle brilliantly. One Sunday we entered a church and were mesmerized by the chanting and sacred music. Hundreds of worshippers stood among statues and icons, lighting candles for their loved ones. Among them were the elderly babushkas we'd seen struggling on the streets.
Still, many Ukrainians feel disillusioned and hopeless. Even under Kushma, life was predictable. But now, as Soviet dissident Evhen Sverstjuk has said, the people "are facing an unknown. We're an independent country at last, but where are we going?"   (National Geographic, March 2006, p. 58)  One can only hope democracy will favor the next generation in Ukraine.
Meanwhile, I'd like to have a word with Mr. Yushchenko: When you invite us, we will come. But can you please set up an information booth?
* * * * *
Jan Burak Schwert is a freelance writer living in Seattle.  Her work has appeared in The Seattle Times, Philadelphia Inquirer, Dallas Morning News, San Antonio Express-News, Animal Wellness, Silver Boomers Anthology, and Travelers' Tales.com, where between 2007 and 2009, she received four Solas Awards for Best Travel Stories.
Photo credits:
Odessa street: cubamemucho
All other photos: Author