By Ana Astri-O'Reilley
Saturday noon in Tunbridge Wells. It's spring although the weather isn't spring-like. It's overcast and windy with rainy spells. The garage door is open and we huddle together inside. The group is made of my husband's cousin's friends and the two of us. We are about to set out for the annual pilgrimage from Tunbridge Wells to London and then on to Brighton in two vintage vehicles. Ever since we met, my husband has told me stories about these runs: breakdowns, games of drunken mini-golf the night before the race, unforgettable dinners. He once even flew from Buenos Aires, where we were living at the time, especially to take part in one.
The group is made up of mostly couples in their sixties who have been friends for decades. Peter, who's originally from Croatia, and his wife own a sweet shop in Tunbridge Wells and brought sweets to share with us. Malcolm used to play rugby with David, as did Martin, a retired Royal Marine. Steve and Garin were in a relationship for many years. They remained friends after they split up and today each brought his new partner. Steve is one of the designated drivers, as not many people know how to maneuver these dinosaurs on wheels.
Everyone is excited despite the weather. They are British; they're used to rain and can make the most of a day out despite adverse weather conditions. To me, this is perfect weather for curling up with a good book and a cup coffee.
"Ana, how long have you lived in America?" a lady asks, as she adjusts her spectacles. "Do you like it?" she asks again before I have the chance to reply her first question.
A vivacious Irish woman joins our little group. "Where are you from, Ana?" she asks in the broad vowels of her native Belfast. I like the cadence of her speech. "How did you meet Sean?" she wants to know.
"Such a shame, this weather. I'm sure the weather is nicer in Texas," chimes in another. She says Texas like someone savoring an exotic new flavor. Although everyday life in Texas holds no surprises for me, for them it seems like a faraway land yet to be discovered.
I try to fend off the raft of questions. Mercifully, the conversation veers off to the latest exploits of their children and grandchildren. Since I have neither, I can only listen politely and nod occasionally. And they discuss the weather. Such a British thing to do.
I understand their curiosity but at the same time being in the limelight makes me uncomfortable, almost like the odd one out. We lead such different lives: we belong to different generations, we are from different countries — different hemispheres, even. They all live in England, I live in the United States, which holds a fascination for many Brits. They have children and grandchildren, I have neither. They babysit, I travel. This event is the only thing we have in common.
We are all waiting for the last stragglers so we can finally be on our way. The plan is to drive up to town, spend the night in Greenwich and leave first thing Sunday morning for Brighton. It's the annual London to Brighton run organized by the Historical Commercial Vehicle Society and it takes place on the first Sunday in May. My husband's cousin, David, owns two such vehicles: a 1909 CommerCar shooting break and a 1969 Bedford single-decker coach. This is my second bus run, as we call it, but everyone else has been doing it for years.
Once everyone is accounted for, we all pile into both vehicles. The bright yellow Commer was originally designed to carry shooting parties. It's rectangular and looks like a wagon, has one long bench seat along each side and a door in the rear. The driver's seat is separate from the main body and, although it has a roof, it has no windows. The solid rubber wheels and lack of suspension make for a bumpy and uncomfortable ride.
I cannot help but imagine a group of hunters in tweed coats and handlebar mustaches trundling along dirt lanes back to the manor house, shotguns on the racks and partridges hanging from hooks. Now, a century later, we use the same vehicle for leisure as well, albeit of a different kind.
This time, I forgo the historical charm of the Commer in favor of the Bedford. Stubby, as it is affectionately called, looks like a dark-brown bubble. It has three picnic tables with opposing seats, as well as two rows of front-facing seats. Out come the wine and appetizers as soon as we hit the road. It's not even noon yet and I don't fancy a drink this early in the day but I can't say no to mini samosas.
As the Commer is very slow (cyclists can easily overtake it) and can cause traffic jams in the blink of an eye, we take inner roads and the dual carriageway to London.
We arrive at the borough of Greenwich and check in at the hotel, which is within walking distance of the Cutty Sark Museum. David got some tickets in advance and some of us decide to visit the historic clipper. Although I've been to London many times, I've never visited Greenwich and I'm excited to explore new corners.
The menfolk stay behind to wait for the Commer party, who called to say they were having trouble with the tires. They blister due to the friction-generated heat and the driver is forced to make frequent stops to cool the tires down with water.
I take the opportunity to learn something new, which I enjoy especially when it's about history. The Cutty Sark was the fastest clipper of its time and was used to transport tea from China. When the Suez Canal was opened in 1869, the route to China became a lot shorter and steamships replaced sailing ships. The Cutty Sark entered the wool trade from Australia until steamships dominated that route also. Like the historic commercial vehicles of the London to Brighton run, she reached the end of her useful life and became a popular attraction.
The Cutty Sark Museum is located on the south bank of the River Thames in Greenwich. The ship is raised from the ground and rests on the Visitors' Centre. It looks like a big spindly bird sitting on a glass nest. The café is under her belly and, after our visit, we sit down under her keel to a cup of tea and a slice of Victoria sponge cake — my favorite English cake.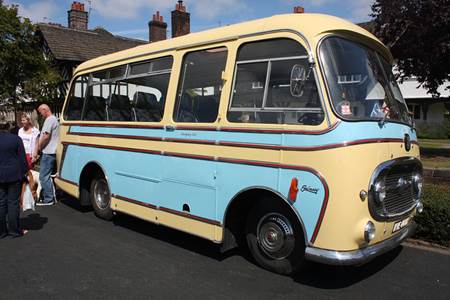 The Commer party finally arrives and is in dire need of a pint. We join them at the nearest pub for a few pre-dinner rounds. My husband waxes lyrical about their adventures on previous runs. His eyes sparkle and he has a big smile on his face. I love seeing him enjoy this moment.
Although we make a weekend of it, the actual run takes place on Sunday morning; the starting point is Crystal Palace Park, south of London. The start of the run attracts many petrol heads. Some geeky looking men of all ages display an obsessive interest in the vehicles, take photos from different angles, ask mechanical questions and jot down notes to add to their collection. One refers to the Bedford bus as cuddly.
"Here come the anoraks," one of the women said earlier. "Get ready for the onslaught." I did not understand what she meant until now. At first, I'm curious about these people. They don't look like the people I normally interact with. They look nerdy and socially awkward, with funny hair and crooked — even missing — teeth. I wonder what they think of me, if they look at me with the same curiosity. Even whether they notice me. I think not. The vehicles take center stage here.
More small groups of anoraks camp out along the assigned route to Brighton to get a good look at the vehicles as they rattle past. They wave at us and we wave back. They take picture of our bus (and us in it) and I record them on video.
I sit by myself on the front seat. I need some "me time." Sometimes, the effort of socializing with new people takes a toll on me and I need to disengage for a while. It soothes me to look at the suburban landscape go by: semi-detached houses in mock-Tudor style, postwar bungalows, the odd Tesco. Gardens are in full bloom. Greenery and flowers bask in the glorious Sunday morning sunshine.
"You're from Argentina, right?" Graham, a Singapore British member of the Bedford party wants to know. I say I am.
"Can you tell me what mate is? I've heard it's a South American drink," he politely tries to integrate me. The others are chatting away behind me; Malcolm is reading The Daily Telegraph — I don't know how he does it. I get motion sickness if I read even a couple of lines. I explain that mate is made by filling a special cup with dry yerba mate leaves and hot water and is drunk through a metal straw. He seems interested in trying such an outlandish thing but I have no idea where to get it in London. If we were in Argentina, I could treat him to a few rounds of mate at home but here, I am at a loss.
Gradually, the suburban landscape transitions into the intensely green countryside and the gently rolling hills of the South Downs.
We are greeted by a traffic jam just outside Brighton. The Brighton Festival is on now and it's a sunny day to boot, perfect for a day at the beach or to catch an open air concert.
We find our way to Madeira Drive, the stretch of road originally built at the base of a cliff to shore it up. The drive runs parallel to the beach and it's the last bit of civilization before the pebbly coast.
Each vehicle is allocated a spot along Madeira Drive so that it is in full display in an orderly fashion. Admiring crowds saunter along and it is a repeat of Crystal Palace: they ask technical questions, take photos, take notes, some even try to get on the vehicles. Repeat.
We set up a picnic table behind the buses. As we eat, a strange-looking man dressed in a house coat, hiking boots and gaudy makeup approaches our table. He seems ready to help himself to food but changes his mind and walks away. He's clearly not with it. There are all sorts of people on Madeira Drive today.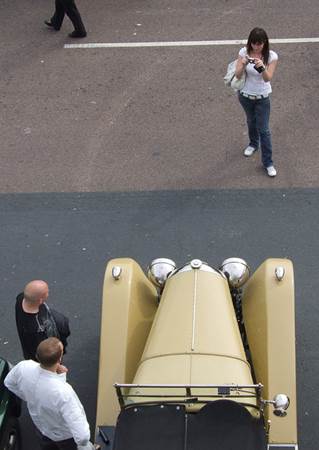 I take a walk along the Victorian promenade, breathing the salty marine air and listening to the cries of the seagulls and the chatter around me. I also take pictures of different kinds of lorries, vans, ambulances, old double-deckers, stream engines and tractors but don't ask any questions. I indulge in some people-watching, which is always interesting. You see people from all walks of life in an event like this brought together by a common interest.
There are always many people, mainly men, snapping photos of a vehicle at any given time. At first, I am mindful of them and walk around or wait for them to shoot so as not to ruin their shot. I wouldn't want anyone to photo bomb me. But after a while, I stop caring and want to go from A to B (B being the public toilets) as fast and directly as possible, even if it means getting in their way. They can always delete the photo. Once, however, I was in a hurry and stepped out in front of an aficionado as he was clicking. It was an older man wearing an anorak and a herringbone flat cap. Imagine this in slow motion: I take a step forward, he presses the button, I hear a click and turn my head towards the sound, he shouts "Oh, bugger!" in an East London accent. The poor soul had a 35 mm camera and I just ruined a photo he couldn't delete. At least he smiled when I apologized.
The sun now begins to set and the breeze start to pick up, it's time to fold the picnic chairs and table and be on our way. We all pile into the buses and start the long crawl out of Brighton back to Tunbridge Wells. There's already some talk of next year's run.
We drive east along the waterfront. Slowly, buildings give way to fields and flocks of sheep. We drive up and down the emerald hills, then through the weald and lush Kent countryside. We are back where we started. I'm ready to go home and pick up where I left off in Texas.
*****
Ana Astri-O'Reilly is an Argentinean expat living in the US, travel blogger, avid reader, curious traveler. She worked as a translator and foreign language instructor in her native Buenos Aires. She is a contributing editor at PocketCultures.com and writes about travel on the blog Ana Travels. She speaks fluent Spanish, English and some Portuguese.
*****
Photo credits:
London to Brighton Run: Jon's pics via Flickr
Cutty Sark Museum: Shemsu.Hor via Flickr
1969 Bedford J2 Coach: Richard Ash via Flickr
Photographing Vintage Vehicle in Brighton: Les Chatfield via Flickr
Kent Countryside: Khairil Zhafri via Flickr
All other photos by author.