by Debra Borchert
"Before you even attach a lens or focus a photograph, take the time to pay attention to where you are." Our instructor rubbed his three-day stubble. "Ask yourself: How does the place feel, smell, sound? Talk with the locals. The more you interact with your surroundings, the better your pictures will be."
With the goal of learning how to manually change apertures, f-stops, and shutter speeds as fast as a professional, I was dubious. How could the things I did as a writer help me take better pictures?
I'd paid about $1,000 to take this course. Flown for 20 hours across nine time zones and slept not a wink. Drove a standard-shift car–not since high school had I ground gears like that–through hurtling French traffic without a map, GPS, or any sense of direction. You'd think I might at least attempt to follow instructions.
I was in the South of France expanding my travel-writing career, which had garnered some successes in national publications and anthologies, but fell far short of covering the rent. Many outlets now request accompanying photographs. I figured I'd better know how to shoot good ones so I could expand my markets.
Following our first lecture, our group of eight students and two teachers arrived at Saint-Antonin-Noble-Val, a medieval village sheltered between the limestone cliffs of the Aveyron river gorge for some in-the-field practice.
I leapt from the van with my camera at the ready, only to be thwarted by our instructor's reminder to put it back in my bag. Whenever he turned a corner, I lagged behind the group, dug into my backpack, and shot every half-timbered house, every stone-mullioned window, every hand-carved gargoyle within focus of my zoom lens.
That is until–after capturing the post-card-perfect shot of a mill race–my camera refused to obey my commands. Zut! Dead battery.
No worries. I knew I had stored a fully charged spare in the front pocket of my case. No battery. I rifled through the side compartments. No battery. I searched my purse. No battery.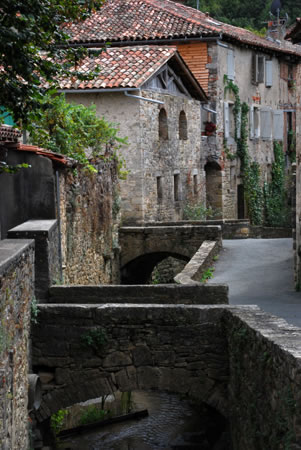 I left the group and wandered the town until I found a shop. My meager translation skills deciphered the important fact: it would take one week to order and receive a battery. Double zut! I thanked the clerk and headed back to the town square.
Our instructor approached. "I see you're taking in the village. Excellent!"
"Not by choice." I revealed the empty battery icon on the camera's screen.
He smiled–a bit too wisely I thought. "You can really benefit from the lecture, then."
I forced a polite chuckle.
Although I tried to cut myself some slack by blaming my forgetfulness on jetlag, I was still angry. I jammed the impotent camera into my bag and with tourist brochure in hand, headed uphill to work off my frustration.
Not a single cloud marred the cobalt-blue sky, a post-card-perfect contrast to the rust-red tiled roofs. My fingers gripped a phantom camera. A group of school children marched toward a dilapidated stone chapel beyond the perimeter of the designated tourist town. I followed them.
Here, the buildings' limestone blocks crumbled. The air grew heavy with the scent of wet clay. Entryways bowed beneath cracked and rotting beams. Rusted latches, locks, and hinges adorned battered doors. Centuries of paint peeled off shutters in patches like bark from a birch tree.
I wouldn't have noticed these nuances had my camera been glued to my face. And I was far more intrigued by this view of the town than the composition I'd have shot through a lens.
In my mind, 15th-century characters went about their daily chores: tanners scraping skins, weavers shuttling bobbins, dyers stirring their vats with wooden paddles taller than they were. I sat on a jumble of rocks and began writing my impressions, both real ones and the imagined ones of the past. A dyer told me her story of class injustice. A noblewoman argued back. I hadn't planned on writing fiction on this trip, but I let these characters have their say with me.
My energy spent, my fingers cramped, I consulted the map to return to the group. I turned and was surprised to see, instead of one of the ever-present blue-and-white street signs, a yellow plaque which read: Ici vécurent Alice et Armand Fraysse Justes Parmi Les Nations pour leur action de résistance face aux exactions de nazies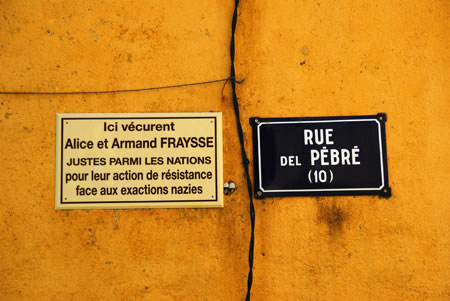 Although I guessed that two people had once lived at this place, my attempt at translation left me uncertain. Was "Justes Parmi Les Nations" a nomination? Although "nazies" was not capitalized; did it mean Nazi soldiers? I wrote it all down, so I could figure it all out later, and found my way to the village center.
Laughter and English-speaking voices drew me toward an outdoor café. I had worked up an appetite. Then I followed the scent of caramel to a patisserie.
"Bonjour." The thirty-something woman, whose bright eyes glistened like candied berries, greeted me and asked what I'd like. Madeleines, soufflés and dishes of crème brûlée lined up in a brass-rimmed case like an advertisement for a food magazine. After selecting a galette, I asked about the plaque.
The baker's lips pursed. "I am too young to know Madame and Monsieur Fraysse, but my mother told me their story many times."
I handed her my notebook with the plaque's inscription. She exhaled in a puff. "During the war, Nazis arrived… they captured Jews… locked them in a warehouse down by the river… set it on fire." She shivered. "All through the village… people heard the screams."
"While the Nazis burned the Jews, Madame and Monsieur Fraysse ran to the school. They claimed their Jewish neighbors' children as their own." She wiped at her eyes. "If the Nazis had found out, they would have killed them for protecting Jews."
I shook my head.
"I do not understand. We are all people, are we not?"
I agreed.
She looked out across the lane at the butcher shop, "Madame and Monsieur Fraysse, they are dead now." She pressed her fingers to her trembling lips. "Les enfants…" keeping her hand close to her mouth, she whispered, "they are my customers."
The silver bell of the door jangled. She turned and greeted a young mother holding a baby. I swallowed to relieve the dryness in my throat. "Merci, Mademoiselle." She nodded and handed me my notebook.
I picked up the coffee and dessert, and went outside to find my classmates. I heard their voices further down the lane, but I hesitated, sat a table and added to my notes: Since the eighth century, Saint-Antonin-Noble-Val has survived countless wars–perhaps because of people like the Fraysses… and the baker who remembers them.
I attempted to push my journal into my bag, but something obstructed it. I reached in. The spare battery.
I wound my way back to the plaque, photographed it and a few post-card-perfect views of the village.
Upon returning home, I researched to confirm that the Fraysses were recipients of the Righteous Among the Nations award, wrote the essay, and pitched it along with the photographs.
Within a week, the editor at the San Francisco Chronicle accepted the story for publication. Great! When I asked which accompanying images they wanted, the editor replied, "No photos necessary; we like the travel essays to paint a picture without visuals."
*****
Photo credits:
French village: PhillipC
French bakery: morisius cosmonaut
All other photos: Author