By Anne Sigmon
I was practically willing to mortgage a grandchild for a night at the Paris Opera. What I coveted was romance. What my husband laid out was a murderous schedule to explore every centimeter of Gothic Paris on our four-day visit.
While Jack roamed the UC Berkeley library for treatises on medieval statuary, I scoured the Internet for opera tickets. Not just any opera venue would do. It had to be the Palais Garnier, the Beaux Arts masterpiece designed by Charles Garnier. An eye-popping confection of gilt, crystal, mosaic and Sarrancolin marble, le Opéra dazzled Europe when it opened in 1875. France's monarch, Napoleon III–sponsor of the project–was exiled by then, but the crème of French society flocked to the opening, along with the Lord Mayor of London and King Alfonso XII of Spain, who attended with his mother, Queen Isabella II. I imagined the silk of Isabella's train swishing on the stair, the opulence of her gold embroidered gown approaching that of the architecture itself.
I discovered the magic of the Paris opera house–once called the Academie Nationale de Musique, now known simply as Palais Garnier–on my first visit to the city of lights in 1993. Golden dreams flickered in the candlelight glow. My heels clicked on M. Garnier's priceless marble as, wearing emerald silk and holding Jack's arm, I sashayed down the staircase into the Grand Foyer. There, a Versailles-like gallery of windows, mirrors, and candelabra shimmered under a pastel-painted sky peopled by wispy figures from Greek myth. I was in love with Paris–that night–and with Jack.
From then on, we returned to Palais Garnier on every sojourn to France. But, we'd never managed to see a real opera there. Most grand opera performances were switched in 1989 to the unfortunate Opera Bastille, a blocky gray structure that looks like a spaceship and feels like a tomb. The staple at le Garnier since then has been ballet seasoned with an occasional classical concert.
As I surfed Paris websites, I figured a ballet would have to do. I let out a whoop when the September schedule popped up showing an opera, Strauss' Capriccio. Not a famous opera–actually, I'd never heard of it–but a real opera nonetheless. And, it would open the day we planned to arrive in Paris.
"Jack! Look what I found!"
"What?" He peeked around the corner from his desk in the next room.
"There'll be an opera at the Garnier while we're in Paris. Let's go. You want to go, don't you? Come on, say 'yes.'"
"Sure, why not. See if you can get tickets."
My over-plump Visa bill can attest to my online shopping prowess, but all my clicking was in vain that day. The official Paris Opera website was a bust, every seat a dull, unresponsive gray dot, already sold. Classic Tix: Nothing. FNAC: seats for Capriccio "no longer available." What is this? The Ring with Wagner resurrected to conduct?
"Maybe I spoke too soon," I told Jack. "I can't find tickets anywhere."
"Try Western States. That's the service I used last year–based in Phoenix, I think. Number should be in the database."
Jackpot! The Western States agent said she could get two tickets in "Cat A." But a second later, I learned that I'd need that jackpot to pay for them; she quoted a price more than twice the already exorbitant face value.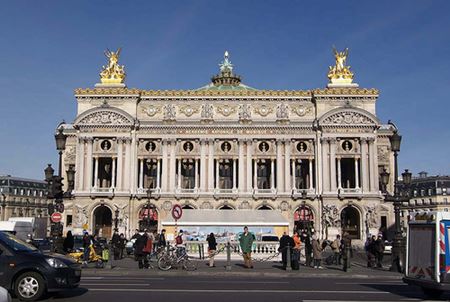 "Should I place the order?" she asked.
I hesitated, trying to fix the precise intersection of imprudence with desire. Picturing myself ascending the Grand Staircase on Jack's arm, I sighed. "Yes," I said, sacrificing my Visa on the altar of romance.
That Visa got a further workout the next day when I made a last-minute decision to buy a new outfit–black palazzo pants with an off-the-shoulder lace top–that I hoped would supply the pinch of je ne sais quoi that my cushy opera tickets seemed to demand.
Three days before our departure, I found Jack slamming around the kitchen.
"What's wrong?"
Cumulonimbus voice: "Opera tickets came."
"And …"
"They're crap. One's not even a real seat–it's one of those flimsy jump seats that folds out so you sit in the aisle."
"Let me see."
"Here." He tossed the envelope on the table.
I fingered it like I was expecting anthrax. There, beside the seat number on the second ticket, was the designation "S" for strapontin, the French word for the jump seat.
"No point going just to sit in crummy seats," Jack grumbled.
My fairy tale was mutating to a fright night. Later, on the phone, the ticket broker tried to soothe me.
"These are choice tickets, center, just the below the boxes. I can't help the strapontin. It's opening night, we were very lucky to get these."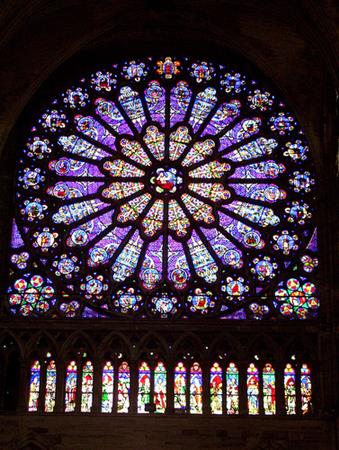 "Oh, all right," I said, holding tight to my fantasy, trying to rub the gathering tarnish off my romantic evening.
Then, to Jack: "I'll sit in the jump seat; it'll be fine." A harrumph was his only reply.
Once our feet hit Paris soil, we were on the run, keen to see as much of Paris as possible before heading to the opera. We careened down Boulevard Saint-Germain, lurched past artists' stalls along the Seine, snapped photos outside Notre Dame, then dashed to catch the Metro to the village of Saint Denis, six miles, four line changes, and eighteen metro stops away. But there was no rushing through the abbey church of Saint Denis, the revolutionary tenth-century masterpiece of light that inaugurated the Gothic era. There, Bible stories told in lancets of blood red and Mary-blue glass reached heavenward. Standing in the white-stoned apse, bathed in the late afternoon glow, I absorbed the miracle of the stained glass windows designed by the medieval architect to transform mere light into an illumination of the spirit. Jack and I could have stayed all day, and nearly did.
Glancing at my watch, I started. It was almost 5:30, way past time to get moving for our 7:30 curtain. We still had to negotiate those eighteen subway stops back to the hotel, shower and dress for the opera, and retrieve our tickets from in the hotel safe.
Back in our room, I grabbed tickets, opera glasses, lipstick, plus a few euros and stuffed them in my too-small dress purse. Feeling like a Survivor contestant trying to beat the clock, I jumped in the shower and out again, ran a brush through my hair, dabbed on a bit of makeup, and fumbled with my balky garnet drop earrings.
"Five minutes." Jack tapped his watch.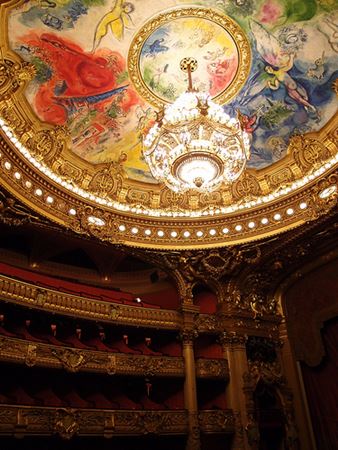 I eyed the "self-support bra" I'd bought to go with my off-the-shoulder blouse, and the one-inch adhesive strips I'd been told would anchor it to my body. Not enough time, I thought. It's either the earrings or the bra. Ah, what the hell, it's Paris. I snapped my earring with just enough time to slip on my (now braless) outfit and follow Jack down the elevator.
We sprinted to the Metro–my dress shoes pinching and my breasts bobbing with every step–bolted from the subway, and raced up the opera house steps. Hiking up my opera pants so I wouldn't trip, I dodged pigeons, jean-clad students, and rumpled office workers sporting canvas messenger bags. This was hardly the grand entrance I'd imagined. It wasn't until after we dashed up the grand staircase with five minutes left before curtain time that I stopped, smoothed my outfit, took a deep breath and willed my mind to slow down.
Scanning the long, dim hallway that disappeared into darkness, I imagined Gaston Leroux, whose gothic imagination conjured a disfigured Phantom. Inside, the theater was a glimmering jewel box. Four tiers of gilt and red velvet boxes shimmered beneath the seven-ton crystal chandelier. Above, Chagall's fanciful painted ceiling was a calliope of whirling color: Romeo and Juliet embraced in the shadow of the Arc de Triomphe, and Stravinsky's firebird danced past Chagall himself, shown with palette and brush. Looking up at the boxes, I could imagine Berthe Morisot sitting in a black evening gown festooned with flowers, or Mary Cassatt in her white opera gloves, her fan swishing in time to the music.
I smiled at Jack; he blew me a kiss.
The house lights dimmed, the conductor bowed and the orchestra transported us to another time. Capriccio's storyline asks the star, a countess with two suitors, to answer the question: Which is greater, poetry or music? Somewhere in the opera's second half, the strings slipped into a Mozart-like minuet of the heart. Rising and falling, tenor and baritone, the two suitors vied for the countess's heart. Her soprano soared in a yearning melody, a longing for lost promise. High notes tinkled like ice against crystal, then slid to a contralto of deep sadness. The countess loved them both; in the end, she could not choose. The scarlet curtain swept down, then rose again for the accolades. The sequins of the countess's royal gown dazzled in the footlights.
As the house exploded with applause, Jack squeezed my hand. All Paris loved Capriccio, and–having found my romance at last–so did I.
*****
Photo credits:
Phantom of the Opera: Greg Willis
Woman in Palais Garnier: David Nestor
Palais Garnier: scarletgreen
Saint Denis Stained Glass Windows: Francisco Gonzalez
Palais Garnier Chandelier: Guilhem Vellut
Palais Garnier Grand Salon: Jim Trodel