by Lisa Egle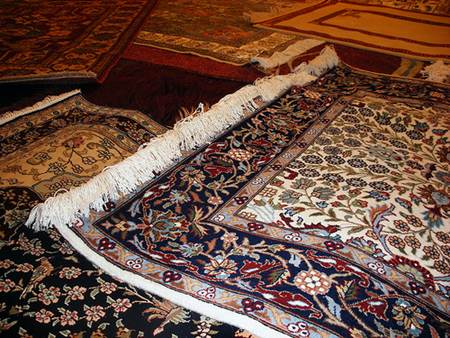 "Is it hot in here–or is it just you?"
"My carpets are almost as beautiful as you, baby!"
"Fly high on one of my magic carpets. Come on–let's go for a ride!"

Each time a tout, an aggressive salesperson, tried to lure me into his shop–whether through a clever sales ploy or some ludicrous attention-getting line–I got the sense that I was in a pick-up bar instead of a Turkish tourist trap. That was especially true in Istanbul, where the men hawking rugs worked particularly hard to entice me to enter.
But now in Selçuk, several hours south of the capital, I believed I'd found a somewhat safe haven. Sure, the carpet salesmen were here too, but they weren't nearly as ubiquitous as their northern counterparts.
I stood under an awning in front of a shop that displayed scarves, necklaces, watches and Turkish evil eye protectors. And best of all, not one carpet. For once, the salesman didn't seem too aggressive. He was wiry and weasely, and reminded me of a Kurdish Woody Allen with dark and paranoid non-flirtatious eyes.
"Would you like a cup of tea?" he asked. "No strings attached."
 "Sure, why not?" I replied. I saw no carpets in his shop, so I figured I was safe.
"My name is Ali." He extended his hand after he called for the tea. "Please take a seat."
"Thank you," I said, sitting down on one of the two fold-up chairs near the door.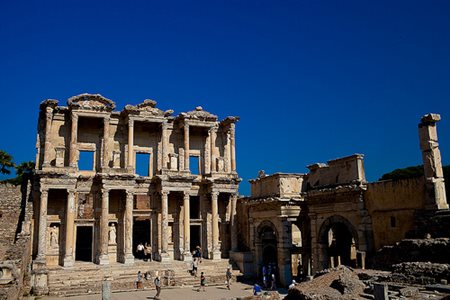 I was happy to be off my feet and in the shade. I'd spent the previous day visiting the classical Greek and Roman city of Ephesus, one of the best preserved in the Eastern Mediterranean, and it had been lacking in shade and brutally hot. And I'd done a lot of walking. Alistair, a British friend I'd been traveling with, was also in Selçuk, but at a different hotel; we were planning to meet up a few days later in Cappadocia.
"Here is your tea," Ali said. He handed me a tiny glass cup on a saucer, with a small spoon and a sugar cube wrapped in white paper.
"Thank you," I replied, then becoming stern. "But keep in mind that I'm not going to buy anything."
"No problem. No pressure."
"So are you from the East?" I asked, taking charge of the conversation.
"How did you know?" Ali looked panicked.
"You look like the other Kurds I've met," I replied, curious about his reaction. "So can you tell me anything about southeastern Anatolia? Is it safe?"
"Yes, of course."
He ran into the store and came out with photos of his hometown, Mardin, a city several hours from the Iraqi border. He told me about family members who had joined the "Kurdish Revolution." He also spoke of the unfair treatment he'd received in Selçuk for the location of his merchandise displays on the street. Ali believed he was the victim of anti-Kurdish discrimination.
The conversation began to wind down, so I thanked him and got up to leave, thinking: this was easy. Tea, chat and no pressure to buy anything. He followed me to the door and was about to let me slip away when I noticed a mysterious white cat with two different colored eyes. Blue and green. She was sitting on a carpet in front of another store.
"Who's that beauty?"
"That's Marvesh, my cat."
"Is she from Lake Van?" I was referring to the region where most of these cats allegedly come from. They tend to be white, or mostly white, and many have different colored eyes.
"Yes, of course."
Stopping to admire and pet the cat, I made a mistake I would soon regret.
"Nice carpet," I said as I touched the soft, silky pile.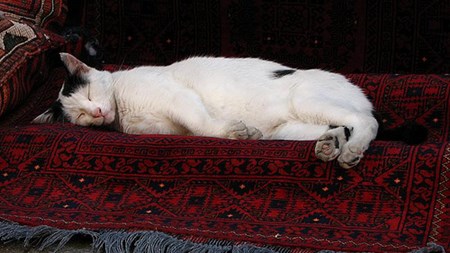 "Please allow me to show you some more," Ali said, his entire face illuminated and animated. Like a possessed puppet in a horror movie.
"Carpets? I thought you only sold scarves, ceramic and jewelry."
"I have four stores and this is one of them."
Oh, no. I was definitely in over my head. Too bad Alistair was sightseeing elsewhere that day. I could have used his expertise in this situation.
"Thanks, but…I really need to be going. I have things to do."
"Like what?"
"I have to buy more water."
"I have some in the back."
"I need to make a call…to the U.S."
"You can use my phone."
"I'm expecting…an…important e-mail."
"You can use my computer. It is not problem at all."
"Um, well…still, I have to get going. I'm tired."
"I will get you more tea. It will give you energy. And do not worry. I just want to show you a few carpets. No pressure to buy. I promise."
"OK, fine, but I only have 15 minutes and I'm NOT buying anything."
Two hours and 200 carpets later, he'd shown me silk, wool and kilims, flat tapestry-woven carpets. A wide ranges of designs–abstract, traditional, from the West, from the East, from large and small villages. Most were handmade and some had taken a year to create. Those were worth a couple months' pay.
"Thanks, Ali, but I'm not looking for a carpet." Truth be told, he had narrowed the selection down to about 20, of which four were appealing.
"A carpet is like a man. You do not look for him. He finds you."
"Oh yeah?" I laughed, fighting back an instinctive eye roll. "I'll keep that in mind."
"A carpet is about passion. I have passion for this. And I believe each carpet must go to the right person."
"Well, the right carpet hasn't found me…so I should be going. Maybe I can buy a cheap watch from you instead."
"Let me show you some."
He pulled out a portable turntable with a hundred or more watches on it. I found a cheap faux silver one and put it on my left wrist. A minute later, it stopped working and I handed it back to him.
"Here is another. Know what?"
"What?"
"I hope it stops working, too."
 "Why?"
"So that you have to come back tomorrow."
"Thanks a lot." Shame I didn't have a cell phone. I could have pretended I had a text from Alistair.
"I want to see you again…to put my arms around you and have romance with you." In a matter of moments, Ali had gone from carpet salesman to Casanova. The transition was remarkably fast.
"Bye, Ali…"
"Wait!"
"No, it's time to go." I knew this because of Marvesh. He winked mysteriously at the exact second I thought I should walk out. With the feline confirmation, I left, thrilled to have finally escaped.
Back at my hotel hours later, the owner bellowed with laughter when he heard the story. He was a Turk named Hayri who'd once lived in England and preferred to be called Harry. A heavyset middle-aged man, he had medium brown hair with one large crest-like wave to the side, and a round, ruddy face that beamed with self-satisfaction. He was demanding and pushy with everyone around him. He proudly proclaimed that he was a scorpio, known for intensity, and that he usually knew more than most people and liked to let them know it. Even so, he revealed a softer side.
"The truth is," he said, after shoving a large chunk of shish kebab meat into his mouth, "I am working on healing myself."
"What do you mean? Emotionally? Spiritually?"
"Yes. On all levels."
"I see," I said in my best fake shrink voice.
"Ali is pathetic and a failure," Harry said, as judgmentally as possible. Perhaps his journey of self-healing wasn't quite done yet.
"Why?" I asked.
"He didn't sell you a carpet."
"Yes, but he got me in there for a couple of hours."
"True, but you got away without buying."
"Sounds like you know a bit about carpets yourself."
"Of course. I used to sell them at the Grand Bazaar. I was one of the best."
My blood chilled when I heard those words. The Grand Bazaar was the ultimate tourist bazaar with some of the most aggressive touts I'd ever encountered. The nonstop harassment had instantly turned me off. After one visit, I vowed never to return.
"But don't worry," he said, smiling. "I am not going to try to sell you a carpet."
"That's good. Your business is hotels anyway."
"Well, actually, I have some carpets in the back room. I am closing out that business and selling everything at cost."
"Thanks, but…"
"I do not pressure anyone…so don't worry."
"Glad to hear that." I ordered another drink and enjoyed the easy life, being at the hotel bar and restaurant. With the booze flowing easily, the olive oil and vinegar at each table and signs that listed prices in euros, I was feeling the Europeanness of Western Turkey.
Our conversation shifted to the Kurds, international politics and religion. Harry's brother Dalan got involved with the discussion, as did a Kiwi tour guide who was so drunk his sentences emerged as one long, slurred word. The entire time, Harry stuck to non-carpet topics and was careful to mention his girlfriend, especially while giving me a shoulder massage. We also talked about the zodiac again, my job and my life.
"Thanks for the great chat, Harry," I said. "It's late and I should get to bed. I have a long bus ride tomorrow."
"Yes, but first, would you like to see a few of the carpets that I told you about? They are beautiful." He'd made the move, taken care of the check, made the extended eye contact and was ready for the goodnight kiss–a sale, that is.
"Carpets? Well, maybe for a few minutes."
I followed him to a back room–the size of a small warehouse–and within seconds, he pulled out 20 carpets and got my opinion. In minutes, he had it narrowed down to five. One of them was appealing to me. Very appealing. It was the Mr. Right of all carpets, frankly–the one that would make me deliriously happy since it was compatible with all my living room furniture. The color was right. The style was unique. We were perfect for each other and would perhaps have a long relationship.
It was love at first sight.
But I couldn't let Harry know that.
I played it cool. Glanced at my watch. Took a sip of bottled water. Picked at a chipped fingernail. Then spoke. "These aren't too bad. Some are pretty."
"So what's your budget?" He saw through my silly ploy of feigned distraction. "What can you spend?" I knew this trick and yet, possibly due to the late hour or the carpet lust that blinded me, I fell for it anyway.
"No more than $250."
"Check this one out…I will give it to you at cost…$250."
It was, of course, the one. Was he psychic? How had he known? Had my eyes lingered on that one for an extra second or two? Or was he playing the Carpet Taste Identification version of Name That Tune? If so, he had done it in two moves, not 20.
"Well, it is pretty. I'll give you that."
"It's a great price. It doesn't weigh much. And I can send it to you in Istanbul. I accept credit cards, too."
I'm tempted, I thought. This one has serious potential.
"It's from the Mt. Ararat region, near Iran, where Noah had his Ark. The symbols represent the tree of life and love."
Damn. He'd studied me closely…knew I was a sucker for that kind of thing (minus the Ark). I fell hard for the geometric and abstract shapes–and the llama-like horses and people wearing traditional clothes.
"Interesting." I mentally calculated whether I could afford to buy it and envisioned it in my living room. Its oranges, yellows and browns were exquisite. Just perfect. I was as giddy as if I'd fallen in love on a spring day.
"Take it to your room…and put it down on the floor. See how you feel in the morning. If you think you will miss seeing it, that means it belongs to you. The carpet, by the way, finds you. Not the other way around. Like a man."
That sounded familiar. He and Ali must have studied at the same school. Harry, however, had graduated magna cum laude.
"OK, I'll bring it to my room. Fine." It was 2 a.m. and I was exhausted, and feeling slightly angry and betrayed. I thought we were just conversing and becoming friends. But the situation had devolved into the game of magic carpet seduction. As it so often did in Turkey.
I wanted to throw the carpet at him.
Instead, I laid the beautiful wool kilim, all four feet by six feet, on the floor of my room. I admired it before going to sleep–and upon awakening. I walked on it barefoot. Touched it. Held it. Desired it. I knew I'd miss it if I let it go.
But something was wrong.  The circumstances…the betrayal. I'd lost faith in Harry, no longer trusted him. Therefore, the carpet was tarnished. Love gone bad.
"Are you getting the carpet?" Dalan, Harry's brother, asked at breakfast time. "You can add it to your hotel bill and charge it."
I had already drunk three cups of coffee and felt like I'd been run over by a truckload of carpets. I was also irritated that Dalan knew about the potential sale at 8 a.m. Harry had probably texted him to make sure he'd close the deal.
"Actually, I've made a decision."
"Yes?" Dalan paused. It was as if the best actor award was about to be announced at the Academy Awards.
"I'm not getting the carpet."
His face went blank.
"You're not?" he replied with a befuddled expression.
"No, I'm not." It hurt me to end this magic carpet relationship, but I had to.
"My brother is giving it to you at a great price, you know. At cost."
"I know, but I'm not getting it."
"But…but…well, are you sure?"
"Yes, I am."
"OK. I will tell him."
I walked away, looking back only once at the one-of-a-kind carpet from Mt. Ararat, sitting in a dejected pile on the counter near the credit card machine. The carpet that had seemed to be the right one for me. I was sure Harry was receiving a text message at that moment and asking himself what went wrong. I was reminded of an ex-boyfriend who could have been the one, but was the one that got away. I wondered if, this time, it was me. Or was it the carpet? The sale? The seduction?
It no longer mattered. I simply savored the bittersweet feeling of simultaneous loss and victory–and imagined the next magic carpet I might find. Or the next magic carpet that would find me. I knew that there would be another.
There always was, wasn't there?
*****
Lisa Egle is the author of Magic Carpet Seduction: Travel Tales Off the Beaten Path, a memoir named after the story you just read. The book–which includes journeys to China, Latin America, Turkey and the Middle East–is humorous, quirky and thought-provoking. It's about how taking risks leads to unexpected journeys and, ultimately, to self-discovery.
She's also the editor/publisher of ChickyBus, a travel blog that takes readers–'passengers'–on vicarious 'rides' to numerous countries around the world via storytelling and photography. Her writing has been published on BlogHer and Matador Network, and one of her stories was featured in an article on the Oprah.com blog.
Lisa has traveled to 36 countries on 5 continents and most recently visited Indonesia. When she's not traveling, she working as an ESL professor at a 2-year college in New Jersey.
*****
Photo credits:
Magic Carpets: Sally Butcher
Ephesus: Esther Lee
Cat Napping on Carpet: reibai
Carpet Salesman: Chris_Parfitt
Carpets at the Grand Bazaar: Christopher
Turkish Man Selling Carpet to Female Tourist: William Neuheisel
Happy Turkey Female Tourist: David Bacon