By Kate Crawford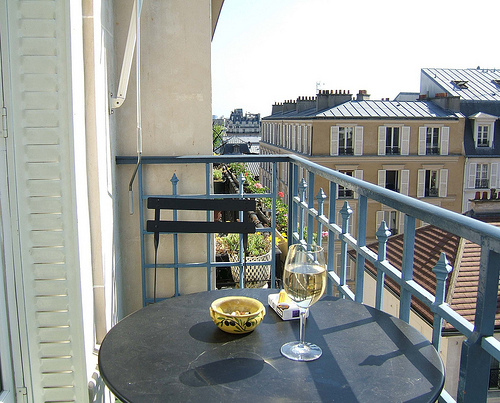 It was Paris, I was young and in love, with life and Paris if not with Alain Chausse. Or was that Chausse Alain? I never knew, until the morning I became Madame Chausse.
My friend Joan was letting me camp on the floor of the room she traded for twice-weekly English lessons to the owner's children. It was a maid's room on the fourteenth floor of a belle époque building. The family lived on the fifth. The elevator stopped on the ninth.
Out our window, whose sill acted as our refrigerator, we could see the slates and the tiles, the gargoyles and the angels of Paris' roofs. They boxed in hummocks of treetops and the distant dome of a Gothic cathedral. In my memory every view of Paris that year was gorgeous. The room was not. Joan had a single army-camp bed, one table, one straight back chair, a built-in cabinet and a hand-washing sink. My air mattress, when inflated, took up the whole floor. If Joan got up, I got up. Our toilet–two foot marks, one hole–was up one flight and down the hall. We swam at an American Club when sponge baths no longer passed muster.
My raison d'être was to learn French. I studied at the Alliance Française with the other beginning students from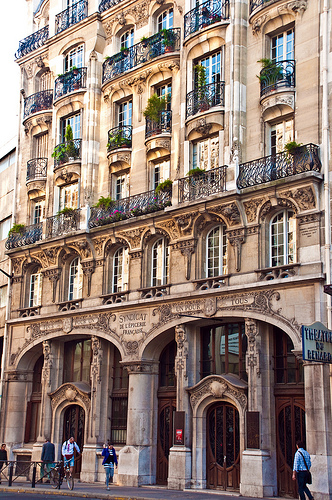 Japan, Germany, Scandinavia and Africa. On the whole, I didn't understand them, they didn't understand me and none of us understood Madame, our instructor. She called on me with vicious regularity, not because I was clever, but because I made her laugh. Madame thought my accent was hilarious. She explained that whenever the French want to be really funny, they speak with an American accent.
My progress was not encouraging, but I could hardly blame Madame. This was–counting eighth grade, high school and college–my fourth go at beginning French. I had Le Balloon Rouge down pat, but was terminally stuck on verbs outside the immediate moment. It was a dandy way to stay in the now, but it was a formidable obstacle to setting forth intent and reflecting on the past.
The best way to learn a language, I'd heard, was to have an affair with a native speaker, one who didn't speak English. Clearly, I was in need of a new approach and this one did have a certain sex appeal. I gave it a try.
He was, I recall, rather cute–tall, blond, soulful eyes. Perhaps not an intellectual powerhouse, but given our linguistic limitations, I had no way of knowing. I wasn't even sure of his name. I'm sure he'd told me, but I'd forgotten. By the time I knew it was a name I needed, it was rather too late to inquire. I rummaged through the papers on his desk and found both Alain Chausse and Chausse Alain, but neither had commas.
We both liked red wine and Bob Dylan. We smooched by the Seine, loafed about cafes and partied with his friends. His English was skimpy and my French did improve–but it still had a long way to go. It became my habit to spend the occasional night at his place.
Compared to Joan's room, Chausse/Alain's was grand. It boasted an easy chair, a small refrigerator and was big enough for at least three air mattresses. The toilet was just down the hall. It was on the top of a nine-story building. It had only one flaw–no elevator.
On this occasion, Chausse/Alain departed before dawn for a three-day trip, leaving me to prepare myself for another arduous day of being ridiculed. Dressed only in monsieur's undershirt, I popped out for a quick trip down the hall. I returned to find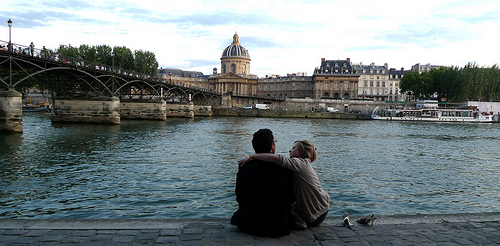 the wind had blown the door closed. Incredulous, I tried the handle, it was locked.
I pulled down the t-shirt, grateful it reached below my butt, and attempted to make a plan. I had no way to reach Chausse/Alain, even if I had known his name. Joan didn't have a phone and, as might be expected, I could not remember her French family's name. My only idea to avoid a long march through Paris, t-shirt clad and barefooted, was to enlist the assistance of the building's concierge–a woman not known for her friendly ways. I descended the nine flights of stairs, tugged at monsieur's t-shirt, and sheepishly knocked on her door. It opened a crack.
"Oui" snapped Madame Concierge, a youngish, bullish-looking woman with black hair drawn straight back.
"Wind close door," I said in French with exaggerated wind-close-door gestures, hoping they and my funny American accent might win her over.
"Oui," she said, unsmiling. I continued with more wild gestures and sorry French.
"Ah, je compris, Madame Chausse," she said, indicating she understood and motioned for me to wait. She returned with an ancient box of keys about the same size as the big baby boy she had perched on her other hip.
"Oh, merci, merci," I cried, forcing a smile. I took the box and lugged it up the nine flights which did, in fact, get steeper after the fifth floor.
The box was filled with literally hundreds of keys. First, I eliminated the long-shafted, curlicued, antique keys that might have unlocked the Bastille. Then, I eliminated the tiny keys for trunks and armoires. That left an encouraging two or three hundred Yale-type keys to try. Key-dither-discard, key-dither-discard, it was like a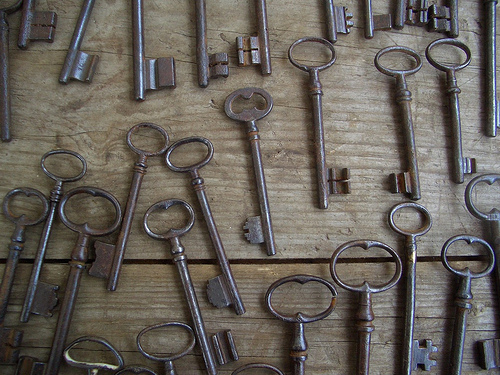 koan. I contemplated Alain's name now that I knew it was Alain Chausse and not Chausse Alain. I reflected on how very French it was, and very worldly it seemed to me, to automatically address me as "Madame Chausse," even though we both knew I was not. Key-dither-discard, key-dither-discard. I held out hope till the last dither, but not one key fit. Loading my lost hopes back into the box, I plodded back down to report to Madame Concierge.
"Oui, Madame Chausse," she said with a sigh when I'd made myself understood.
She was not amused and I could tell she didn't believe me. She shifted her baby to her other hip, I shifted the box to my other hip and we slogged up to Alain's door. Madame Concierge began the key-dither-discard koan. While she dithered, I ruminated on the afternoon sun cascading down from the skylight. Violà , it came to me. The answer was not in the box. It was over my head and had been there all the time. The wind that blew Alain's door shut also came from a skylight–an open skylight. Ergo, if I could get up to this skylight, a quick trip over the roof would let me drop right onto my clothes. Happily, in these Paris apartments, it was not only the size and prestige of a room that decreased as the steps increased, but also the height of the ceiling.
Madame Concierge, already tired dithering, agreed to this new approach. So, the baby, the box, the concierge and I trudged back down to retrieve a ladder; and then the baby, the ladder, the concierge and I grunted up, gasping for breath.
Madame would not let me on the ladder, fearing, no doubt, she'd end up with both me and my broken leg on her hands. I sang "Frère Jacques" to her screaming baby, but quit when it dawned on me my singing might be his problem. I just held my breath and watched Madame make her ascent. Her feet disappeared through the skylight. Her baby howled, although now a certain dampness and odor had divulged his problem.
I listened intently. There was an alarming thump. My mind spun-out. How was I–in monsieur's t-shirt and carrying the screamer in damp diapers–going to get a French concierge with a broken back out of a locked apartment?
The sound of a door being unlatched waylaid my rising fears. Merci Dieu, Madame Concierge had made it and made it intact. I thanked her joyously, and joyously relinquished her child. I took the lock off Alain's door and stuck a book in it for good measure. Then, I dragged the ladder downstairs and turned to face the now K2-steep steps, but a new-found strength came with the thought of leaving Alain's fully clothed. I got dressed, checked that I had the key to Joan's room and shot out of there.
At the nearest patisserie, I chowed down two chocolate éclairs for sustenance and one Napoleon for courage. Then I purchased a fancy box of chocolates for Madame Concierge and returned to the scene of my misdeed. She opened the door. I handed her the chocolates.
"Oui, Madame Chausse," was all she said.
Photo credits:
Paris balcony: Sue Elias
Building facade: PhillipC
Couple by Seine: jean-louis zimmermann
Keys: Monica Arellano-Ongpin
Pastries: jetheriot