by Jan Burak Schwert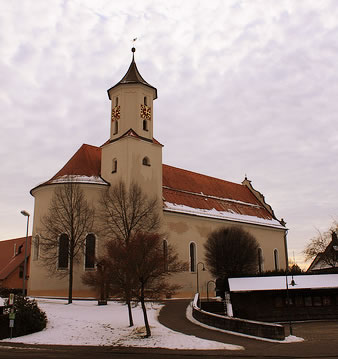 A man walked in and my jaw hit the floor. I'd never seen the man before. It was my husband.
Let's start at the beginning. My husband Ron and I had traveled to Konstanz, Germany, just north of Switzerland on the banks of the Rhine and the Bodensee (Lake Constance).
Ron was on the trail of his ancestors. He disappeared into the Archives Office as soon as we arrived, while I set off to explore Konstanz, a city brimming with ancient buildings and tangled passageways. The day was warm, and a gentle breeze carried the scent of lavender. I stopped for coffee on a sunlit square, chatted with locals and examined the carved wooden doors of a Catholic church. Every once in awhile I pictured my husband stuck in a dark, dusty cellar, surrounded by cobwebs and ancestral records.
I had become a genealogy widow. Back home Ron would spend hours on the computer, building family charts and making breathless announcements. "My grandmother's great, great grandfather was born in Massachusetts in 1805, and his mother came from England in 1790, but his father was clerk of the works in….". My eyes would glaze over and I'd mutter, "Whatever, just don't quiz me on it."
Yet I had no regrets about visiting Konstanz. I was by the lake, soaking up sun and drinking chilled Riesling, when Ron caught up with me.
"There you are," he said, barely able to contain himself.
"Oh, hi.  Have a sip of wine, it's delicious. Do you know that's Switzerland over there? Konstanz is so close to the Swiss border they didn't bomb it during World War II.  Isn't that…."
"Wait, wait, you won't believe this. I found out where the Schwerts are buried — in Binningen, only twenty miles from here."
The next morning we took off in the rain, looking for the ancestral village among rolling hills and farmland. When we located Binningen and the Roman Catholic Church, Ron leapt out and headed for the cemetery. I opted to stay in the car and read about Prince Charles and Camilla, who were "Legal at Last." My husband returned a half hour later, having spotted five Schwert graves.
"You're soaked to the skin," I exclaimed. "Was it worth it?"
"Oh, yeah," he said, grinning from ear to ear.
I shook my head as he climbed back into the car.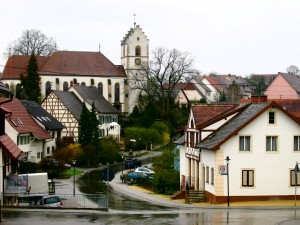 On the way out of town we came across a gasthaus, the only sign of life in tiny Binningen. It was getting late; Ron hesitated, but I wanted to go in and have a beer.
The pub was brightly lit, with paneled walls and gray linoleum; pungent odors of sauerbraten and red cabbage drifted in from the kitchen. Half a dozen men sat drinking beer and talking quietly. When we plunked down beside them, all conversation ceased.
We ordered beers, and our waitress Sylvia asked if that was all.
"Well," said Ron, "I'm looking for information about the Schwert family," he used the German pronunciation, "Schvairt." "Do you know any…?"
Pub owner Jesse had emerged from the kitchen, and she and Sylvia questioned the men in German. They came alive, exchanging information and nodding emphatically. Jesse reached for her cell phone just as Sylvia turned to my husband. "They're saying you look like a Schvairt."
"I do?" he asked, astonished.
Jesse returned and announced, "Don't worry, he's coming over."
"Who?" said Ron.
"Franz Schwert."
We looked at each other, speechless. I thought my husband was going to burst.
"D-Dankeshein," he managed.
Less than ten minutes later, Franz walked through the door. He was Ron's doppelganger, from his height and build to their common facial features. Making a beeline for my husband, he shook his hand, clasped his shoulder.
"I didn't know I had relatives in America."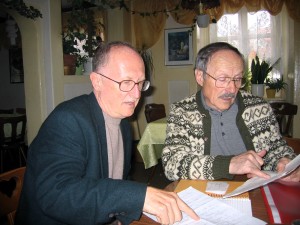 Franz placed a family chart on the table, next to my husband's. They matched perfectly until the point when Sigmund Schwert, Ron's great grandfather, had emigrated to the United States. Ron and Franz realized they had the same great, great grandfather.
I was delighted for the men and amazed at the power of genetics. Here were third cousins who could have been brothers, their identical profiles bent at the same angle over their charts; even their eyeglasses were alike. And they certainly shared a passion for genealogy, which was rubbing off on me.
The pub regulars looked at Ron, then Franz, then Ron again. They sent a message through Sylvia, "We are happy to be here at this historic moment." Their faces, so dour when we arrived, were beaming.
Franz took us home to meet the family. His wife Ursula greeted us with open arms, and their twenty-year-old daughter Sabina translated for her mother and her brother Clements. Sitting in their cozy kitchen, we shared stories of lives lived more than a continent apart.
After dinner we said goodbye; we were due in Munich the next day. They urged us to return, and we invited them to Seattle. When I got to our car, Ursula rushed over and put her arm around my shoulders, squeezing me tight. I understood. Now that we'd found each other, it was hard to let go.
As we drove back to Konstanz, Ron and I felt euphoric and sad. "I wish my parents were alive," said my husband, emotion tugging at his lips. "Wouldn't they have loved this?"
"No doubt," I replied. "Just as I did." When a name on a document came to life, I finally understood the magic of genealogy.
* * * * *
Jan Burak Schwert is a freelance writer living in Seattle.  Her work has appeared in The Seattle Times, Philadelphia Inquirer, Dallas Morning News, San Antonio Express-News, Silver Boomers Anthology, and Travelers' Tales.com, where between 2007 and 2009, she received four Solas Awards for Best Travel Stories.
Photo credits:
German Church: Rainer Ebert
All other photos: Author