How I Came to Eat Rotting Shark, Adorable Birds and Endangered Whales in Iceland
By Allison Grenewetzki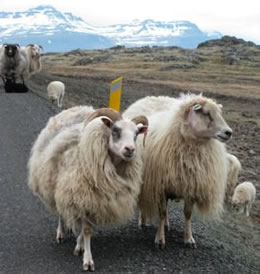 There is no better country to test your commitment to eating meat than taking a culinary tour of Iceland. Not a destination necessarily known for its cuisine, traditional Icelandic food offerings include such "enticing" specialties as rotted shark, smoked puffin and roasted whale meat. It's no wonder that the island nation has adopted the hot dog as its modern day protein of choice.
As an amateur foodie and a recovering vegetarian, I knew Iceland was going to be a challenging culinary destination but I decided that I must embody the spirit of the country's Viking roots and charge ahead. I was resolved to at least give Icelandic food a chance. In many ways, I realized my initial impression of the food was accurate, however, there were some surprisingly excellent meals in the most unexpected places.
Eating Skyr in the Bay of Smokes
An isolated landmass that straddles the North America and European continental plates, Iceland is a country full of dichotomies. Frequently referred to as the land of fire and ice because of the island's icy landscape and volcanic activity, Iceland remained uninhabited by humans until the late 800s when Norse chieftain Arnarson settled in a place he named Reykjavik (Bay of Smokes) due to the geothermal steam rising from the earth.
Reykjavi­k would grow to become the capital and the largest city of modern Iceland, home to approximately two-thirds of the country's population of 300,000. While small in scale, Reykjavi­k is a charming city built along an icy blue coastline. With an array of brightly colored tin houses and a relatively low skyline against the backdrop of snow-capped mountains, Reykjavi­k feels more like a very populous ski resort town than a capital city.
Most flights from North America travel overnight and arrive in Reykjavik early in the morning. I journeyed to Iceland during the summer, when the sun does not set for several months in a row. The "Midnight Sun" can be a bit unsettling and make mealtimes confusing but I chose to start my day off smoothly by enjoying Iceland's answer to yogurt, a very soft cheese product called skyr. Available in pretty much every convenience or grocery store, skyr is soft and creamy with a slightly sour tang. Naturally low in fat and rich in proteins and vitamins, skyr has been a dietary staple since the 11th century. Traditionally eaten plain or mixed with milk, skyr is now available in a variety of flavors including blueberry, strawberry and vanilla. It's also an affordable treat ($1-2 per serving) in this relatively expensive country.
Downfall of McDonald's
Much of the high cost-of-living in Iceland is associated with the country's isolation from the rest of the world. Most products, with the exception of sheep and sea animals, have to be imported, making the price of food exorbitantly high. Combine this with the country's 2008 currency collapse and prices have skyrocketed even higher forcing fast food monolith McDonald's to shutter its three Iceland outposts earlier this year. Unlike other hamburger stands in Iceland who source their meat and lettuce domestically, McDonald's was flying in its materials which caused the Icelandic cheeseburger to rank as one of the most expensive Big Macs in the world at nearly $6 a pop.
Some locals viewed the closing of McDonald's as a reminder to return to local food, however limited the options may be. Harsh agricultural conditions curb what can be produced naturally in Iceland, but these very conditions all contribute to the unique "cooking" techniques used in the country.
Which Came First: Fermented Shark or Black Death?
Iceland's volcanic activity has left the island relatively treeless. The shortage of wood contributed to a lack of salt in the Viking diet as firewood is necessary to boil seawater or burn seaweed to make salt. Instead of using salt, the Vikings utilized the practice of preserving meat in fermented whey, a process that changes the flavor of food, making it similar to a very strong cheese.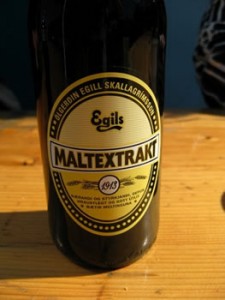 The most famous (or infamous) use case for this preservation method is hakarl, fermented shark buried underground for three months then hung outside to dry for another three months. When fresh, the shark itself is poisonous due to a high content of uric acid, however, after fermentation, the shark is no longer full of toxins, though many may still find it undesirable.
Traditionally served during the midwinter feast Porramatur, hikarl is available year-round at the flea market in downtown Reykjavi­k. While the idea of six-month old fermented shark made me uneasy enough, the scent of fishy ammonia definitely caused me to recoil and reassess my commitment to truly experiencing Icelandic cuisine. It is no mistake that the fermented delicacy is usually accompanied by a shot of the local spirit Brenniva­n (colloquially known as Black Death). The harsh liquor may not take the edge off the rank cube of fish elegantly served on a toothpick, but at least it may help you forget about what you are eating.
Chef Anthony Bourdain, host of the irreverent Travel Channel show No Reservations, described the dish as "the single worst, most disgusting and terrible tasting thing" he had ever eaten. It definitely made my shortlist.
Moby Dick on a Stick
Thankfully, I washed the fermented taste out of my mouth with a stop at the Sea Baron, a brightly painted hole-in-the-wall near the whale watching docks in Reykjavi­k. I had been sent to this restaurant by a walking tour guide to try their famous lobster soup. Unlike most seafood soups, it had a light broth that was drizzled with olive oil and had a faint taste reminiscent of curry. The warm liquid was dotted with large chunks of unctuous lobster meat and I was sad to reach the bottom of my bowl, not only because I would miss the flavorful broth but because I was scared for the next course.
The Sea Baron is also one of the handful of restaurants in town that serves whale meat and after eating fermented shark, I felt like I had no choice but to give the gentle giant a shot too. I would like to preface this by stating that my fourth-grade binder sported a Greenpeace sticker and I was a vegetarian for eight years but I still took what I consider a moral plunge and ordered a skewer of Minke whale meat. When the server asked how I wanted it cooked, I stared back blankly as I had no clue. When the metal rod full of grayish-brown chunks arrived at my table, I was surprised to learn that sweet mustard is the preferred whale condiment.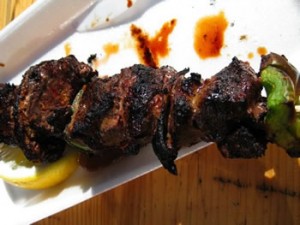 A few bites were all it took to realize this would be my first and last time eating whale meat. The texture was quite chewy and the meat itself had a fishy gamey flavor. The mustard helped mask this unusual taste but hiding that taste felt shameful after committing what most of my friends would call a questionable food decision. In the end, I was glad I tried it and assuaged my guilt by acknowledging that at least this whale had been harvested using traditional Icelandic fishing methods.
Puffin Leaves a Fowl Taste
While it still elicited shrieks of horror from my animal loving friends because of its resemblance to the penguin, eating puffin in Iceland is far more common than munching on whale. I eased my way into eating the iconic orange-beaked bird by trying it in sample size at the downtown Tapas Barinn eatery. Here puffin is smoked and served with a blueberry and Brennivan sauce over a bed of greens. The meat is much darker than expected, almost the color of beef, but again has the fishy-gamey taste (a result of the bird's fish diet) that the delicious fruity sauce cannot hide.
Much more palatable were the grilled Icelandic mountain lamb with fig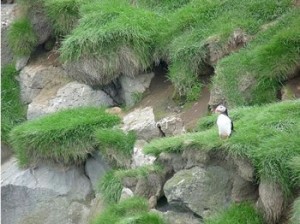 sauce, the pan-fried lobster tails in saffron-butter sauce and the saltfish with chorizo in a tomato-date sauce. These plates showcased the local goods with a modern twist that emphasized the freshness and quality of ingredients.
Finally, a Presidential Hot Dog
Perhaps one of the most surprising great meals came from a set of fast-food stands in Ingolfstorg Square in central Reykjavi­k. Utilizing the flavorful Icelandic lamb elevates the submarine sandwich and hot dog to new levels. In a city known for its party scene, the late-night hours and the fact that both stands take credit cards also contribute to their appeal.
The Guardian ranked Bajarins Betzu Pylsur as the best hot dog stand in Europe and it has been frequented by many famous people including former president Bill Clinton and James Hetfield, lead singer of Metallica. Two things make Icelandic hot dogs noteworthy. First, since Iceland has many sheep and very few cattle, the sausages are made from a combination of ground lamb, beef and pork meat, which makes for a rich, flavorful link. Second, Icelanders pile on the toppings — the standard dog includes ketchup, sweet mustard, raw onions, fried onions and a mayonnaise-based sauce similar to American potato salad with sweet relish and potato chunks.
Those wanting a more substantial meal should check out the equally tasty lamb "boat" sandwich at Hilla Ba¡tar just ten steps from the Bajarins Betzu. A soft 10-inch bun is filled with thin crispy fried lamb, crunchy fried onions, pickled red cabbage, lettuce, remoulade and pickles. The different textures work so well together that I ordered the same sandwich three times during my 10-day trip. Wash it down with a carbonated molasses flavored drink called Maltextrakt, a non-alcoholic malt beverage brewed from barley, hops and water.
While I may not replicate Icelandic cuisine at my next dinner party, it certainly made for an interesting trip and made me appreciate the agricultural diversity of my Californian homeland. I recommend taking a native approach to eating during any trip as food tells a lot about a country's history and culture.
* * * * *
Allison Grenewetzki collects passport stamps like its her job. While repping technology clients in San Francisco pays her bills and affords her five weeks vacation, in her spare time she runs AllisonDoesTheWorld.com, a blog chronicling travel, food and bizarre interactions. Her favorite recent vacation moment is a toss-up between dancing in the streets of New Orleans post Super Bowl and eating al pastor street tacos in Mexico City. She is a total travel planning geek and is currently knee-deep in research for an upcoming trip to Croatia and Italy (which will raise the count to 30 countries).
Photo credits:
All photos: Author