By Ariel Bloomer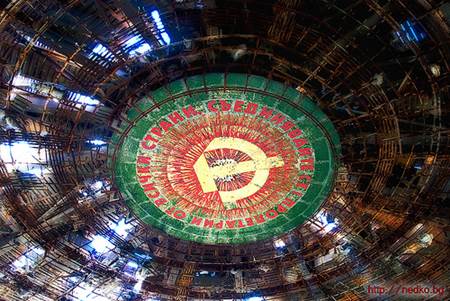 I had been in a funk for months. Even worse, I was stuck in a funk in Bulgaria. Had I been home, my best-friends-since-middle-school would have dragged me out dancing then made me stay up all night watching bad science fiction and eating pints of fudge ice cream. My mood would have gradually lifted. Separated by an ocean and the ghost of the iron curtain, they could only send me corgi GIFs and listen to me cry over our video chat. I was in a bad state of mind because of a break up, but that's not what this story is about. It's not what my story is about. Period. I was in Bulgaria to teach English. It was a grand adventure, but far from glamorous. Spring break came in late March and I knew I couldn't spend those 10 days alone in my apartment. I lived in Smolyan, a city of 30,000 in the beautiful Rhodope mountains where Orpheus was born millennia ago. Though I had grown comfortable in the small city, I had not made many friends there, at least not the kind I could rely on to carry me through such a dark emotional place.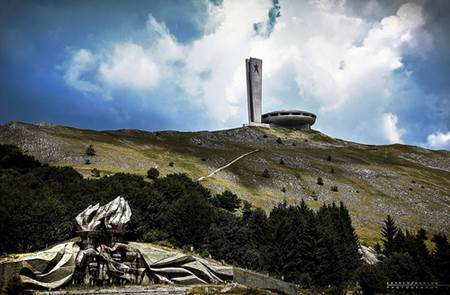 A funny thing happens to Americans abroad, though. We seek each other out, we connect to each other through our shared Americanness and feelings of foreignness. For some travelers that sounds like a nightmare, to go abroad and make friends with Americans of all people, but for me it was a saving grace. I became fast, fierce friends with people I may never have met or talked to otherwise. That is how I wound up in a run-down SUV bouncing off-road up the Balkan Mountains with four relatively new BFFs who I never would have talked to had we not all been part of the small expat community in the shadow of the ghost of the iron curtain. Our guide was taking us to the Communist UFO. The road to get there through the mountains can only loosely be described as a road. On the last push upward through the trees and hills, the grade was so steep that the SUV began falling slowly back down the hill as we lost momentum at the top. The second go we made it, and it may have been sheer force of will as the five us in the SUV, aside from the guide, took desperately to prayer. We had all, in our own ways, been through a lot of drama in the last eight months. Had we come all this way to die in a rusted heap of iron, rocks, and underbrush? None of us fancied a detour to the Bulgarian medical system. But our will must have given the engine a turbo-boost and we crested the last hill and came out of the trees into a grassy plain surrounding Buzludzha, a futuristic Communist meeting hall and monument on a deserted peak in Bulgaria's Stara Planina. The round disk of a building appears to a flying saucer, come to rest temporarily on the top of the mountain. Soon we were bundling in sweaters against the wind and roaming the base of the monument admiring Cyrillic graffiti in bold red.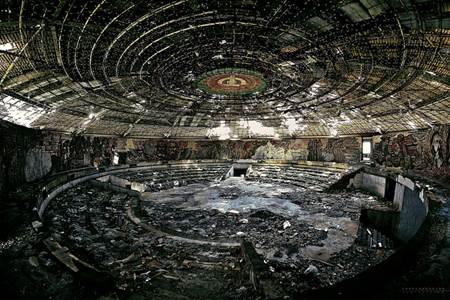 The building was abandoned during Bulgaria's transition to capitalism and democracy in the early 90s, and the doors had been chained and padlocked shut. Our guide showed us to the hole in the outer wall that had been created by vandals with sledgehammers. One by one we pulled ourselves up and inside avoiding sharp, rusting rebar as we slid inside onto a stair landing. We switched on our headlamps and began the tour of the interior. Red velvet wallpaper was peeling off. Small flakes of it fell down like snow as I reached up to touch it. Inside and outside the circular meeting chamber, the walls were covered floor to ceiling with art. The style married Byzantine mosaics to the lines and nationalist content of socialism. Individual tiles had fallen into piles on the floor beneath the mosaic murals; decay was taking its toll after twenty years of increasing exposure to the elements. Giant faces of historic leaders looked down into the meeting space. Karl Marx had been left untouched, but long-ruling Bulgarian Todor Zhivkov's face had been entirely decimated by hammer and chisel. A tower rose above the domed building, hoisting the red star of communism high into the sky. I'm not in the best of shape, but I was determined to climb it with my friends and surmount this strange obstacle. My headlamp only illuminated the coarse metal rungs of the ladder in front of my face, and the disappearing ankles of the friend above me. Halfway up I realized I had underestimated the height of the tower, and the effect it would have on my arms. I silently thanked the state department for requiring a tetanus shot as my ankle scraped a piece of metal I hadn't seen in the dark.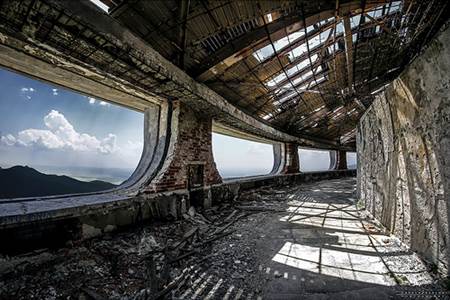 We emerged into a room bathed in red light, and through the broken panes of glass we could look out across the mountains and see the progress we'd made. After some acrobatics to get good profile pictures featuring the red star and the impressive height of the tower, we opened a hatch to the roof and climbed out into the wind. I've never climbed a mountain, but summiting this tower felt powerful and liberating. It felt like a collaboration between me and the universe, the strength of my arms, the motivation of my friends, and the support of the structure brought me to the top. We celebrated by eating our sandwiches, and then carefully made our way back down. We circled the mosaics once more. They showed a side of communism we so rarely see — the human side. In this important political monument were portrayals of women holding babies and of children reaching for their parents. Sunshine and doves and pastoral scenes were mixed here along with the depictions of labor and toil in the inexorable march of progress. All of it, was abandoned though, for what this place represents. Much time was spent here making art and memories but it was all abandoned, left to rot.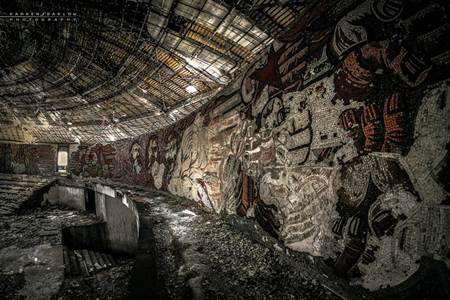 Part of me wished someone had saved these things, preserved them for posterity. I recalled the pictures of my lover and I that I'd taken off the walls in the weeks after our break up. I remembered the overwhelming temptation to burn them. I can understand that some things are too painful to save. These works of art were beautiful to me, but I had no raw emotional attachment to them. I wish these mosaics had not been allowed to crumble, but I understand the desire to chisel out the faces of those who disappointed you.
*****
Ariel Bloomer returned to her hometown of Portland, Oregon, to find much had changed, in that city and herself. She is exploring familiar terrain with a new sense of wonder while she continues to write. She documented her time in Bulgaria on her blog, The Unintentional Explorer.
*****
Photo credits:
Buzludzha Ceiling: Nedko Ivanov
Communist UFO: KamrenB Photography
Buzludzha Interior Ruins: KamrenB Photography
Buzludzha's Surrounding Hall: KamrenB Photography
Buzludzha Vandalized Mosaic Wall: KamrenB Photography