By Alycia Kravitz
The beam of Joca's headlamp cut through the darkness and disappeared down the small hole in the side of the railroad tunnel. He nodded in response to our wide-eyed stares: "oui, c'est ça." The boys took a shot of whiskey and I made sure my backpack was securely zipped. "C'est parti."
We clambered into the hole one by one, folding our limbs carefully and descending through layers of earth. The passage gradually leveled out and we crawled along for several meters before emerging into a damp tunnel. The beams of our flashlights revealed roughly hewn walls and a mud floor before dissolving into blackness. All sounds were muffled by the mass of dirt and rock over our heads, and a clammy chill permeated the air, twisting around my spine. We once again looked to our guide, asking him what to do now. "Maintenant, on marche," he told us, and set off into the darkness.
A foray into the depths of the Parisian underground had been a semi-joke, tossed about with halfhearted hope in conversations with Matt and Phil, two friends I had made in my study abroad program. We had heard rumors of raves in the forbidden underground chambers, and resolved to attend one of the mysterious gatherings. I had nearly forgotten about the plan, buried amidst museum lists and verb conjugations, when I received a Facebook message from Matt to me and Phil:
Okay you two, get into it. Just had dinner/played chess/smoked hash with Aubry's friend Joca, the tour guide of the catacombs you're not supposed to go into. He'd be happy to do a tour for us if you're down. I gave him Friday, March 18th as a preliminary date, but it can easily be changed. Tell me if you're interested…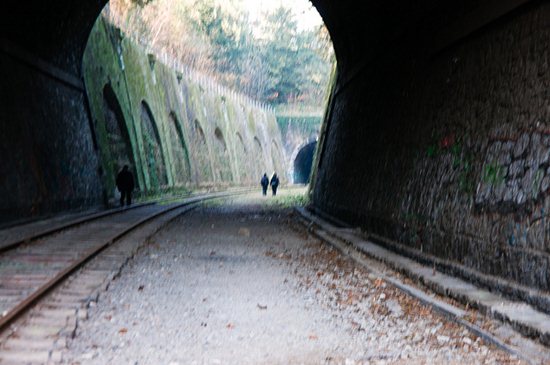 To say we were interested would be an understatement. After confirming the date, Matt sent us a second message:
He gave me a list of things we each need to get for the tour. It's all normal stuff you would need on a hiking trip. All clothing should be stuff you're willing to ruin, because at points we'll be wading through water that is above your knees.
-TWO flashlights
-High, waterproof boots, or (this is easier) a pair of crappy sneakers
-Shirt
-Sweater/hoodie
-Jeans
-Book bag (that you're willing to ruin)
-Water (around 1 liter)
-Booze (if you so choose, he said)
-Some food
–Candles to save flashlight battery
-Plastic bags/trash bags"
Our excitement mounted as we bought the requisite items and imagined what would transpire below the pavement we were walking on. Finally the night came, and Matt, Phil and I were joined by Phil's Finnish roommate, Mikael, to meet Joca in Paris' 13th arrondissement. March had washed the streets of Paris in a chilly gray, and by the time we met at 10 p.m. dark clouds had gathered and cold rain had begun to fall. We walked through a neighborhood, slithered under a fence onto railroad tracks and passed through several mammoth train tunnels before arriving at the hole.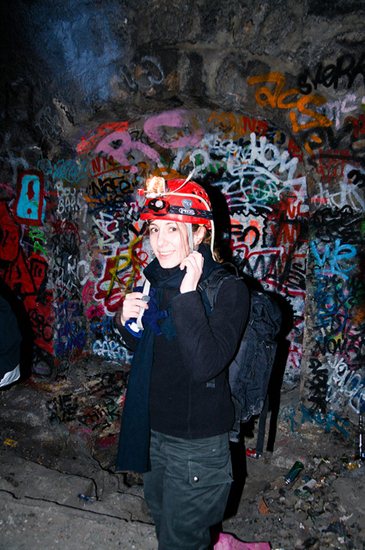 Now I was underground, my breath a light mist hovering in the blackness, following this French man leading us deeper and deeper into the earth. After perhaps twenty minutes of walking, we made our first stop in a little chamber that Joca referred to as the "kitchen." We pulled out our candles and stuck them in the dirt, replacing the bright lights of our flashlights with the soft glow of flames. Their flickering light showed murals painted onto tiles on the walls: one a vase of flowers, another, a single rose. Joca produced a joint and lit it with his candle; as smoke rose from our little circle he spoke, explaining who he was and what he did.
Joca told us that he was a cataphile, one of a group of Parisians who belongs to a secret community that spends their nights wandering through the network of tunnels veining the city's underground. The tunnels were originally dug as limestone quarries to supply building materials to a burgeoning Paris in the Roman era. In the 18th century the network of quarries was converted into a subterranean cemetery for the massive number of casualties from disease sweeping the city, and in 1955 entering the catacombs was officially forbidden. The network of tunnels, which comprises over 300 kilometers of passageways and chambers, is off-limits to the public, save a scant stretch in the 14th arrondissement, where visitors pay eight euros to descend into a tunnel and marvel at the thousands of bones stacked neatly against the walls.
Mais bien sûr — but of course — the prohibitive power of concrete walls and official ordinances is diluted by the lure of mystery, and some Parisians slipped through the cracks and entered the tunnels. There in the cool darkness they formed a community of explorers, fashioning new identities and a new way of life. Joca belonged to this secret society of cataphiles, and he explained its dynamics and inner workings to us as we wandered deeper and deeper into the heart of the city.
Cataphiles, he told us, have nicknames for each other–in fact, they rarely find out each other's true identities. Sur la surface, on se connaît pas he said, revealing a cataphiles penchant for dividing existence into the "surface" world and the underground world of the catacombs. In accordance with an unwritten cataphile etiquette, they treat the tunnels as they would their own homes, never leaving garbage or destroying anything. The community is explicitly exclusive; Joca told us that a central tenet of cataphile code is never to provide help to outsiders in the tunnels. If a cataphile encounters a lost soul, he points her in the opposite direction of where she wants to go. I asked him if he really does that, and he turned to me, the candlelight glinting off his teeth. "As often as possible," he told me.
My gaze floated with the trail of smoke wafting towards the ceiling, and what I saw made me blink. What looked like wave patterns and coral-like shapes were pressed into the sediment above our heads. I asked Joca where the patterns came from. "C'était l'océan," he told me, explaining that centuries ago, waters covered this region and some parts of the underground world still bore the fossilized memories. As I leaned back onto the rock behind me, an ancient ocean unfolded above, replete with pebble constellations twinkling in the candlelight.
The last embers of the joint smoldered softly as we extinguished our candles and switched on our flashlights, forging ahead to the next room. As we walked, the water on the floor rose steadily higher until icy waves lapped over my shoes. The tunnels were narrow enough, and the walls uneven enough, to turn our feet sideways and force us to scramble, splay-legged, along the sides of the tunnels as the water lever grew higher. My legs were considerably shorter than the four men I was with, and after long moments of perilous leaps to reach the outstretched hand of Mikael, I gave up and slogged through the muddy water that now swirled over my knees.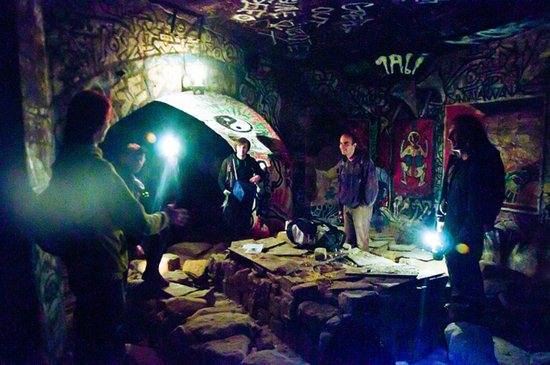 As we walked, the light of my flashlight illuminated street signs carved into the sides of the tunnels, sometimes mirroring the streets above, sometimes completely different. Other tunnels branched off ours, and I fervently hoped that Joca wasn't overestimating his knowledge of the extensive network. Suddenly the faint sounds of music and laughter drifted through the silence pervading the cool air. We turned a corner and entered a chamber full of people drinking and smoking; an old boom box set on a rock was the source of the music. As we passed through they wished us a "bonne soirée" and we responded in kind. Throughout the night we happened upon these small pockets of people, eschewing their surface lives for the moment and coming alive in the depths of the catacombs.
The rooms we entered offered breathtaking displays of artwork and craftsmanship. Heads of gargoyles, carved painstakingly into the rock walls, watched us closely as we passed through one chamber. In another, a château, or castle, almost as tall as me, had been constructed out of pebbles gleaned from the passageways. Every now and then we came across the opening of a well that spiraled up through the earth, ending in a pinhole of light that offered our only reminder of the surface world.
In the early hours of the morning we entered the largest chamber yet, and my eyes widened in amazement. A magnificent mural stretched across the three walls facing me; a spray-painted ocean and beach whose warm colors were cast into sharp relief by their dirt frames. As we sat, and Joca produced yet another joint from his seemingly endless supply, I marveled at this subterranean masterpiece, tucked away deep in the earth like an undiscovered jewel.
We ventured on through the darkness, sometimes wading through black water, other times crawling on our hands and knees. Some of the tunnels shrank to mere shoebox proportions, and we spent long stretches crawling or pulling ourselves along on our stomachs. At one point I heard Mikael cry out behind me, and turned to find dark bloodstains on the dirt. A protruding rock had cut his head, and as we lay on our stomachs he taped a bandage to his brow to stem the flow. The tunnel was so narrow that we had to stay single-file, but he managed to fashion an adequate tourniquet and we pressed on.
I had lost track of time, but several hours had passed and we had settled into a steady march behind Joca. We rounded another corner, and our flashlights revealed new shapes lining the walls. "Dude, are those bones?" Came Mikael's query, and Joca responded with a simple "oui." Fragments of human skeletons littered the passageway before us, and I took a deep breath of the damp air as we walked through them. We came to a small opening and Joca told us to go down to the end and leave a handful of anti-police pamphlets he had been distributing throughout the tunnels (the cataphiles have been waging a silent war with the Parisian gendarmes for decades). As we left our bags with him and entered the passageway I couldn't help but remember his smile as he spoke about misguiding those who don't belong.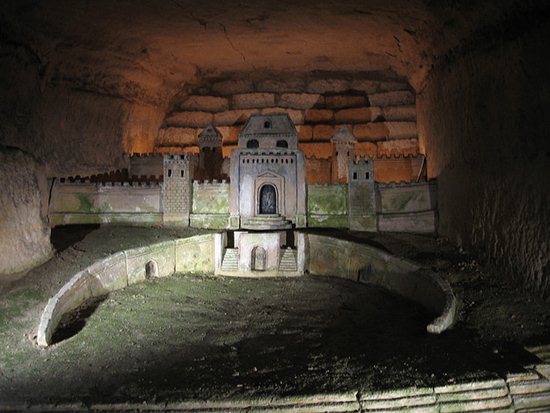 We reached the end of the tunnel and emerged into a cavernous room. The four of us cast our flashlight beams into the darkness and gasped at the sight before us: mounds upon mounds of human bones, thrown helter-skelter in the chamber. We sat down gingerly, pushing aside femurs and fingers to clear space on the dirt. I told Phil that there were three skulls behind him, and he turned and illuminated the skeletal faces looking back at us. We decided to turn off our flashlights, and as we switched them off we were plunged into a deep darkness. The velvety blackness pressed upon my eyeballs, and my ears filled with a profound silence. Here, in an underground cave filled with human remains, I exhaled.
Joca smiled at our exclamations as we returned to him, and he led us to another similar chamber where cataphiles before us had lit candles in bowl-like skulls. Here we had a snack, and as I munched on my apple I thought about the lives of the people who were now disintegrating.
Around five in the morning we found another large chamber and stopped to make coffee–Joca had brought a camp-style coffee maker and a pack of biscuits. The chill had now fully penetrated my bones, and I was wondering if we would go back the way we came or find a new exit. I asked Joca, but he didn't seem concerned about leaving anytime soon; in fact, he told me, the first time he had come into the catacombs, he had been there for roughly 72 hours.
Thankfully, near 6:30 in the morning he began to search for an opening to the surface. After what seemed like ages of him climbing up long shafts only to find the coverings unmovable, he called down to us: "Venez! C'est ouvert!" We clambered up the ladder one by one, and climbed quickly out of the opening. Joca hastily slid the covering back over the hole as Matt cleared the entrance, and I turned to face St. Sulpice, one of Paris's most magnificent cathedrals. We had just emerged from a manhole on the sidewalk next to the cathedral, and the few people who were out at seven in the morning stared openly at us. We exchanged glances, appraising each other after eight full hours in the depths of the catacombs: our eyes were red and glazed, our hair tangled, and our clothes caked with mud.
We walked together to the metro where we bid each other au revoir and parted ways. As I sat on the train, cleaning gravel out of my ears, I closed my eyes and pictured the chamber of bones. Here on the surface, the blanket of silence had been pulled away and the darkness had lost its profundity, but the stillness of the tunnels was with me. I didn't have photos or souvenirs, but I had the memory. My night in the catacombs will live on in my mind pour toujours.
*****
Alycia is a writer, photographer, musician and wanderer. She is intensely interested in cultures, languages, and smiles. You can find more information at her blog site.
*****
Photo credits:
Paris Catacombs Wall Paintings: Mitch Altman
Paris Railroad Tunnel: Mitch Altman
Woman at Paris Catacombs: Mitch Altman
Les Carrières de Paris: NatalieMaynor
Paris Catacombs Chamber: Mitch Altman
Carving in the Paris Catacombs: Tony B
Castle in the Catacombs: Selena N. B. H.