By Lola Akinmade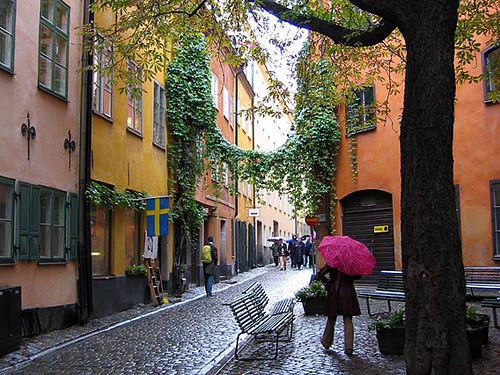 Rain poured out of dark overcast clouds in an ironic twist. Monochrome umbrellas dotted the landscape with an occasional red or striped one breaking up the sparse but steady flow of people towards Skansen. The streets seemed barren. I wondered where everyone was on such a poignant evening.  Besides the occasional car or bus whizzing by, all we heard were rain drops hitting our umbrella and soggy booted feet swamping by in a hurry. Those out on the damp streets with us were scurrying to get to the park and we followed suit, quickening our stride.
It was evident all of Stockholm was somewhere else tonight. Memories past of Sverige were laden in frigid weather. I always found myself here during cold harsh winters close to the Arctic or nippy windy autumns in Gamla Stan. This time around, the sun had teasingly peeked through cloudy skies on occasion and I had found myself in Stockholm on April 30th.
A national holiday that means more to Swedes than just a day off work, Valborgsmässoafton (or Valborg) welcomes the arrival of spring.  Dating back to the 18th century, its pagan origins didn't seem to deter Scandinavians who were eager to celebrate the end of winter. During Valborg, bonfires are lit all over Sweden, local celebrities give longwinded speeches to acknowledge spring, sweet sounding choruses permeate the air, and people dance till midnight — all traditions we planned on reveling in as part of our itinerary for the night.
We stuff Kanelbullar – Swedish cinnamon buns —and scalding coffee into a sturdy rucksack. Snacks in tow, we pour into the moist evening. Our island of Lidingö, one of 24,000 in the archipelago, quickly becomes a cluster of lights resembling low hanging stars as we head downtown. We cross DjurgÃ¥rdsbrons (DjurgÃ¥rds Bridge) – boasting panoramic views of Stockholm's harbor and Östermalm -towards the island of DjurgÃ¥rden which houses Skansen. The world's oldest open air museum and zoo, Skansen is filled with traditional Swedish architecture and boasts wildlife such as elk, polar bears, reindeer, wolves, and moose – a far cry from your average petting zoo.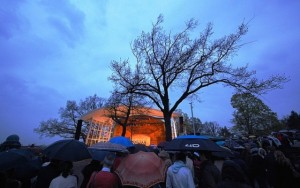 Once inside, we trek up steep hills and gravitate towards the sound of melodious, angelic music wafting through the thick air. I quickly learn that the hymn-like choruses were actually "spring songs" welcoming the warm spring sun. Within minutes, the wet crowd grows to a couple hundred. Resolve unwavering, they seek solace under hundreds of umbrellas. Standing patiently and watching the choir, they sing along under low muffled breath. The belting out of traditional spring songs are an integral part of the celebrations and this ritual is kept alive by thousands of students in university towns such as Uppsala and Lund. College students liken the bonfires of Valborg to backyard rendezvous which serve as prime breeding grounds for drinking. I would later find out that the Polisen had fielded a record number of phone calls reporting disorderliness of the drunken sort that night.
Fifteen year old activist Anton Abele welcomed spring with his speech. By nine o' clock, performers dressed in traditional folk attire stride in, carrying torches. Within seconds, twigs and branches are engulfed in a controlled inferno. Faces hidden beneath umbrellas are lit up, and they stare mesmerized by the leaping flames. Almost trance-like, the crowd soaks up the heat from the bonfire. Rain lightly pelting the crowd becomes trivial if not a distant memory.
Mouths hang open, eyes angled towards the sky as the dark indigo night is lit with a warm glow.  Orderly conduct and umbrellas fall by the wayside as we rush closer towards the flames. Patrons are packed shoulder to shoulder barring anyone who dared to squeeze through.  Thousands of tiny hot embers float into the sky like secret wishes from each person. The odds that those wishes included a blazing sun that would never set were pretty high. Like rays of the morning sun sipping through curtains and splaying across sheets and faces, the bonfire had jolted Stockholm back to life.
The crowd finally thins out. A hundred or so still surround the bonfire, basking in its warmth and hoarding enough heat to last them a few more days. Showers have been forecast for the next three days.
Our umbrella spreads over us one last time. We stroll downhill from Skansen, back across DjurgÃ¥rdsbrons to Östermalm. Rejuvenated from the fire, people scurry by us once more in a fashion eerily similar to how we'd all first arrived.
I'd visited Stockholm many times before. Pristinely modern, she always welcomed me with a cool, relaxed demeanor that cooed sexy restraint.
Tonight, she showed me her fiery red heart.
* * * * *
Lola Akinmade is a photojournalist and writer whose work has appeared in various online and print magazines such as Vogue, Sherman's Travel, and Travel Channel's World Hum. She is also an editor with the Matador Network. This article was previously published on GoNOMAD.
Photo credits:
Umbrella in Swedish Street: Blogography
All other photos: Author