By Jacqueline Harmon Butler
The friendly and very handsome owner was nowhere to be seen when my friends and I arrived at the Bai Barbcani Ristorante. The last time I had visited his elegant Venetian restaurant he had flirted outrageously with me and awakened my appetite with savory tidbits of delicious cicchetti (Venetian appetizers) and cool, sparkling glasses of Prosecco. He had wooed me with fragrant house made lamponi (raspberry) liquor at the end of my meal making me promise to return. He tempted me with a pledge to show me how to make the delicious concoction. "Il prossimo anno" he pledged, kissing me gently on both cheeks and I happily agreed to come back next year.
And here I was, happily anticipating a warm reception and delicious meal with a little flirting on the side. This was my friend's first time in Venice and I raved about the Bai Barbacani and insisted we go there for a dinner while we were in town. The restaurant was full and though the air was filled with classical music and delicious smells, I was feeling restless and worried that the place had changed hands and wouldn't be the incredible Venetian dining experience I had promised my friends.
Our cameriere seemed adequate but I missed the more familiar service from past years. We were led to a choice table overlooking a canal with a gondola moored to the landing opposite the restaurant. My eyes searched the restaurant expectantly, looking for my old friend Aldo to no avail. I noticed an attractive man in a dark suit moving from table to table greeting guests and kissing women's hands. Then he turned to our table with a somewhat formal greeting, "Buona sera."
I inquired about Aldo, and asked if the restaurant had changed ownership. He gave me a once over and obviously decided he approved of what he saw and explained in heavily accented English, that my friend, his partner, was working somewhere else. He then asked rather boldly, if I didn't like him as much. Giving me a leering smile as he leaned close and let his eyes drift down to my cleavage. Amused, I said I didn't even know him and that we hadn't been introduced. With a brilliant smile and a rather gallant flourish, he bowed and introduced himself to my friends and me. "I am Paolo and I am very pleased to meet you."
It was as if someone had said, "Let the games begin." He gave us an incredible amount of time and effort to assure our dinner was flawless. He was constantly at our table making sure everything was done to his high standards, never missing an opportunity to touch my shoulder as he passed by or watching for the slightest indication that we needed attention.
The other guests ate, drank and left and still he danced attendance on us. It was one of those memorable evenings, the food was delicious, and the wine perfect. The Zuppa Di Cozze, succulent mussels simmered in a broth of white wine, garlic and herbs, smelled fresh and tasted of the sea. Paolo leaned close to me asking if I would like lemon. When I said yes, he twisted and squeezed a lemon, sprinkling the juice all over my steaming mussels. He continued to squeeze and twist the lemon until I thought the lemon would dissolve in his hand. My friends were grinning ear-to-ear, enjoying the exchange between Paolo and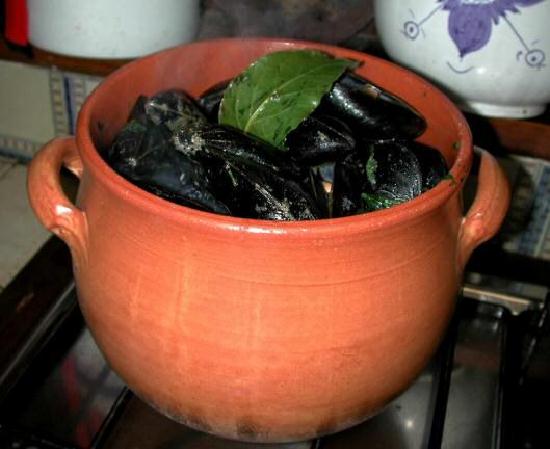 myself. He gave a couple of squeezes of lemon over their mussels and then giving me a wink, returned to the kitchen. After consuming all our mussels we used pieces of crunchy country style bread to sop up the flavorful broth. It was almost as tasty as the mussels themselves.
This was followed by Gonocci Con Seppie, the surprising dish that is blackened with the ink of the Cuttlefish. My friends looked squeamish as the plates were placed in front of them but after taking small tastes declared that although it didn't look appetizing it was delicious. Paolo stopped by our table to make sure my friends and I were enjoying our Seppie and invited me into the kitchen to see how they were prepared. His eager smile convinced me I'd better not follow him into the unseen rooms behind the dining room.
Our main dish was a superb Branzino in Umido, similar to sea bass, simmered with herbs and lemon. Paolo placed the steaming platter containing the fish on a wheeled cart right next to our
table. With the talent of a master surgeon, he delicately carved the tender fish open, removed the bones and then slid silvery pieces onto our plates. The fish seemed to melt in our mouths.
For dessert we enjoyed a traditional Tiramisu made with savoiardi cookies (similar to Lady Fingers) soaked with rum and espresso then layered with house made mascarpone cream cheese and dusted all over with a dark and very flavorful cocoa.
With a great flourish Paolo presented the famous lamponi liquor in small ornate Venetian glasses. It tasted even better than I remembered. I mentioned this to Paolo and he insisted his recipe was far superior to Aldo's, then added with a predatory smile, that I should accompany him to the kitchen were he would show me the exact process of making the prized liquor. My friends rolled their eyes and I couldn't resist giggling as I told him it was late and my friends were tired. I promised to get a lesson in concocting the exotic liquor on my next visit.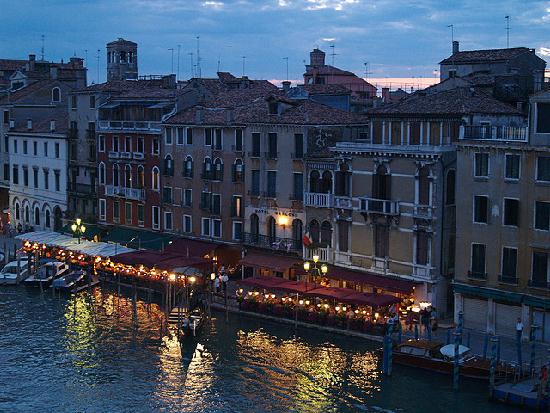 He gave us a huge discount on our bill, saying he considered us Venetians and not tourists so we qualified for the reduced price given to locals. We parted like old friends with kisses and promises to return on our next Venetian holiday.
This was our last night in town and as we walked back to our hotel under the stars we stopped in the Piazza San Marco for a nightcap at the Florian Café. The house band was playing a romantic tune and my friends got up and began to dance, their arms wrapped around each other, a look of pure rapture on their faces. I smiled and thought, yes, Venezia has once again made a conquest. My friends had fallen under the spell of La Serenissma, Venezia Queen of the Sea had captured their hearts and they would return.
*****
Photo credits:
Piazza San Marco, Venice:Â Robert Montgomery
Prosecco: HarshLight
Canal Ristorante: Kieran Lynam
Zuppa di cozze: Monica Arellano-Ongpin
Carving Branzino: LWY
Evening in Venice:Â Christine Olson