by Rachel Ward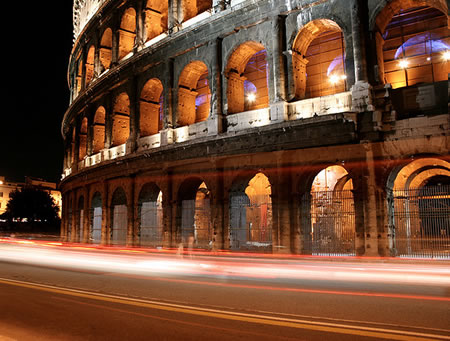 On Christmas Eve I sat on steps outside the Roman Coliseum. I opened my new yet already worn Italy guidebook to study a vague map. A week of independent exploration on foot had worn down the bottoms of my boots enough to expose the wood and nails of the heels. My shoulder throbbed and the strap on my bag had broken from lugging around my camera and thick guide. I'd bought one of the last tickets to Rome on a six-hour train from Venice the night before.
A man, slightly pudgy with thinning hair, asked me if I needed directions in an undulating Italian accent. I squinted up at him in the afternoon sun and answered no thank you, trying to cut the conversation short as I usually do with the gray-haired men with unsolicited assistance that I somehow attract. Undeterred, he inquired if I liked Rome and where I was from. I answered his questions politely, initially assuming him to be a security guard.
I was traveling alone. I couldn't afford to fly home for my three-week Christmas break from my au pair gig in Barcelona, so I'd chosen to spend it exploring Italy. Visions of Tuscan landscapes and pistachio gelato danced in my head. I'd decided Rome would be the perfect city to spend Christmas after reading about its midnight masses, elaborately lit shopping avenues, papal blessings and presepi nativities. I'd hoped that my solitude wouldn't turn to loneliness while wandering through the Piazza Navona toy market, where sweet-smelling candy stalls and a carousel surrounded glowing Bernini fountains.
The man with the small round glasses introduced himself as Giuseppe and proceeded to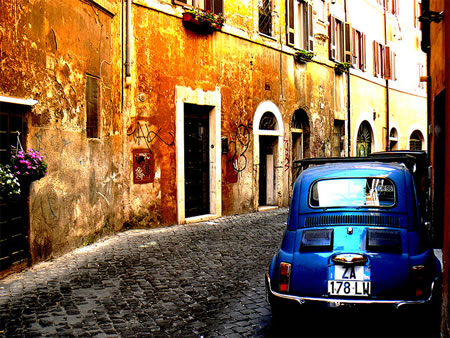 reminisce about his childhood home down the block and tell stories about his summer job selling gelato cones to tourists by the Coliseum as a teenager. "That's how I learned the English," he said. He gave me directions to my next destination, the San Pietro in Vincoli church across the road. I thanked him and headed toward the Esquiline Hill.
A minute later I saw him shuffling in front of reckless Roman traffic after me. He told me I'd taken a wrong turn. He insisted on escorting me to the church when he finally caught his breath. Normally I would have been wary of such a persistent stranger, but I figured he couldn't be any real threat considering that he wasn't much taller than my own height of five-foot-one-inches. Once inside the cathedral, I blinked as my eyes adjusted to the dim nave. He pointed out Saint Peter's chains enshrined under the altar and slipped a coin into the machine to illuminate Michelangelo's visionary Moses with a click. He informed me that when the sculptor completed his masterpiece of prophetic vision, he struck its knee and ordered it to speak. He offered to take my picture by the statue and then spent three minutes tinkering with my Canon Powershot to get the flash settings just right.
He asked what was next on my agenda following our tour of the church. I tried not to stare when I noticed he had a couple blackened teeth. I answered that I'd planned to walk to the Santa Maria Maggiore church, and he volunteered to show me a shortcut through a park. "It's on my way," he reasoned. I accepted his proposal. How could I turn down the opportunity to see Rome with my own free, local tour guide?
As we trudged up the hillside, he took a detour to a corner balcony that offered a rare panoramic view of the Coliseum. He insisted on snapping a photo of me. Mortified, I helplessly watched him order a cluster of young Spanish tourists to move so he could get the shot. He redeemed himself by offering to take a few group pictures of them afterward. While we walked through the park at dusk, he explained that a miraculous August snowfall marked the construction site of Santa Maria Maggiore. He offhandedly pointed out San Clemente, the backstreet church where he'd been christened and had sat in a pew for Sunday mass growing up. I'd read about San Clemente in my guidebook. I tried to wrap my mind around the fact that this man's home church had a fourth-century basilica leading down to a mysterious
pre-Christian Mithraic temple, which led to a 2,000 year-old Roman alley.
In the cathedral, Giuseppe led me left of the main aisle into the San Zeno chapel to admire the golden Byzantine mosaics. Afterward he invited me to stop at a café. I initially declined, fearing a coffee date would be too awkward. I'd already noticed the glances our odd coupling attracted. However he argued that he just wanted to pause for his afternoon ritual and reminded me that in Rome stopping for coffee is a brief affair that takes place standing at the bar. Before ordering our drinks, he questioned the barista (obviously not Italian) about his cappuccino-making skills. "She must taste real Italian coffee," he told him.
As I sipped my foamed-to-perfection espresso on the marble counter, Giuseppe recounted the legend of Rome's Mouth of Truth, a relief of a face that the ancients used for contracts. It purportedly bites the hand of liars. "I remember being a child and watching the Japanese tourists squeal while putting their hands in the mouth," he said. I listened to him lament that although his two sons would join him for dinner before going to their mother's house, he spent Christmas day alone. "It's just another day of the week to me," he shrugged unconvincingly.
By the time we left the café the sun had set. "You should come home with me for dinner," he said. "All the stores and sites closed early today. Soon the streets will be empty. You'll be sitting alone and hungry in your hotel." The pity in his voice revealed that he failed to appreciate the concept of independent travel, like so many family-centric Italians and Spaniards I encountered. The traditional Roman Christmas Eve feast of fish sounded tempting after a week-long diet of gelato and fruit. I wanted a story to tell. But naturally as a young American tourist I was initially cautious about going home with an older man I'd just met off the street.
"Maybe," I said. "Who will be there?"
"Just my two sons. One is in the navy, and the other is a banker here. They're not much older than you."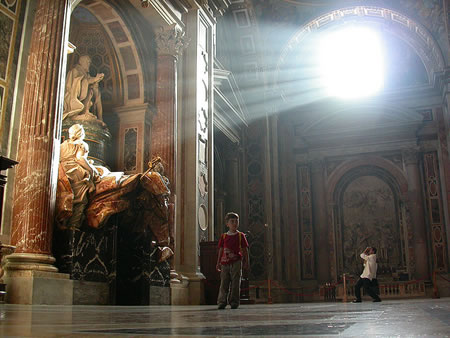 I wondered to myself how he'd explain the presence of an unknown girl who didn't even speak Italian at the dinner table on Christmas Eve. He noticed my hesitation. "I have a niece who lives in England. I'll tell them you're a friend of hers on holiday," he said.
"I don't have a British accent," I argued.
"Psshhh … my sons don't speak a word of English," he answered with a wave of his little hands.
"This will be interesting," I thought to myself.
I told him that I wanted to go to the midnight mass in the revered Santa Maria Aracoeli. He exclaimed that I'd be crazy to walk across Rome over the Tiber River to my hostel near the Vatican at 2 a.m. after the service. Besides, he said he liked the idea of going to the mass and could give me a ride after dinner.
I almost panicked when we ended up in front of his car. I hadn't realized we'd be driving. Getting into a vehicle with a strange man hardly seemed rational. I didn't want to insult him but couldn't hide my anxiety.
"Don't be afraid. You could be my daughter!" he said. "You say you're 23 but you look 17. Come to Christmas dinner with us – you shouldn't be alone." I had to make a decision. I opened the car door, heart pounding. When I strapped on my seatbelt, I knew there was no turning back. I reasoned that memorable experiences often require risk and trust.
Before we drove to his house, he insisted on showing me a curiosity of Rome. As we drove up Aventine hill, he mentioned that his boss lived in the exclusive neighborhood and pointed out the Egyptian Embassy to our left. The beret-wearing, machine-gun-armed guards gave me a sense of security as we parked. Giuseppe guided me in front of a door, and motioned for me to look through the keyhole. I peeked in and saw a miniature Saint Peter's dome glowing in the dark. I'd read about Michelangelo's feature in my guidebook but feigned astonishment.
After climbing the steps to his third-floor apartment in the Roman suburbs, we got to work. I spread out a dusty tablecloth and set the table while Giuseppe boiled the linguini and broiled the fish. My heart jumped when his sons knocked on the door. They entered carrying a wrapped package and a bottle of wine and bent over to greet their much-shorter father with a kiss on each cheek. Giuseppe introduced them as Antonio and Dario. He was right – they didn't understand English and, to my relief, accepted the friend-of-the-niece story without question. Antonio, the eldest, looked like a former high school football player with his striped polo stretching across his belly and military crew cut and goatee. The younger Dario wore tight jeans and a puffy purple jacket made of nylon that accentuated his thin legs. Silver chains peeked from his slightly unbuttoned shirt.
A course of pasta topped with truffles started the meal. Giuseppe piled my plate the highest. The main course of fish followed. Playing out the Italian male stereotype to perfection, the sons' dinner conversation revolved around designer labels and soccer. "I like U.S.A.," Dario said, surprising me with his English. "Ralph Lauren, Abercrombie, Hilfiger…" he laughed. I tried not to gag when Giuseppe sucked from the fish's head, reputedly the choicest portion of the meal. A boxed panettone, Italian Christmas cake with candied fruit, served as dessert.
After eating, the family exchanged gifts. Giuseppe gave his sons Hugo Boss and Armani cologne, which they sniffed appreciatively. "The sales lady chose it," he said. "I was on my way home from the department store when I met you," he said, turning to me. Next he unwrapped his gift, an espresso machine. While the two younger men struggled to assemble the gadget (refusing to read the instructions), Giuseppe scurried out of the room. He emerged with a small red paper bag with a gold bow, which he handed to me. "It's stupid," he said, "but it's Christmas." Inside I found a vanilla votive candle and a music box made of floral-printed cardboard embossed with the words "Get well soon." I appreciated the gesture while his sons rolled their eyes and blushed.
The younger men said goodbye, and the two of us returned to the centro historico for mass. We climbed the 124 steps to the Aracoeli cathedral's entrance adjacent to Michelangelo's Piazza del Campidoglio and waited for the service to begin in the vast, unheated basilica. I shivered in my pea coat and fuchsia beret as I admired the shadows the candles cast on the walls. He advised me when I should sit and stand during the mass (my first) and narrated the legend of the church's prized relic, a statue of baby Jesus. A monk in Jerusalem carved the Santo Bambino from an olive tree in the Garden of Gethsemane. The image fell overboard in a storm on a voyage to Rome but miraculously reappeared on Italian shores. Giuseppe believed the story despite his confession that he no longer attended mass.
Parishioner families slowly filled the sanctuary, bundled in fur coats and hats. I noticed Giuseppe doze off a bit in the unpadded pew during the ceremonious two-hour service led by two high-ranked bishops. Finally one cleric climbed a baroque throne to unveil the Santo Bambino and descended to lead the congregation in a solemn procession to the nativity scene, where he placed the doll in the manger. Of course, Giuseppe shoved me to the front of the crowd so I could get a good picture.
On the ride home I reflected that I'd passed my first advent season absent of gift shopping, cookie baking, tree decorating and carol singing. I didn't get caught under any mistletoe or watch any holiday movies. Instead I experienced Christmas Eve in Rome through a Roman's eyes. "I was your Christmas angel," Giuseppe laughed as we drove over the Tiber back to my hostel. Although I fought the urge to roll my eyes, I contemplated how much lonelier our nights would have been if I'd brushed away the chatty old man by the Coliseum that afternoon.
* * * * *
Rachel Ward is a freelance writer who has contributed to Time Out Buenos Aires, The Traveler's Notebook, Tango Diva and various publications in Charleston, S.C. She's studied in Buenos Aires, worked in Oxford and Barcelona, taken an impromptu solo spring break trip to Peru and volunteered in Guatemala and the Dominican Republic. She's moving to the Chilean coast in the spring for her next big adventure. Check out her blog Serendipitous Senderos.
Photo credits:
Coliseum: jonrawlinson
Rome Alley: mozzerock
Car: jonrawlinson
Coffee: nerissa's ring
Church interior: Geert Orye