By Karen Snyder
"Patagonia? Like the outerwear company?"
Such was my first response to Vic's proposal to tour Argentina by car. Never a dull moment, that's for sure. My second response was, "How soon can we leave?"
At the invitation of a backpacking couple from Argentina that crewed four months on Vic's sailboat, we began making plans for the one-month adventure well in advance. It was to be the farthest either of us had ever traveled — ever. Crossing the equator was a dream we shared, and with Vic quickly approaching the septuagenarian celebration of his birth, he was likely running out of time — or, at the very least, mobility.
Prepare for Takeoff
We readied ourselves through six months of scouring travel guides and websites, reading novels set in the massive South American country and sending emails to the host couple — Fernando Asta and Caro Block — who often took weeks to respond because of unreliable Internet service.
While Vic took it all in stride, as he does nearly everything, I found the sketchy communication very unnerving, an incessant "inbox" checker even when I'm not expecting anything important. You never know what might pop up in there, right? (Case in point: an unexpected invitation to visit Argentina.)
For five months, the Buenos Aires couple had been living in Ushuaia in the Tierra del Fuego region. Located at the southern tip of the continent, the Land of Fire is also known as "the end of the earth" because, well, because that's where it is. Beyond lies nothing but the icy Antarctica.
My nerves jangled a bit as I prepared to push the "book it" button, committing us to several thousands of dollars worth of plane fare for a trip that wasn't quite tied down yet.
With the early February departure approaching, I tried in earnest to keep our packing list to a minimum. After all, two weeks of our trip would be spent traveling in a four-door Volkswagon sedan, and space was bound to be an issue.
Vic, focused only on the famed trout rivers of Patagonia, had one whole suitcase filled with his "stuff" — three fly rods, a fishing vest, waders, hiking boots, dozens of fishing flies (you don't know what they're biting until you get there), fly fishing paraphernalia, binoculars, Leatherman, underwater video camera, a landing net, thermal underwear, hats, wool socks, several books, his laptop and enough of his six prescription medications and assorted supplements to get him through the month.
Reaching Fer and Caro would involve 36 hours of travel and five airports. Vic, who habitually bucks confinement, particularly at 35,000 feet, asked his doctor for something to "take the edge off" during our flights, a request I encouraged he make in order to keep from driving me and the other passengers nutso. Mainly me.
Somewhere over Peru, in a seat unintentionally booked (I swear) eight rows away from me, Vic – deciding the meds weren't working – popped one too many, rendering him comatose by the time we touched down in Santiago. He snored away the six hour layover in a rusty airport wheelchair, waking only to request coffee and to announce he was seeing double.
Days later, while sharing the story with our hosts, it became clear he had absolutely no recollection of any of it. Shocked, he initially accused me of lying. If only. Needless to say, I took over as pharmacist for the duration of the trip.
South of the Equator
Not really knowing what to expect, I found Ushuaia a beautiful surprise. An island with a tiny village in a bowl
lined with massive snow-capped mountains, centered around anchored sailboats bobbing in the frigid waters at the mouth of the Beagle Channel, it was charming. Gale force winds are prevalent during Ushuaia's spring and summer from August to March, and we were thankful for all the extra clothes we forced into our bags.
Admittedly, while I came to have grand Spanish conversations in my head by the end of the excursion, I speak very little Spanish out loud, afraid to embarrass myself, I guess. Fortunately, I understand about 95 percent of spoken Spanish. Fer and Caro speak English fairly fluently, though many of their friends that we met did not. Communication was not hindered, however, using some English, some Spanish and a form of exaggerated charades to convey whatever needed saying.
Not limited by their miniature gas stove and lack of refrigerator, Fer and Caro wowed us with meals of homemade empanadas, pizza, fresh pastas and ravioli, cheesy polenta (yep, Vic, it's basically grits) with stewed vegetables, chorizo sausage with chimichurri sauce, Milanese — crispy thin breaded veal cutlets with tart lemon juice – and lots of that great beef the country is known for producing. A large Italian population has obviously influenced Argentinean palettes.
It wasn't until we were invited to our first of many asados — the South American traditional grilling of multiple meats — that we struggled. Blood sausage, we decided, is disgusting. Eating it was made even more difficult because we were being studied by a table of new friends anxious to please us with the culinary delicacies of their beloved country.
Somehow we got it to stay down, politely declining seconds, as well as the offer of the sweetbreads — assorted organ meats. We would, however, not rule out new foods during the rest of the trip and later tried marinated beef tongue, pickled eggplant and, unbeknownst to us at the time, cold cuts made from horsemeat.
Also a lesson was the drinking of yerba mate, a strong brewed herb sipped from a dried gourd cup through a metal straw or bombilla. Fairly bitter, it has the affect of caffeine and is enjoyed almost ceremoniously.
Regardless of how many are present when it's time for mate — typically breakfast and late afternoon — everyone drinks from the same cup packed full of dried yerba, each person straw slurping until all the liquid is gone before passing it back to the host to refill with hot water for the next person.
Into the Wild
Having that first week to get acclimated to a new country was a luxury. But soon it was time to help our friends pack their meager household items to ship home, load the car with what was left — including our two giant duffels — and hit the road for two weeks. Fer painstakingly fit everything into the small car, mapped our route and booked hostels in advance.
We set aside 12 days to reach Buenos Aires, stopping to enjoy towns and attractions along the way. The first day brought four border checks as we crossed in and out of Chile, one of which became tense following the discovery of two renegade avocados in a Tupperware container buried in the backseat. We were threatened with a fine of about $250 U.S. before the inspector took pity on Caro, let her fill out a new declaration form and confiscated our leftover avocados, which I'm convinced the inspectors enjoyed with their lunch soon after.
We were constantly amazed by the unfamiliar forms of wildlife on the sides of the road. Guanacos — similar to llamas — roamed wild, as did rheas (relatives of the ostrich), Patagonian foxes and hares, and pink flamingos that were liable to be hanging out in standing water just about anywhere. Crossing the Straits of Magellan, Caro and I braved the rain to stand on the ferry's deck, hoping to catch a glimpse of the small black and white Commerson's dolphins that inhabit the waters there. We were not disappointed.
Having driven off the ferry to begin riding hour upon hour through the flat and dry pampas, it was easy to imagine gangs of gauchos on horseback, kicking up dust as they sped through the countryside on their way to do whatever Argentinean cowboys do. It was not unusual to go one hundred miles or more without ever seeing another car — or a bathroom. Argentina is a massive country. And once a toilet was reached, it never had paper and often didn't even have a seat. Oh the things we spoiled Americans take for granted!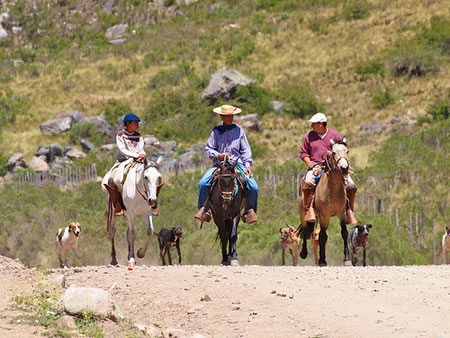 Along the way, we frequently saw roadside shrines to various saints and would-be saints, especially for Señora Deolinda Correa. Said to have died of thirst crossing the desert with her husband's brigade during the civil wars of the 1840's, her infant found alive and still suckling her breast a couple days later, the makeshift shrines are surrounded by plastic bottles of water by those who come to quench her thirst and ask for protection.
Oases and Earthquakes
El Calafate, near Los Glaciares National Park, would be our base for a couple of days, while we visited the famed Perito Moreno Glacier. Having never seen a glacier before, I was in awe of the size and the beauty. Blues of every hue imaginable presented a myriad of pressed shapes, crevasses and cracks. The blues and whites of the ice, contrasted with the nearby evergreens and snow-capped mountains, creating a picture postcard scene. Strings of horizontal gouges filled with dark snow resembled dirt bead necklaces we children would sport after an honest day's play in the yard.
Taking hundreds of stair steps down to reach the base of the glacier, visitors took delight in hearing the gunshot-like pops that announced a piece of ice was about to break off and fall into the frigid soup below. Heads quickly turned side to side, scanning to find the break, watching as yet another couple of feet took its leave. Global warming forefront in my mind (yes, folks, it's really happening), I found little delight at the site of the glacier slipping away one chunk at a time, unlike many of my peer tourists that day.
Heading north on our journey, we arrived in El Chaltén, home to Mt. Fitz Roy, one of the Andes Mountain's most
impressive peaks at 11,175 feet, attracting climbers from all over the world. The tiny village is growing quickly due to popularity among climbers and trekkers. Still, we found room at the inn and a fine dinner of lamb nearby, cooked whole over an open fire in true Argentinean form. No sooner had we finished and opened the door to leave than we were greeted by a hungry yet happy Saint Bernard, whom restaurant workers said arrives every night for his share of bones.
Our travel plans included a four-day visit to San Luis, a popular microclimate village at the foot of a mountain near wine country, where childhood friends of Fer and Caro own a beautiful little resort. After roughing it in seriously close quarters in the hostels, we were to have a whole cabin to ourselves, with a separate bedroom, a waterfall pool and really good hour-long massages for $12 U.S. — a treat we enjoyed daily while we were there, rigor mortis having set in during eight days of car travel.
It was while in San Luis that the earthquake occurred in Chile, about three hours from where we slept that night. The next day was spent reassuring friends and family via email that all was well and wondering whether the airport in Santiago would be reopened by the time we were scheduled to fly out. Fer loaded the car — again — and we were off once more.
Upon arrival, we were instantly hit with 90 plus degrees in the busy, crowded, beautiful, loud Buenos Aires. In spite of the heat, I couldn't wait to explore. Leaving the guys in Caro's small apartment to do guy stuff, she and I hit the city nearly every day, traveling by stifling subway, taking in the sights.
From colorful buildings and people of La Boca and San Telmo bohemian barrios to tango dancing on the square to elaborate architecture to art museums to ultra modern shops and fine restaurants, Buenos Aires offers everything I love in a city — culture, shopping and great food. I stood below the balcony at
the Casa Rosada presidential palace, from which Evita gave her "Don't cry for me, Argentina" speech. I had lunch at Café Tortoni, where writers and intellectuals have gathered since 1858. And I watched as a passel of heartbreakingly dirty little street children begged tourists for money. I saw and loved it all.
Always a sports fan, I also found a new love for an old sport — soccer. Sitting on the couch with Fer, watching local teams battle it out on television, we grinned at each other every time ball met net, prompting loud drawn out shouts of "Goooaaal!" emanating from open windows throughout the neighborhood.
Staying put in the city for a while also gave us the chance to finally see some of the jewelry Fer was making. An accomplished, self-taught artist, his work includes not only beautiful pieces crafted from silver, polished coconut shell and precious stones, but also recycled pieces from the inner workings of trashed computers. My souvenir budget didn't stand a chance once he rolled out the goods.
But it was good timing. My money gave out about the time our visit did, after some 30 days, 3,300 kilometers, a dozen new friends and a rich expansion of my personal world. Tears were shed and promises made to travel to the Amazon and move to Mexico together the following year — promises we intend to make good.
And thanks to my confiscating the tranquilizers, our return trip was uneventful — except for the aftershock that nearly gave me a panic attack over a beer during our layover in Santiago.
Never a dull moment.
Photo credits:
Argentina mountain and glacier: jan.kneschke
Fishing pole: kasperbs
Camp meal: SeaBeeCook
Yerba mate: juanpol
Gauchos: alextorrenegra
El Chaltén and Fitz Roy: longhorndave
Casa Rosada: Phillie Casablanca