By Shannon Bradford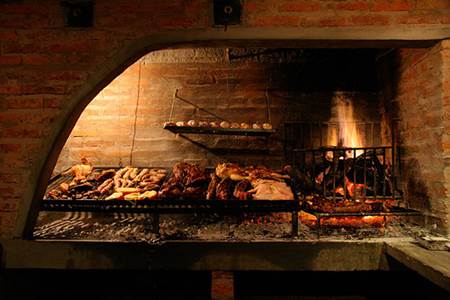 "There's a couple things you need to know about asados," my friend Louie told me, another American living abroad who had become a resident expert on the subject matter. He was in southern Chile guiding raft expeditions for the summer — and while his days were spent on wild waters, almost all of his nights were spent at asados.
"First of all, if they tell you it starts at 6, plan to eat around 9." He shot me a knowing look, suggesting the Latin American loose concept of time. "Second of all, come hungry. There is more food than you know what to do with, but it all gets eaten. And that's not to mention the absurd amount of good, cheap wine."
In English it means cookout, but as I got to know more about Chilean traditions, it became obvious that asados were something more than what I'd experienced in a quietly murmuring group of Americans around a gas grill with perfect circular patties on the 4th of July every year.
Seemingly all the makings for a delightful evening with new friends — the prefect accoutrements for relaxing, dining and having a generally accepted good time. How could I turn it down?
I had just breezed into the country to begin a life as a wide-eyed vagabond with location-independent work and a big fat itinerary that consisted of whatever the hell I wanted.
I had chosen Chile out of chance and goal acquisition: perfecting Spanish and living abroad were two long-term goals I'd nurtured and cherished for years. Previous travel to Central America, Europe and the Middle East had been part of a different era, different chapters of Shannon. Like my thesis trip in the graduate program of Travel, I came to Chile ready for anything.
Anything, it seemed, except for what I found.
"I probably won't have time for that," I told Louie, mind churning to think of a deadline somewhere. Some sort of impressive list of due dates and publishers I could rattle off that would inherently excuse all future absences.
"But you've gotta come. It's so Chilean."
Louie was right — the asado seemed to me to be the hallmark Chilean thing, and in my short time in Chile, it was just about the only thing I could find to punctuate the country.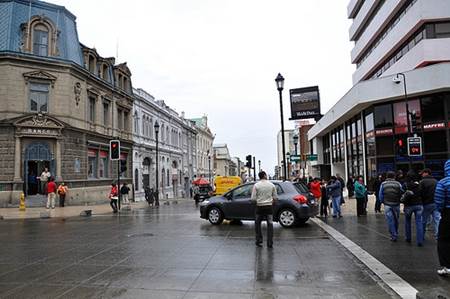 I had arrived prepared for culture shock but what greeted me was culture malaise: things looked familiar. Orderly. Sure, there was a different language in use, more avocado than apples in the grocery store and enough red wine for a different brand each day of the year, but above all, life felt overwhelmingly similar. I'd inaccurately assumed that Chile would feel like Central America, third-worldish and with starkly different rhythms of life.
Where were the differences, the moments that made my eyes widen and senses churn? I didn't know, but I definitely knew that the asado would not be the place to find them.
I avoided them like the plague. My itinerary might have been whatever the hell I wanted but that didn't, for some reason, include excessive socialization. Or eating meat. I was in Chile to enjoy myself, sure — but also to get shit done.
On top of all that, I'd decided somewhere between the avocado and red wine section at the super market that Chile had nothing to offer me. It hadn't blown my socks off the second my plane landed — no smells to turn my stomach, no chaos to write home about, no local dress that could be seen on regular people in the streets. And since I'd already decided what I'd been looking for was absent, I was in some ways content festering in the mediocrity.
So I avoided the asados, as well as anything outside of a rigid routine. I was afraid to deviate. I was afraid to get off track. Not even Louie's rave reviews could convince me. Even my status as borderline wine-a-holic couldn't lure me in. Asado, in my mind, translated into frequent and wild binges with awkward amounts of standing around, meaningless chit chat and, worst of all, overeating meat.
"I'm a vegetarian," is what I told them all when the invitations started rolling in after I'd gotten a good foothold on the social scene there. While this was only sort of true, what that really meant was that I wanted to be alone, writing and working, and eating carefully portioned meals of beans and grains and vegetables. Because on top of being a self-employed gal striking it on her own for the first time ever, I was able to overeat like nobody's business.
My travel experiences prior to this move to South America had taught me one hard lesson: no matter what you do, you will gain weight while traveling. This resonated in my head every time the word asado floated into a conversation. Furthermore, the revelry and relaxation combined with a new country and new culture to me seemed a toxic combination for totally losing my grip on my already loosely held resolve.
My lamenting smile did nothing to convince the Chileans or alter their goodwill asado mission. "Ningun problema," they'd tell me. "Bring some vegetables, or at least come to socialize!"
But I always had a reason to avoid the asado. I had to work. I was backed up on writing. I missed the calls because I'd been out running. My other friends and I had plans. Sorry, guys! Maybe next time.
As time wore on, the asados became harder to pass up. They were everywhere, all the time. The briefest conversation with a new acquaintance would invariably lead to mention of a shared asados within a day's time. There came a time when I began to feel like a real jerk. I had to go to an asado, at least to save face in my newly budding group of friends. And besides, why was I avoiding a laid-back get-together again? I didn't know who I'd become, and between the cultural malaise and the choppy start to self-employment, I felt like whatever I'd been trying to do wasn't working.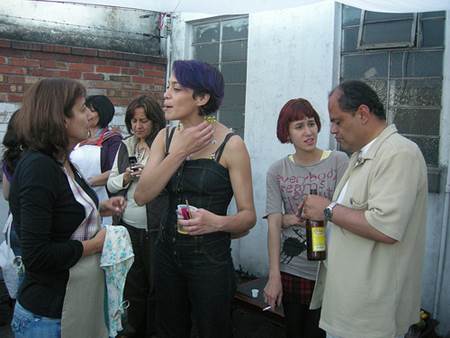 I agreed to attend an asado held at a local hostel. The owner was a good friend, and my closest buds in town would be throwing the shindig. I promised to show up. They told me there'd be plenty of vegetables, too. Besides, Louie's parents were in town and this would be their first asado experience. I could shirk some social obligations, but not all of them.
The asado began as a slow trickle of friends over beers in the common area. Cumbia music sprang to life. The Chilean hostel owner migrated silently to the backyard to prepare the grill. Conversations flowed, more beer was poured, wine appeared.
Soon everyone was in the back yard. Friends continued trickling in. Somebody arrived with a lot of supermarket bags. Sausage was revealed — followed by onions, zucchini, mountains of bread. Chicken breast came next, slabs of meat that delighted the Chileans but I had never seen in my life.
The arrangement of the food on nearby tables was methodical, a tradition that the Chileans knew like a sacred dance. I watched as this unfolded, confused yet intrigued by the silent understanding. I knew not to offer help — this was their dance.
The men gathered around the grill pit as they coaxed fire from the charcoal bits. One fanned from the side as others critically assessed the sparking progress. More paper. Now make a hole in the middle. Use the beer bottle. There you go. She's going, she's going.
A mature flame leapt to life resolutely then settled steady. A pleasant hum of accomplishment spread through the backyard, potent enough to make me feel as though I'd helped somehow.
The Chileans continued preparing the meat to be grilled, placing the items in a specific order, deftly cutting slabs and arranging the food according to importance. The first to go on? Ribs. Huge, unwieldy, terrifying looking ribs. I swallowed a knot in my throat and continued watching, horrified yet mesmerized. Where were the innocuous-looking circular patties? What about the hot dogs that didn't resemble food, exactly, but everyone assumed was edible? This stuff was juicy, dripping, real meat.
And damn if it didn't smell divine once it got cooking.
Once the first round was ready to be eaten, admittedly after the sun had sunk beneath the horizon as Louie reminded me with a tap on his ultra-durable rafting watch, the meat was removed from the fire, onto the cutting board and promptly cut into bite-size pieces. These pieces were passed around, hand-to-hand, popped into mouths. Teeth against tender meat. Explosion of flavor. Ahhhh.
The guests had formed a dense cloud around the grill or parilla, all of us eying the meat with eager eyes. There were no plates, no carefully laid silverware, no inclination toward readying your meal all at once and then retiring to a table to eat.
"This is how the Chileans do it," Louie explained, licking his fingers from a particularly delectable bite. He pinched his eyes shut and gestured toward the sky as he savored the remaining flavors. "God, it's so good!"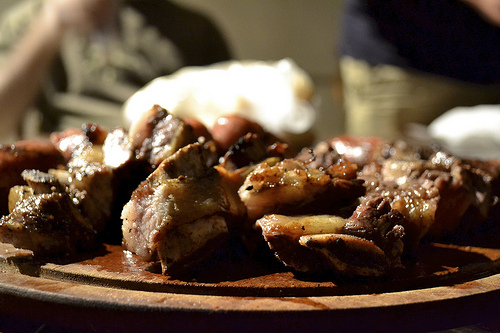 And he was right. Not only was the quality of meat far better than what I'd ever experienced before in my life, there was something about the energy of the asado — the gathering, the immediate intimacy with the others despite having known them maybe four weeks or four minutes, the focus on food, drink and good times as opposed to having a goal — holiday, birthday, Memorial Day or otherwise. Let's just do this because we enjoy it.
Shockingly simple. Much like the lesson that Chile came to teach me, despite my decision that it didn't have much beyond mediocrity.
My appearance at asados began to climb in frequency. I'd tested the waters and found them to pleasant and inviting. Eating meat more regularly didn't shock my system into shutdown, as I'd feared, nor was I over-indulging. When an asado was planned, I ate less during the day to prepare for the long meal ahead.
The toe-in-the-water turned into a full-blown warm bath. Spending more time amongst Chileans in their native habitat the asado revealed plenty of layers that on the surface had looked to me like a colorless swirl, but really proved to be a sparkling kaleidoscope of history, intrigue and more. I came to Chile thinking my eyes were wide open, but my own history of travel had colored me blind to what was really before me as a cultural opportunity.
And in my work, loosening my grip was the key to gaining ground. As I delved further in the self-employed ex-pat lifestyle, I found that a new pattern emerged, something entirely different than what I'd ever known before. In all aspects. I had been trying to control my eating habits and social habits so that they mimicked what I had been comfortable with back home, so as to not derail, while simultaneously looking for something so new and so different that I would have no choice but to derail. But it turned out the train tracks were going somewhere I didn't plan on, and it wasn't even as dark and scary a journey as I'd told myself.
A year after my arrival to Chile, I had moved to a different part of the country, rented a house with a boyfriend and other friends, successfully plugging along with my self-employment and every week we had our very own asados. Anyone who came through the door I begged to stay for the weekly event. Especially if they were travelers or had never experienced one before.
The asado had become second-nature to me. Not only had I evolved to accept it, it had evolved to accept me. My asados were a blend of those once-wild-turned-typical juicy meats, with an explosion of fresh veggies. The good, cheap wine didn't change, nor did the reasons behind it (though we tended to start more on time than other asados).
We weren't celebrating something each week, unless you count just being happy to be together and able to share a meal.
We were having asados to eat well in good company. To socialize. To punctuate the rhythm of regular life with something like a celebration but for no other reason than the act of gathering.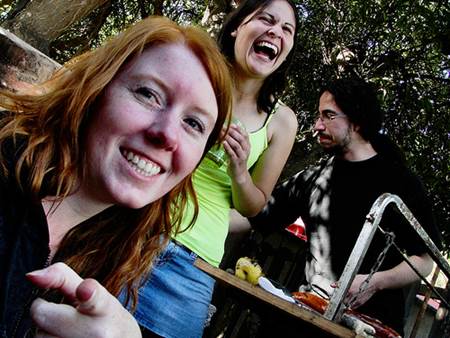 Chile didn't look or sound or smell like I had expected it to. I had wanted passion fruit instead of avocado, sunny tropical beaches in place of the misty port towns, and tuk-tuks instead of Ford trucks. But learning how to truly open my eyes to travel, to a new culture and new country — to accept and welcome an experience despite its departure from how I thought it might go, no matter how seasoned a traveler I thought I was — was one of the hardest lessons of all. Made even harder by the fact that it was a subtle lesson. There was no brilliantly colored banner called culture shock to accompany this lesson; instead, I had to go looking for it, to dip my fingers into the earth and probe a bit to find the gems buried within.
And while I never expected to name a cookout as one of my most important teachers on the road, one of the many things it showed me is something we could all stand to use a little more of in our lives: Start late, eat good food, and expect wine.
*****
Shannon Bradford is a twenty-something with a fondness for open-air markets, ancient ruins and foreign tongues. She is currently living creatively in South America where she is completing several novels, mastering the Spanish language, and learning the ins and outs of the ex-patriot lifestyle. Check out her current writing project, The Astromaid Chronicles.
*****
Photo credits:
Asado Parilla: pacecharging via Flickr
Chile Street: Victor via Flickr
Socializing during Asado: Juan Carlos Pachon via Flickr
Asado on the Table: Joshua Blount via Flickr
Women Enjoying Chilean Asado: Javier Ignacio Acuna Ditzel via Flickr