By Robin Noelle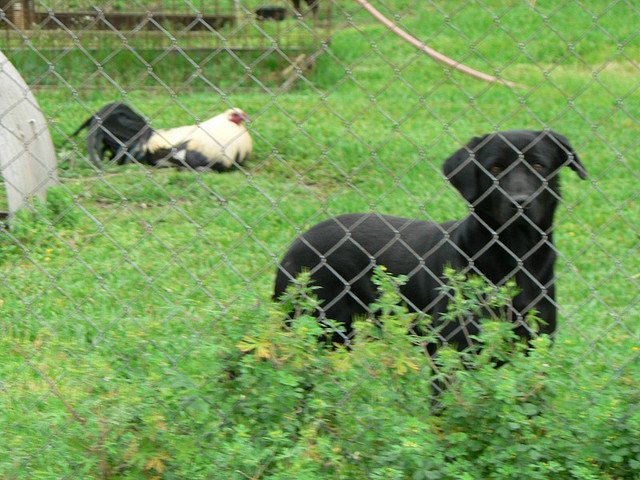 It took two solid weeks of knocking on doors and confusing people with my butchered Spanish before I found a suitable rental. My new place was palatial compared to the last hovel I had rented and had the luxury of both an indoor kitchen (two, in fact) and hot water. It was still "rustic," which is how gabachos (northerners) say "crappy" in Mexico. Bare light fixtures dangled from the ceiling, paint peeled from every surface in great strips, and when it rained, water rustically seeped through the ceiling and ran down the walls, making me feel more like I was living in a terrarium than a house. More importantly, the closest neighbor was behind the 20 foot wall that enclosed the backyard.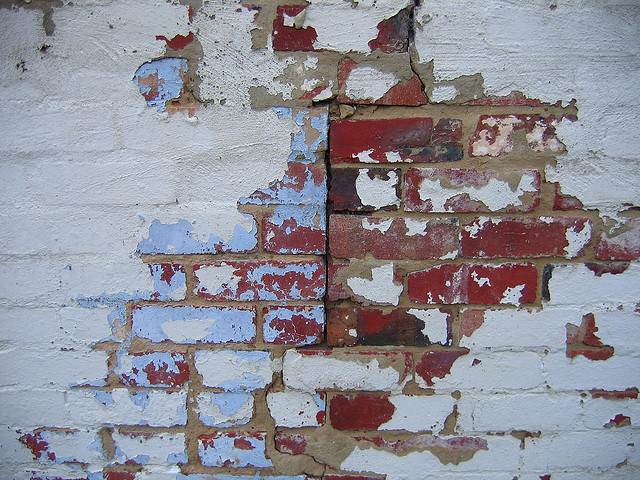 Many Mexicans keep their dogs on the roofs of their homes, and my neighbors, who turned out to be a compound full of nuns, had a roof dog that lived about 75 feet from my bedroom window. Roof Dog had the singular hobby of barking from 3 a.m. until 4:30 nearly every morning. The barking was without cause, and directly outside my window. Shielded by a guanábana tree, Roof Dog was immune to hurled objects, and no amount of shrieking at Roof Dog to shut up had an effect. No one in the neighborhood cared about the incessant barking.
After a few weeks of lying awake thinking of all the ways I'd eventually kill Roof Dog, he disappeared. Before I could celebrate victory, he was immediately replaced with a very large and very loud rooster. This rooster, in the spirit of Roof Dog, would fly into my guanábana tree at 3 a.m. and crow outside my bedroom window.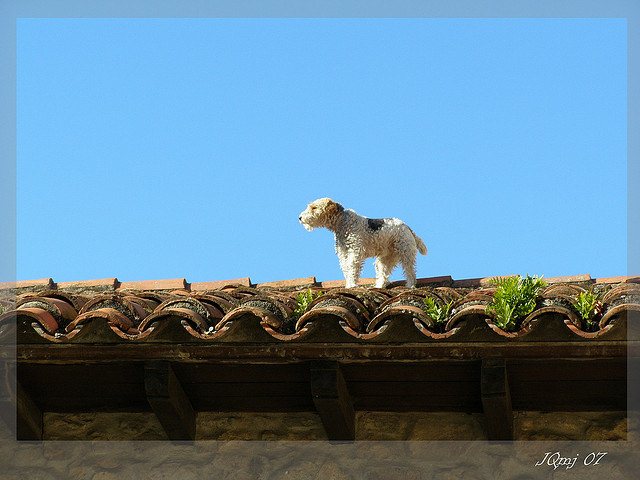 In case you didn't know, rooster crows are unique. Tree Rooster's crow started out strong and then tapered off into what sounded like a good strangling. To be honest, the crowing didn't bother me as much as Roof Dog's barking, so I put up with it. It was only about 10-15 minutes of crowing (to about 90 minutes of Roof Dog's continuous barking), sometimes more, and then he would flap off only to return the next morning. My roommate, a renter from the Czech Republic who lived downstairs, did not feel the same way.
He would rant and rave, practically frothing at the mouth, cursing the rooster. Every night when Tree Rooster came, he would get out of bed and spray him with the hose to make him fly away. One week my roommate was out of town. I had gotten up for some water when I heard the familiar strangled crowing coming from outside the window. When I looked outside, sure enough, there was Tree Rooster perched on a branch of the guanábana tree.
While the crowing didn't bother me so much, I didn't actually enjoy it, so I set off down the stairs to spray the rooster. Being as it was close to 3 a.m. and I had just gotten out of bed, I was in a tank top and underwear as I walked down the back stairs to the base of the tree. My three dogs, two Chow-Chows and a Chihuahua, trailed behind me to see what was up. I grabbed the hose and sprayed the rooster but was rewarded with just a trickle, as the neighborhood water supply had been shut off that night. I thought about this for a moment before selecting a fallen coconut from one of the palm trees in the yard.
The idea was that since Tree Rooster flew over the wall and into my tree, if I frightened him, he would fly back home. I began tossing coconuts at the rooster. Swish! I was a bad shot. I came close, but not close enough to scare the rooster away. He was avoiding eye contact and pretending that I wasn't there. He crowed and I threw coconuts until there were no more. I looked around and saw a guanábana fruit, which is also known as soursop, a hard, round and spiky fruit, but fairly light. I lobbed a perfect underhand pitch and much to the surprise of both of us, I pegged Tree Rooster smack in the head.
Instead of flying away, Tree Rooster tumbled from the tree in a mess of flapping wings and squawking, directly into a circle of deliriously excited dogs. As I stood there watching the rooster fly and run across the yard being chased by three dogs, in my underwear at 3 a.m., I was simply too stunned to do anything but step out of the way. It all happened so fast and I was so stupefied by the failure of my brilliant plan and the resulting horror that even when the rooster flew into a bucket and went tumbling in feathery thumps through the yard, I couldn't react. It was only when the dogs had him pegged to the ground with their paws and were gleefully pulling out his feathers that I sprang into action.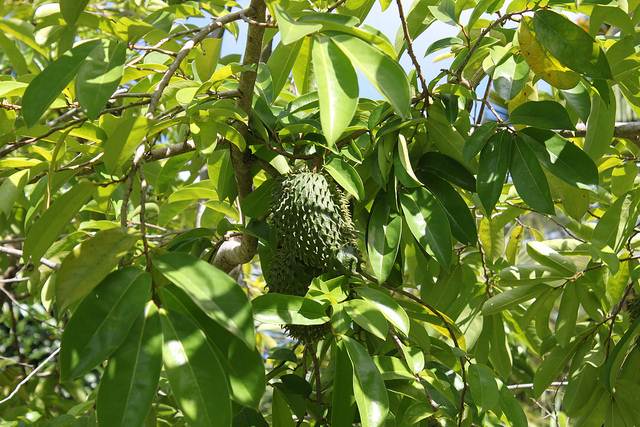 I grabbed a nearby shovel and I went to save the rooster. I wasn't sure if he was dead or stunned, but realizing what death by dog might entail, I felt I had to save him. I smacked the dogs in the head with a shovel while they fought to keep their prize. We all ended up huddled in the corner until I managed to scoop up the rooster with the shovel and run into the middle of the yard. I considered my next move while attempting to keep the surprisingly heavy rooster on the shovel while the dogs snapped their jaws below, trying to pull him off by the feathers.
I will shamefully admit that at this point that my initial thought was not how to revive the rooster from what was likely cardiac arrest, but rather how to hide the fact that I had just murdered my neighbor's rooster; my neighbors, the nuns. In this moment of consideration, my concern was how to remove the evidence from my yard should anyone come to inquire tomorrow as to what may have happened to Saint Tree Rooster. My eyes turned to the roof.
I was visualizing hurling poor Tree Rooster off the roof with my catapult shovel when it occurred to me that I did not actually know whether Tree Rooster was dead or if he was merely stunned. I pictured Tree Rooster waking up from his shovel perch and finding himself on the way to the rooftop, leaping from the shovel, and a madcap dog-rooster-woman-in-her-underwear at 3 a.m. chase through the house would ensue. Time for plan B.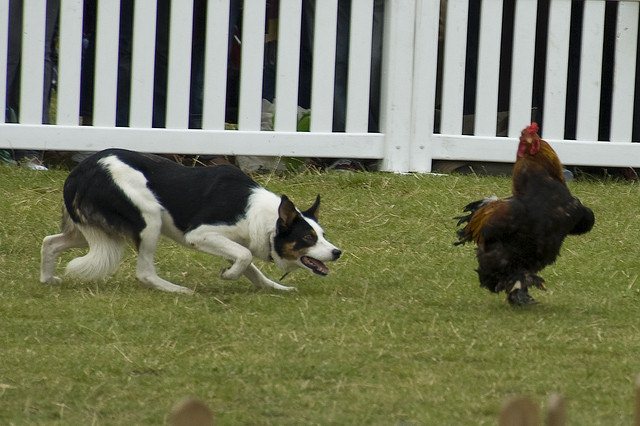 I crept towards the front gate with the rooster in the shovel and three over-stimulated dogs animated with the hope that they might still get to nosh on fresh chicken. I cautiously peeked out and looked up and down the street. What I did not want were my neighbors to see me in my underwear at 3 a.m. carrying the dead body of my neighbor's rooster. Fortunately, the streets were empty. I unlocked the gate and tip-toed into the vacant lot next door and put the rooster down in a patch of weeds. Perhaps someone would think that he had an unfortunate run-in with some street dogs.
When I awoke the next morning, the rooster was gone. Whether someone came and took him home for pozole, or dogs ran off with his body, I didn't know. I liked to think that he woke up and realized that sitting in my tree was not a wise decision after all and relocated to another part of the neighborhood, but that seemed unlikely. I was so wracked with guilt by the demise of Tree Rooster that I bought a beaded rooster keychain that I kept as a symbol of my remorse.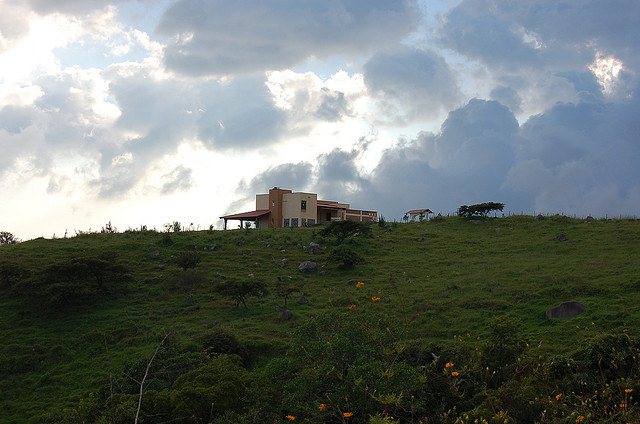 One day, almost a year later, I was walking home from the carnitas stand, when I heard an unmistakable noise. It was a half-strangled rooster crow. Sure enough, when I turned the corner, there stood a decidedly bedraggled rooster, missing the majority of his feathers on his neck and chest. It was Tree Rooster. He had survived and decided that life in my guanábana tree really wasn't worth the risk.
It wasn't that much longer before I left that house, not because of an angry mob of nuns or even because of the insane tortilla delivery man who careened through the neighborhood at 5 a.m. blasting Mexican polka music. I ended up in a slightly less rustic house on a hill with a view of the mountains and the bay, where the only animal visitors I had were an infanticidal hen and a turtle named Jesus who was deposited in my yard during a flood. But that's another story.
*****
A Journalism major with a passion for prose, Robin Noelle started her career in the world of high tech public relations at two of the industry's leading PR firms. Noelle has led the PR efforts for a variety of tech companies from small start-ups to Microsoft product teams during a major Microsoft Office launch.
Coauthor of the Moon Guide to Puerto Vallarta (8th edition, Avalon Travel, 2009), Noelle has traveled extensively throughout Mexico. Her Mexico-related writing has been featured in a variety of national and international outlets.
Noelle's background in technology also made her an ideal candidate for technical editing and writing end-user computer books. She's the author of How to Do Everything MacBook, (McGraw-Hill, 2010) and Microsoft Word 2010: In Simple Steps, (Pearson Education, 2010) and the technical editor for How to Do Everything Mac, (McGraw-Hill, 2009) and How to Do Everything Netbooks, (McGraw-Hill, 2009).
Robin Noelle is currently co-founder and Chief Creative Genius at Army of Brainiacs, a full-service digital marketing firm serving the tourism industry.
*****
Photo credits:
Dog and Rooster: Rick Kimpel
Peeling Paint: macinate
Dog on Rooftop: jqmj (Queralt)
Rooster: Linda Tanner
Soursop Tree: Gerwin Sturm
Dog Chasing Rooster: Richard Gillin
House on a Hill: Presagio