by Kate Reid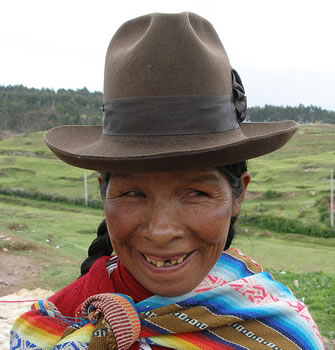 I arrived in Peru, an 18 year old, mobile phone clutched in hand, designer jeans donned and expectations high. The ancient land of the Incas was to be my home for 6 months, the children of the Urubamba region my project. My first "real" experience of the "real" Peru (not the hostels with every nook and cranny jammed with Americans, backpacks, facebook and bacon and eggs) was the day I took the local's bus to school, the escuella.
The cama approached down a dusty road looking promising, as it appeared very similar to every other bus I'd taken in Australia (my homeland). As they say, first impressions are usually wrong. Very wrong, in this instance. I was glad to board the bus to escape a hoard of local men, haggling at me to buy their pineapples (I'll get hepatitis!), ride in their car for half the price (I'll get raped!) or marry their son (…no comment). I stepped onto the bus, with my shining new hiking boots, daypack, jeans and singlet top, to a crowd of toothless men grinning at me and waving wildly at the seat next to them which was empty, or they were very quickly making empty by pushing their wives and/or children into the aisle. I settled in between two ecstatic men in the backseat.
The cama stirred to life; smoke spluttering out from all angles, and the dust on the road parting as we chugged along. My daypack was wedged carefully between my knees, and I was exerting every single anti-theft procedure I'd ever heard (strap of bag looped around ankle, zips locked together and tucked away, valuables hidden on various, uncomfortable body parts). The magnificent mountains stood over us on both sides, an incredible sight which words, neither written nor spoken, can portray the sheer majesty of. My favourite experience of Peru, the simplest but one which will stay with me forever, was to walk
amongst the mountains of the Urubamba valley, and know that for thousands and thousands of years, the locals have walked these same mountains. Whether they be the farmers of today, or the Incas of thousands of years ago, these mountains have barely changed, just like the strong culture of Peru.
At our first stop, a local man shoved his massive, slobbering pit bull terrier onto the bus. The dog lumbered happily up and down the aisle, occasionally stopping to lick a passenger or two. "Ben, ben!" the owner yelled, waving frantically, "Ben!" Ben, I mused, was the name of my boyfriend. I dug my mobile phone out of my pack (securing the zips in their anti-theft position once more) and texted Ben in Australia that even halfway around the world, his name is still used, even if it is for a drooling pit bull. I sat smiling to myself. Unbeknownst to be was the fact that "ben" is actually Spanish for "come here!"
At our next stop, another bunch of local men and women boarded, with various colourful packages carried on their backs, wrapped in colourful cloths. Little dark skinned, dark eyed, bushy eye browed faces poked out of some bundles, their little hands reaching out and pulling their mothers or grandmothers long black hair. Every traditional Peruvian woman I came across between the ages of 18 and 80 seemed to lug a baby bundled in colourful cloth with her.
Before we reached our next stop, the cama rocking along the bumpy road, I heard a chirping sound from somewhere on the bus. Staring at the mountains through the window, it continued. The high-pitched chirping kept going and going and I frustratedly thought, "I wish that person would answer their phone! What an annoying ring tone!" It wasn't until a man wearing a bowler hat slid a cardboard box out from under his seat and opened the flaps to reveal a bunch of baby chickens, that I realised how Westernised I am (and how much of an idiot I am!) "Ben, ben!" he purred to them, stroking their fluffy heads. "How strange", I thought, "that on one bus ride, so many animals are called Ben". (Example of idiocrasy number two. Or is it 100?)
The bus rattled along, men gawked at the white woman at the back, babies tugged at their mothers' shirts and hair, men secured their bags of corn or other produce, and I tried to take it all in.
Our next stop. Two teenaged local boys threw an arm and a leg onto the side of the bus, and hauled themselves onto the roof. Before I could think of any reasonable answer as to why they were on the roof, a goat flew past the window, landing on it's side, but quickly propping itself back up and trotting away to graze on some grass. Another goat was thrown from the roof, standing up and happily trotting to join its friend. I stared, open mouthed, and wondered how long the goats had been on the roof, and
when they'd been loaded up there (they definitely weren't up there when I got on!). A dozen more goats were tossed from the roof, followed by the two teenaged boys who waved a "thankyou" to the driver and herded their goats away. The driver waved back, pushed and pulled a few levers and we were chugging along again.
We finally lumbered into Urubamba, my destination. I sighed a relief when I caught a glimpse of an ATM machine, a billboard for Hershey's chocolate and a taxi which actually said "taxi" on it (I didn't realise that taxis all over the world donned this sign. Idiocrasy number 3?).  I hoped off the bus with a "gracias", glad to be back on the ground. This circus of activity would become my daily activities for the next 6 months. I got more and more used to the locals and their strange packages, and they got more used to me. The bus fare considerably dropped over time from 5 soles ($1.50) to 1 sole (30 cents) the "locals fare" (my milestone that I'd "made it" in Peru. I was no longer a tourist).
Six months later, waiting on the roadside for the dust cloud to appear, announcing the arrival of the cama, I'd be chatting to the local men, explaining that I preferred riding the cama because it was a fun experience, but thankyou for offering me a ride. Occasionally, I'd munch on a cool piece of pineapple, but haven't (yet) married any of their sons.
I arrived in Peru, an 18 year old, mobile phone clutched in hand, designer jeans donned and expectations high. Slowly, over time, my valuables would no longer be hidden in secret pockets and money belts, rather left at my host parents' house (which contrary to my initial "third world" opinion, was very safe) and the designer jeans and singlet top were replaced with more comfortable and demure cotton clothes. Arriving with expectations high, I waved a sad "adios" 6 months later, every high expectation met beyond belief.
* * * * *
Kate Reid is a 19 year old studying dentistry on the east coast of Australia. She speaks English, French and some Spanish and loves to travel!
Photo credits:
Woman by roadside: quinet
Urubamba Valley: Julia Manzerova
Bus: andyrooheavens