By Liz Fleming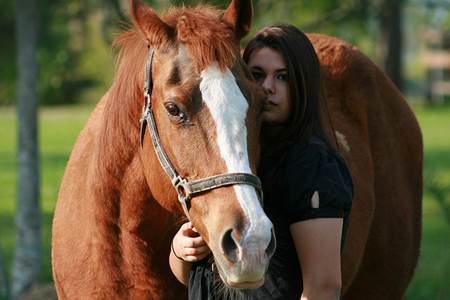 The sweeping, isolated landscape at the Panagea underscores how tiny we humans are. Rolling hills and an endless horizon seem to stretch out forever.
"Riding a horse," says Juan Manuel, "is like having sex. You must do it with confidence and personality."
My previous experience had consisted of trail rides where my horse plodded stolidly in line. Confidence? Personality? Sex? As far as riding went, apparently I'd never gotten past the first kiss.
No worries. Juan had faith and I had time.
Juan Manuel is owner of the Panagea Estancia and Backpacker's Hostel in the heartbreakingly beautiful cattle country of northeastern Uruguay, where I'd come to escape the ordinary. Avoiding the big sightseeing buses and overdone tourist haunts, Intrepid Travel's South American tour offered everything from a Buenos Aires bike tour to an exploration of the "favelas" of Rio de Janeiro. The best stop, however, promised to be the cattle ranch – or "estancia" – visit in Uruguay.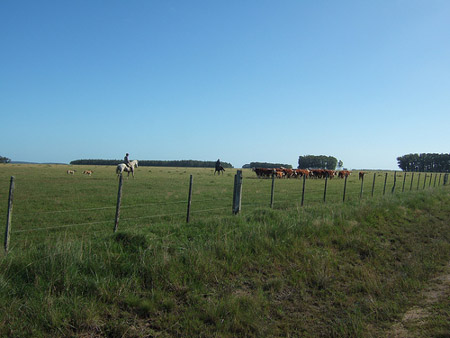 Our small group was prepared for serious adventure, but no one expected the Panagea. The first shocker was the landscape – an isolated, stunning sweep of rolling hills with rocky outcroppings, stretching forever in all directions. I'd expected cows and horses, but wasn't prepared for armadillos scuttling like tiny, crazed tanks through the short grass or ostriches galloping across the plains on impossibly spindly legs. More than once I nearly lost my grip – on the reins and my senses – as I gawked in complete wonderment.
Juan helped me refocus on riding and herding. "The Panagea is a cattle ranch," he said. "The work doesn't stop because we have guests."
We woke each day at sunrise when Juan, wife Susanne and two-year-old daughter Dharma began rustling around in the kitchen. We didn't mind. We'd just had the best sleep of our lives, as far from artificial lighting as if we'd been in our mothers' wombs. There's only electricity at the Panagea for two hours between 8 and 10 p.m. when the generator kicks in – otherwise, it's flashlight or candlelight – and you can forget Wi-Fi.
Frankly, at the Panagea, checking email seems trivial. What really matters is learning to saddle a horse securely so you don't slide like butter off a hot knife. Gauchos – cowboys in Uruguay – add a sheepskin on top of their saddles. It makes for a cushy ride, but if it's not lashed down tightly, the side-to-side rhythm of the horse sends you slip-sliding away. That's the last thing you want when rounding up wayward cows.
Have I mentioned cows are big, stubborn and none too bright? Convincing nonconformist cattle to get back to their herd requires total cooperation between cowherd and horse. Juan assured me my first mount was a star. "Tango is very gentle. You'll be fine," he said.
I was. Tango had a soft grey and white coat and a gentle temperament to match. His silky mane was trimmed gaucho-style, with a longish piece for a handhold. By the time the saddle was on and the sheepskin was in place, we'd bonded like Krazy Glue. A quick lesson from Juan on steering left and right, and we were off. Surefooted even on the rocky bits, Tango knew just how to circle around delinquent cows. To help, I made cow-herding noises.
"Here, kitty kitty," works with cats, not cows, I discovered. Tongue-clicking confused poor Tango so drawing on the "Bonanza" and "Gunsmoke" vocabulary of my childhood, I settled for "Yeehaw!" Miraculously, the cows responded.
As the afternoon progressed, I felt increasingly like a real gaucha (female cowherd). Tango and I were a dynamite team – but not for long. Juan's rule is you never ride the same horse twice. "You'll pardon a simple rancher," he says, "if I suggest your confidence shouldn't depend on the horse you ride. You need to know you can ride any horse and be in charge."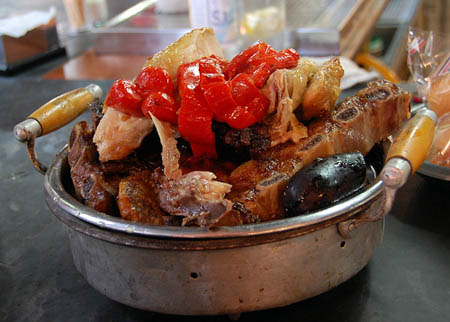 Note: Juan isn't a "simple" anything. A veterinarian and a world traveler who speaks several languages, he's as knowledgeable about politics, art, literature and music as he is about cows and horses. He also knows a thing or two about human nature. "Sunshine," he said, grinning at me as I clung to Tango. "You think you need Tango, but you don't. When you leave this ranch, you'll know you can ride any horse – and ride it well. There are no bad horses – just bad riders."
Juan was right. Each time I heaved myself up onto a different horse, there was a moment's doubt, but soon I'd sink into both the sheepskin and a sense of security. When we weren't riding and herding, we loaded cattle into narrow wooden chutes, sprayed them to keep the flies under control, and watched as Juan and his ranch hand put an end to many young bulls' plans for a sex life. (I won't go into vivid detail. Let's just say that at the Panagea, little elastic bands are used for more than hairstyling.)
By the time, the generator snapped off each night, I'd been riding and herding for hours and had wolfed down three of Susanne's hearty Panagea-style meals – all of which included enough fresh beef, lamb and chicken to feed a hockey team. Deliciously tired, I didn't even mind going out to the well for water to flush the toilet, remembering to step over – not on – the box of baby chicks
Susanne was keeping warm in the kitchen, and closing the door tight to keep out the skunks, the ostriches and the armadillos. Juan and Susanne are deliberately keeping modernization at bay. When Dharma goes to school, she'll ride a pony, not a bus. Technology could make their lives easier, but they won't let it – what they have is too precious.
The Panagea offers a rare opportunity to escape a far-too-wired life, test your abilities and stretch beyond your normal limits. Can you saddle up and ride – with personality and confidence? Work with your hands instead of your computer? Master your fear of horses, cattle and perhaps even of failure itself? The Panagea is one of those places that offers you the chance to find out.
*****
Photo credits:
Woman and Horse: cjwoolridge
Uruguay Estancia: John Seb Barber
Uruguay Cow: John Seb Barber
Sampling Grill Meats: LWY
Gaucho with Horse: Markets Mashup