by Cassie Silva

Little Jesus tugs at my hand, gesturing for me to follow him into the shed.  I look at the boy curiously and allow myself to be dragged along.  At the door to the backyard shed, a mangy dog tied to a stake in the ground leaps to his feet, barking at us furiously from the end of his frayed rope.  Jesus pats the dog's head and he settles down again.  We climb over the dog as we step into the dark shed.  I cautiously pause in the doorway, waiting for my eyes to adjust to the dark.  I am shocked to hear tiny squeaking noises coming from all around us.  Are there bats?  Jesus reaches into his pocket and pulls something out.  He switches it on and I realize he is carrying a small flashlight.  Dust floats in the dim beam as he points it to the ground to show me where the noises are coming from.  I squeal and jump back, as I realize dozens of creatures are scrambling around us on the dirt floor, seemingly running for their lives.  The furry animals are panicking as they race into a corner of the room where they huddle in a pile, their tiny chests frantically rising and falling in fear.   I realize they are not in fact rats, but gigantic guinea pigs.
"Oh how adorable!"  I exclaim, kneeling down to get a better look.  "I had guinea pigs growing up at home!  Snuggles and Snowball.  Hello little guinea pigs!  Hello my fuzzy friends!  My adorable amigos! Don't be scared of us, we're not here to hurt you."  I pull out my camera and snap a few photos of the guinea pigs snuggling with their brothers and sisters.   "Jesus, say hello!"   Jesus giggles.
"Hola comida!" he exclaims cheerily, and skips away.  How sweet.  He said hello to the guinea pigs.  There's nothing cuter than kids and animals together in the same room, I tell you.
Later that night, while sitting down to dine with my host family, I ask Eli, my honorary Peruvian mother, about the animals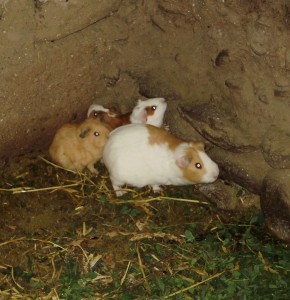 Jesus showed me.  Her eyes light up eagerly.  "Si, nosotros vamos a comerlos esta noche!"  I wish I spoke better Spanish.   She seems so excited, she must be telling me that she really love their pets.  Her husband Neto listens from the kitchen doorway.
"The dog is there so the neighborhood cats don't sneak in and eat the guinea pigs," he explains, before retreating back into the kitchen.  Poor things, no wonder they were so terrified.  I smell something delicious cooking and wonder what's for supper.  The past few weeks of Peruvian cuisine have forced me to step outside my comfort zone, as I've sampled things I never would have considered eating back home.  The night before, I'd tried Alpaca and didn't enjoy the gamey, earthy taste.  The day before that, Eli and Neto had taken me to an outdoor restaurant where we ordered pachamanca — a traditional dish cooked in the earth with hot stones — while a wild deer prowled from table to table begging for scraps.  I'd also tried ceviche (raw fish in lemon juice), lomo saltado (salted beef), papas a la huancaina (boiled potatoes in a spicy cheese sauce), and picarones (sweet fritters).  Some drinks were also new to me, like chicha morada — purple corn juice, Inca Kola — bubblegum flavored soda pop, and Pisco Sour — a popular alcoholic beverage made with grape brandy, egg white, and lemon or lime juice.  Baby goat stew was also a common Peruvian delicacy, but one I wasn't eager to try.  I had a miniature goat at home and was afraid Billy would never look at me the same again if he knew.  Hopefully the family won't serve it to me in their home, as I'd feel obligated to try some to be polite.  "What is for dinner tonight?" I ask politely.
"Cuy!" Eli replies, smiling.  Cuy…that sort of rhymes with muy which means "very".  She must be saying dinner is very delicious!  My mouth begins to water as Neto steps out from the kitchen, holding a large platter.  He proudly places it on the table in front of me and I recoil in horror.  On the plate lies a barbecued rat.  I'm not even joking. Its mouth had been baked open in a silent scream of pain and its sharp teeth jut out at an unusual angle.  I warily poke its tiny paw, where the fur has been burned off but tiny claws remain.  Tears spring to my eyes as realization hits.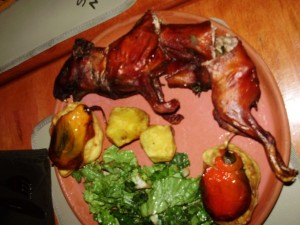 "Snuggles!" I whisper sadly.  Neto steps up to the platter and begins to hack the guinea pig into sections.  He offers me first pick, and I tentatively choose the torso.  Eli and Neto seem to be arguing over who will get the head.  Jesus grabs a leg, and pretends to scratch his back with it, as I look on in horror.  They eagerly watch me now, waiting for their guest of honor to take the first bite.  I slice off an unrecognizable chunk and try not to  think about the adorable animal I am about to consume.  I close my eyes, place the morsel of rodent into my mouth, and chew hesitantly.  It tastes like…chicken!  I always hear people saying things taste like chicken, but this really does.  In fact, it's actually not that bad.  "Es muy rico," I grudgingly admit.  It is very delicious.  It doesn't take long to eat my portion, as it mostly consists of tiny bones without much meat.  I thank Neto and Eli for supper, help clear up the dishes, then retire to my room.  I check to see how much empty space I have in my suitcase as a nefarious scheme begins rolling through my head.
Tonight will be spent plotting and planning, devising and revising.  Operation Guinea Pig Rescue will commence at 0800 hours en la mañana.
*****
Photo credits:
All photos: Author