By April Jensen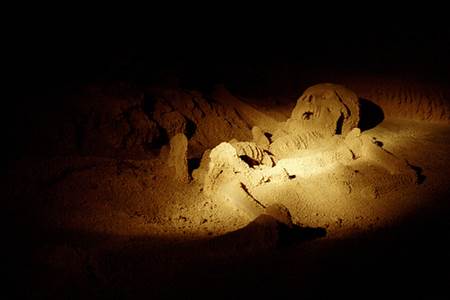 I do not believe in the ghosts of the dead — believing instead that it is by walking in their footprints, reading their words, holding close their memories, that we can be close to those who are gone. That when we stand, quiet and still, and listen with our entire beings, we can hear the echoes of their voices, the echoes of their footprints on this Earth. And in these moments, rare treasures stolen in the quiet, lost places of our world, I feel an awe that I know many would call "spiritual," but that I have always thought of as "human."
One of these quiet, lost places lies beneath the jungles in the Cayo District of Belize. Actun Tunichil Muknal (better known as ATM) Cave is a major archaeological site and, each year, a few tour operators are granted permission to carefully take small groups of tourists through, in an effort to balance protection with tourism. Small groups of tourists — lucky enough to walk in the footsteps of the ancient Mayans — through their sacred places.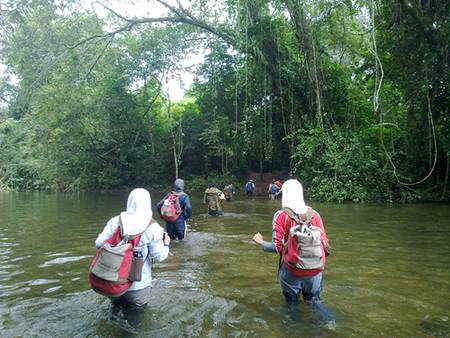 My three friends and I wake early in our jungle hotel, don swimsuits under cargo pants or shorts, and throw on some hiking boots before excitedly devouring our breakfast and coffee. Our tour guide, Saul, arrives shortly with his eight-year-old son in tow. The young boy is almost bouncing off the sides of the van with excitement, understandable considering that, for him, "come-to-work-with-daddy-day" means getting to play Indiana Jones. It is his first time coming along, as his father has decided that he is now big enough to help, and he is all smiles at the day of exploring and adventure ahead.
After a scenic jungle drive, we arrive at a parking lot where we deposit the van and head out on foot, each of us carrying our own gear. Up and down hills and through two rivers, we follow the trail to ATM, pausing along the way as our guide points out plants and animals and proudly regales us with the history of this area and of his country.
At last, we arrive at the top of a staircase, at the bottom of which is a large, open cave mouth full of blue-green water — our entrance. We strip down to our bathing suits, leaving our hiking shoes on, and test hardhats equipped with headlamps. Saul shows me how to secure my waterproof camera to my hat in a way that leaves it easily accessible. Then it's into the water and, single file, we swim into the mouth of the cave.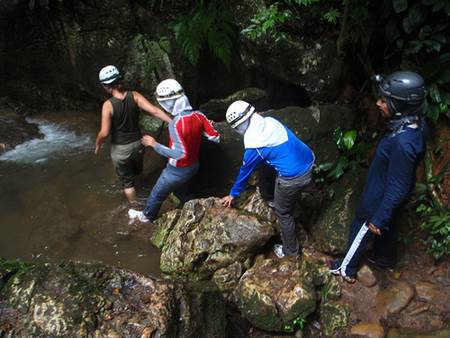 Once inside, the cave is dark and we wade our way slowly, headlamps lighting the way, past glittering walls of calcium and limestone, beautiful stalactites and stalagmites, narrow passages and open caverns. Our guide points out the formations, and the bats hanging far above our heads. We emerge from the water into a large cavern, coming to a large rock, which we are informed we will be climbing. I do not like heights, but we each take it slow and help each other pull ourselves up and onto a plateau, next to a path leading into darkness. It is here that we leave our shoes, and are given careful instructions from our guide. We are told that we will be seeing some very exciting things, but that we must be very careful to stay outside the tape and on the rock paths — touching nothing, taking nothing, and remaining alert and careful at all times.
Single file, we walk along the rock path and into a huge cavern, where we soon come face-to-face with the aforementioned exciting things. Mayan artifacts — pots and bowls — left just as last touched by their ancient owners. They lie in piles or, in some cases, even fused into the rock, mere feet from where we are standing, separated only by tape outlines from us — the trusted tourists. I snap pictures excitedly as our guide gives me a you-ain't-seen-nothing-yet kind of look. By now, he knows he's got an archaeology enthusiast in the group.
Other tourists pass us (I have rendered us the "slow group" due to my gawking and photography), but finally we move along. Saul shares some history about the ancient Mayan civilization, including the fact that it is believed this site was a ceremonial one, and that the ancients would make the same trek into the darkness that we just did, to perform their sacred rites.
Farther down the path, we encounter one of the very ancients who made this sacred trek. Just off the path, mere feet from us are some human bones with a skull resting perfectly on the ground nearby. In awe, I snap pictures carefully while wondering to myself: Who was he? … What were his beliefs, hopes and dreams? … Imagine if he could know that someday, centuries in the future, people would be following his steps down here, snapping pictures with strange devices….
Moving along, we come to what appears to me to be an extremely high ladder leading infinitely upward into darkness. I do not do well with heights, but I can tell that our guide and the tourists in the other groups are getting increasingly excited. There is something up there that I don't want to miss. I steel myself and make my way up the ladder. Luckily for me (and to which others who fear heights may also be able to attest), going "up" the ladder is not usually the problem.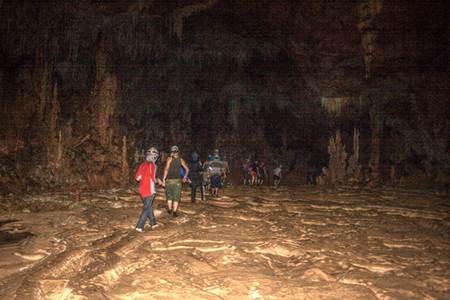 At the top, I pull myself up onto the rock, look down to see my friends on their way up as well, and begin to follow the echoes of excited tourist voices ahead. Reaching them, I look past to see the most spectacular archaeological treasure of ATM Caves — the "Crystal Maiden" — a fully intact skeleton of a teenaged girl lying on her back. Her bones have crystallized over the centuries and they glitter in the light, hence the name.
Innate human compassion makes me want to turn away out of respect, as I feel the pang at seeing a fellow human frozen on display in such a vulnerable state. Who was she? What were her last moments? Was this childbirth? A sacrifice? A rape? I feel a somewhat irrational guilt as I snap pictures and stand in awe at the scene, as others do the same. Like a futuristic intruder viewing someone's most private last moments from across the centuries.
Eventually, we make our way back, encountering the ladder that I had so conveniently forgotten in my excitement. My friends easily make their way down (including one friend — a truly intrepid trooper — who has made the whole trip with a fractured arm). Then it's my turn, and I realize that my brain has lost its ability to command my muscles. Reason tells me "the only way out is down — you must," while fear and self-preservation instinct tell me "this is dangerous — get away." At war, my body begins to shake and I fight down panic. Our guide, experienced in such things, shouts simple instructions like "move your left foot to the third rung." Broken into simple commands like this, I am able to respond and make my way down. I am grateful for his skill, as otherwise I may still be up there, adding a more recent, Canadian artifact to ATM's collection.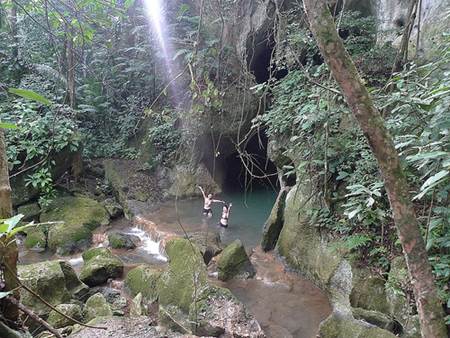 We make our way back out, past the plateau where we collect our shoes, down the big rock, and out of the caves by a different route. At one point, we crawl through a narrow opening in order to slide down a mini-rock-waterslide. At another, we jump from a rock into the water. As a final treat — during the last stretch — our guide orders us to extinguish our headlamps, hold hands, and make our way in total silence through the darkness, imagining what it was like for the ancient Mayans who made this trek so long ago. I feel again the sense of awe that has been with me for most of the day, and it fades slightly, but not completely, as we emerge out into the daylight.
To walk in the footsteps of those who lived before me, and to stand in silence and ponder their lives and last moments, inspires an awe that drives home everything it is to be human and connects us from across the ages. It is here, in the quiet, lost places of the world, that we can hear the echoes of the voices and footsteps of those long gone, echoed — from across the centuries — in our own.
*****
April Jensen is an IT Professional and life-long traveler, currently living in Calgary, Canada. She loves writing, photography, learning, and adventure, and can frequently be found plotting her next trip.
*****
Photo credits:
The Crystal Maiden: Antti T. Nissinen via Flickr
Trail to Actun Tunichil Muknal: Antti T. Nissinen via Flickr
Entering Actun Tunichil Muknal: Antti T. Nissinen via Flickr
Artifacts in Actun Tunichil Muknal: Beth and Anth via Flickr
Inside Actun Tunichil Muknal: Antti T. Nissinen via Flickr
Swimming at Actun Tunichil Muknal: Beth and Anth via Flickr