by Annika S. Hipple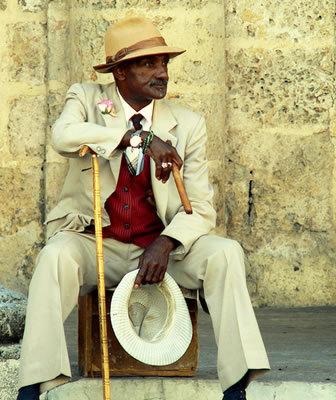 "Which hotel are you staying at?" The immigration official at Havana's José Martí International Airport puts down my passport and peers at me through the glass of his booth.
"I'm not staying at a hotel," I answer unsuspectingly. "I'm staying with a friend."
"Where does your friend live?"
Reluctantly, I admit, "I don't know." Junior, my Cuban friend, is meeting me at the airport and has made all the arrangements.
"Well, what does your friend do?"
"I don't know." I can hardly explain that Junior is a political dissenter who is back in Cuba only until he can straighten out his immigration status in Sweden, which is where I met him.
"You know, tourists aren't allowed to stay in private homes with this kind of visa. You need a different visa."
"Why didn't they tell me this at the embassy in Stockholm?" I am starting to get just the teeniest bit nervous. What will I do if I can't get into the country?
The official shrugs. "You need to go to the immigration authorities within three days to get a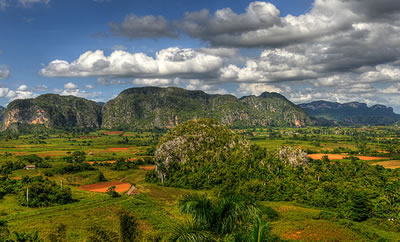 new visa." When I continue to grumble, he finally says, "You could have just written the name of any hotel, but you were honest with me, so I am going to help you." He pauses. "And maybe you can help me too."
It is a blatant hint, but I play innocent. "How can I help you?"
"I don't know," he responds. "I have a daughter…."
I fumble with my wallet and pull out a twenty-dollar bill. "Might this help you?"
A swift nod, and the money disappears behind the glass and into his pocket. He scribbles the name of a hotel on my visa, and I am allowed into Cuba.
Cuba. Land of baseball, pulsating rhythms, cigars and rum. Fidel Castro's island of communism in the tropical paradise of the Caribbean. A country that many are desperate to flee, but one that retains a powerful hold over those who leave. A land of countless myths and propaganda campaigns. Which is the real Cuba? I am hoping to find out.
A few days after my arrival, Junior and I make the four-hour bus trip to Viñales in western Cuba. The landscape grows steadily less flat as we travel west from Havana, until finally we wind around hairpin curves into the Viñales valley, a panorama of green fields, red earth, thatched houses and cliffs called mogotes that rise straight from the valley floor. The town has only a few streets, a gas station, a cafeteria or two, a bank, a small library, a basic clothing store and a small bookshop. A general store carries an eclectic array of merchandise: screws, men's underwear, spandex shorts, rum and straw hats. There are two butcher shops, both empty.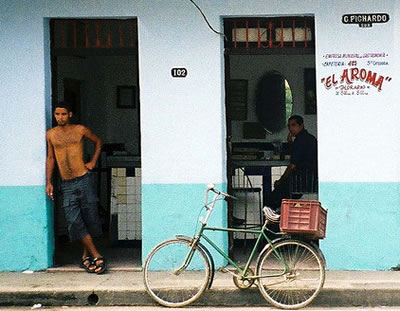 When we get off the bus, we are immediately surrounded by people offering us places to stay. A chatty young woman named Loly takes us to a house where elderly Clara lives with her daughter, Clarita. The paint on the house is peeling badly. "The government has promised us new paint," Clara says, "but we've been waiting for years and it never comes."
In fact, time seems to have stopped in Viñales. In a field just outside of town a group of men is thatching the roof of a new house with palm fronds, which, once dry, will turn a dark gray color and become as waterproof as shingles. Farmers wearing woven straw hats plow their fields with oxen and hand plows and ride through the town in horse-drawn carts. In the evenings, there is little to do but sit on a doorstep and watch people go by.
Loly is eager to offer us further assistance. "Do you want to rent bikes, or horses?" She manages to find us two bicycles, and the following morning we get up early and ride to the hotel La Ermita, on a hill just outside of town. The view from the terrace takes in the entire town with the mogotes as a backdrop. Fortified with a substantial breakfast of eggs and toast, we turn our bicycles south through the valley, eventually arriving at the Mural of Prehistory, an enormous depiction of prehistoric humans and animals painted in vivid colors on the side of a mogote.  Commissioned by Castro, it seems strangely incongruous in the peaceful, isolated valley.
Back in Havana, echoes of the city's past life as the glitzy playground of the western hemisphere linger, not quite erased by the reality of communism. Elegant hotels like the Hotel Nacional and the Habana Libre (formerly the Havana Hilton) once served North American gamblers and mafiosos and still cater to foreigners seeking sun and excitement. Shade trees and grand estates line the avenues where Havana's elite used to live, but the mansions now house multiple families in cramped, arbitrarily divided apartments. Money for maintenance is scarce; peeling paint and cracked walls mar houses that must once have been magnificent. We walk under balconies with some trepidation, as many look ready to collapse at any moment.
At the Plaza de la Revolución stands an enormous statue of José Martí, considered the father of Cuban socialism. On the wall below the statue big red letters proclaim: "¡Venceremos! We will triumph!" During his many decades in power, Castro has often addressed the Cuban people from this site. Facing Martí across the plaza is a large fresco of Ernesto "Che" Guevara, the Argentine who became one of the leaders of the Cuban revolution. These two men, Martí and Che, are revered — at least officially — throughout Cuba. Every town has a statue of Martí and at least one picture of Che painted on a wall or billboard.  An official propaganda ministry paints revolutionary slogans on walls throughout the country.
Capitalist activity is on the rise in Cuba, but because of the strict permit system and lack of support for individual initiative, it is mostly small-scale or black market. The Cuban peso doesn't stretch very far. Many essential items, such as soap and toilet paper, are available only in "dollar shops," which also stock a random assortment of foods, including soda, bottled water, canned hot dogs and pork, and a variety of cookies and biscuits. Bread and a watery yogurt are available in some shops, but often run out. At these shops, prices are comparable to the U.S. or Europe — even though Cuban salaries are not.
Junior and I have an altercation with a guard at one dollar shop. Junior waits outside while I go in to buy bottled water. As I exit the shop, he pulls out his camera and photographs me in the doorway. Immediately a guard comes up and informs us that photography is not permitted.  Apparently the government is afraid that such photographs might be used as negative propaganda.  When we ask why no signs are posted telling people not to take pictures, we are told that such signs would give tourists the wrong idea. Our point that being accosted by a guard after the fact is not likely to make a positive impression either elicits no response. Eventually we are allowed to leave with our "propaganda" picture intact.
A couple of blocks down the street we pass a bakery. The shop will not open for another hour or so, but already at least thirty people are waiting outside. They know that unless they arrive early, the bread might run out before they get any. I snap a photo. Here, where ordinary Cubans shop, there is no guard keeping vigilance against propaganda.
Behind the Hotel Nacional, in a park overlooking Havana Harbor, Junior and I meet Isolina from Santiago de Cuba and her daughter Marisela, visiting from Spain. They are taking pictures of each other, and I offer to take one of them together. When I mention that we are going to Santiago, Isolina immediately invites us to stay with her. Amazed at the generous invitation, we write down the address.
Later in the week we take the overnight bus to Santiago. Every two hours or so, the bus makes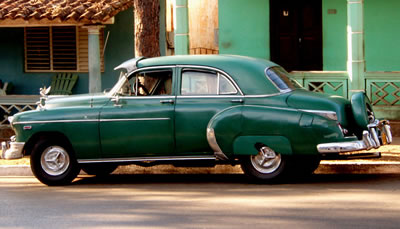 a rest stop at a provincial bus station to allow passengers to use the lavatory, stretch their legs and perhaps buy an orange or a sorry-looking cheese sandwich. "Ten minutes!" the driver warns, but the ten minutes invariably stretch into twenty, even thirty. We become well acquainted with the bus stations in all the major towns between Havana and Santiago. The bathrooms rarely have working toilets or sinks, the doors to the stalls do not close, and there is no toilet paper, but there is always an attendant to collect a few cents from each user.
After a fifteen-hour trip, we finally arrive at Isolina's house around mid-morning.  It turns out her train has broken down on the way from Havana, but her husband Miguel makes us welcome.  When Isolina returns later in the day, she greets us with big hugs, like old friends. We end up spending three nights at their house.
Up the hill from Miguel and Isolina's house stands the Cuartel Moncada prison, which Castro and his followers attacked on July 26, 1953. This action ended in defeat, with most of the rebels killed in the attack or executed afterwards. Castro was captured a few days later and imprisoned for several months. His revolution later took its name, the July 26th Movement, from this event.  Since 1959, the Cuartel Moncada has been used as a school, but the bullet holes are still clearly visible in its bright yellow walls.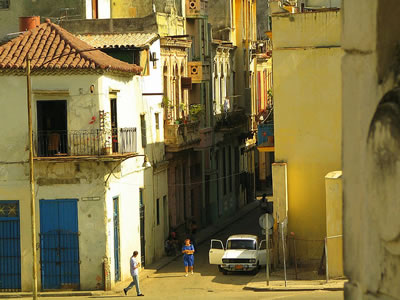 Despite Cuba's widespread shabbiness and obvious poverty, I never see ragged children selling flowers or shining shoes or begging for money, as they do elsewhere in Latin America. But I am often surrounded by children asking for the things they can't always buy even if they do have money. On a steep Santiago street, two boys ask me for "chicle" (gum) or pens. I have only my camera and a bottle of water. "Gracias. Que le vaya bien," they respond. "Thank you. Have a good day." Their politeness makes me vow to bring extra pens and candy if I ever return to Cuba.
I have another encounter with children in Santiago's Santa Ifegenia cemetery, the final resting place of José Martí and rum-baron Emilio Bacardí. Though located just off a busy street, the cemetery seems worlds away from the bustle of Santiago. Flowers add splashes of color to the white marble, and the Sierra Maestra mountains form a blue-green backdrop. Some small boys are playing among the tombs, chasing each other with toy swords. When we appear, the boys immediately approach, asking for candy or toys. "What do you have in your bag that you can give me?"one boy asks sweetly. Once again, I am forced to disappoint, but the boys thank me, and one by one they file past and kiss my cheek, all seven or eight of them. As we leave we pass the boys again. "Adíos!" they call cheerfully, waving goodbye.
On our way back to Havana, we visit Junior's hometown, Caibarién, on Cuba's north coast. We stay with his grandmother, Olga, in her one-room house, which she has divided into a tiny kitchen, a sleeping area, and a small living room. Junior's sister Lizandra sleeps in a loft upstairs. The house is old and full of yellowed books and dusty papers, including a fading picture of Che Guevara tacked up on the wall. There is no running water. We buy soap and laundry detergent for Olga, who can't afford them and has been washing clothes with dishwashing liquid. Despite her brother's stories of the good life in Europe, Lizandra has no desire to leave Cuba. In fact, she is hoping to be called to an interview for a job at one of the new international resorts being developed on the islands just offshore.  She is optimistic that tourism will bring increased prosperity to her family and to Caibarién.
My final days in Cuba are, appropriately for a country in which people seem born with rhythm, largely devoted to music. In Trinidad, a pretty colonial town on the south coast, we watch the rehearsal of a local Afro-Cuban dance troupe and listen to a five-piece band that has set up amongst the booksellers on a narrow cobblestoned street. The following night we head to the Palacio de la Salsa, Havana's best-known disco, for a concert by current salsa star Paulito F.G.  The energy is palpable and the enthusiasm great, though it is clear that only wealthy Cubans can afford the $20 tickets.
On my last day, we take in a concert of a different kind: a rare performance by folk singer Pablo Milanés in a Havana park. This concert costs only fifty cents, and the courtyard is packed. More people line the street outside, peering in through the fence. Suffering from a degenerative bone disease in his hip, Milanés remains seated as he sings his most enduring, beloved songs. The crowd is ecstatic. Yolanda, Yolanda, eternamente Yolanda. Everyone knows the words and sings along. It strikes me that this is the real Cuba: a country of many challenges, innumerable contradictions, and endless bureaucracy, but also of warm, generous people with a strong spirit and an unquenchable love of life. Perched precariously on a mound of dirt, watching Milanés and his adoring fans, I hope I'll be back.
* * * * *
Annika S. Hipple is a freelance writer, editor and photographer specializing in travel, environment and international development. She's backpacked alone through parts of Latin America, Africa, South Asia, and Europe, and has driven across the U.S. four times (two of them alone). A dual citizen of the U.S. and Sweden, Annika also leads trips around the world as a freelance tour manager. Check out her travel column at Seattle International Travel Examiner or visit her website for more about her writing and travel photography.
Photo credits:
Cuban man: Leshaines123
Mountains: Romtomtom
Bar: malias
Car: cubanjunky
Havana: ilkerender