By Lisa McCallum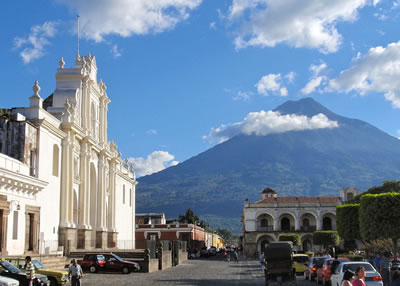 The hulking green army truck pulls up in front of the café like an angry elephant–belching and crushing and stomping. I'm humiliated when people on this main street in Antigua turn to stare–like, "Who's going to ride in that thing?" But it's me, and even though I paid money to tour a coffee plantation, I don't want to climb into this beast. When the guide hops down and looks around and asks me, "Coffee tour?" I want to shrink. He's my height, thin, with the delicate features of a child.
I quickly answer, "Sí," still hoping the young Americans on the sidewalk will join us, but they just look up at us in amusement; they are waiting for something else. The guide says I am the only one today. Why do I have to be alone when I booked a group tour specifically to avoid being alone on my birthday? The fate of travel plays out in inexplicable ways–empty hostels on the backpacker trail just when you feel up for a chat, restaurants filled with families and couples engrossed with themselves, so-called group tours that end up being private. I wanted the company of a group but will have my own private coffee plantation tour instead. Such is the nature of solo travel.
The guide introduces himself as Pedro and we climb up into the truck that will take me to discover the secrets of coffee. Remember–I chose this over the Volcán Pacaya lava tour, which would have consisted of scrambling over scorching hot rocks all afternoon just to brag that I'd walked on lava. Thought I'd learn something instead, I remind myself self-righteously, recalling my hostel-mate's burned legs. As he starts the truck up, Pedro asks me what I'm doing there, what I've seen so far in his country, and what language I want to speak with him. I tell him "Los dos"–Spanish and English– so we both can practice. He's nice, he's friendly. He tells me that he has a wife and small son at home and I'm relieved. There's a phenomenon
that often occurs when a foreign female is in a space alone with a local man. I hope it won't happen today. Please don't ask me out, I pray. Just give me the tour, but don't ask me out.
We drive past the village of San Felipe, practically a suburb of Antigua, where farmers in jeans saunter and women in long, tightly-swathed skirts waddle along village roads leading home. The army truck lurches and chugs along, belching gray smoke and making the passersby stare even though I'm sure they've seen guides drive this beast back and forth numerous times before. Pedro shouts background information about the coffee plantation–the finca–that I cannot hear but I nod anyway. Suddenly, we enter through gates with guards holding machine guns on alert for coffee robbers. They smirk at our truck designed for ten but filled with only Pedro and me.
As we roll into the parking lot, the drops begin. Pedro jokes about the rain; it's a daily thing this time of year, and he grabs an umbrella from underneath my seat. I put on my jacket and bury my backpack under it. We rush like two children to a greenhouse where Pedro proffers delicate baby plants and leftover berries for me to examine while he explains in English and Spanish how the plants start out here and eventually end up as coffee trees out in the plantation. There they produce the berries that people in America love to drink. Of course, he drinks coffee too, and he appreciates a fine cup. "But many Guatemalans drink instant coffee," he admits.
"Because it's cheaper?" I ask, hoping he won't be offended.
"Yes. They cannot afford to buy the good beans American people buy and grind at home." Pedro is not offended. "The soil is reason. The volcanic soil make the coffee plants best in the world." His English is good, but not perfect. Like most people speaking English as their second language, he drops off sounds and words that don't change the main idea. I nod without correcting him; I don't want to make him self-conscious. Besides, I've taken my teacher hat off for this trip.
"In the world?" I ask.
He nods. "Sí, sí." You will taste later." His dainty fingers pull a sprig from one of the baby coffee plants and places it in my palm. A souvenir, he says, even though we both know it won't live long.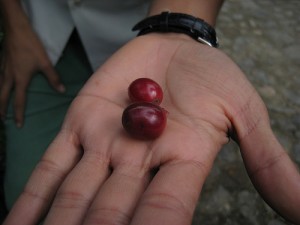 Pedro leads me to large cement bins, empty now of water, where the berries are rinsed and the bad ones pop up to the surface and are thrown away. The good ones are forced through gigantic roasting machines made in Germany. We walk through the building and he greets the lead roaster, introducing me like his date while the workers look me up and down and then return to work. It seems a little incongruous to have German machines in Guatemala, but, "this finca was started by a German and the German roasting machines work the best," Pedro says. The workers go back to work before we've even left the room.
Our final stop on the tour is the tasting room where he flips on the lights. We are alone in the room that resembles a kitchen on a filming set that is shut down for the night. No one is around. It's a little spooky.
"Here are the coffees we export." Pedro shows me around the tasting room with its bags of coffee on display and jars of coffee beans of various shades. He describes how the chief taster sits at this table and might taste a hundred different spoonfuls of coffee a day. Even though he spits them all out, he still has the energy of a jackrabbit. We laugh, picturing the taster sipping, spitting out, and going home to his family all wired because a miniscule portion of the caffeine from each sip slipped down to his stomach. "His wife wishes he stop tasting coffee and become more…"
"Mellow?"
"Sí, mellow." Pedro repeats the word like he has heard it before but had forgotten it.
For our final stop, we retreat downstairs and sit in the café to sip the bitter coffee of the land outside. I drown mine in sugar while he drinks his straight. He asks me questions in Spanish and I answer, but switch to English when they are too hard. We smile often at each other, delighted in the coffee. It's like an elixir, I want to tell him, but don't, not wanting to explain the meaning of 'elixir' if he doesn't know it. Part of me wants to tell him that I fell in love with coffee in Austria, where the thick, brown liquid meshed with a dollop of foam to form a mélange and I sat at outdoor cafés most of the day trying to look like a native. But I keep my memories to myself and force myself to focus: He's telling me who comes here (both locals and travelers) and where the coffee is exported (America and Europe).
I'm still sipping my sugared coffee when the barista sets a cappuccino in front of me whose white foam has a beige heart drawn on its center. "Como bonito!" we say together and I joke, "You can give one like this to your wife." He laughs and says she doesn't drink coffee. While he works here, showing foreigners around the finca, she stays home with their son. What does she do all day while he's sharing this world with strangers? I wonder. Pedro interrupts my thoughts and asks me, "Do you like beer?"
I answer, "Sí."
"Have you try Gallo beer? The one with the gallo–rooster–on it?"
"No."
"I can't believe you never try Gallo beer! It is the best beer in the world!" He certainly has a lofty view of his country's beverages.
I nod and promise like a child, "I will try it before I leave Guatemala." I'm relieved when he doesn't suggest getting together to sample some Gallo, then immediately feel silly for doubting his intentions.
It's still pouring rain as we climb into the truck for the journey to Antigua. The road is washed out, trees are ready to collapse, and mud and water are oozing around us. Now I am grateful to be in the hulking green truck as we plod along, dipping and diving along the gravel road swathed in mud, grinding up to the gate. The guards with their guns stare out from their booths in wonder at the downpour. "It really is rainy season," I comment sarcastically.
Pedro says, "Sí. This is the worst rain I see in ten years. It should no rain this much. Is increíble." Fortunately the truck is able. Pedro guns the motor and we plow through the gate, leaving the guards behind. In San Felipe, people are scurrying home before the water's so high they can't walk. The wipers on the truck can't keep up. I wonder: Will we reach Antigua alive? This is the closest I've ever been to a flood. It's terrifying to think that I might not get back to Antigua because of a mudslide. Pedro is more confident, though.
"Do you want me to drop you off at your hotel? Is that better than the main square?"
"Yes, please," I answer, glad to be saved the trip of walking several blocks in this downpour. "Where are you staying?" I tell him. He knows the hostel. It's a backpacker joint in the Lonely Planet with a surprisingly nice receptionist and travel agent that arranges Volcán Playa tours.
"Which room?" he asks.
"Excuse me?"
"Which room you stay in?" he asks nonchalantly, as if sharing one's hotel room number is common practice here.
I hesitate. "I don't know. Why?" I honestly don't remember my room number, but I wouldn't tell him anyway. What an odd question.
"Perhaps we can drink Gallo beer together there later." Suddenly I feel a mixture of confusion and sadness: he has done exactly what I had prayed he wouldn't. Did I give him the impression that I wanted to get together with him later? I highly doubt it. I was friendly but not too friendly.
I picture his family at home, waiting for Pedro to make it out of this storm safely. Hemming and hawing, I tell him I don't think that will be possible; I am busy tonight. "And your family is waiting for you," I remind him. He nods silently. Did he forget he's married? The atmosphere in the truck turns a little colder as we navigate the last few blocks to my hostel.
We reach the front door just when the rain is letting up. I plaster on a tiny smile and thank him politely for the tour. "Buenos tardes," we tell each other. Pedro wishes me a "Buen viaje" for the rest of my time in Guatemala. He's not my friend or my date. He's a local guy who's married. Things like this happen all the time, I know, but I'm disappointed in Pedro.
I cautiously step down from the green beast and push open the hostel door where backpackers are milling around and checking their email. Trying to put the awkward moment with Pedro out of my mind, I turn to the receptionist.
"Perdón, do you know where there is good cake around here?"
I follow her directions toward the main square. The rain has lessened considerably, the cobblestone streets are glistening, and the bombed-out stone ruins of Antigua's churches glimmer in the subtle, late afternoon sun. Tonight I will eat cake. Tomorrow Pedro will give another foreign girl a tour of the finca. He will take her into the greenhouse, tenderly place baby sprigs of coffee plants in her hand, sip a heart-topped cappuccino with her, and ask her if she likes Gallo beer. I wonder what she will say.
* * * * *
Lisa McCallum is a writer, traveler, and teacher of English as a Second Language to adult immigrants and refugees in the Twin Cities.
Photo credits:
Antigua: John Pavelka
Window: John Pavelka
Coffee berries: t-dawg
Coffee heart: litlnemo
Building at night: marinakvillatoro