by Mandy Huggins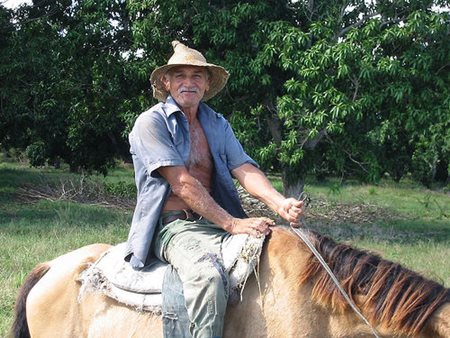 In the midday heat, we slow down alongside a rugged cowboy with a handsome moustache. His dusty felt hat is tipped low, and he sits astride a dappled mare, leading a long-legged gelding. The gelding shies, and he tightens the rope. For a second our eyes meet, his expression inscrutable.
We are heading out on an adventure across Cuba with our newfound friend, Sandro, acting as an unofficial guide. Our starting point is the main motorway out of Havana, which is filled with a straggling mix of horse carts, cowboys, bicycles and cars. Speed appears to be dictated by the heat of the sun, and no one is in a hurry. The Russian-built carriageways are straddled by crumbling bridges that lead to nowhere. "The money ran out," says Sandro, shrugging.
The bridges now serve an alternative purpose – providing shade from the sun for locals waiting for a lift. With fuel in short supply, they rely on a government car-share system.
I suggest to Sandro that it would be truer to the spirit of the revolution if all the half-filled tourist buses stopped for passengers too. "We will ask Fidel to arrange it!" he says, nodding enthusiastically. This reply is fast becoming his stock response to any difficult question: diplomatic, yet offering nothing tangible.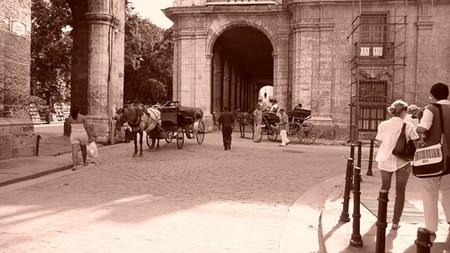 In the capital, we realized that it would be a difficult task to reveal the heart of this island. Havana feels like a city that is hiding its soul under layers of vibrant decay. Anxious for a closer encounter, my friend and I have taken up Sandro's offer of a room at his brother's house. It is not an official casa particular, although he often lets the room to supplement his income from fishing. We are only too aware that if he gets caught, the danger here is not for us, but for Ermano. The government doesn't like to miss out on lucrative tourist revenue.
His casa is in Cojimar, the sleepy fishing town that Hemingway frequented and immortalized in "The Old Man and The Sea." As we cross the dusty street to the house, I catch the insistent whisper of the ocean, and hear infectious laughter drifting out from a neighbor's window. Long shadows stretch out like animal skins drying in the afternoon sun, and bright sunflowers bow to us at either side of the terrace.
Sandro's sister, Angella, rushes out to greet him. She is almost fifteen, and will soon be celebrating this important birthday with a traditional quinceañera party. Her cousin has just arrived for a fitting of the lavish white dress that Angella will wear to parade around town. She twitches impatiently as Tanya pins the seams, and shows me the fashion magazines that were left behind at the hotel where she works. She gazes wistfully at a well-thumbed picture of a Versace dress.
Restrictions create possibilities, and whilst Tanya creates new dress designs, re-using old fabrics wherever she can, Ermano grows tomatoes and lettuce in his huerto, or kitchen garden, which he sells alongside his fish and his spare room.
When dusk falls, we carry food out onto the terrace: fresh fish, cooked with limes, accompanied by generous plates of rice. As we sip mojitos prepared with homegrown mint, I suddenly yearn for this deceptively simple life –Â a sack of beans, a sun-bleached chair on the terrace and cool tiles under my feet. I feel as if I have come home.
But I know that my romantic notion of a modest life is not the same as living it day in, day out, through necessity.
Ermano smiles at my dream, and confirms something that I have always suspected. "The endurance of our revolution? Maybe because we have the sun…"
"And the music?" I suggest.
When we leave for Santa Clara the next morning, Ermano hands us bags of guava fruit for the journey. At our first roadside stop, we sit on steps in the shade and eat the overripe fruit; the sticky juice running down our wrists. A bee hummingbird alights on a flower close by; the smallest bird in the world and the first one we have seen. We stay stock still, thrilled by our close encounter with this tiny iridescent creature, smaller than my thumb.
Like the hummingbird, Cuba becomes more beautiful the closer you get, even if she remains tantalizingly just out of reach. And after our stay at Casa Ermano we know that we have met a family we can count as friends.
On a sudden impulse, I buy a Cuban flag in the roadside shop. Sandro's national pride is written wide in his joyful grin when he sees my purchase. For a moment, he almost takes personal credit for my allegiance.
"I am proud to have made you love Cuba," he says. But then he remembers himself. "I asked Fidel to arrange it!" he adds.
*****
Mandy Huggins lives in Yorkshire, England. She writes travel articles and short stories, and her work has appeared in various national newspapers and magazines. She has also achieved success in numerous writing competitions, and won the British Guild of Travel Writers' 2014 New Travel Writer Award. You can read some of her other work on her blog, Troutie Mcfish Tales.Â
*****
Photo credits:
Cowboy in Cuba: Barnaby Dorfman
Havana: Patrick Nouhailler
Hummingbird: AnnCam