By Joanna Johnson Madden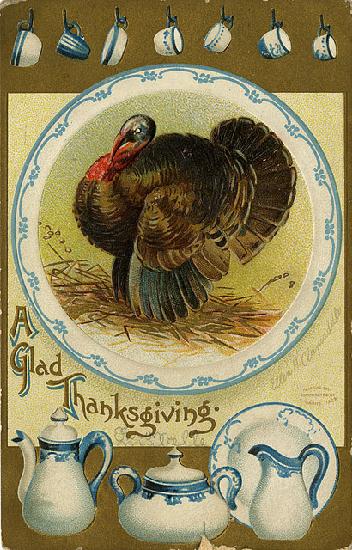 I've heard of people who, if presented with an option, would choose to receive their meals in pill form. For them, food represents nutrition and nothing more. I do not understand these people.
I love to eat. I love familiar flavors and strange new concoctions. I love the way a shared meal sometimes turns into an intimate experience. Food holds such possibilities beyond simple sustenance. As people, we connect through what we eat. Accordingly, I felt no surprise when, nearly as soon as our group of twenty-three volunteers arrived in country, Paraguayans and North Americans both asked us the same thing: what do you eat there?
It took about a week and a half to develop a first hand account for our friends and family back in the United States describing how most Paraguayans dine. Although immigration to Paraguay does exist, years of isolation have led to a fairly homogenous food scene. Across the country, many tables favor beige meals with a lot of starch. We eat big lunches and treat breakfast and dinner more like snacks.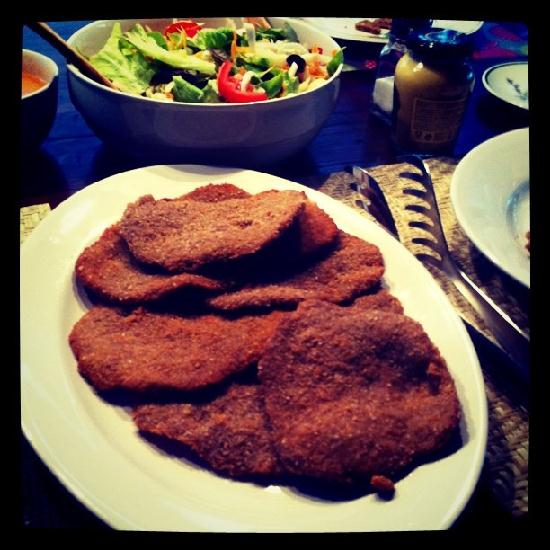 Staples include vori vori (a chicken or beef soup with balls of cornmeal), milanesa (chicken or beef pounded thin, breaded, and pan-fried) and empanadas (although beef and hard boiled egg dominate, I prefer the ones made with sweet corn). Mbejú (a gooey thick pancake made of mandioca flour, egg and cheese) tastes better warm when served with cocido (a sweet hot drink made using smoldering carbon to caramelize sugar then mixed with yerba–think tea leaves–and milk). I've yet to see a table set without pounds of mandioca (an uber-fibrous cousin to the potato; skinned, boiled, and served cold). Everyone's mom makes the best Sopa Paraguaya in town (an unsweetened, dense cornbread with a slightly sour and spongy cheese mixed into the batter). Menus rarely vary from week to week.
As testament to this sameness, we've heard other volunteers actually squeal upon learning that, thanks to a small pocket of Ukrainian decedents living in our town, we get to eat borsht on special occasions. Since when does the prospect of beets inspire envy?
Answering the same question for Paraguayans proves more troublesome. People call the United States a melting pot for a reason. Our citizens come from all over the world and everyone brought dinner with them. How do you summarize the favorite foods of 307 million people? Only one meal makes this question simple: Thanksgiving. Though each family may bring something special to the table, nearly all of us can agree on a core menu: turkey, stuffing, sweet potatoes, cranberry sauce, and pie. Even vegetarians call it turkey day in shorthand–some molding tofu into bird shapes for the occasion.
And yet, whatever brief relief we may appreciate in finding an easy way to describe the American food landscape, the event itself comes as bittersweet.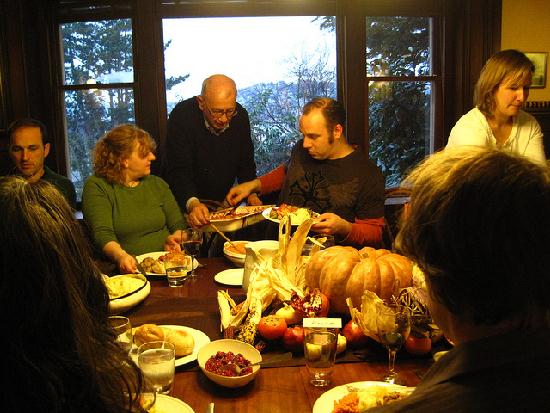 With the holiday season in full swing, some of us had started to feel the sting that comes from living in a different hemisphere than our friends and family. 4th of July and Labor Day BBQs–even our own birthdays–have passed without too much notice. But Thanksgiving, something about Thanksgiving sneaked up and made us realize just how far away we now live. In an effort to combat the distance, my husband and I left our suburban home in the south to met up with a handful of other volunteers to share Thanksgiving dinner.
Meal planning for an American dinner gets complicated in a country without American products– or an American palate. Intent on making our meal as homey as possible, we hunted for some ingredients and substituted others. Artichoke dip featured hearts of palm. We switched out molasses for dark honey. The iconic turkey dinner turned into a stuffed chicken. In a pinch for a traditional dessert, another volunteer's parents generously shipped down Karo syrup, pecans, and pumpkin puree. We only had one rule: in the true Paraguayan style, we wanted a relaxed Thanksgiving. Side dish gets burnt? No big deal. Pie doesn't set? We'll eat it anyway. Intense tranquiloness or nothing.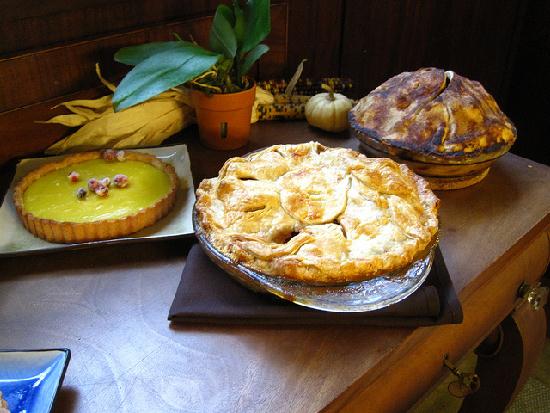 Finding vegetables and cheese in smaller Paraguayan towns can get tricky (if not impossible), so we stopped for supplies at a supermarket in the capital city before heading north. Although we picked up most of our ingredients in Asunción, we still needed to procure a few items–including our chicken. A few glasses of wine and coke (Ii Paraguay, this mixing felt somewhat blasphemous at first, but it only took one glass of chilled cabernet mixed with pineapple flavored Niko soda pop to win me over) helped us determine that rather than buy a bird ready to go, we would kill one ourselves. Somehow, this made our Peace Corps Thanksgiving feel more legitimate.
The following morning, certain flaws in our plan emerged as the alcohol wore off. None of us had ever killed or cleaned any animal for consumption. Ultimately we decided to leave this step to the professionals and ordered our prepared chickens for delivery. During siesta, the chicken man arrived with the birds–wings flapping and hearts beating. Evidently, the fates liked our drunken plan better than our sober one. In over our heads, we reached out to a neighbor to guide us through this endeavor.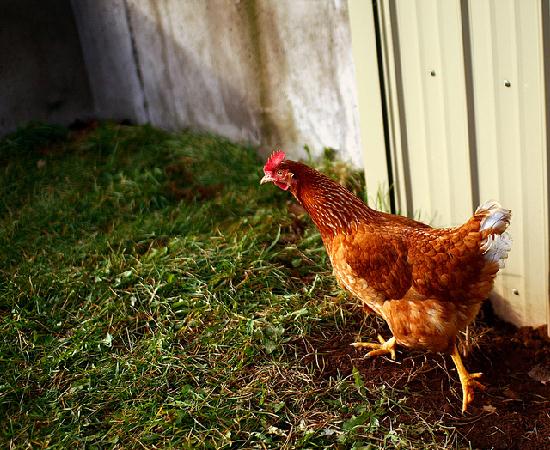 While some prefer the faster (and potentially more humane) machete method, our teacher opted to use her bare hands–and expected us to do so as well. Believe me, this is way more challenging than it sounds. A spirited chicken does not become dinner without a fight, even after paralysis. In the end, our coach took care of two of the three birds. She did the dirty work and left us to clean the carcasses (also dirty work).
After a bit of hullabaloo (including the mayor's entire family popping in as we set the table, sending us scrambling for more plates and forks), the roasted stuffed chickens eventually wound up center stage on our citronella candle light spread, in between the mashed potatoes and the most delicious Sopa Paraguaya in San Pedro.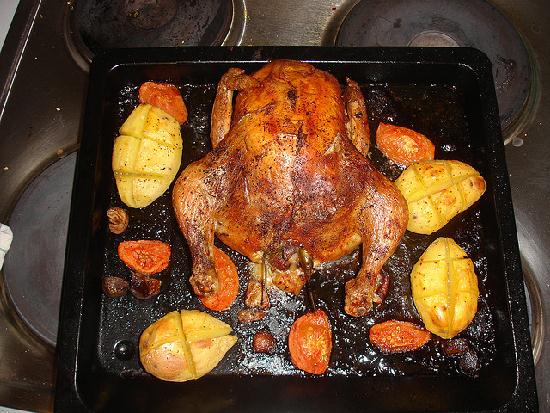 Peace Corps service requires patience, flexibility, and often a little ingenuity. Whether finding funding for a project, walking teenagers through a business plan, or furnishing our homes, a small dose of creativity goes a long way. The same holds true for celebrating American holidays. Miles from home and emerged in another culture, certain traditions mean even more when we can't spend them with those most dear to us.
We may have celebrated Día Acción de Gracias instead of Thanksgiving, but concocting something similar to my father's stuffing helped bridge the gap. I suppose we call it comfort food for a reason. Let's hope no one wants ham for Christmas.
*****
In May of 2011, Joanna Johnson Madden and her husband traded Chicago for Paraguay to serve together in the United States Peace Corps.  Previously seen employed in restaurants, darkrooms (later at Adobe workstations), and historic house museums, she now spends her days developing leadership skills in local youth and trying to convince her neighbors that she really does know how to cook.  Learn more about Joanna from her blog.
*****
Photo credits:
Thanksgiving Postcard:Â Minnesota Historical Society
Milanesa: Dani Nofal
Thanksgiving Dinner:Â tinaxduzgen
Thanksgiving Pies: tinaxduzgen
Running Chicken: Marin Cathrae
Stuffed Chicken: Saroj Regmi