By Bonnie Betts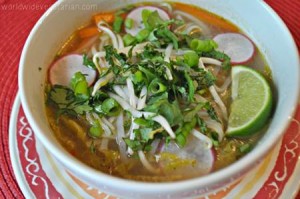 I awoke with a start, feeling disoriented as the sounds of honks and beeps from cars and motorbikes disturbed my deep sleep. A saucy, sizzling scent drifted in through my open window, causing my stomach to growl with hunger. Ah, I truly had stepped on that plane by myself, arriving in Vietnam late last night. Anxious to explore Saigon on my first day in this unfamiliar country, I took a refreshing shower and bound down the stairs of the guest house. As I reached for the door to exit, a soft, gentle voice implored, "You need to have breakfast." The Vietnamese gal led me to a room behind the front desk where a buffet awaited guests. Being vegetarian, I felt I would have no problem obtaining meatless dishes in this country. I opened a lid to find fried rice with what looked like some sort of meat mixed in. The next food warmer contained fried eggs stacked on top of one another with jiggly yokes. As I began my four-week solo journey, I chose to take heed to the warning from friends back in the States: "Don't get the bird flu!"
I was relieved to see what the French influence had left behind in a basket. I spread strawberry jam on my crunchy baguette while sipping on warm green tea. My hunger satiated, I called "cam on," (thank you), to the sweet Vietnamese woman behind the desk and headed out the front door.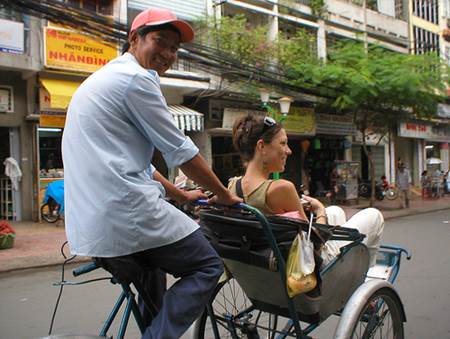 Looking over my list of sights I wanted to see, I let empty cyclos (three wheeled pedaled taxis) ride by. When Le rode up, smiled his warm smile and motioned if I wanted a ride, I knew I had waited for the right driver. I pointed to the large basket seat in front of his cyclo and said, "Yes, I'd like to get in!" He maneuvered the cyclo through the streets with 15 years of experiential confidence, riding with and dodging the chaotic swirl of motorbikes, cars, bicycles and other cyclos coming at us from all directions. I felt like I was on a wild Disney ride and that when it came to an end, I would probably be intact. If I looked to him with concern in my eyes, he would smile his warm smile and say, "No 'ablum" (his pronunciation of "no problem"). Locals turned and looked at this golden blonde seated in the cyclo basket. I was grateful for the comfort and confidence Le provided me as I started my adventure in this Southeast Asian land.
Le cycled me to my requested sites; I would walk through a museum or pagoda and upon exiting, he waved to me as though he were greeting an old friend. It was a relief to have someone look at me with a spark of recognition in this strange new world. When I indicated that I was hungry, Le pedaled to a small, family owned store. "Try, try," he indicated by pointing to these dark green items that were hanging from a rod, something wrapped in banana leaves and tied with twine.
Having promised to indulge myself in this different culture, I purchased two; one for Le and one for myself. His gratitude shined on his face, and we sat at a small plastic table on the sidewalk to eat our food. I unwrapped my coarse banana leaves to be met with that saucy smell that had drifted through my window this morning. I hadn't stopped to think of asking for something without meat. Not wanting to insult Le with his desire to please me with this Vietnamese treat, I ate the rice and tried hiding the pieces of pork flavored with fish sauce under a banana leaf. Absorbed in devouring his own food as though he hadn't eaten in a day, I doubted that he noticed my action.
On we rode all day long, Le pointing out sights he thought I would find interesting. When I realized that it was getting late and I was once again hungry, I looked up into Le's eyes. We shared a smile, and then I pointed to my watch apologetically. "Ah, no 'ablum," he said, steering the cyclo toward my final destination: Ben Thanh Market. Realizing I could walk back to my guest house from there, I paid him his fare and he wished me "good trip." We smiled good-bye to each other for what seemed like forever, and I finally had to turn away and enter the market.
Still reeling from the magic of the day spent with Le, I cheerfully strolled past aisles of sandals, handicrafts, girls getting pedicures, carts with bright red raw meats, mounds of earthy spices piled high on tables, and baskets with fruits of various shapes and vibrant colors. I smelled the aroma of soup from the booth in the center, and sat down on a stool at the little wooden bar. A Vietnamese woman handed me a menu and to my delight, the menu was written in both English and Vietnamese. I chose the vegetarian Pho, noodle soup, and pointed to my selection on the menu. The young woman kept questioning my choice, and I had to repeat several times, "No meat." She walked away and returned with a tiny old Vietnamese lady. This frail little woman asked me what I wanted, and again I showed her my vegetarian choice.
"No meat?"
"No meat."
"No meat?"
And so it went. She abruptly stood up straight, put a stern look on her face and declared, "No soup!" The magic of the day was shattered. What had I done wrong? Was it my American accent?
Recalling lessons learned from past travel experience to expect the unexpected, I quietly shrugged, rose from my seat and attempted to leave; no 'ablum. The tiny, little old lady body blocked me, looked me in the eye, and proclaimed, "OK, soup!" Off she marched as I reseated myself.
Shortly, I was served a delicious bowl of pho; I just grinned to myself as I put the chunks of meat on my paper napkin. Little had I known that food was to play such a role in my Vietnam adventure.
*****
Bonnie Betts resides in Olympia, Washington. She has a story published in the travel anthology "Female Nomad and Friends," compiled by Rita Golden Gelman, and is the author representative for the book. When Bonnie is not working as an occupational therapist in the public school system, she can be found climbing the Cascade Mountains, kayaking Puget Sound, or planning her next overseas adventure. Her motto: Don't dream your life, live your dreams! Contact Bonnie at bonbetts (at) msn (dot) com.
*****
Photo credits:
Vegan Pho: Katie Baxter
Vietnam Tourist on Cyclo Ride: kc7fys via Flickr
Rice Wrapped in Banana Leaves: S B via Flickr
Ben Thanh Market Food Stalls: chee.hong via Flickr