In Thailand, a traveler comes face-to-face with death – and the meaninglessness of  "identity"
by Kira Coonley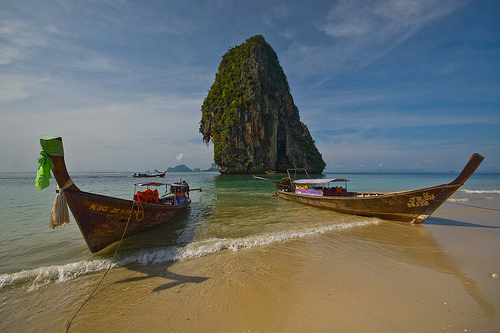 Leaving a trail of footprints in the sand, soon to be washed away by the ebb and flow of the tide, I walked barefoot along the water's edge to a thinly thatched bamboo bungalow that would be what I called home for the next month; or so I thought.
I was laden with an overly stuffed North Face backpack worn thin from carrying the weight of my belongings almost everywhere I traveled. Similar to myself, its woven material had absorbed a unique fusion of Asian, North American, Caribbean, South Pacific, and, most recently, Thai essences. Constantly shifting the straps on my back to find a comfortable equilibrium, I let the texture of the sand exfoliate the soles of my feet and the heat from the late afternoon sun radiate through my body. It was early December, 2004.
With a slower than usual pace, I realized how undeniably exhausted I was from the crowded overnight bus ride south from Bangkok. The sleepless night was followed by a longtail boat ride to Railay beach in a tropical downpour, and finally this twenty minute walk across the peninsula and around the point to Ton Sai beach, my final destination. Although physically fatigued, I was eager to experience the exotica of what was yet another unfamiliar part of the world to me.
The rain had ceased but my body was still soaking wet as I arrived at a grouping of bungalows which were significantly inferior in stature to their backdrop of limestone rock formations jetting fiercely into the sky. They stood situated in an idyllic corner of Ton Sai beach nestled into the shadows of large palm fronds and overlooking the expanse of ocean that formed the Andaman Sea. I paid the owner, a lovely Thai woman, for the first week's stay. She had one of those smiles that undoubtedly blessed whomever she shared it with. I dropped my pack into my assigned bungalow Number Eight, and quickly returned to the water's edge to watch the rain clouds dissipate and the sun dip lower and lower into the sky, accentuating its tangerine hues on the ripples of water and vertical faces of rock.
Enchanted by that moment, I spent almost every night for the next month in a hammock on the beach watching the same sun dip below the horizon, waiting for the sky to darken and the twinkle of stars to illuminate the mystery of the night. This time was sacred to me, hailing the end of another day to which the beginning of the next was entirely unknown.
I had spent the previous three months in Chiang Mai, a populous city in the northern part of the country. There I was able to immerse myself in Thai culture and way of life, as best I could. But even though I felt at home in my metropolitan apartment on Nimanhamen Road, navigated the dusty congested streets on a 5-speed motorbike, ate local spicy cuisine at the street markets on tables shared with ants, and spoke conversational Thai enough to politely fend off beggars and barterers, I would always be identified as a farang (foreigner).
Now and again, amidst my newly acquainted Thai lifestyle, I luxuriated in the smallest familiarities of home. On one of these afternoons, I sat indulging in a café yen (iced coffee) at a trendy Internet coffee house. While connecting with loved ones half way around the world from me, I sat beside, young monks with cleanly shaven scalps and clad in their distinctive orange garbs, playing video games during their free time away from the wats (temples). I had never witnessed such an extreme cultural juxtaposition.
Here I was, a farang, enjoying a familiar iced coffee while moreover adopting what I thought it meant to be Thai, amidst a generation of Thai youth who were adopting what they thought it meant to be American.
Leaving the north and traveling to Krabi province in the south, I wondered if Westernization was in fact encroaching on all corners of Thailand and whether or not it had the same effect on the people, dialect, cuisine and livelihoods I had seen in the north. Was the increase in tourism growing their economy while destroying their traditions? Did the average tourist know their direct and indirect effects? Was modernization and tradition really clashing or was it more of an amalgamation than I let myself believe?
On Ton Sai beach, I settled in comfortably in my thatched dwelling amidst the majestic limestone cliffs, white sand beaches and translucent aquamarine abyss. I explored the region's natural beauty both above and under water, easily falling into the rhythm of the ocean as it dictated a way of life for many of the natives. In the morning I heard the fishermen kibitz with their partners as they prepared to set out for the day. And in the evening, as the sun dropped toward the sea, I watched from my hammock their return with the day's catch. I learned that casting the nets from wooden longtail boats, both canoe style and non-motorized, was a traditional way of life that remained very much intact, even amidst the insurgence of modernization, and was passed on through the generations. Each day, as I lay suspended by woven cloth above the sand, I felt a closer more intimate connection with the fishermen as we exchanged familiar smiles.
As the month of December waned, decorations for an "American" Christmas celebration were listlessly being strung around, adopting American culture and simultaneously appeasing one kind of tourist who seem to need the comforts and familiarity of home everywhere they travel, or should I say visit. Colored lights, plastic wreaths and images of Santa Claus cluttered the naturally aesthetic coastline. The raw beauty to which I arrived, and the traditional culture I had been experiencing, were glaringly being affected.
Christmas day arrived and carols were sung on the beach late into the night. I celebrated with friends at their bungalows on the other side of the peninsula; independent units elevated from the beach and shadowed by the limestone rocks. We sipped Piña Coladas and rum punches at the water's edge under the hot night sky. Although the rhythms of familiar tunes filled the air, I was somewhat nostalgic about previous 'traditional' white Christmases in my hometown in New England. That lasted for only a moment before I simply let that spirit from home transcend to this continent and felt  truly blessed to be sharing it with the people who inhabited it.
I awoke the following morning to a gentle tremor. Not knowing whether it was a dream or not, I didn't think anything of it as my friend and I strolled the dirt pathway down to the veranda where breakfast was served. The jagged limestone cliffs pierced the cloudless sky breaking the horizon. Rock climbers scaled the formations suspended by ropes and harnesses. Fishermen had already left for the day navigating their wooden boats across the familiar aqua expanse. Tourists settled into their favorite spots on the beach marking their territory with bright towels, folding chairs and straw mats.
In no hurry for a beginning or end, my friend and I were later than most to start the day. We sat on the veranda enjoying the moment; sipping fresh pineapple juice, reminiscing about the previous night, and making plans for the day and upcoming night's full moon celebrations. The heat was palpable and the ocean was placid. There was not a breath of wind as the daily ferryboat to Koh Phi Phi left the shore and sliced through the calm water, taking passengers to explore what was boasted as one of the world's most beautiful beaches.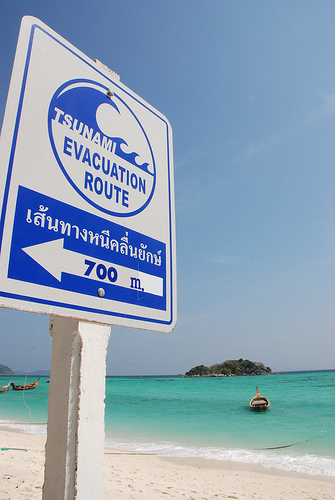 Suddenly, without warning, the ocean receded from high to low tide in just moments. Although I've lived by the ocean all my life and know its rhythms well, I ignorantly commented that this irregular tidal flow must be because of the full moon that night. But before we could say another word, a wall of water appeared from nowhere looking like an endless white cloud stretching the length of the horizon. It then took shape, becoming the most perfect wave I have ever seen. This mysteriously beautiful wave peeled from left to right creating a hollow barrel and expelling a white spray in its path as it broke violently on the contoured bottom of the ocean.
Before we knew what was happening, a middle-aged Thai woman, the wrinkles on her face having aged her far beyond her years, yelled, "Tsunami! Tsunami!" in a tone suggestive of her worst nightmare. In just seconds, the water violently enveloped the beach, taking everything in its way with a force only Mother Nature could claim. It stopped for nothing.
Without a moment to connect my thoughts with my body, I instinctively began to run from the unforgiving flood of ocean that was without warning upon us. It swirled, bubbled, and destroyed without differentiation between inorganic and organic matter. Looking back I saw that nothing in its path was spared. I didn't think I could run far enough or fast enough. I didn't think that the water would ever stop. No matter how deeply I breathed, I felt like I couldn't get enough oxygen to my lungs. There was a brief moment when the present became incomprehensible and the textures of my surroundings changed and became surreal  — the smell, sounds, colors, shapes and sizes were blurred as I ran to higher and higher ground. Everything was nothing.
Those who escaped the tsunami grouped together on the highest peak of the peninsula. There was a chaotic muddle of questions and conversations pierced by frantic screams and loud cries. The expressions on people's faces were cringed with both the gravest of fear and absolute disbelief. I knew that everything below us, that had been in the path of this one wave, and the vast ocean it carried with it, without any exceptions, was destroyed. We found comfort in each other's beating hearts and human presence; on some level we shed the skins of our inconsequential identities as Thai or American, young or old, Buddhist or Christian, rich or poor. We all connected as
humans alike having just moments before witnessed the largest natural disaster in recent years. As I calmly held the hand of my closest friend, we comforted each other with our conviction for life. Moment by moment.
We spent that night on top of the peninsula without shelter under the stars in fear of a second wave, as that was the science that was commonly known about tsunamis. Any unfamiliar sound that broke the night's silence alarmed us. People cried and became more anxious as plans for survival of the impending second wave were made. My eyes burned from trying to stay open, and by morning were glazed over having spent every minute of the night staring out towards the black horizon, just waiting – waiting for Mother Nature to display her force again. My emotions felt numbed to a state I had never experienced before.
I can barely remember the events that took place after we knew for certain that a second wave was not coming and that our lives were indeed going to be spared. I do remember that it wasn't until I was at the airport when I realized the gravity of the event. I was accosted by a barrage of news clips on the television. The death toll was horrifically rising by the moment as the catastrophic destruction was revealed in Sri Lanka, India and Thailand. Frantic people were rushing around asking if anybody had seen their particular loved one, their face full of hope for someone to say "yes." Representatives from foreign embassies were herding everyone to check in by their national identities. How meaningless "identity" seemed to me in the face of this event that stole so many lives.
The mixture of chaos, anxiety, and despair culminated to a cacophony that overwhelmed the conformation of Bangkok's Don Muang International Airport. I boarded the plane with the same North Face backpack with which I had arrived. This time it was empty, with the exception of my USA passport, which I had left hidden deep within its seams. It had absorbed yet another essence; the combination of salt and sand from being caught by the tsunami. It was my only belonging that I found washed up on the beach amidst an array of debris. In a horrific wreckage of splintered bamboo that had once been my bungalow, it lay, where the ocean again had returned to its rhythm of gently kissing the sand.
Upon my arrival home I felt surrounded by a palpable energy of love from my family and friends. Still, for a while I felt a lingering numbness and disconnect from everything that had always been familiar to me. After what I'd been through, it was as if my soul literally needed to warm and my body reawaken to the blessings of life.
I had come face-to-face with death, and had seen how quickly a person's identity, even the place we call home, can be rendered meaningless, obsolete, in one obliterating act of nature. I learned that we all, as living individuals, have the ability to transcend our cultural, racial, and religious barriers and just be humans breathing the same air, loving in the same presence, and leaving impermanent footprints wherever we may be and wherever we may travel.
No longer than a week passed before I booked my flight, and two weeks later I returned to Thailand. I had been captivated and transformed by its beauty and strangeness, witnessed its deconstruction, and now wanted to be a part of rebuilding its future.
* * * * *
Kira Coonley returned to Thailand just weeks after the tsunami to work on reconstruction efforts with Heifer International. Her background in anthropology and spirit for travel has taken her around the globe for education, volunteer work and adventure which is documented in both her photography and writing. A passionate surfer, kayaker and sailor, her respect for the ocean has only grown deeper after coming face-to-face with the tsunami. Most recently she sailed with her sister on a private yacht from Gibraltar to the Canary Islands and across the Atlantic Ocean to Antigua, BWI. Currently she is working with a women's travel company, Serendipity Traveler.
Photo credits:
Thailand beach: Rene Ehrhardt
Hammock: Robert S. Donovan
Tsunami evacuation sign: loveordie
Tsunami wreckage: Darcy McCarty