By Helen Moat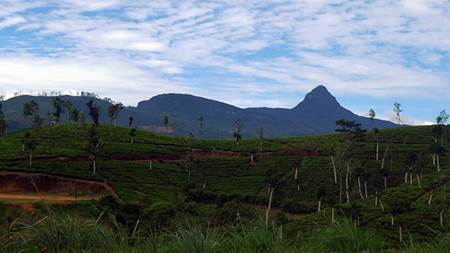 The mountain rises out of the rainforest an emerald pyramid. Its sheer vertical flanks stretch upward, on and on until they puncture the sky high above, and I wonder what have I let myself in for? Dimuthu stands beside me, gazing up, lost in her own thoughts.
***
The mountain is Sri Pada, also known as Adam's Peak. It is the only mountain in the world to be venerated by four major world religions: by Buddhists, Hindus, Muslims and Christians. Pilgrims come from the four corners of the Earth to climb the steep-sided peak in the mountain and to pay homage to the indentation of a giant footprint on its summit. To Buddhists, it belongs to Lord Buddha; to Hindus, Shiva; to Muslims, Adam; and to Christians, St. Thomas.
I have been taken to this place by my Sinhalese Sri Lankan hosts, organized by Dimuthu, a teacher like myself. Our schools had linked across the world and I had just spent a week in her school in Kandy. Dimuthu had organized the practical details of my wish list I'd emailed to her from England: a trip to Yala National Park, a visit to the ancient sites of the central plains and now this trip to Sri Pada. "Don't worry," she'd written. "I will arrange everything. I have relatives and friends all over the island we can stay with."
It's been a dream to climb this mountain — from the moment I knew I was going to Sri Lanka. I had imagined that I would descend the mountain by dark, guided by the lights that lined the steep steps, imagined hearing the sound of Buddhists chanting at the top, the summit thronged with pilgrims. I'd sit and wait for the dawn, shivering under a blanket. In my dream the skies would be clear, the mountains of the Peak Wilderness rippling out at my feet like waves in a green ocean. In my dream, Sri Pada would be reflected across the valley, a shadowy triangle hanging in the sky, a kind of magic. I'd played the film in my mind over and over, but the reality would play itself out differently.
***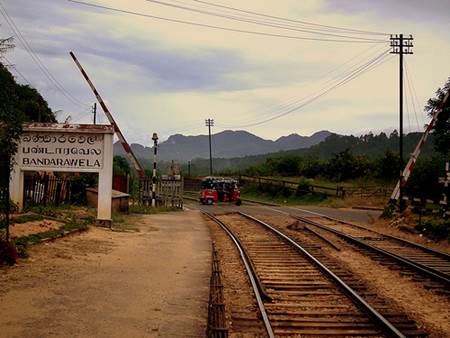 Last night, Dimuthu's uncle and his family had put me up in their Highland home, fed me, watered me and entertained me, driving the transit van through the hills to Ella and waterfalls and on to the busy town of Bandarawela.
This morning, we had risen at three. Dimuthu's uncle had arranged for a driver to negotiate the long rough mountain roads to Dalhousie, the place where most pilgrims begin the long ascent of Sri Pada. We hoped to arrive at dawn.
Dimuthu's aunt had been up since two, cooking curry and rice for the road. She bustled about the kitchen in her dressing gown and woolen hat. Outside, the large plot of garden vegetables and fruit trees still lay under darkness. Beyond, the railway line stretched out across the flat valley where yesterday I'd watched school children in pristine white uniforms make their way along the track through the paddy fields. And beyond that again, I could just make out the inky-black hills covered in rainforest.
Dimuthu's uncle was accompanying me on the mountain along with Dimuthu, her father and her two cousins. Failing to climb the mountain was not an option, I realized. They were doing this for me. Although my hosts thought we'd arrive at the mountain by dawn, they hadn't reckoned on the potholes and the half-built roads. The estimated two to three hours turned into five. We arrived at the foot of the mountain mid-morning.
***
All human life has been drawn to Sri Pada across the centuries: rich and poor, kings and paupers, religious leaders and non-believers, young and old, strong and weak, the sick and the well, disabled and able-bodied. Sri Pada's history goes back a long way. Story goes that King Valagambahu discovered the sacred footprint a hundred years before Jesus was born. The first recorded history goes back to 1065 AD when King Vijayabahu built shelters along the way. The great monarchs of Sri Lanka's ancient civilization were ascending Sri Pada 1,000 years ago, but many believe that pilgrims were climbing the mountain long before any recorded history. Marco Polo climbed the Holy Mountain in the fourteenth century. And some believe that Alexander the Great visited the sacred place too. Then of course there was Adam from the beginning of time, thrown out of paradise and made to serve penance on top of the peak; forced to stand upon one leg for 1,000 years. That would teach him.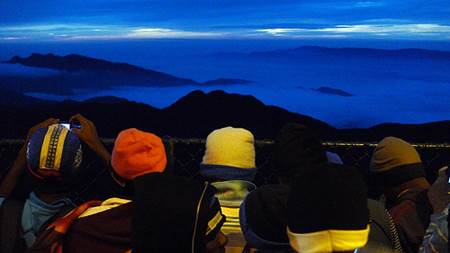 All of the pilgrims had their own reasons for climbing the holy mountain. For me, Sri Pada was just a mountain, a place of beauty and atmosphere, as I imagined. But the pilgrimage was becoming more than that now: a personal challenge, symbolizing the desire to escape a stagnating life, the need to feel alive again and to move forward somehow. I was a middle-aged woman who felt life was passing her by.
For Dimuthu, the pilgrimage was important too. A thirty-year-old unmarried woman, she had her own quandary. We were two women separated by twenty odd years and half a world, but we had become close friends over the days spent together in Kandy. Dimuthu began to open up to me and to share her difficulties as a free-spirited female in Sri Lanka.
"I don't want to get married," Dimuthu had told me back in Kandy. "I don't want to spend all day cooking, cleaning and looking after children. Better to stay at home and let my parents do that for me," she laughed.
Later she qualified this: "My parents are getting concerned about me. They are worried that I am getting too old to find a husband. They want to place an ad in the paper for me, but I won't let them. My father is worried about my future. How I'll manage when I'm retired. Actually, I would like to get married but I don't want to marry the typical Sri Lankan man who would expect me to cook three times a day and look after him. I'd like to marry a modern man but I don't think I will find someone like that here."
On our last day in Kandy, we visited the Botanical Gardens together. Dimuthu and I started to mess around with the camera, striking silly poses, hugging trees and making star shapes on the grass. Dimuthu giggled — it was all so Western. She was practicing for England. I feared I was becoming her Pandora's Box …
***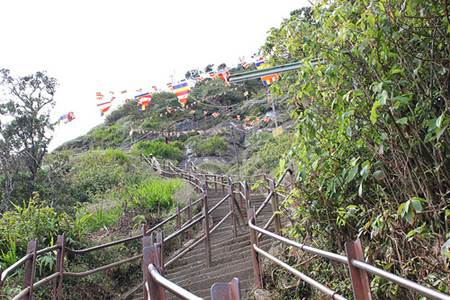 We are standing at the foot of Adam's Peak now. I'm dressed in cargo trousers, strong footwear and laden down with a rucksack packed with layers of clothing, waterproofs and first-aid. I have my walking sticks at the ready and I step out with a serious walker's stride. My Sri Lankan companions, in contrast, are wearing flip-flops, the kind of smart casual clothes you might wear for a stroll down on a coastal promenade, carrying plastic bags of snacks — or nothing at all. They saunter off past stalls of garish souvenirs and teashops that could indeed grace any seafront. I wonder if my casual friends are really serious about making it to the top. My fears seem to be confirmed when they stop off for a splash in the river. Later I realize that they were washing themselves in an act of purification before ascending the Holy Mountain.
At the entrance to the mountain we stop again. A priest blesses us. For us first-timers (all but Dimuthu's father) we are given a white cloth with a good-luck coin wrapped inside. Dimuthu's father ties each wristband on our right arm. A red mark is placed upon our foreheads, giving us Saman's protection, one of the four guardian deities of the mountain.
Soon we reach the steps. The climbing is relentless and my confident stride slows down to a painful crawl as I haul my unfit body up each one. Two teenage pilgrims stop and offer me a handful of dried fruit in encouragement. My Sri Lankan companions, in contrast, are just finding their stride. They take the steps casually with an easy stroll, seemingly oblivious to the steep elevation.
Occasionally, Dimuthu's 64-year-old father halts to meditate on the wayside, eyes closed and palms held outward in quiet serenity. He seems untroubled by the endless staircase rising up in front of him. I, in contrast, stop frequently, feeling as if my lungs are going to burst. My Sri Lankan companions wait patiently as I push my unwilling body ever upward. Amila, Dimuthu's young cousin, stays with me when I stop for breath, talking all the while to distract me from my discomfort. When I stop, he stops. When I move again, he moves alongside me. I am grateful.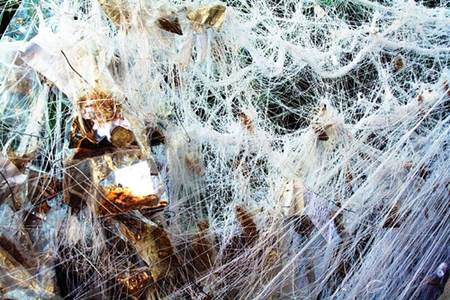 At one point, Dimuthu's father hands out rolls of string. We tie them to the bottom of a staircase, unrolling them until they run out. The wayside looks like a long white spider's web. Overhead prayer flags flap in the breeze. String was used by pilgrims in the past so that they would not become lost if the mist came down. The steps become steeper and steeper. I have been in discomfort for hours now, but giving up is not an option. Indeed the very thought of giving up is considered unlucky in the Buddhist tradition.
Amila points out the iron studs in the rock. "Chains were attached to these before the steps were built and pilgrims had to pull themselves up. It was treacherous in wet weather. Some pilgrims fell to their death."
We pass an elderly lady slowly climbing with her daughter. I ask how old she is. "Eighty-three," her daughter says. This is her sixty-fifth ascent. I feel pathetic.
There are not many pilgrims making their way up in the midday heat. Most pilgrims ascend Sri Pada after dark, arriving in time for sunrise. We pass just a handful of smiling, chanting pilgrims, echoing encouraging songs to each other and with us.
Amila teaches me to say theruwan saranai: may you be protected by the triple gem (of Lord Buddha, his teachings and his disciples) to the passing pilgrims. They beam at the pale-faced westerner tripping over their language, but thrilled with my attempts, they answer back with a smile.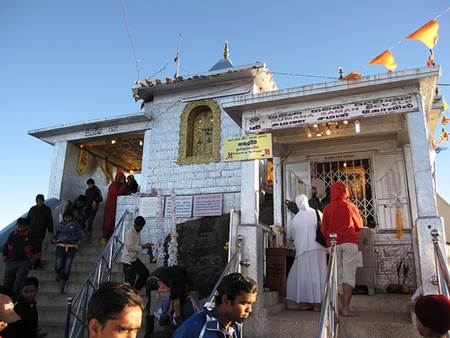 I sense we are approaching the summit. At last the temple can be seen above my head. I can hear the Buddhist monks laughing in the clouds. Then I see their orange robes swirling in the mist. No chanting though — they're pouring tea from a large canister, chatting and joking together. Five thousand steps later and I have reached the summit at 7,362 feet. I'm elated.
Amila and I climb the steps to the shrine of the footprint. He bows down, head to the ground. I close my eyes and reflect on my own thoughts. Then we remove our white strips of cloth from our wrists and tie them to a pole.
"Make a wish," Amila says. I am not a Buddhist, not a believer, but I take a moment to reflect on the past, the present and the future. I know my life must change. I realize that the expectations of the society I live in, don't have to be mine. I don't have to live the life that I am leading, don't have to be led by money and material goods. I know that there is something better out there. I just need to take the step to change how I live, as I had taken the first step on the mountain.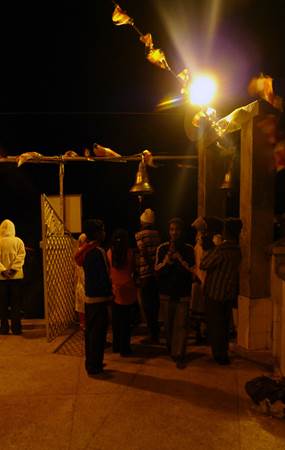 Dimuthu stands silently beside me. She too is resisting the expectations of her own society. We don't know it yet, but there will be a summer of anguish and joy for her: two trips to Britain; the thrill of another world; new-found freedom; a desperate promise to get married on return; the going back on that promise to her parents; the ensuing tears and arguments and anguish followed by stalemate.
Dimuthu's father rings the bell twice, the rest of us once — one peel is permitted for every ascent. The sound vibrates across the mountain top. I feel emotional. Dimuthu stands quietly beside me. We are both at a crossroads in our lives. But we are survivors: tough, determined, fighters. On the trip, we'd discovered we shared a birthday. We feel a strong bond against all the odds of our different ages and culture.
Dimuthu and I descend the mountain, knowing that Sri Pada has given us the clarity and the courage to plow our own furrow in our different worlds. There's a fragile and a precious peace.
*****
Photo credits:
Adam's Peak: Giles Clark via Flickr
Bandarawela: calflier001 via Flickr
Pilgrims on Top of Adam's Peak: Giles Clark via Flickr
Sri Pada Steps: NH53 via Flickr
White Strings at Sri Pada: .shyam. via Flickr
Sri Pada Summit Shrine: .shyam. via Flickr
Pilgrims Ringing Sri Pada Bell: Giles Clark via Flickr