By Becky Green Aaronson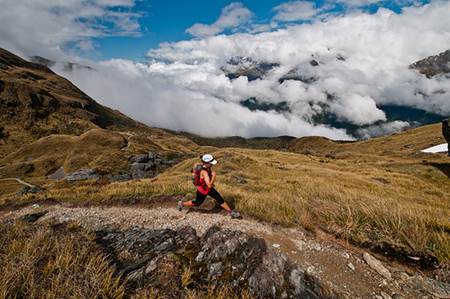 I don't know whether it's the altitude or the view, but the adrenaline surging through me tells me this is one run I will never forget. As I traverse the rocky terrain, I find it impossible to tear my eyes away from the sheer North Face of Mt. Everest looming in front of me.
I've finally made it to the Roof of the World and as I run in the shadow of the world's highest mountain, my pounding heart and burning lungs assure me of Base Camp's 17,000-foot elevation. The thin air and desolate landscape are intoxicating.
Tibet cast a spell on me like no other place in the world. Not only did it capture my imagination with its ancient Buddhist rituals and colorful Himalayan culture, it also seemed the perfect place for this marathon runner to give herself a new challenge. Knowing I'd probably never scale Mt. Everest, running at Mt. Everest Base Camp and other points in between seemed the next best thing.
My adventure begins when I meet my best friend, and former college roommate, Janet, in the Los Angeles airport. Leaving our husbands and responsibilities behind for several weeks, we decide to treat our adventurous souls to what we hope will be one of many "girlfriend's trips of a lifetime." After a grueling flight over the Pacific, we land in Hong Kong, then fly to Chengdu, China, the next afternoon, before continuing on to Lhasa, Tibet, the following day.
Walking the chaotic, polluted streets of Chengdu makes our heads spin and also covers us in a layer of grime. Hoping to shake it off, we seek out the hotel's health club for a rejuvenating workout, only to discover that its idea of "health" is much different than ours. The tiny room with sticky carpet and peeling paint consists of a display case filled with junk food and cigarettes, a broken treadmill, and something I fondly refer to as a "flab machine," one of those contraptions from the 1950s in which you place the belt around your rear, push the button and miraculously get into shape as the machine jiggles your flab. Although we don't get much of a workout, Janet and I laugh so hard trying it out, our stomach muscles ache.
The next morning as we wing our way over the Himalayan Range, I struggle to keep my jaw closed as I try to absorb the endless miles of jagged snow-capped mountains. It becomes ridiculously clear why Tibet is called the Land of Snows. When we touch down on Tibetan soil and breathe in the crisp mountain air at 13,000 feet, all memories of Chengdu immediately fade.
Inside the airport, our guide and driver greet us and place kathaks (ceremonial white scarves) around our necks, then whisk us to Lhasa in a Land Cruiser. We'll come to know this 4-wheel drive intimately over the next ten days as we travel more than 600 miles on dirt roads from Lhasa to Mt. Everest, then on to Kathmandu, Nepal.
After being dropped off at our hotel, we spend the next few days exploring the city. Although I live and run at 8,000 feet, I don't attempt to run here for several days so I can acclimatize and avoid altitude sickness in the world's highest capital.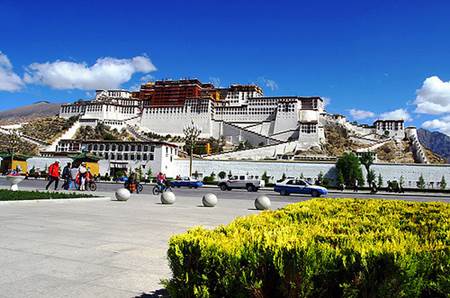 It isn't until the third day, with early morning light brushing the Dalai Lama's former home, the Potala Palace, I finally set out on my first run. Humbling is the only way to describe it. After running a mile around Potala Square, I'm gasping for air. Each leg feels like it has a twenty-pound bag of cement attached. Am I getting high-altitude dementia and not remembering that I've done major speedwork? Nope. It's my first attempt at running on the Roof of the World, and it's kicking me square in the pants.
Although my ego is bruised and my body is tired, I feel remarkably energized by the day's activities unfolding around me–pilgrims burning incense and prostrating themselves in prayer, pedicabs going to market with freshly slaughtered pigs, children kicking rocks on the way to school.
A Tibetan couple in matching teal and fuchsia workout gear cruises by, waving enthusiastically. They're the only runners I see on this entire trip. While cooling down and stretching my rigor mortis legs, an elderly onlooker praises me in broken English, "You very healthy," which makes my cheeks tickle as I try not to laugh out loud. Based on my performance moments ago, I think, something MUST be lost in translation.
After our early morning adventure, our stomachs are growling so Janet and I head to the Barhkor Café for breakfast. Craving something familiar, and having previously been to restaurants serving goat brain and yak dong, we're thrilled to find pancakes and hash browns on the menu. Any resemblance to this classic meal at home, however, is completely quashed by the overwhelming taste and smell of yak butter in which everything is cooked. We manage only a few bites before breaking into laughter and digging into our stash of Power Bars and dried fruit. I make a mental note to lose my American culinary expectations and go native.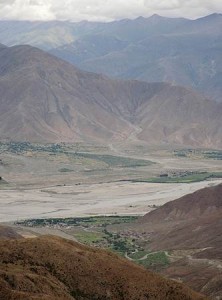 After several days of exploring Lhasa's many extraordinary temples, palaces and monasteries, we set out on our drive across Tibet with Mr. Pei Zhan, our Chinese driver, and Mr. Nobu Tsering, our Tibetan guide-interpreter. Our first day consists of a 150-mile trip from Lhasa to Gyantse. The route takes us over the summit of Kamba-la Pass at nearly 16,000 feet, then drops us down along the shores of holy Yamdrok Lake before delivering us to Gyantse.
Mr. Zhan confidently traverses the windy one-lane gravel road to the top. It doesn't matter if we approach a hairpin curve or a top-heavy cargo truck filled with people and goods. He powers on. With drop-offs of over a 1,000 feet and no guardrails to protect us, my right hand soon becomes permanently attached to the overhead handle with a white-knuckle "death grip." And with no seat belt, my legs and abdominal muscles take on the job of bracing me as we whip around switchback after switchback.
Janet's eyes are as big as pizzas, which is all it takes to send me into a fit of laughter–which in turn, is all it takes to send her into one too. When she elbows me and whispers, "Maybe we should get out our prayer wheels and start spinning them for good luck," our hysteria crescendos and sends Mr. Zhan's eyes flashing at us in the rear-view mirror. Trying not to insult our driver, we take deep breaths and make a pact not to look at each other, instead focusing our nerves out the window.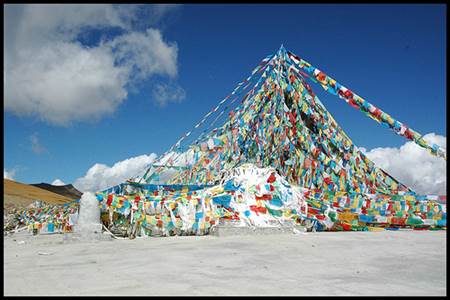 The view at the top of Kamba-la Pass more than makes up for the drive. Prayer flags flutter in the wind and frame holy Yamdrok Lake, sprawling out for miles below. The vastness of this high desert landscape reminds us of our insignificance.
When I tell our guide Nobu that I want to get out and run, he and Mr. Zhan look at me like I am mentally ill. Joking that I'm a crazy American, I convince them to stop the car and meet me at the bottom of the road several miles down.
From the first step I take, I know this run is different than any I've ever experienced. The steep descent and roaring tailwind carry me into the clouds as the turquoise waters of Yamdrok Lake transport me to a "running place" I've never been. Step after glorious step, I breathe in joy and adrenaline so deep, my body feels weightless, as if I've sprouted wings. A light bulb suddenly goes off in my head: I am, at this very moment, living my favorite Tibetan proverb, "Pain Exists to Measure Pleasure." Yesterday's humbling slog in Lhasa was meant to make me fully appreciate the run I'm experiencing right now. I've never felt so alive.
Near the bottom, I spot the waiting Land Cruiser and try to think up any excuse to keep running. Knowing that Nobu and Mr. Zhan have already been patient with me, I reluctantly settle back into my seat, and the thrill of Kamba-la Pass settles deep into my soul.
After arriving in Gyantse in the late afternoon and overnighting, we set out for Shigatse the next day, just two hours away. Although few things Tibetan are left in Shigatse since China erected modern prosaic buildings and wide boulevards, one remaining jewel is Tashilhunpo Monastery, one of the few monasteries that survived the Cultural Revolution.
Instead of running in Shigatse, Janet and I hike the pilgrim trail circling Tashilhunpo–a steep path lined with prayer flags and prayer wheels, mani stones, and boulders painted with brightly colored Buddha's. We watch in amazement as elderly pilgrims breeze past us effortlessly, spinning their prayer wheels and greeting us with a warm, "Tashidelek" (hello).
The next day, we continue on toward Mt. Everest, which entails a full day of driving and an overnight stay in Shegar. Along the way, we drive over towering mountain passes and high desert plateaus where nomads herd yaks and barley farmers prepare their fields for planting. It's hard to imagine how anything grows in this harsh environment, but the fine meal we enjoy that evening in Shegar, created with locally grown vegetables, proves the Tibetans have mastered it. Afterward, we venture to a smoky teahouse and watch men play a rousing game of mahjong while we drink sweet tea around a fire.
In the morning, Janet and I are like giddy schoolgirls, knowing it's the final push to Mt. Everest. Although we're accustomed to being bounced around by now, the drive to Base Camp takes it to new heights–literally. On several occasions our heads brush the roof of the car and our stomachs follow right behind.
As we round the last corner and arrive at Rongbuk Monastery, where we'll bunk for the night, a chill shoots through me. The sheer North Face of Mt. Everest is towering in the distance. Its power becomes even more palpable as we reach Base Camp, making my skin tingle as we stand on a small mesa dotted with tents and prayer flags. I'm in awe of the adventurers who'd dare take on this unforgiving 29,000-foot beast. The stones stacked in small pyramids for good luck seem all too necessary here.
The twitter in my stomach tells me that it's finally my turn to test my mettle at Everest. Even though my version pales in comparison–a five-mile run back to the monastery–it still takes some major convincing before Nobu and Mr. Zhan disappear in the Land Cruiser.
As I make my way back from Base Camp, the lack of oxygen immediately makes breathing a challenge and sends my heart rate soaring, but the adrenaline surging through me leaves me in a rhythm akin to a celebration. Every step is a gift and every breath a shout out to the country that has wrapped itself so warmly around me.
I hear Tibetans' sweet sing-songy voices float through my head as my legs propel me forward. And I visualize their long black hair twisted with colorful yarn, and their naturally happy eyes laughing as we try yak butter tea for the first time. My pounding heart reminds me of the sacred drums we've heard in Tibet's holy temples and my heavy breathing, the sonorous tones of chanting monks. There isn't a moment of this run that I don't appreciate all that Tibet has given me–most of all, the opportunity to experience something extraordinary.
Later, inside the monastery guesthouse, a handsome Tibetan man sporting an Oakland A's baseball cap cooks dinner and supplies us with an endless cup of jasmine tea. My run has caught up with me though, and I can barely keep my eyes open as I eat my meal by the fire and listen to the sound of yak bells clanking outside. A dull altitude headache has also set in so I head off to bed to let my body recover.
The next morning Janet and I spring out of bed before dawn and hike back to Base Camp to take pictures of Everest at first light. Even though we're wearing six layers of polypropylene, fleece and Windstopper, the blasting wind cuts right through us and leaves us numb. It isn't kind to my camera either. After just one frame my batteries freeze and end my picture taking.
It's a blessing though. Instead of focusing my energy on capturing the changing light on the mountain, I spend it doing something that will forever be etched in my memory. With the jet-stream trail blasting off the North Face and the sun's rays splashing down on me, I run along the desolate landscape of Base Camp one last time. The energy radiating from the mountain is electric. While jumping over small ice fields and frolicking in Tibet's intoxicating air, the Sanskrit word namaste keeps playing over and over in my mind…"The spirit in me meets the same spirit in you."
This is what my running adventure on the Roof of the World has been all about. I may not have scaled Mt. Everest, but my spirit has been stirred, and I have been reminded that running will always take me beyond the ordinary.
Namaste, Tibet.
*****
Photo credits:
Running Woman: Ryan Smith via Flickr
Chengdu City Square: Christopher via Flickr
Potala Palace: B_cool via Flickr
Kamba-la Pass: Einar Fredriksen via Flickr
Kamba-la Pass Prayer Flags: Richard Weil via Flickr
Tashilhunpo Monastery: Einar Fredriksen via Flickr
Rongbuk Monastery: Danilo Tic via Flickr
Everest Base Camp: Kyle Taylor via Flickr