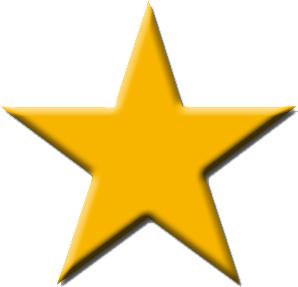 Spiritual Category Winner in the 2011 WanderWomen Write Travel Writing Contest!

By Madeline Felix
It was a blip on the map. A small dot between the larger stars indicating the capitol city of Hanoi and the port city of Hai Phong. A bit more research had told me that it was located in the Red River Delta and was considered a medium-sized city. It was located in one of the more industrialized areas in the developing country, ever expanding and reaching westward. Wikipedia had informed me it was famous for its lychees. I had eaten lychees only once before, soaked in syrup and served as dessert at an Asian fusion restaurant in New York City. I liked their sweet taste and slimy texture.
This was what I knew of Hai Duong City, Vietnam. This was all I knew of the place I would come to call home.
A year earlier, 22 years old and unsure of what to do with my recently graduated self, I had applied for the Fulbright Program's English teaching grant that eventually took me to Vietnam. I put together the grant application in just a few weeks. In my essays I wrote that I wanted to be a cultural ambassador, that I was deeply interested in the Vietnamese people and history, and that I would promote the exchange of language through storytelling and theater exercises. I wrote that I had always wanted to explore the use of theater, writing, and art in another country.
These things were true, but they were not the whole truth.
I did not write that I felt out of place and unsettled in the midtown Manhattan office where I worked for a theater producer, nor did I write that I was terrified of not knowing what to do with my life. I also did not write that I had never felt like I really belonged anywhere – neither in my small Pennsylvania hometown nor the city I had fled to at age 18 – and I wanted to escape somewhere, anywhere, to do something different and daring.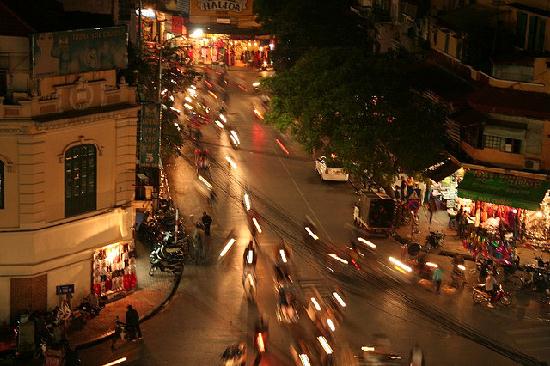 But what I did say must have been enough because on July 31, 2009 I touched down on the tarmac of Noi Bai Airport in Hanoi. I will always remember that first drive in Vietnam as the taxi took me from the airport to my hotel. It was dark as we hurtled through the traffic, but I watched in awe as the thick sea of motorbikes beeped and revved alongside us. Some motorbikes carried families of three or four; others were weighed down by furniture, produce and chicken coops. On either side of the road, I made out roadside food stalls fashioned from plastic tarps strapped to bamboo poles, sheltering Vietnamese men and women perched on pre-school-sized plastic chairs. I stared through the taxi window at the blurring street scene, the hot humidity and impending rain hanging heavy in the air, as my transparent reflection stared back at me and mouthed, "What were you thinking, Maddie?"
Culture Shock
I spent my first month in Vietnam living in Hanoi and attending orientation at the U.S. Embassy. Along with nine other Fulbright teachers, I had teacher-training sessions as well as lectures on Vietnamese culture, language, history, economics, politics, etc. Mostly, I learned that in Vietnam I should expect the unexpected. During my time in Hanoi, the city felt mystical and alive, but also jarring and exclusionary. Every time I got lost in reverie, staring at an ancient banyan tree crawling over the cluttered sidewalk, or at a sweet lady peddler leading her bike of spilling lotus flowers through the traffic, I was promptly thrown back to reality by a honking motorbike, knocking me into a gutter teeming with chicken guts.
At the end of August, thoroughly disoriented by orientation and my first month so far from home, I headed the two and a half hours out of Hanoi to my teaching assignment at Hai Duong College and the small city I would call home for the next nine months.
The other Fulbright teachers were sent to colleges all over Vietnam. I was the only foreigner teaching at Hai Duong College, and for a long time the only foreigner I knew of in my city. Each day, I would venture off campus to explore the town on my new bike, a gift from the college. I stayed on the shoulder of the main road which wound through the town as I tried to keep from getting killed by maniac motorbike drivers. There are traffic laws in Vietnam; it just takes months to understand any of them. I stuck out everywhere I went. I would see people gesturing to my fair skin, spaghetti-fed curves, and big eyes. Once, someone came up to me in the market and grabbed the bicep of my arm, laughing at what I assumed was its unfamiliar thickness and muscle tone. I didn't blend in with the slight Vietnamese women, their hair straight and black, their skin in varying shades of beige.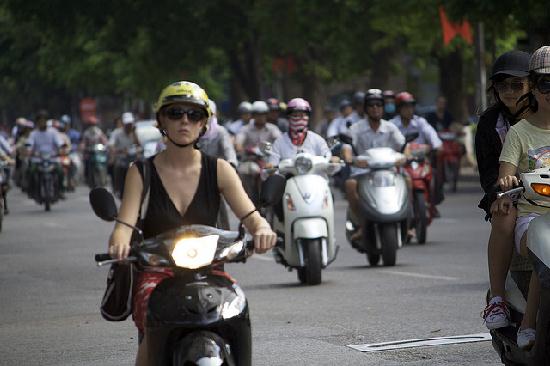 I was both surprised and scared by the aggressive attention I received off campus. It was so contrary to the attention of my students, who remained shy and distant at school. They'd walk near me as I crossed the soviet-era campus – all concrete, right angles, and red flags – whispering and pointing, but nervous to approach. If I sat in the English office, they would stop by in droves, but only a few brave souls would try to speak to me in English. All of them had a basic understanding of the language, but few would risk the embarrassment of saying something incorrectly in front of me or their peers.
I began to feel isolated and disconnected from everyone around me. I had always depended on words to connect with others, but I struggled to understand and be understood even by the other English teachers. I was looking for a connection with the people in Vietnam, and in my naiveté, I hadn't realized how hard it would be to make one. I had arrogantly imagined some culturally boundless connection, spontaneously erupting from my mere arrival in the country. I was embarrassed by my foolishness. After only a few weeks, I ached for home in a way I didn't know possible, through my liver, kidneys and guts. I had never felt so insecure and unsure; the landscape inside of me was as unbelievable and foreign as Vietnam itself.
At night I would call home on Skype, ravenous for someone to understand my words, and just as hungry to understand someone else's. One night, as I sat in front of my computer crying to my dad, he said, "Mad, you know what? Maybe you could find a Catholic church. It might at least feel familiar."
My father is a great guy, and he went to Mary, Mother of the Church Parish every Sunday with the rest of my Catholic family when I was growing up, but he is not the spiritual bastion I would necessarily seek out in a time of crisis. He is more likely to speak in sports parables than bible stories. Still, I replied, "Maybe. I'll try to."
I had been keeping a blog and that same day I wrote about my move to Hai Duong. I tried to make jokes about what a hard time I was having: the food that made me sick, the traffic which scared me to death, my inability to communicate. Back in New York my friend Elizabeth had read through my attempted humor and seen the small, needy person I'd become. Elizabeth and I were both raised Catholic and have struggled with similar questions and uncertainties about faith and our place in a religion we don't completely agree with; a religion that feels both comfortable and prickly. After reading my blog entry on her computer in New York, Elizabeth wrote me an email which said this:
"It's OK to need. It is necessary to need. Put your need out into the universe and you will be picked up and cradled, or pushed into a cool breeze, or sent a feather. These will help for a few seconds, then you'll put the need out again. You will be insane for a little, and it is the only way that you will get through sometimes. You will exist from second to second. It will be agony but there will always be a pure part of you that will be marveling at YOU. All you have to do is experience. You don't even have to worry about "being open" or not being scared. The work will get done."
A day after that email, and two days after the conversation with my father, I was bombarded by texts from one of my students. It was the afternoon, and after my morning class I had spent most of the day in my room. The student, a girl named Tra, wanted to meet with me. She texted things like, "It is bad for you to be alone," and "I think you will come now." I had begun to venture out less, paralyzed by both my homesickness and the attention I attracted, but I told her we could meet at 6:00 p.m.
"Hello Ms. Madeline. How are you?" Standing by her bicycle, Tra greeted me as I walked down the concrete stairs from my on-campus apartment and into the college courtyard. At 20 years old, Tra was small and thin, even by Vietnamese standards, and had a long thick black ponytail that hung to the backs of her knees and swung back and forth whenever she moved. She also had a soft raspy voice and full lips that carefully and deliberately worked to form the awkward English words which fell from them.
"I'm well, thank you. How are you?"
"I'm fine. Where will we go?" She asked me, lilting her voice on the last word to signal a question, just as she had been taught.
"I'm not sure." Although I had explored the town, my eyes were usually too glued on the traffic jamming in front of me to notice much else.
"Would you like to see Hai Duong?"
"Sure," I said. "Where can we go?"
"I don't know many places. I only know the church. We go there?" She again raised her voice to signal a question, but as her dark eyes locked into mine, I knew I was not being given a choice.
As my mouth opened to form a yes, Tra nodded with the resolute conviction I found characteristic of so many Vietnamese women I met. We mounted our bikes, and she balled up her long ponytail in a bun so as not to catch it in the rear wheel. I followed her through the streets of the town, still as nervous and self-conscious on the bike as a calf on new legs.
As we rode, Tra turned and looked back from time to time to check on me, flashing a knowing grin. If I had ever felt like some sort of spirit was leading me somewhere, this was it. A lump rose in my throat and my hands tensed on the handle bars as I asked myself how this tiny person knew to take me somewhere I suddenly desperately needed to be. We rode down the wide main street, small stores and roadside cafes lining our route. The streets narrowed in the center of the city, and the motorbikes seemed to multiply, cramped on either side by the encroaching cracked pastel facades of older homes.
Finding Grace
After about two miles we arrived at the gates of a large Gothic church. It looked out of place with its tall stone walls blackened by pollution and God-knows-what-else since the French missionaries had them built 150 years ago. Hopping off my bike and walking into the church's courtyard, my head began to feel detached from my body, like it sometimes does when I take cold medicine. My mind felt open and bright, and the pores on my face felt like they were shining. I stared at the front of the church, tears streaming down my face.
Tra stood back quietly, watching me with curiosity. I can only imagine what she thought seeing
her teacher, the only foreigner she had ever met, sobbing in front of her church. Eventually, she slipped her delicate hand into mine and, looking up at me, asked, "Sick-home?"
"Yes," I smiled and drew my sleeve across my nose. "I'm homesick."
Then Tra pointed to towering statue of Jesus to our right. "He is my savior. Do you know him?"
This was not the first time in my life I have been asked that question: I grew up in Lancaster County, Pennsylvania – a hotbed for fundamentalist Christian Americans. Yet, there was no judgment or desire for conversion in Tra's question. It was simply a question. A means for connection.
I looked at the statue, depicting Jesus in all his fair-skinned, long-locked glory. Even in Vietnam, Jesus is assumed to be a white, surfer looking dude. I replied to Tra, "Yes. I do know him," because in that moment, I did.
I have always loved the word grace and, in my own clumsy way, I have tried to attain it. As a little girl, I remember being told in Sunday school that grace meant knowing God is with you. As I grew older and idolized beautiful women who moved through the world as if they knew why they were there, I took grace to mean beauty, poise and ease. Now I think grace is both of those things. It is the ease that comes with knowing we are part of something bigger than ourselves. It's the peace we find in realizing our lives may be completely inconsequential, but we are still vitally connected to everything around us.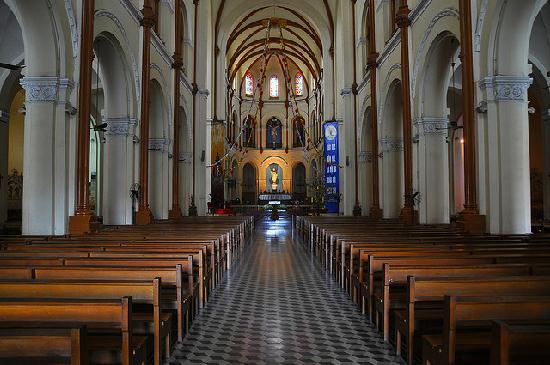 A year before I went to Vietnam, I saw a play in New York called Stories Left to Tell, a work compiled from unpublished writing by the late Spalding Gray. I sat in the theater crying my eyes out at the beauty of his prose and the actors bringing it to life. At one point I grabbed my Playbill and a pen and started furiously scribbling down lines that I wanted to remember. I don't know if I copied down any lines remotely close to what was said, but one of the lines I took away was this:
"The most any of us can hope for are a few graceful moments and to recognize them."
Those words ran through my head over and over as I stood in the church's courtyard and then entered the sanctuary, greeted by crucifixes draped in twinkling lights and icons of Mary outlined in neon letters flashing the words "Ave Maria" like the "OPEN" sign of a late night truck stop. As I closed my eyes and kneeled to pray, I kept thinking, "This is a moment of grace… and I'm recognizing it. This is what that feels like."
*****
Photo credits:
Christ the Redeemer Statue: PÄ"teris
Hanoi Streets at Night: Stefan77dd
Woman on bike: namho
Lonely in Vietnam: Smitha Murthy
Vietnam traffic: dalbera
Jesus Statue: Chris Koven
Inside church: Dennis Jarvis