by Lucy Corne
I wake at 3 a.m. and hurriedly get dressed in thick grey robes, complete with trousers that would make MC Hammer jealous. It's still dark outside and I'm grateful for the thermal underwear I packed as I drag myself to the central building where the others are waiting. I'd love to complain about the state of my joints following a session of bowing and an hour of meditation, but talking is forbidden until after breakfast.
We had arrived at the temple the previous afternoon, a band of exhausted middle school teachers struggling with the seemingly endless Korean winter semester. Normally, weekends entailed ex-pat parties at friends' apartments or sipping soju (rice liquor) with locals in small-town bars, but hoping to de-stress and detox, we'd signed up for a more wholesome weekend — 24 hours at a Korean Buddhist temple.
We arrived at Musangsa International Zen Center on Saturday afternoon and were pleased to find it far from the closest town, with the mountains of Gyeryongsan National Park as a backdrop. On arrival we were ushered to a storeroom containing our attire for the next 24 hours — the shapeless grey robes of a layman. Each of us rummaged among the rails trying in vain to find something remotely close to our size, giggling as one of our group, a 6-foot-7-inch Canadian, found his trousers showing a little too much shin, while the more petite among us were buried by the baggy outfits.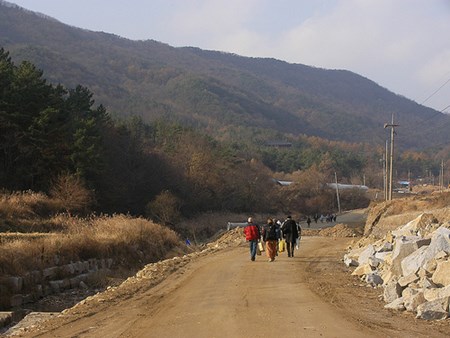 Worried that we might be offending our escort, I was pleased to see Ji Seong, an American convert to Buddhism, laughing along with us. It was reassuring to know that despite their strict lifestyle, the monks still maintained a sense of humor.
Musangsa is unique among Buddhist temples in Korea as it's almost entirely made up of non-Korean converts. The head monk and abbot hail from America, while other monks and nuns boast 20 nationalities among them. For short-term visitors to a temple like ourselves, this at least eradicated the language barrier problem, though we'd soon find plenty of other hurdles to overcome.
Although we'd dreaded dinner, having read about the bland, austere cuisine endured by Buddhist monks, it turned out to be a palatable affair that included non-Korean concessions such as peanut butter, bread and balsamic vinegar. The style of eating was true to traditional practice — each person sitting cross-legged on his or her own cushion, facing forward, eating in silence and duty-bound to clear every last crumb.
As soon as we'd finished, the head monk, Myong Haeng, summoned us for a crash course in meditation, bowing and the many rules of life in a Buddhist temple. Meditation 101 was simple and while two of our number struggled to keep a cross-legged posture for more than a few minutes, I smugly adopted half lotus, glad I'd recently found time for morning yoga workouts. Our short meditation session ended with an odd announcement from Myong Haeng. "During meditation this evening you'll hear me walking around, sliding a stick between my hands," he told us, producing a long, thick baton. "I walk around and beat the people that wish to be beaten," he continued, much to our astonishment.
I'd always believed Buddhism to be the most pacifistic of any religion — surely some kind of guilt-propelled beating had no place in such a faith?
"Let me demonstrate what you should do if you want to be beaten," he said as I regretted choosing the seat closest to him. "First you must change your hands to a praying position. Then, when I get to you, bow once and on your second bow remain hunched over while I administer the beating. Once I've finished, bow again then return to the normal meditation position. Let's give it a try!"
With more than a dash of trepidation, I bowed and braced myself, only to find that it wasn't so much a beating as a rather severe massage — three short, sharp blows on each shoulder blade — and not at all unpleasant.
"The idea of the beating is to loosen up the muscles when you've been meditating," Myong Haeng informed us. "And it helps to wake you up a little, especially during morning meditation!"
Our next lesson was on the correct way to bow, a very important part of Buddhist life. Each bow, or prostration, starts in a standing position, quickly descending to knees and then all-fours. Your forehead should briefly touch the floor as you cross your feet and turn your palms skyward. Then put your hands on the floor, come back to a kneeling position and then attempt a hands-free return to your feet. The whole thing should take less than five seconds.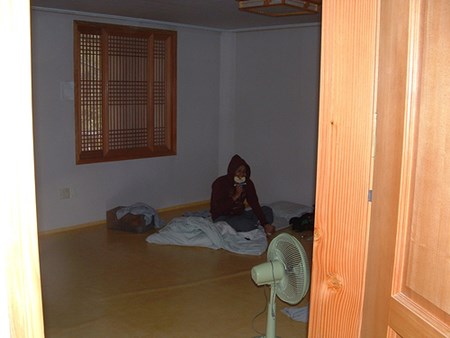 As mere laypeople with a near non-existent knowledge of Zen Buddhism, our biggest concern for the weekend, other than being in a fit state to do anything at 3 a.m., was offending the temple's inhabitants. We tried to remember every rule — when to bow, where to sit, how to sit, when not to speak and the procedure for fidgeting during meditation. Myong Haeng chuckled as we tried to take it all in, reassuring us that mishaps were OK. "We know that you're only here for a day, so we don't expect you to be perfect examples of Buddhist monks. No one will care if you make a mistake or break a rule, as long as you try."
With no time to cram on temple etiquette, we hurried to the striking- but-alas-unheated Buddha Hall for 45 minutes of chanting, a delightful form of meditation. Mats for the first timers were placed in front of everyone else's, giving me that aerobics class anxiety — when you're stuck at the front messing up while those behind chuckle at your mistakes. As the others around me alternated between sitting, kneeling and standing while they chanted, I remained two steps behind, but did miraculously manage to keep up with the words laid out in the chanting book — a bewildering blend of English and antiquated Korean.
We filed out of the Buddha hall for a brief tea break and the chance to share our shortcomings before heading to the Zen room for a 35-minute meditation session. Taking my mat at the far end of the room, I adopted the half lotus position and tried unsuccessfully to empty my mind. At first, I spent my time marveling at how long I could maintain the posture, but these thoughts were soon replaced with ponderings on when Myong Haeng would circulate with the big stick to alleviate my aches. When I heard him tiptoeing behind me, I didn't hesitate in changing my position to request a "beating."
We were supposed to keep our gaze fixed on the floor in front of us, but I couldn't resist a quick glance around and noticed that not only had all my companions requested a whack, we were the only ones in the room that had. In fact the practice that had so shocked us turned out to be one of the most pleasurable parts of the weekend.
With the evening pursuits over, there was a brief period of free time where we exchanged woeful tales of our inflexibility before one of the toughest parts of the day began. Once the lights go out at 9 p.m. silence is mandatory until after breakfast the following morning. Getting to sleep was a tall order — I haven't been to bed at 9 p.m. since the sixth grade — and I awoke at 3 a.m. feeling like I'd only just nodded off.
With my thermal underwear never more appreciated, I rushed across the courtyard for a 3:25 a.m. workout in the Zen room. Remember that bowing routine I described earlier? Now each monk, nun, novice and visitor would join together in silence to repeat that routine no less than 108 times in very rapid succession. The abbot, a frighteningly fit and supple man, set the pace, which few of the visitors could keep up with. My knees began to creak after a dozen repetitions, so I settled for completing every other prostration, filling the gaps with half bows — the kind you'd give after a stage performance, but with added "prayer hands."
It seems a random number, but 108 is an important digit in Buddhism, in this case representing the 108 delusions of daily life. It was an exhausting and painful way to start the day, though an effective morning exercise regime and definitely a good way to keep out the cold. I quickly regretted donning thermals under my robes and ducked out as soon as we hit 108 for a swift wardrobe change.
There's no rest for the devout and we moved straight to the Buddha Hall for a short session of chanting. Standing outside the intricate building, listening to one of the more vocally gifted nuns singing in the moonlight was undoubtedly the highlight of the weekend and I lingered for awhile outside, enjoying the rare sight of a star-filled sky in Korea. Again the chanting was thoroughly enjoyable — the occasional change of stance gave the required relief to aching joints but was slow enough not to further irk my knees, still smarting from the bows.
Our last endeavor before breakfast was 70 minutes of meditation. I beat my previous record, managing a fidget-free 20 minutes, all the while eagerly awaiting another Buddhist beating. A short session of walking meditation offered respite before we resumed our sitting posture for a final 40 minutes. At times I felt I was making progress with the meditation, but then a comic crescendo of rumbling stomachs broke my concentration and my emptied mind filled with thoughts of croissants and coffee.
At 6:05 a.m., a ridiculous three hours after I'd dragged myself out of bed, breakfast was served. This time we sat around low tables, helping ourselves to fruit, tea and stodgy rice-based porridge that benefited from a generous helping of peanut butter. Having swallowed every last mouthful, I followed the lead of those around me, filling my bowl with tea, scraping any remnants from the sides and drinking the gloopy mess to ensure a spotless bowl — picky eaters beware: waste of any sort is not permitted at a Buddhist meal.
After breakfast the speaking ban was lifted and I congratulated myself at being able to keep silent for such a long period. My friends, parents and high school teachers would never have believed it possible. Of course, I did get to chant in that time and my tiredness was such that I couldn't have articulated a coherent sentence even if I'd wanted to.
All visitors to the temple must help out with daily chores and I scored a particularly pleasant job helping Kwang Oak, an American nun, to polish tabletops in the Buddha Hall. Chatting about her life now and before, I could almost imagine why she had shunned the rat race and moved to the temple.
After lunch, as we left Musangsa to head back to our busy lives, I almost felt envious of the simple existence enjoyed at the temple. Then a twinge in my leg reminded me of the morning's endeavors and I decided that, while a short stint offered escape and relaxation, I simply don't have the dedication to arise hours before dawn every day and follow the strict regimen. At least for the moment, I'll stick to my half-hour pre-breakfast yoga sessions and savor the extra four hours in bed!
*****
Photo Credits:
Monks at Musangsa: Martin Roell
Walking to Musangsa: Martin Roell
Reflection at Musangsa: benghancock
Musangsa Sleeping Quarters: benghancock
Zen Building: Martin Roell
Reflection Outdoors: benghancock
View up to the Buddha Hall: Martin Roell